This salmon wellington recipe may have a fancy name but it is super simple and weeknight fast!! I dream all day at work for this buttery flaky puff pastry outside hugging the sweet and creamy inside. This sheet tray wonder is totally doable (even when I get home at 7 pm) because that I have found easy short cuts to make this a 30 minutes.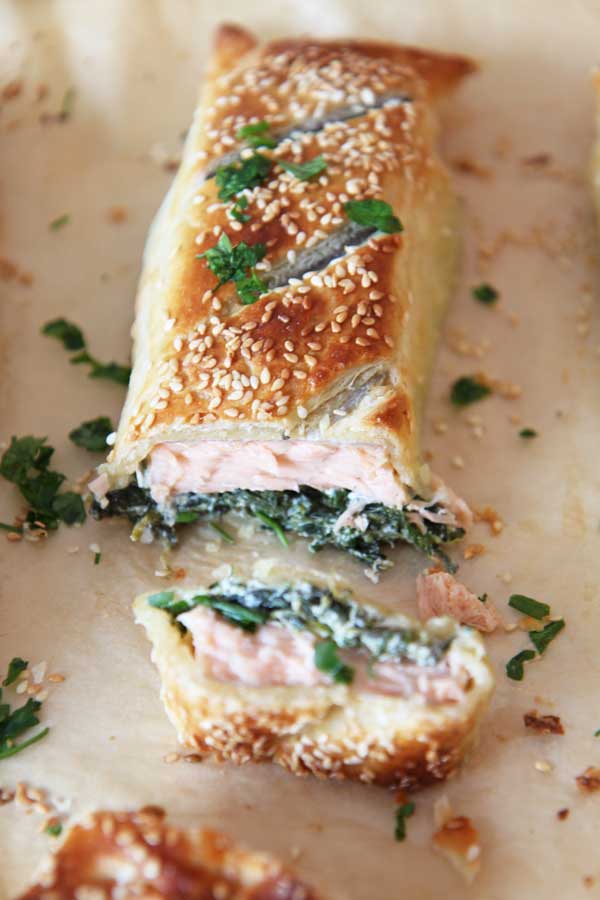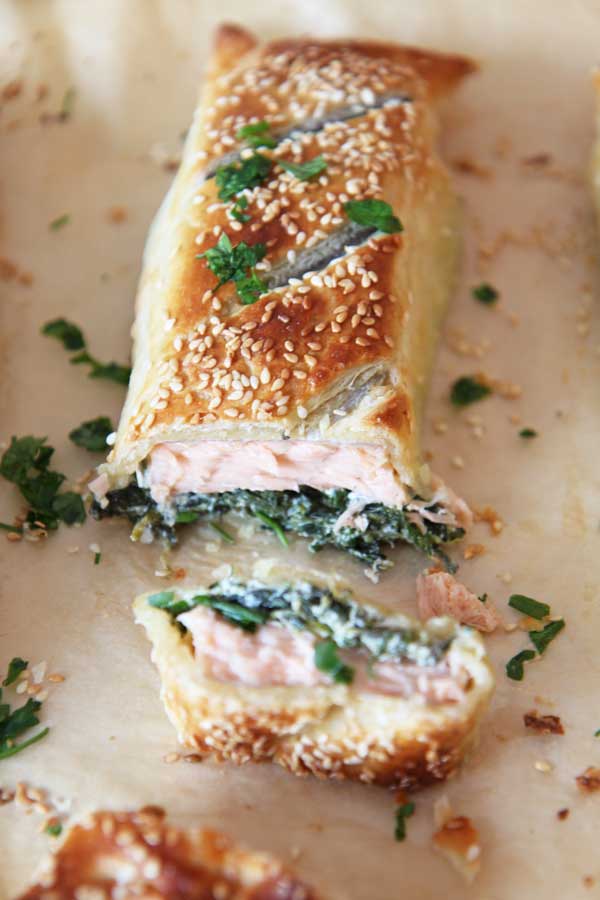 As a kid my Mom would make chicken or salmon during the week. I loved salmon night because it always felt so fancy to me. Every time I make a salmon, I think to me as a kid sitting in my mom's kitchen in NJ, with the price is right in the background. It makes me smile and this is my childhood comfort food! I love making salmon wellington because its easy and feel indulgent. I crave this allot and created a recipe that was easy enough to do during the week.
Cooking Hack That Makes This a Fast Weeknight Recipe:
Most recipes call for you to cook the spinach and cheese first. That is an extra 20 minutes I could be watching TV with Tom and our french bull dog. I use frozen spinach to skip this step. Frozen spinach is cut cooked and ready to use. So all I do is mix the ingredients in a bowl and let it cook in the oven with the salmon.
Turn the Oven on before you start preparing the recipe. A hot oven makes sure everything cooks evenly! Also, a hot oven and cold dough makes perfect puff pastry. The reason is there are layers of butter in the dough (Julia Child says approx 729 layers) and when heated up it steams and causes the pastry to puff.
Watch how to make this Weeknight Salmon Wellington: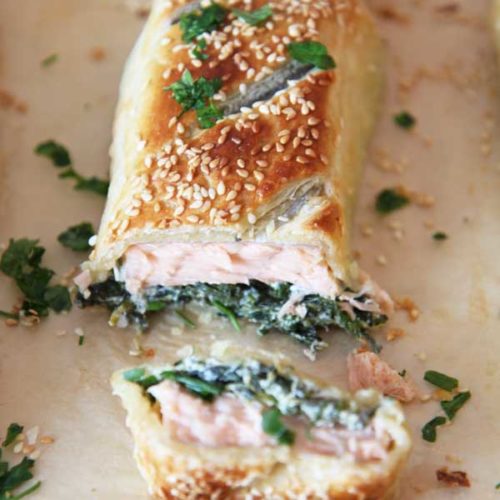 Simple Salmon Wellington
Ingredients
2 puff pastry sheets
4 (4 oz) salmon filets
1 10 oz frozen spinach (defrosted and squeezed of excess water)
8 ounces sour cream
1 lemon
1 teaspoon salt
1 teaspoon pepper
1 teaspoon garlic powder
1 egg
2 tablespoons sesame seeds
4 teaspoons Dijon Mustard
Instructions
Preheat the oven to 400 degrees.

First, 1/2 lemon juice, salt and pepper all 4 pieces of salmon and set aside.

Now, mix the spinach, sour cream, lemon juice, garlic powder, salt and pepper in a bowl.

Next, cut both pieces of puff pastry in half. This should give you 4 rectangles. Brush Dijon mustard on the side facing up (repeat for all 4 pieces).

Now, place salmon in the middle of the puff pastry (side with Dijon mustard). Then top with 1/4th of the spinach mixture. Next, pull the dough around the salmon and sealing all edges with your fingers (like wrapping a present).

Repeat above process for other 3 pieces of salmon, puff pastry and spinach mixture (see video above).

Next, Place the all 4 of the puff pastry wrapped salmon seam side down on a sheet tray.

Now, brush egg on top of each puff pastry package and then sprinkle with sesame seeds on top.

Finally, Bake in middle rack for 20 minutes.

Happy Eating.
Check Out This book! It changed my life and it is how I elevated my home cooking:


I can't wait for you to try this recipe!!! Cheers to easy comfort food.  Happy Cooking!
QUICK NO BAKE DESSERT  FOOD RECIPE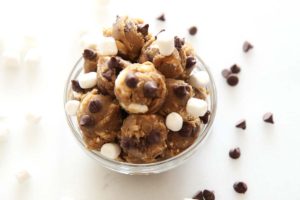 Your Dash Of Gratitude:
                                                                                                                                   
ANY QUESTIONS OR COMMENTS? COMMENT BELOW 🙂
With a grateful heart and an amazing tummy – Jay
(Visited 5,173 times, 1 visits today)
Subscribe for tasty, free recipes!