The slow cooker, or what I call a personal chef because it cooks your food for you while you are at work, makes amazingly creamy and delicious mac and cheese. Simple mac and cheese can bring a smile to just about anyone, but I want you and your family to jump out of your seats with excitement so I made for you jalapeno popper mac and cheese. It's actually inspired by the stuffing from my jalapeno popper burger that's filled with tangy cream cheese, lots of sharp cheddar, and spicy jalapenos. It's so easy, too!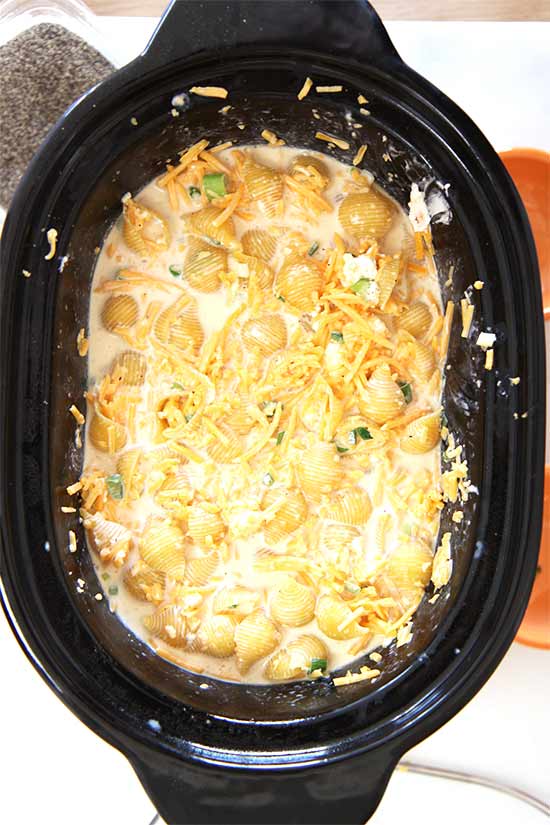 You just drop uncooked pasta and all the ingredients into the slow cooker, mix it all up, turn it on, and that's it! The best part is coming home to a hot satisfying meal just waiting to be eaten, and the smell that wafts through your house when you walk in is one of the most comforting ways to receive a "welcome home" after a long day at work. The most important thing to remember is to spray or smear oil or butter on the sides of the slow cooker so that the mac and cheese doesn't stick and comes out easily. If you're like me and put the slow cooker in the fridge for leftovers, greasing the sides will also make clean up that much easier.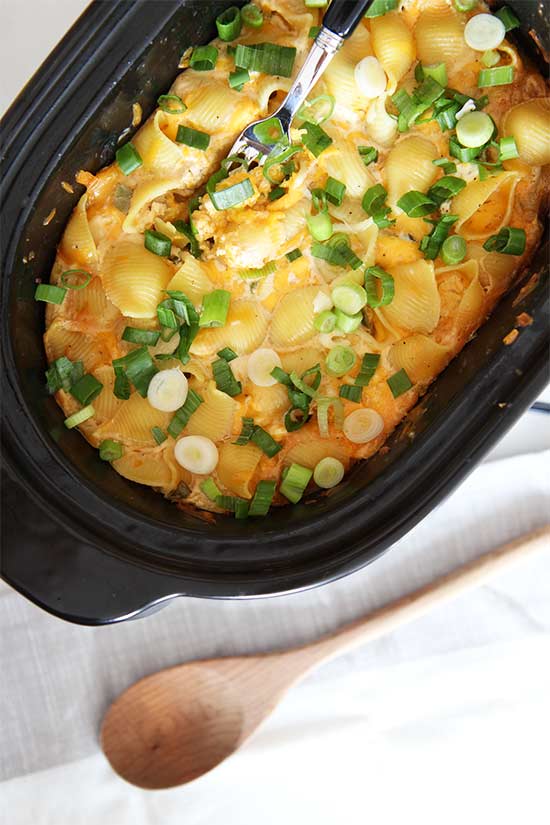 I like to add hot sauce (Tom's suggestion because he likes it in everything) and top it with extra jalapenos, so feel free to garnish if you like.This is a great meal for your busy week, so grab your slow cooker, make this on Sunday, and have dinner all week! I'm so grateful to cook with you. I would love to hear from you so comment below!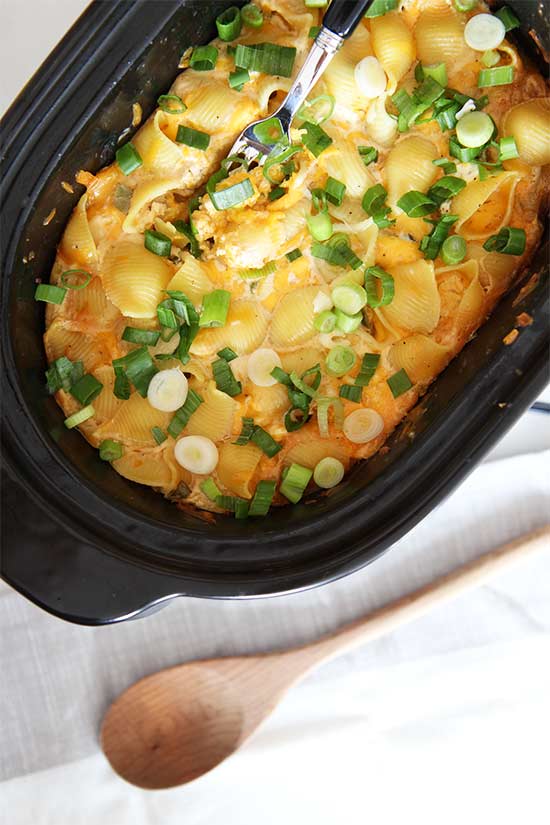 Slow Cooker Jalapeño Popper Mac and Cheese Recipe
Get ready for this creamy, cheesy Jalapeño Mac and Cheese pasta night dinner to wow your family. You can go to work and the Mac and Cheese will cook it self.
Ingredients
1 lb small shell pasta (uncooked)
3 cups sharp cheddar cheese
1 can evaporated milk
2-1/2 cups milk
8 oz cream cheese
1 tbsp butter
1 pinch salt and pepper
2 jalapeños (de-seeded and chopped)
5 scallions (chopped)
1 tbsp garlic powder
3-4 dashes hot sauce
3-4 sprays cooking spray
1 handful crushed "Cheez It" to top (optional)
Instructions
First, spray the slow cooker with cooking spray so that the mac and cheese does not stick to the sides.

Next, add the cream cheese, butter, milk, evaporated milk, black pepper, jalapeño, and scallions into the slow cooker. Mix all the ingredients to combine.

Now, add the cheddar cheese, hot sauce, and mix well.

Finally, add the dry pasta and mix really well to combine all the ingredients.

Cover and turn the slow cooker on low for 3 hours.

When finished topped with more scallions. Also optional for crunchy texture add crushed "Cheez-It" on top.
Your Dash Of Gratitude:

ANY QUESTIONS OR COMMENTS? COMMENT BELOW 🙂
With a grateful heart and an amazing tummy – Jay
This book changed my life and it is how I elevated my home cooking:

(Visited 7,261 times, 1 visits today)
Subscribe for tasty, free recipes!