Searing juicy perfect scallops is crazy easy to do and much cheaper then ordering in a restaurant!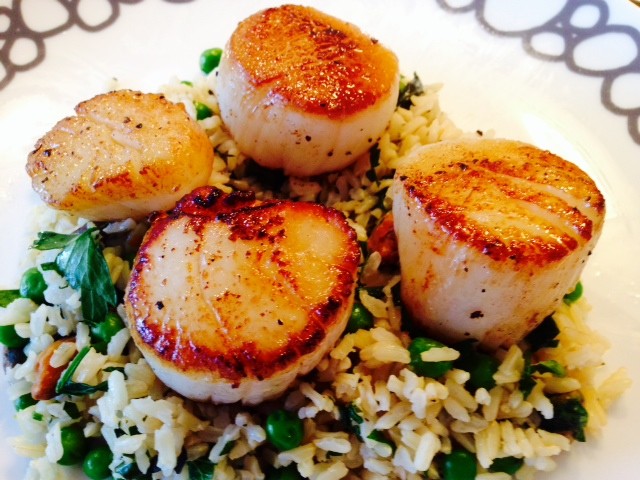 Think back to that time you thought something was hard to do but to your surprise it was actually crazy easy. This happens all the time with our goals and dreams. Scallops are probably the best cooking metaphor for this! They are probably the thing people are most scared to cook (besides souffle)! But they are incredibly easy!  Be inspired by this post to pick a dream you are scared to start (because its hard) and take the first step. Make these and declare that I will not be afraid of my dreams!!!!
This is also dedicated to my husband Tom. He loves scallop but wont order in a restaurant. He says they are to expensive and only give 3 on a plate. So making at home is a bonus because they are much cheaper and you can put double the portion on the plate! Happy Cooking and cheers to you!
Watch how easy searing scallops are:
How to Sear Scallops
Ingredients
1 pound scallops (dry scallops)
3 tablespoons canola oil
1 teaspoon salt
1 teaspoon pepper
2 tablespoons butter (optional)
Instructions
First, pat dry scallops with paper towel.

Next, salt and pepper both sides.

Now, in preheated medium high pan with 3 tablespoons of oil place scallops in pan.

NOTE: do not have scallops touch (or will steam instead of sear). Spread them out and work in batches if pan is small.

Next, let scallops sear without moving 3 minutes then turn and cook 3 more minutes without touching.

Finally, (optional) add butter and melt before serving or add to another recipe!
My Fave Pot To Cook With:
Check Out This book! It changed my life and keeps me centered:
QUICK NO BAKE DESSERT  FOOD RECIPE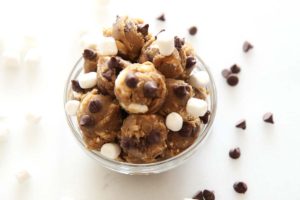 Your Dash Of Gratitude:
                                                                                                                                   
ANY QUESTIONS OR COMMENTS? COMMENT BELOW 🙂
With a grateful heart and an amazing tummy – Jay
(Visited 818 times, 1 visits today)
Subscribe for tasty, free recipes!