This tip on how to peel garlic in a jar will save so much time and effort. I love garlic in everything! If I could put in on my tooth paste I would lol. But here is a way to make peeling garlic super easy and fun. It involves dancing in the kitchen. Ok maybe only I will dance. Put the whole bulb of garlic in the jar and after you do this tip it comes out perfectly peeled garlic. Like magic that makes life so much easier. I love this tip for getting lots of garlic peeled at once. I use this all the time and it makes you look like you are a all star chef. The key to making busy weeknights happy and easy always involves a great short cut like this one. Watch the video and try it out yourself and let me know how much fun this is!
This is the Mason Jars I Recommend:
QUICK NO BAKE DESSERT  FOOD RECIPE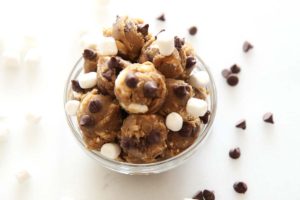 More Quick Weeknight Dinner Tips:
So can't wait for you to try this tip!!! Also, hope this hack makes your weeknight dinners happier and much easier. I work all day and food blog at night. So when I get home I need quick and fast recipes too!  This way I can have more time with my frenchie (Charlie) and Tom. I dont have to peel each garlic clove individually anymore!
Your Dash Of Gratitude:

ANY QUESTIONS OR COMMENTS? COMMENT BELOW 🙂
With a grateful heart and an amazing tummy – Jay
(Visited 549 times, 1 visits today)
Subscribe for tasty, free recipes!