If you have had Mexican corn on the side of the road, then you would crave it all the time like I do. First of all, I wanted to take out a bunch of the labor intensive steps like shucking the corn, cutting the corn off the cob and replace it with a recipe that is done in the time you did all the old steps. Have you ever had a side dish that was so good that you forget about the main dish? This corn salad is one of those go-to super hero sides!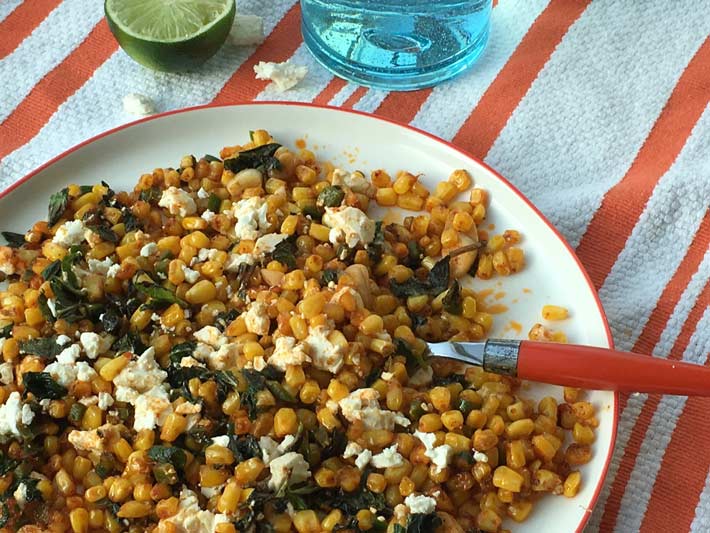 This is sweet, smokey and has so much flavor you will definitely give yourself a pat on the back for a job well done. … and it's super fast and simple to make! This is dedicated to my friend Carol who took us to eat Mexican corn in Hawaii. Between bites we were laughing so hard I snorted LOL!
---
Fiesta Corn Salad Recipe
Ingredients
Serves 4
1 – 2 tablespoons extra virgin olive oil (2 swirls around the pan)
12 oz package of frozen corn defrosted and pat dry
Salt and Pepper
2 tablespoons butter
1 lime (zest and juice)
4 garlic cloves sliced in nickel shapes
1 jalapeno chopped finely (seeds and ribs removed)
1 teaspoon Spanish paprika (or Hungarian paprika)
1 teaspoon Sriracha chili sauce
1 teaspoon mayonnaise
1 handful of mint chopped roughly
1/2 cup feta cheese crumbled
---
Instructions
First, heat pan on medium high, swirl in olive oil (get it nice and hot), add frozen corn spreading it around and leave for about a minute and then stir
Second, add big pinches of salt and pepper, butter, lime juice, lime zest, garlic, jalapeno and paprika
Now, stir until butter is melted and ingredients are mixed
Next, remove pan from heat, swirl in Sriracha and mayonnaise, add mint and stir
Finally, just before serving, toss in crumbled feta cheese – enjoy!
This goes great with my Jalapeno Mint Mojito or Vacation Anytime Cocktail. It would also be a great side dish with my Brown Sugar Grilled Rib Eye Steak.
---
This is fun to make – give it a try and let me know what you think 🙂
With a grateful heart and an amazing tummy – Jay
(Visited 584 times, 1 visits today)
Subscribe for tasty, free recipes!