Can't get much more comfy than with a bowl of spicy kimchi and salty bacon, combined with buttered rice. I love this dish and it holds a big smile in my heart.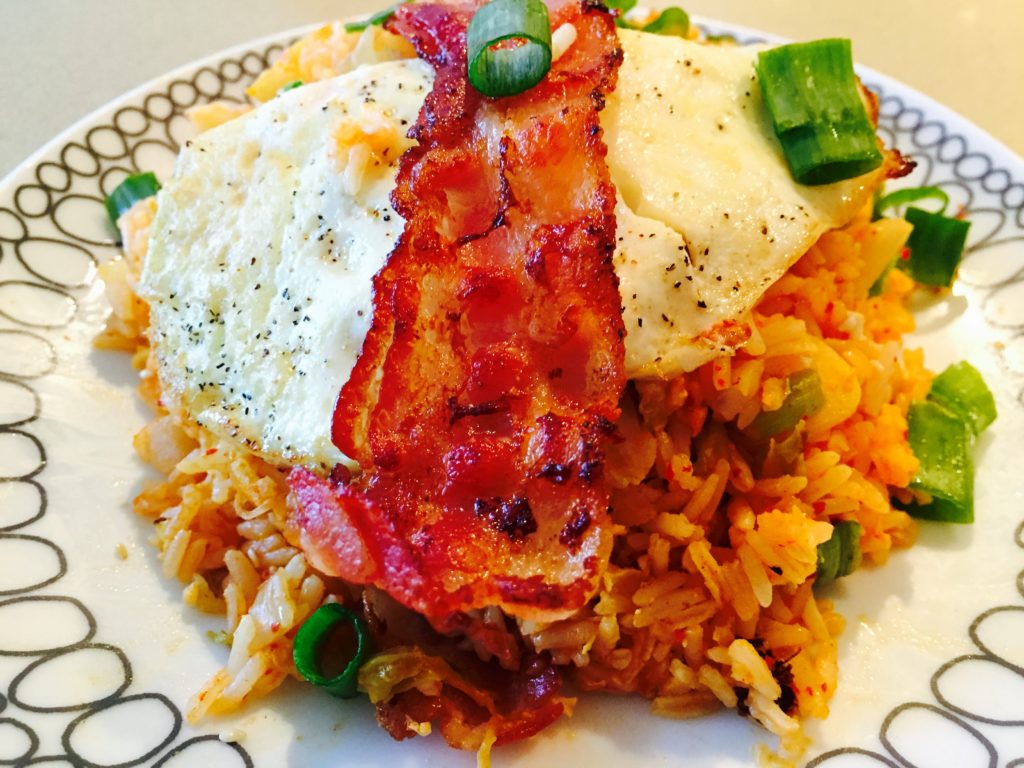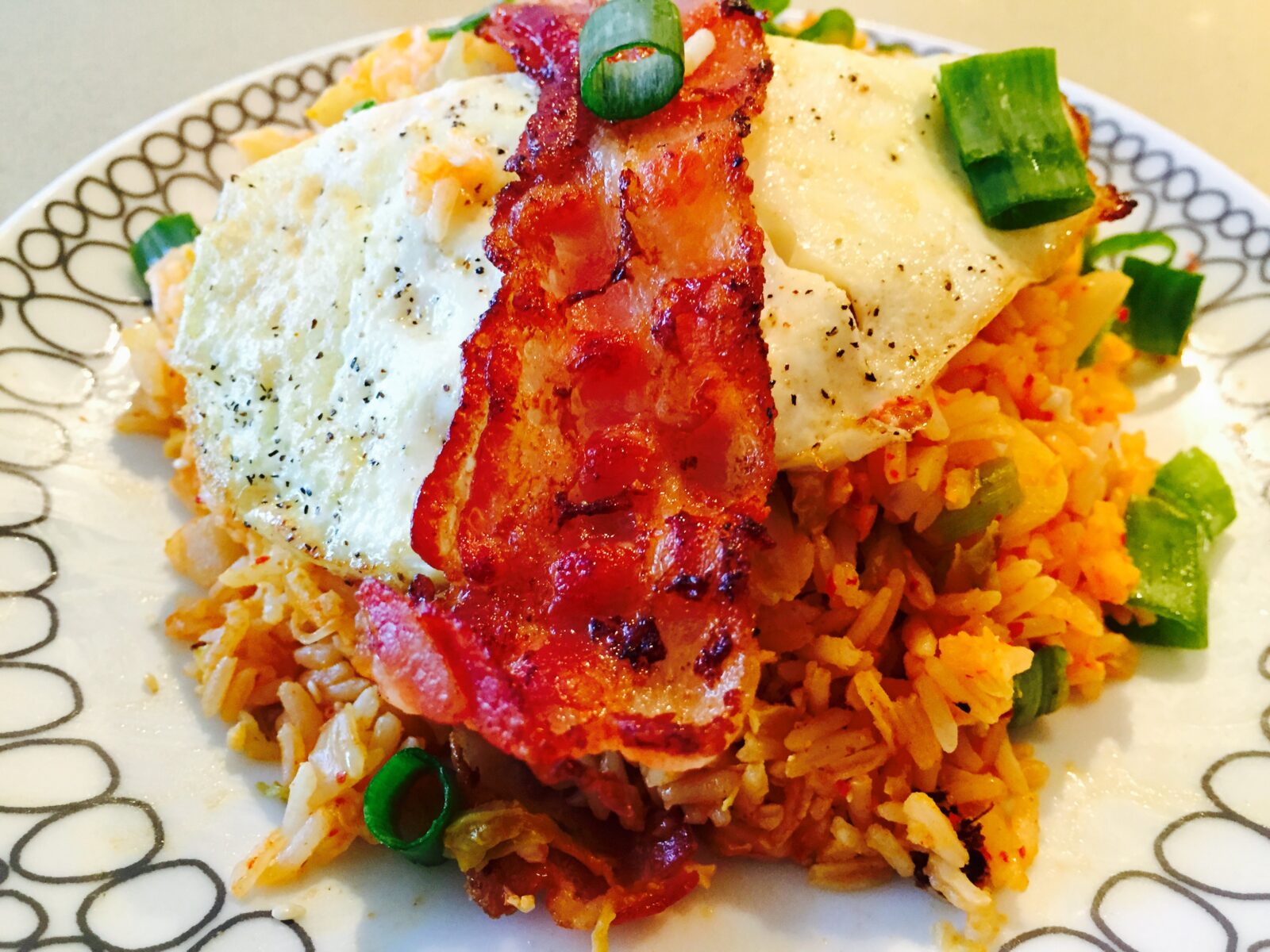 When I went on my first date with Tom he took me to a Korean restaurant. I fibbed when he asked and told him I loved Korean food, but the truth is until then I never had it. I (of course!) told him right away I actually never had Korean food, but was so excited he asked that I said I had lol!
Another reason eating this dish holds awesome memories is whenever we go to Tom's hometown of San Francisco, as soon as we get off the plane (usually at 10:30pm) we head to this place called Toyose. This is a Korean restaurant in a garage. Now I know you are thinking that's crazy, but they have the best Kimchee Fried Rice ever.
This version of fried rice is so much easier to make than the Chinese version for several time saving reasons. My favorite is you don't need day old rice. The hotter and fresher cooked the rice is the better. Second reason is you want it moist – so you only cook the ingredients in half the time.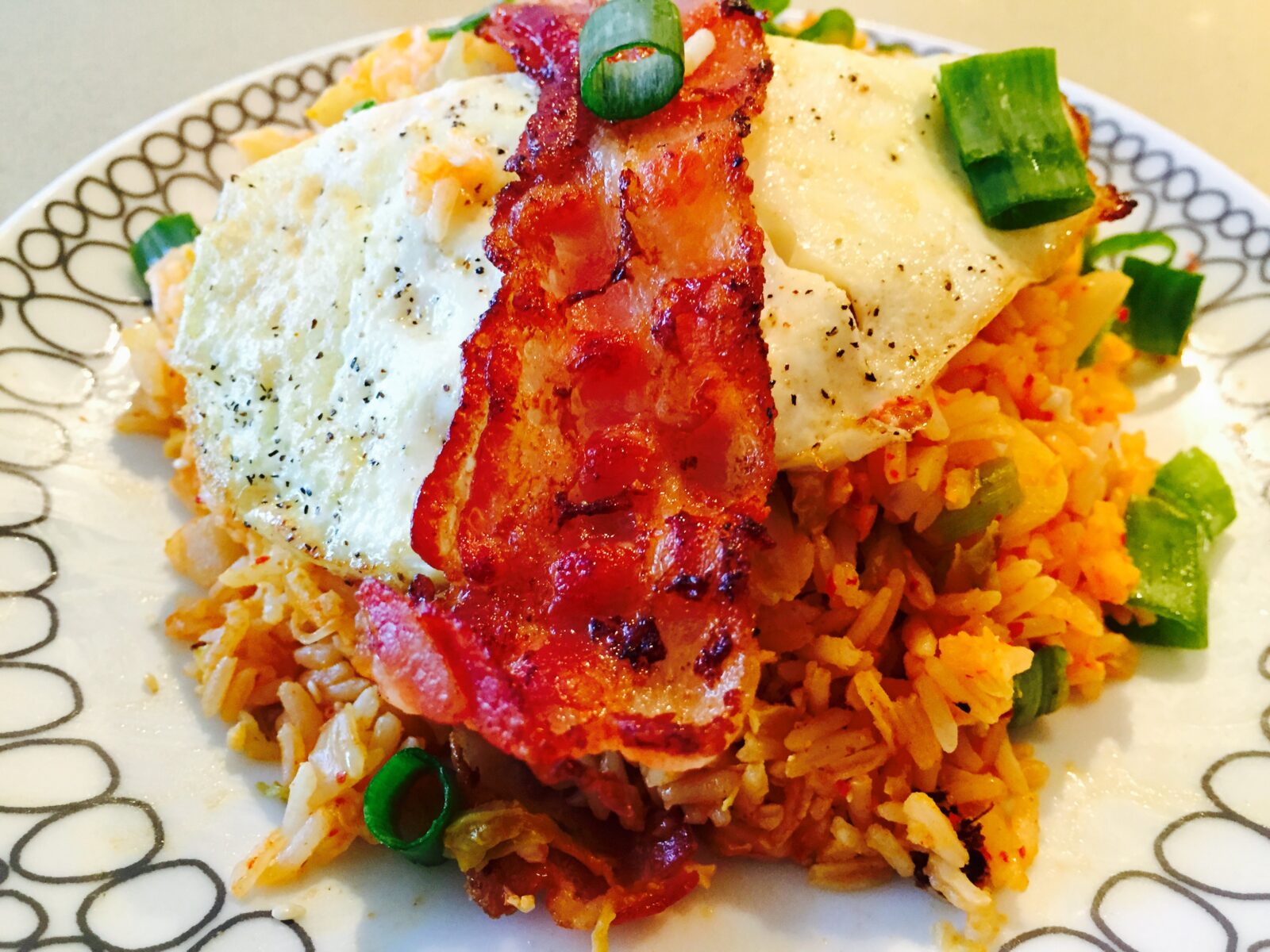 Kimchi and Bacon Fried Rice
Ingredients
4 cups rice (cooked)
4 slices bacon (cooked)
1 jar kimchi (kimchi and juices)
4 cloves garlic (chopped)
5 scallions (chopped)
1 tbsp seasme oil
2 eggs
2 tbsp butter
2 tbsp soy sauce
1 tsp seasme seeds (optional)
4 eggs (fried to top rice) (optional)
Instructions
First, fry 4 slices of bacon in a large skillet until crispy (Set aside the bacon and pour the bacon grease out keeping a small amount of grease in the pan)

Now, turn the heat to medium-high – just like you would for stir fry.

Add the sesame oil and the kimchi (save the kimchi juice for later) and stir the ingredients for about a minute.

Now add the cooked rice into the skillet and mix it together so the rice has a nice red consistency. Then pour in the extra kimchi juice and continue mixing for a minute.


Next, add 2 eggs into the rice. Mix until eggs are scrambled with rice. Approximately 2 minutes.


Finally, add butter stir. Top a plate of fried rice with a fried egg and extra bacon.

---
You are going to love this! Give it a try and share pictures of your tasty creation 🙂
With a grateful San Francisco heart and a kimchee amazing tummy – Jay
(Visited 1,345 times, 1 visits today)
Subscribe for tasty, free recipes!