Are you stressed out by cooking for a crowd? Don't worry – just follow this guide and you will be Chopping Happy and wanting to invite friends over all the time. You can make all the recipes with ease or pick one from each category. We took our best yummiest Italian recipes and mapped out a colorful taste-bud extravaganza and easy dinner party "until your pants don't fit" menu for you and your friends. Watch step-by-step videos of me cooking, dancing, singing and more cooking lol. I cant wait to hear from you all about how much your friends and family loved the cheesy, saucy, yummy dishes. All of the Chop Happy Land recipes are meant to make you smile because whether you are a beginner or experienced chef looking to cook quick easy meals this is for you! SO "Chow Bella" and enjoy the fun recipes below :-)!

---
Starters that make you say "Bella"!  🙂
"Easy Being Green" Basil-Almond Pesto  – Pesto is not just for pasta. It makes awesome dip. Grab some carrots or endive and have your guest dip into this garlicky sweet and spicy dip.  Find out the secret to why this pesto is crunchier then the rest.
Fluffy Honey Pistachio Ricotta Dip  – Got a cheese craving? We got you covered with this sweet fluffy and crunchy ricotta dip. Watch the video and find out about the NYC restaurant that inspired me to make this.
Click on images for the recipes.
---
Sides with an Italian fabulous flare 🙂

Salami Party Salad – Salami should always be in salad as this is a cheesy, salty and meaty side that hits the yummy spot! The best part you can make it the day before and it'll taste even better. 🙂
Roasted Tomatoes and Basil – Roasted, sweet and garlicky side that makes you feel like you get the pasta sauce flavor in a veggie side. This is yummy hot or cold and takes very little prep. Your guests will think you learned to cook in Italy with this fan fave.
Click on images for the recipes.
---
Main dishes that will have your guests dancing the tarantella 🙂
Frozen Ravioli Lasagna – Lasagna with extra pow!!! Not only can you do this the day ahead, but you skip a bunch of steps by using frozen ravioli. Now imagine your guest smiles when you serve lasagna with "ravioli noodles". OMG Chow Bella!
One Ingredient Meatballs – Ohhh one ingredient meatballs … how I love you! This is so easy. Click to find this super flavorful secret and then make your guests smile as you serve them this Italian wonderland of meatball treats.
Click on images for the recipes.
---
The grand finale desert is super easy – just pour, stir and slather on whipped cream!
Balsamic Strawberries and Cream – When your guests come all you do is mix the ingredients and leave at room temperature. When it's time for dessert this crazy fruity, juicy and syrupy treat will be the hit of the dinner party!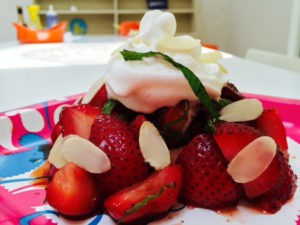 Click on image for the recipe.
---
I am sooo excited to share these recipes and to have mapped out a fun filled dinner party! Write fun comments on how it went and post pictures of the food! For more fun party and recipe ideas subscribe (located on the right) to get weekly ideas and chewy treats to your email!
With A Grateful Heart And A Italian Dinner Party Tummy – Jay
This book changed my life and it is how I elevated my home cooking:

(Visited 8,154 times, 1 visits today)
Subscribe for tasty, free recipes!