Steakhouse dinner fast enough for a midweek dinner with time saving hacks turned into steak and potato salad!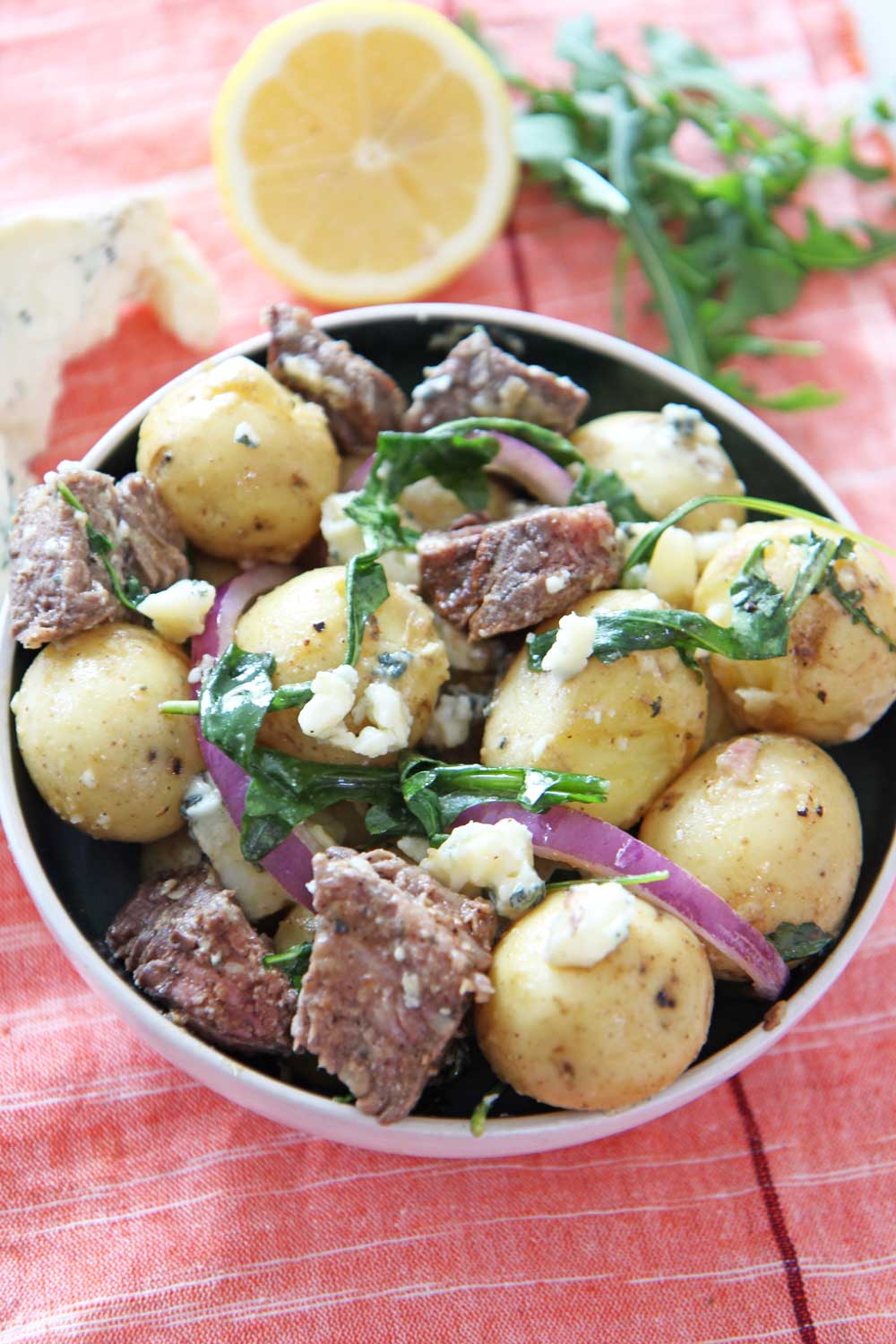 The way to Tom's heart is steak. Sometimes I make steak for him midweek as a mini celebration to make him smile. But I do not want to spend all the time after work we have together cooking. So I came up with a sheet pan hack for perfect steak in 8 minutes, pantry hacks for flavorful potatoes, and made his faves into a steakhouse potato salad that makes awesome leftovers. Leftovers mean more time after work the next day to chill out. Hope you love this recipe and cheers to getting dinner on the table and still having time for you! 
Gratitude Tip While You Cook:
My mission with Chop Happy is to create easy recipe for busy people with a dash of gratitude! Since we all have to be in the kitchen at some point in our day lets use that time to zen out and gain more gratitude.
For the time the soup cooks visualize your dreams as if it is already here. Working on you does not have to be a long drawn out process. It can be as simple as a couple of pages of a motivational book. The perfect book to read to learn more about finding calmness, your dreams and making your wishes a reality is
The Secret!
Time Saving Dinner Hacks / Cooking Tips:
Pantry Hack For Flavorful Potatoes: Use chicken broth, veggie broth, or mushroom broth to boil potatoes or rice. Replace the water with flavorful broth and you will infuse amazing flavor just by boiling.
Gratitude While Stirring: Use the kitchen as a place for self care. As you stir or chop say what you are grateful for. I do this all the time so that cooking can be a time to recharge.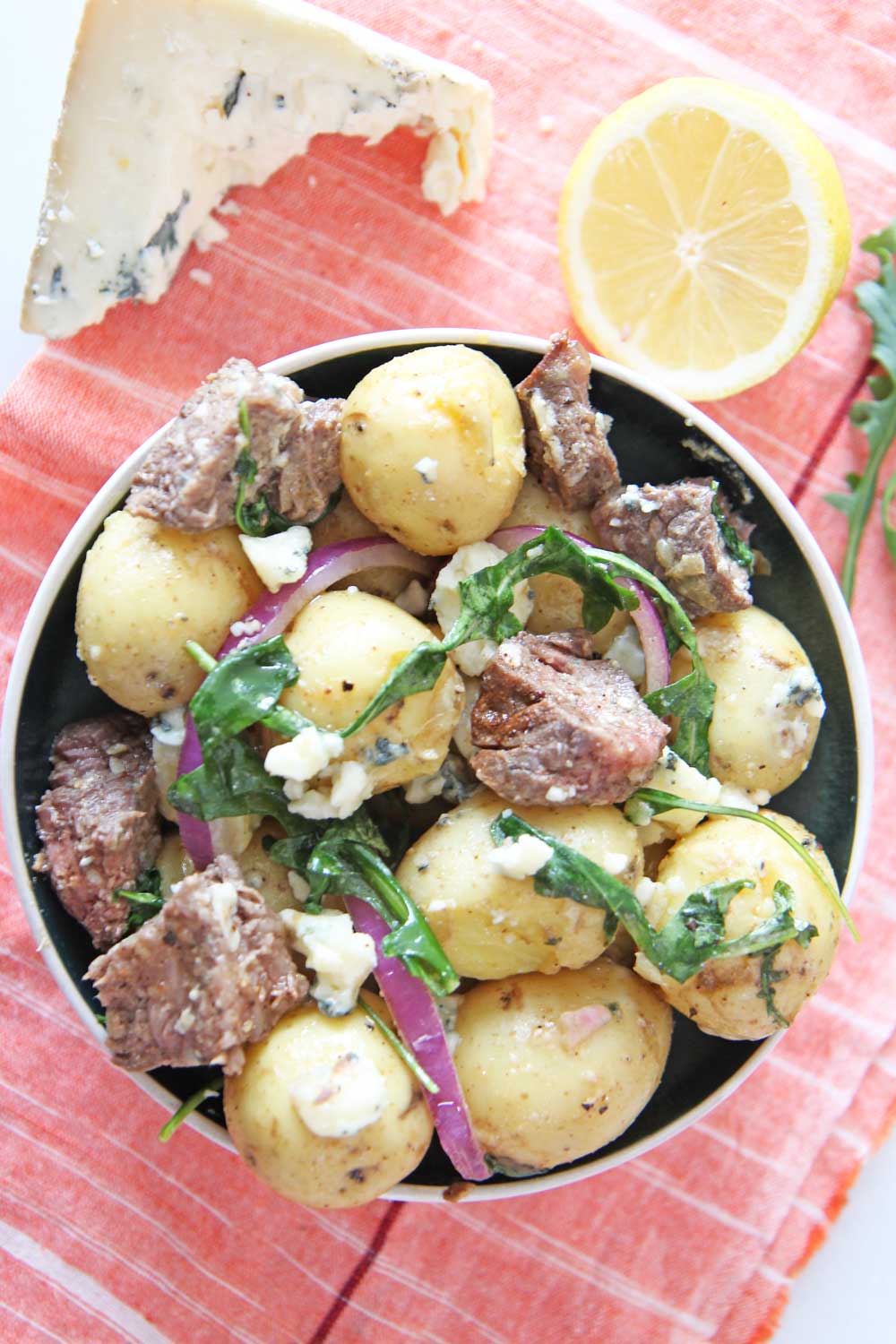 Watch How To Make Steak and Potato Salad (approx 2 minute video):
Steakhouse Steak and Potato Salad
Ingredients
Steak Ingredients
1 NY strip steak (1.5 inches thick)
1 teaspoon salt and pepper
2 teaspoons chili seasoning (taco seasoning or grill seasoning)
Potato Ingredients
3 pounds small yukon gold potatoes
8 cups chicken broth (or any broth)
1 teaspoon salt
2 garlic cloves
Dijon Vinaigrette
1/4 cup apple cider vinegar
1 lemon (juice)
1 teaspoon Dijon mustard
1 teaspoon salt and pepper
1/2 cup olive oil
Other Ingredients:
1 handful arugula
1/2 cup crumbled blue cheese
1/2 red onion sliced
Instructions
Preheat oven to 500 degrees.

First, if yo have time salt steak on all sides overnight in the fridge. If not salt for 15 minutes.

Next, add pepper and chili seasoning to all sides and place on sheet pan.

Now, put on top rack of oven for 4 minutes and then flip for 4 more minutes for medium rare.

Next, set aside steak for 10 minutes before cutting so juices stay in steak when cutting. Cut steak into 1 inch chuncks and set aside.

Now, add potatoes to a large pot and cover with chicken broth, add 1 teaspoon of salt, and 2 garlic cloves. Bring to a boil then start timer for 10 minutes.

Next, while the potatoes cook whisk all the vinaigrette ingredients together in a large bowl.

Now, when potatoes are done drain and add hot potatoes into the dressing (hot potatoes soak up dressing better).

Finally, add steak, arugula, onions, and blue cheese to the bowl of potatoes and mix!

-Lasts a 4 days in fridge for leftovers. -Can make 2 nights in advance for parties but add arugula and onions day you will eat it.-Perfect 20 minute weeknight dinner that gives you more tike for your family!
Other Easy Recipes:
Any question comment below or email! I love helping change the recipe!
(Visited 729 times, 1 visits today)
Subscribe for tasty, free recipes!