Breakfast Grilled Cheese is my crunchy, cheesy, and creamy fast dinner reward for a happy long day! Because I am a chiropractor by day and food blogger at night, I like to test all my recipes after work to make sure they are quick and easy. This one is not only simple but feels special because its creamy eggs are for dinner.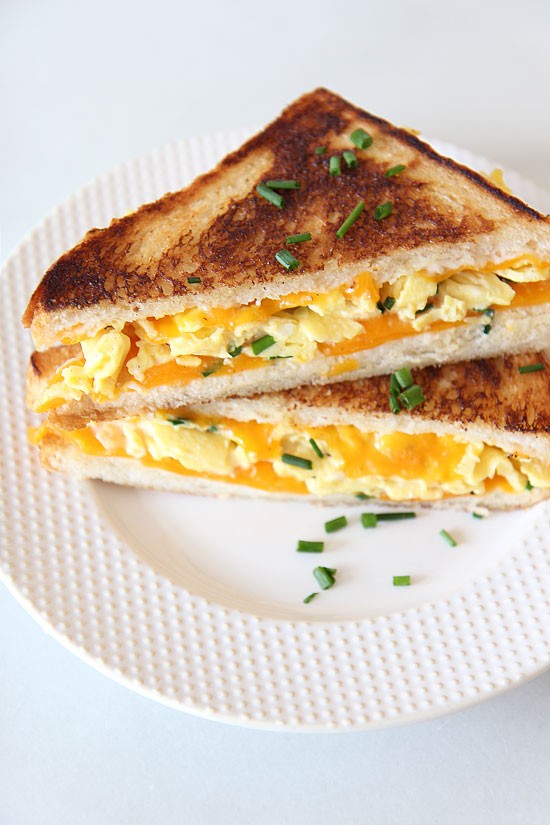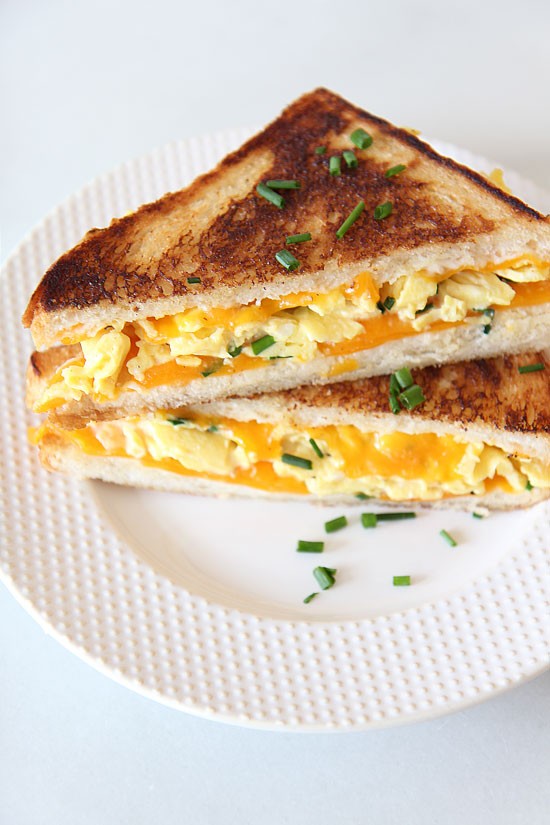 Anytime I eat this I think of growing up in NJ. The land of diners! I would get a super cheesy grilled cheese with the 2 egg special all the time (scrambled eggs, sausage, bacon, and coffee). I am going to teach you a trick to perfect crispy crust, that I learned from my days hanging out at the NJ diners.
The Ultimate Tip For the Crispiest Grilled Cheese Crust:
Heat up a skillet at medium heat.
Brush the outside of the bread with lots mayonnaise (Try this Japanese Mayo it is tangier and addictive).
Place grilled cheese on dry pan.
Cook approximately 2 minutes per side.
Every bite will give you that crunchy bite!
Here is a great nonstick pan I recommend: Click Here
Breakfast Grilled Cheese
Ingredients
5 eggs
1 handful chives (chopped)
2 tablespoons butter
3 shakes hot sauce
1 tablespoon sour cream
1/2 teaspoon salt
4 slices sourdough bread
4 tablespoons mayonaise
4 slices sharp cheddar cheese
Instructions
Perfect Scrambled Egg Instructions:
First, place the eggs in a bowl and whisk to combine. Then add chives and mix (Do not season the eggs with salt, as this will prevent them from getting creamy when cook).

Next, turn a non stick pan to low heat and add 2 tablespoons of butter and the eggs. Let the eggs cook for one minute (without string) or until you see small curds form.

Now, mix the eggs for 30 seconds more. The eggs should look wet but scrambled.

Finally, take off the heat. Add hot sauce, sour cream, and salt. Mix to combine and set aside.
Grilled Cheese Instructions:
First, clean the pan used for eggs and turn to medium heat.

Now spread mayo on all sides of 4 slices of bread. Place the bread on cutting board and add the 4 slices of cheese to each slices of bread.

Next, add eggs to two piece of cheese covered bread and form sandwich with cheese sides on the inside.


Now, place the grilled cheese in the pan for approximately 2 minutes (at the 2 minute mark peak under to see if bread is golden and flip). Cook for 2 more minutes on the other side.

Finally cut and enjoy!
Watch How To Make This Quick Dinner:
Two of my other favorite Grilled Cheese Recipes:
If you want to use a panini press (3 minutes total for perfect grilled cheese), this is the one I recommend:
I can't wait for you to try this recipe!!! Cheers to easy comfort food.  Happy Cooking!
QUICK NO BAKE DESSERT  FOOD RECIPE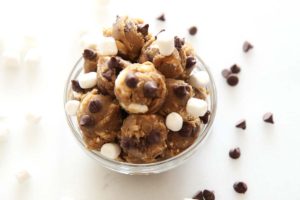 Your Dash Of Gratitude:
                                                                                                                                   
ANY QUESTIONS OR COMMENTS? COMMENT BELOW 🙂
With a grateful heart and an amazing tummy – Jay
This book changed my life and it is how I elevated my home cooking:

(Visited 6,472 times, 1 visits today)
Subscribe for tasty, free recipes!