I am going to show you how to make 5 Ingredient Marianna sauce. This is a 20 minute one pot recipe were almost all your ingredients you can find in your pantry.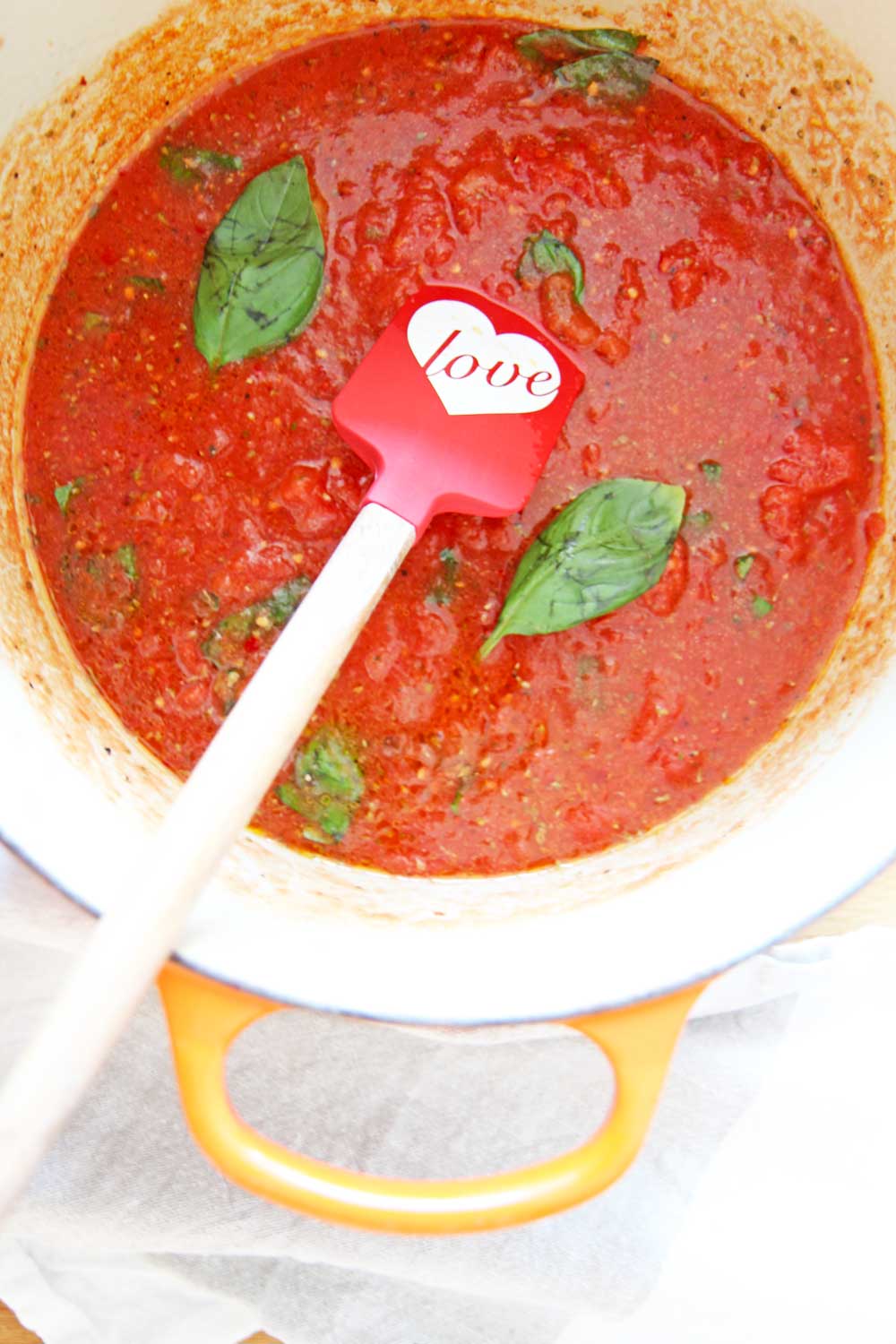 Canned tomatoes, garlic powder, oregano, red pepper flakes, and fresh basil (you can use dried if needed) is all you need for a quick marinara sauce. This recipes is bright, sweet, and almost like having fresh marinara straight from the garden (but from your pantry lol).
The first step is drop all the ingredients in a bowl. Then smash with your hands! This is your culinary therapy. Squeeze out all the stress from today so it can turn into sweet juice marinara dreams come true. Then heat olive oil in a pan, cook, and mix with any pasta you have in the pantry. Thats it! See the video down below to see me in action cooking this for reference.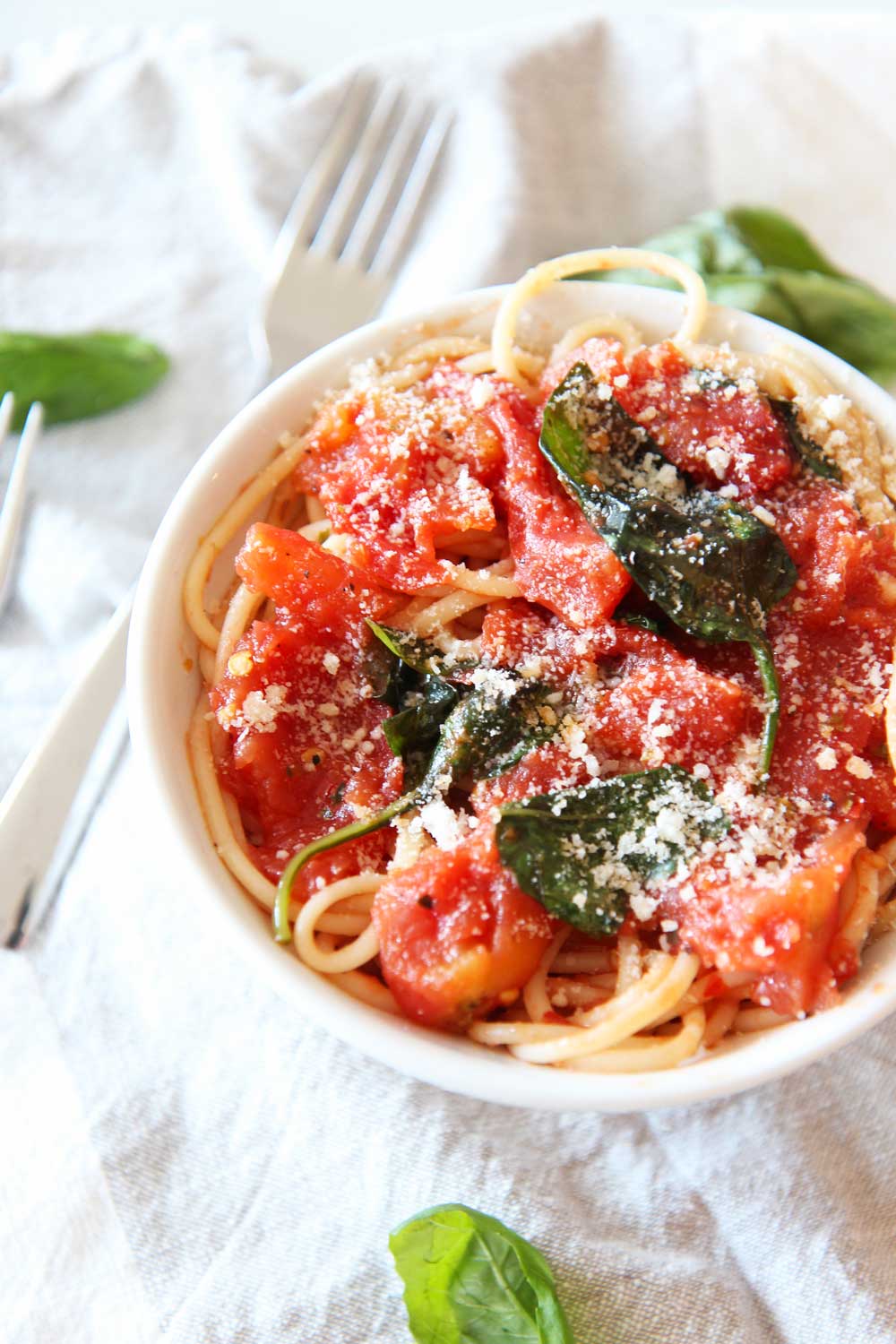 Growing up Mama Goldstein would let us have one night of comfort food to celebrate mid week! I would always get a pasta dish. Every bite reminds me of how lucky I was to learn that lesson as a kid. I know try to have a special dinner with Tom mid week so we can remember to pause and appreciate today and not wait until Friday to celebrate! I hope this recipe brings you a reason to celebrate with your family and friends. Cheers with a fork full of pasta! Cheers to all the lessons you learned. Also, Cheers to the times you told yourself I can even when times were tough. Finally just cheers to you being you! Your unique, special, and no-one can be as fabulous at being you as YOU!
Hope you love this recipe as much as me and Tom do! Happy cooking!
Recipe Hack / Cooking Tips:
Cook Pasta the Night Before: I like to boil my pasta the night before and save 1/4 cup pasta water. This will save you 15-20 minutes the next day when you are in a rush to get dinner on the table.This will save you 15-20 minutes the next day when you are in a rush to get dinner on the table.
Buy Whole Canned Tomatoes: They are less processed than diced tomatoes that have chemicals to help them keep the chunky shape. Also I like the rustic chunks you get when you get when you break them apart yourself.


Things you will need:
Watch The Video On How To Make This Easy Recipe!
How To Make 5 Ingredient Pantry Marinara
Ingredients
5 Ingredient Pantry Marinara Ingredients:
28 ounces whole tomatoes (canned)
12 leaves fresh basil
1 tablespoon garlic powder
1 tablespoon dried oregno
1/2 tablespoon red pepper flakes
Other Ingredients:
1 teaspoon salt and pepper
3 tablespoons extra virgin olive oil
1/2 cup parmesan
1 pound pasta
Instructions
First, place all the marinara ingredients into a bowl.

Next, squeeze with your hand s to break up tomatoes and seasoning.

Now, add salt and pepper and then pour the sauce into a pot with olive oil (on medium low heat).

Next mix and then cook for 15 minutes.

Finally, the sauce is done. Put in jar in fridge for later or mix in hot sauce with pasta and parm for dinner.
Simple Carbonara Recipes:
Any question comment below or email! I love helping change the recipe!
My Favorite Ways To Save Money In The Kitchen: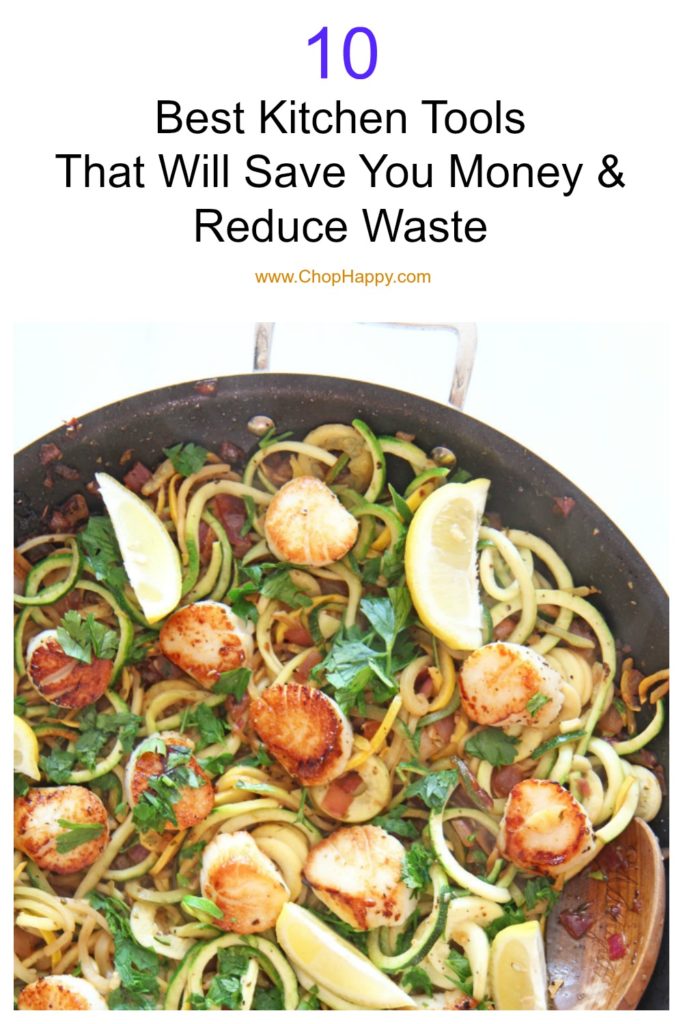 Totally Recommend This Food Processor:
Check Out This book! It changed my life and keeps me centered:
ANY QUESTIONS OR COMMENTS? COMMENT BELOW 🙂
With a grateful heart and an amazing tummy – Jay
(Visited 876 times, 1 visits today)
Subscribe for tasty, free recipes!