Only 5 ingredients and 10 minutes to make this creamy cheesy carbonara dinner. Because I am a chiropractor by day and food blogger at night, I like to test all my recipes after work to make sure they are quick and easy.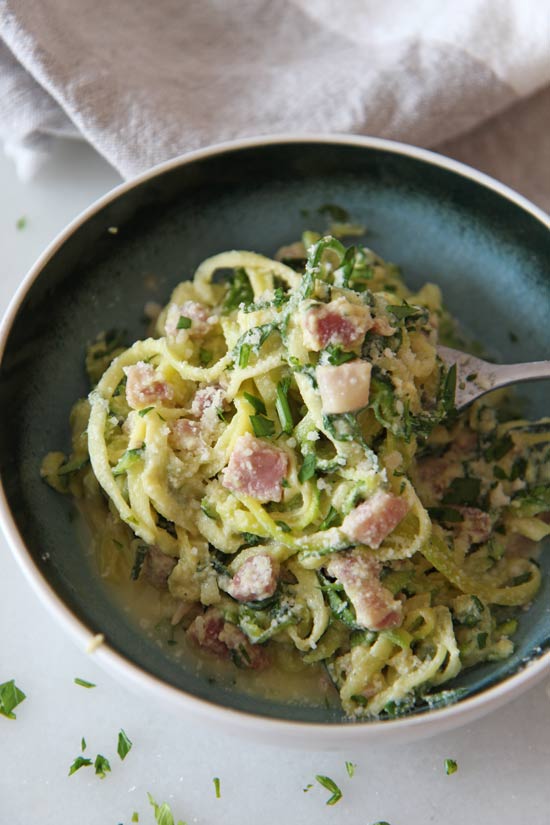 I have a confession to make just amongst us. I used to not like eggs. Shhh don't tell anyone! I am not sure why, but even as a kid when we would have birthday breakfast in our family I was the only one who chose bagels and lox. Since I was not an egg fan until recently, I never had creamy wonderful carbonara. My friend Amy asked me to make carbonara for her and (of course) if I was going to make carbonara it had to become a Chop Happy recipe! This was the day I fell in love with eggs. Also this is the perfect way to get your pasta fix fast after a long day! Watch how we make this pasta dish and reveal my simple change to the recipe that causes the eggs not to scramble and stay creamy and pasta amazing!
Here is an easy to store Zoodle Maker:
3 Tips to Super Easy Carbonara:
1. Mix the egg and Parmesan cheese together first before incorporating into the pasta (so the cheese can act as a barrier to not scramble the eggs)
2. Turn off the heat under the pan before adding the egg so not to hot when add the egg/cheese mixture
3. Stir constantly the pasta (and with your best dance moves) as you slowly mix the egg and the pasta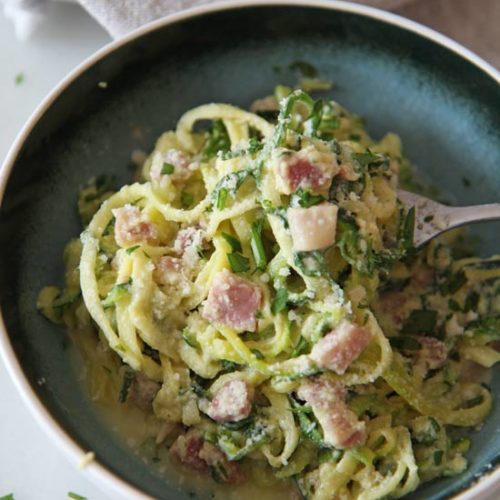 Zoodle Carbonara (5 Ingredients and 10 Minutes)
Ingredients
1 package zucchini noodles (or 2 zucchinis spiraled)
3 eggs
1 cup Parmesan cheese (grated)
4 oz pancetta (diced) (vegetarian option: use 3 tablespoons olive oil)
1 handful parsley (chopped)
Instructions
First, on medium low heat add pancetta to a pot and cook for 1 minute.

Next, while the pancetta cooks combine eggs and cheese together (until forms yellow creamy texture) in a small bowl and set aside.

Now, turn the heat to high and add the zucchini noodles to the pot with the pancetta. Stir for 30 seconds.

Next, turn the heat off and add the egg/cheese mixture. Stir for 30 seconds or until becomes creamy.

Finally, add parsley and enjoy!
Watch how to make this 10 minute dinner:
Two of my other favorite Carbonara Recipes:

I can't wait for you to try this recipe!!! Cheers to easy comfort food.  Happy Cooking!
QUICK NO BAKE DESSERT  FOOD RECIPE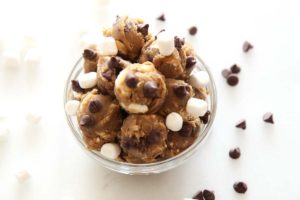 Your Dash Of Gratitude:
                                                                                                                                   
ANY QUESTIONS OR COMMENTS? COMMENT BELOW 🙂
With a grateful heart and an amazing tummy – Jay
This book changed my life and it is how I elevated my home cooking:

(Visited 3,164 times, 1 visits today)
Subscribe for tasty, free recipes!