These potato salads will satisfy anyone's cravings for potato tastiness! Whenever we have a picnic in Central Park or have friends come to dinner on our rooftop, I always make one of these potato salads. They are great to make ahead and goes well with just about anything.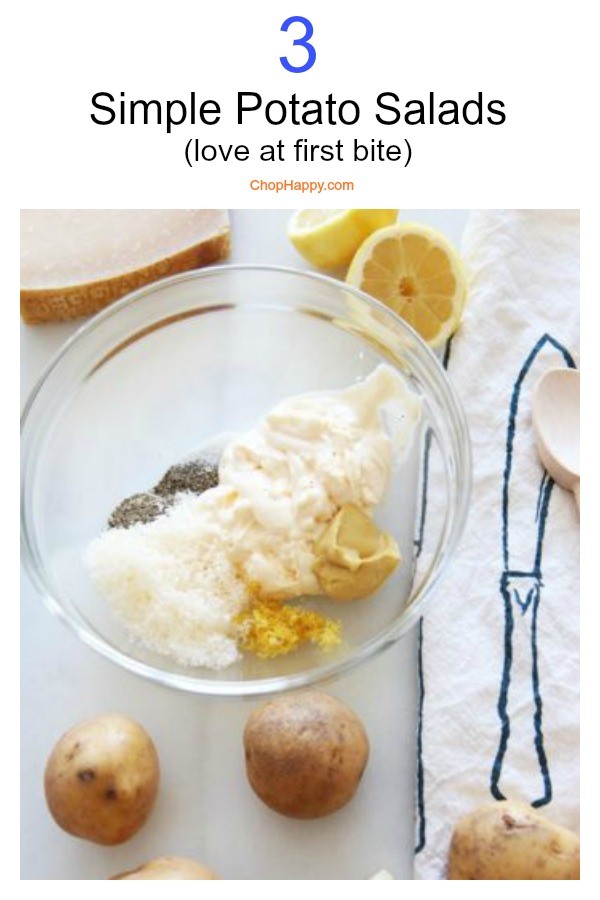 Check out these recipes for great tips. The simpleness of these dishes will make you enjoy cooking, even in a time crunch, so you can Chop Happy.
As always, this recipe is part of my mission to provide you with 2 goals:
1) To make amazingly simple homemade comfort food.
2) To learn fun tips to make cooking fun.
Cheers to you and long summer days of hanging with your friends and family without a care in the world.
 Tips For Stress-Free Potato Salad Fun:
Boil the potatoes in chicken stock instead of water. This will ensure amazing flavor throughout the potato.

All the recipes below are multipurpose. The dressing you mix with the potatoes can be used in salads, like dressing for cold pasta salad or marinade for chicken. 

Cooking Yoga: Before you cook anything, go down the list of ingredients so you can cut and measure everything. This will make cooking fun because you won't be running around while trying to chop and stir. 

Potato salads are great for families short on time because you can make it a couple of days in advance, and you can always make an extra big batch so there are leftovers.

 As always, these recipes are part of my mission to provide you with 2 goals:

      1) To make amazingly simple homemade comfort food.

      2) To learn useful tips to make cooking fun.
---
Mayo Free Potato in any form makes my taste buds party. I love mayonnaise but it does not travel well, so I wanted to create the ultimate creamy mayo-free potato masterpiece. There is so much flavor and texture to this potato salad your peeps will be shocked there is no mayo. It's a tornado of flavor from the mustard kick, the sweet grassy dill and the crunch of the Pepita seeds against the juicy soft potato. The bonus to this recipe is the dressing is also good on salads or as a marinade for chicken.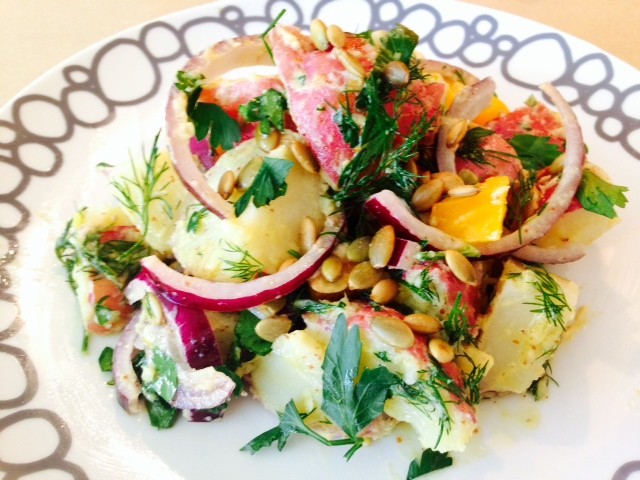 ---
I call this my Mediterranean vacation in a bowl! This is a make-ahead potato salad that is so simple your friends and family should totally send you to Greece. I love potatoes anytime and this one adds crunchy veggies, salty cheese and lemony yumminess. What I love most is how little work goes into such huge flavor reward. We went to Greece for our honeymoon and it was the most beautiful place we had ever been. We were on a cliff over looking the ocean. Every morning I would have a Frape (greek coffee) and the amazing veggies that they pulled from the earth to table. This recipe includes some of my favorite flavors form the food we eat. Did I mention its sooooo easy to make.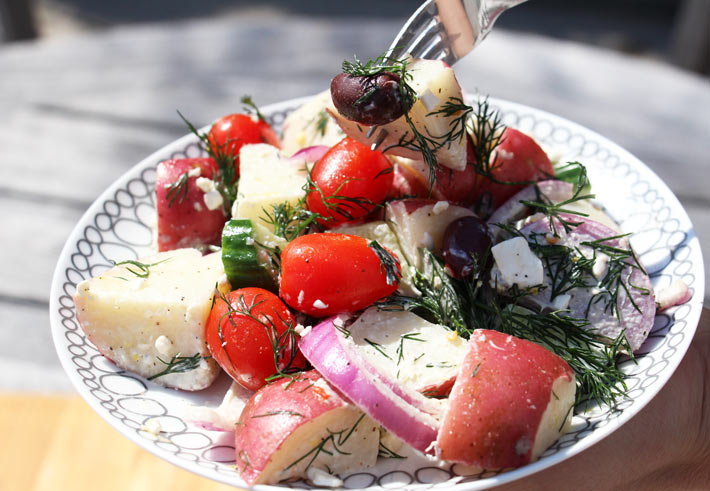 ---
Are you a superfan of potatoes like me?
I absolutely love potato salad and inventing craveable mash-ups. This recipe is dedicated to my mom and BFF, Pam!!! She loves Caesar salad, and every time she orders it at a steakhouse, she says she feels like Elizabeth Taylor. So mom, for you and all my Chop Happy friends, I combined the two in a totally creamy, cheesy, and starchily satisfying potato salad. This recipe is great because you learn lots of techniques to make you a home cook superstar.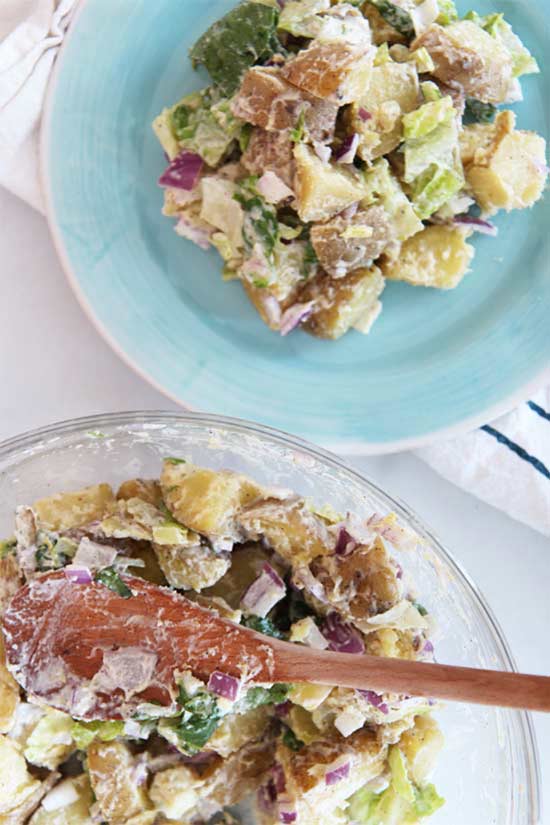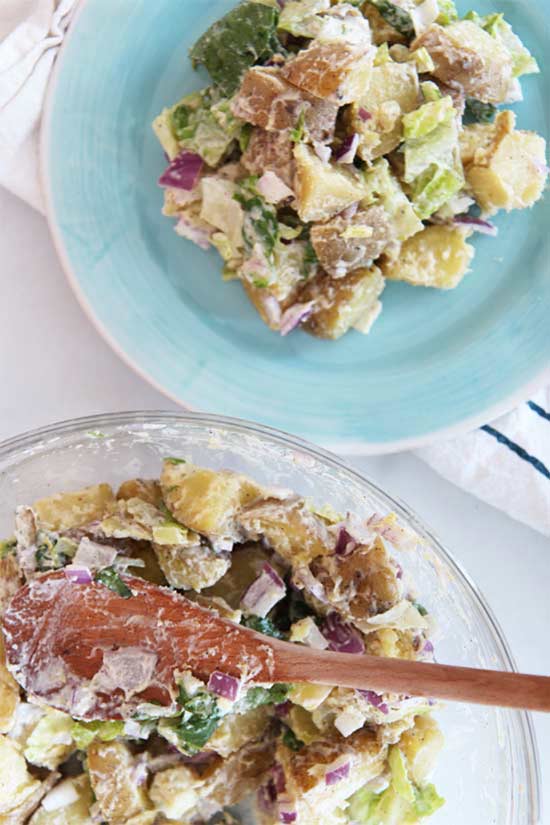 ---
Need Help?: I am so excited to hear what you think and if you have any questions about these Spud-tastic salads,
I am here to help. Just comment below and we can work on your recipes together!
Please drink responsible :-)!
---
Here is Your Dash of Gratitude:

---
I am so Grateful for you and hope you are doing awesome today 🙂
With a grateful heart – Jay
---
(Visited 826 times, 1 visits today)
Subscribe for tasty, free recipes!