Move over Taco Tuesday the taco shell is now a fluffy buttery baked potato Taco!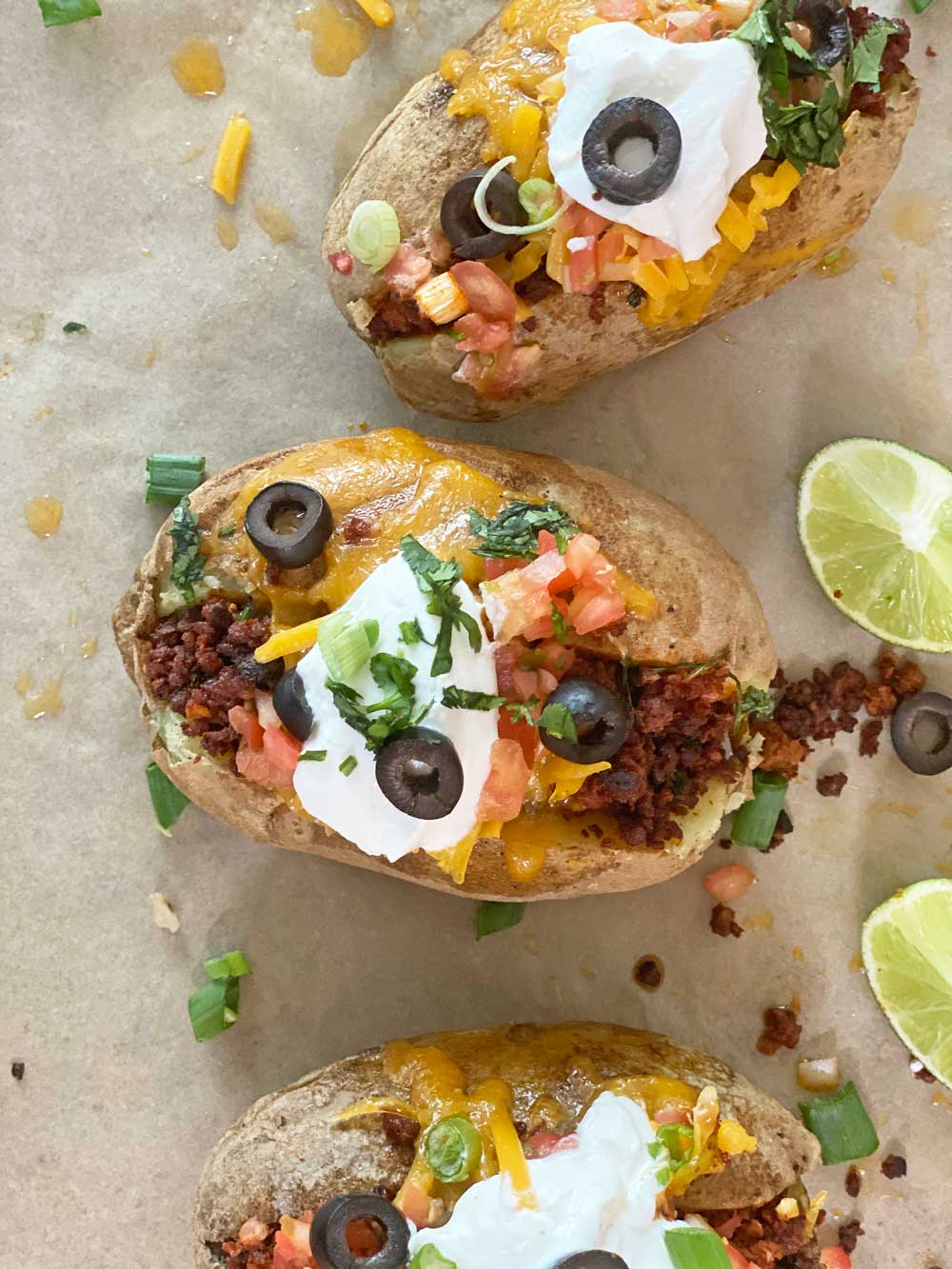 This is a fun take on a tacos and has lots of memories for me. First, growing up my mom always served a baked potato as our starchy side. Fish, chicken, or steak a baked potato was always there. I use to think that was so fancy because the only other place I had a baked potato was at a steakhouse for a special occasion. Second, Taco Tuesday in our house was Taco/Burrito Thursdays when Tom and I first started hanging out. He wanted to make dinner at least one night (because I always am cooking lol) so he would get us Chipotle every Thursday. It became so regular that neighbors would ask how was Chipotle Thursdays. So I took the chorizo and other toppings we use to get and make it part of this taco.  
Cooking is more than just a task it is a way to create memories through food. It is a way to make you happy because you are making the people you cook for happy. But most important we all end up in the kitchen so use it as a place to zen out and say what you're grateful for as you stir or chop. Happy Cooking and grateful for you!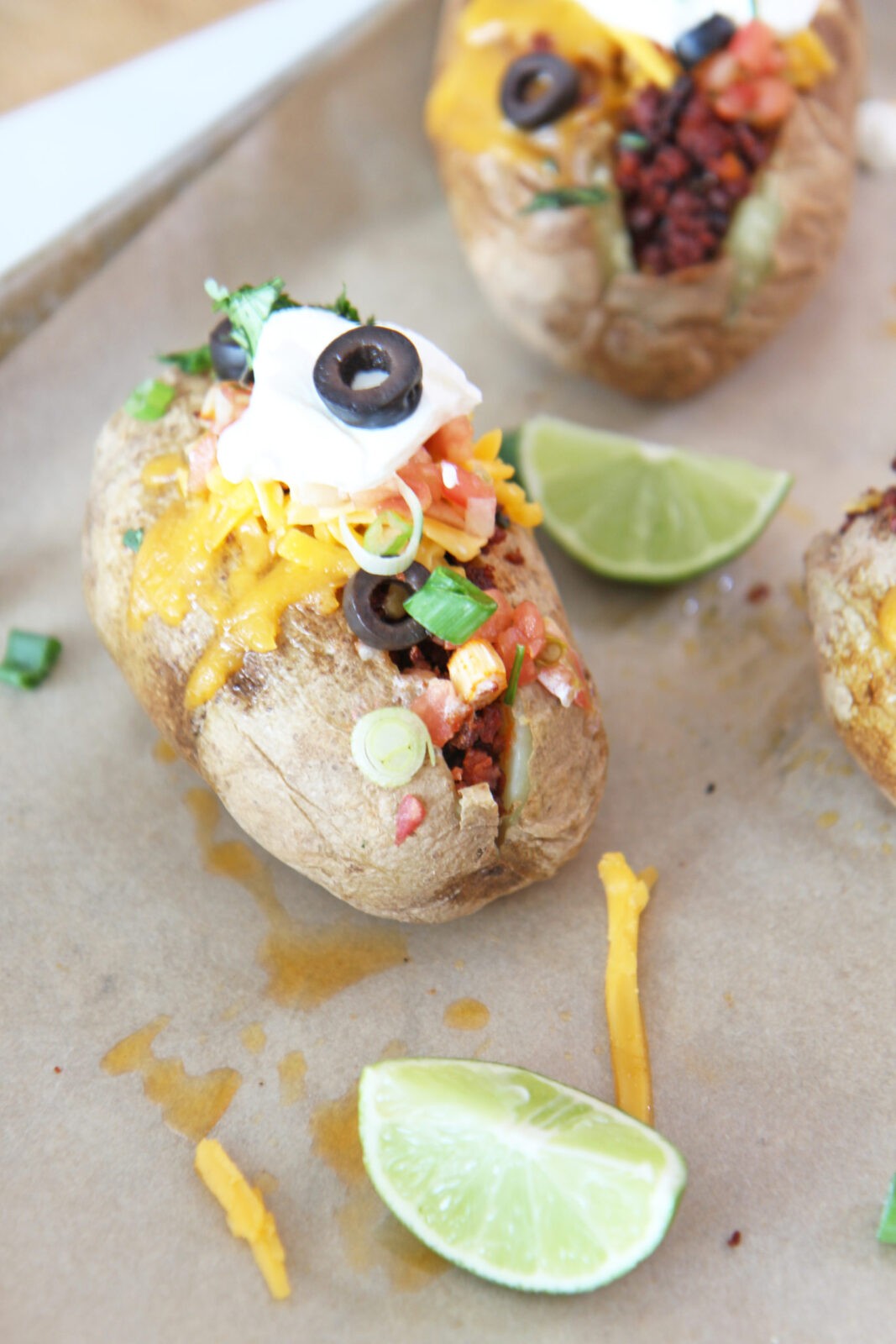 Gratitude Tip While You Cook:
My mission with Chop Happy is to create easy recipe for busy people with a dash of gratitude! Since we all have to be in the kitchen at some point in our day lets use that time to zen out and gain more gratitude.
For the time the soup cooks visualize your dreams as if it is already here. Working on you does not have to be a long drawn out process. It can be as simple as a couple of pages of a motivational book. The perfect book to read to learn more about finding calmness, your dreams and making your wishes a reality is
The Secret!
Recipe Hack / Cooking Tips:
Fastest Way To Cook Potatoes: The microwave is made to cook baked potatoes. Instead of 50 minutes in the oven, you can cook 4 potatoes in about 14 minutes. Check your microwave for a potato setting for how long to cook them. Also, don't forget to poke holes with a fork so the potato does not explode in the microwave. 
Gratitude While Stirring: Use the kitchen as a place for self care. As you stir or chop say what you are grateful for. I do this all the time so that cooking can be a time to recharge.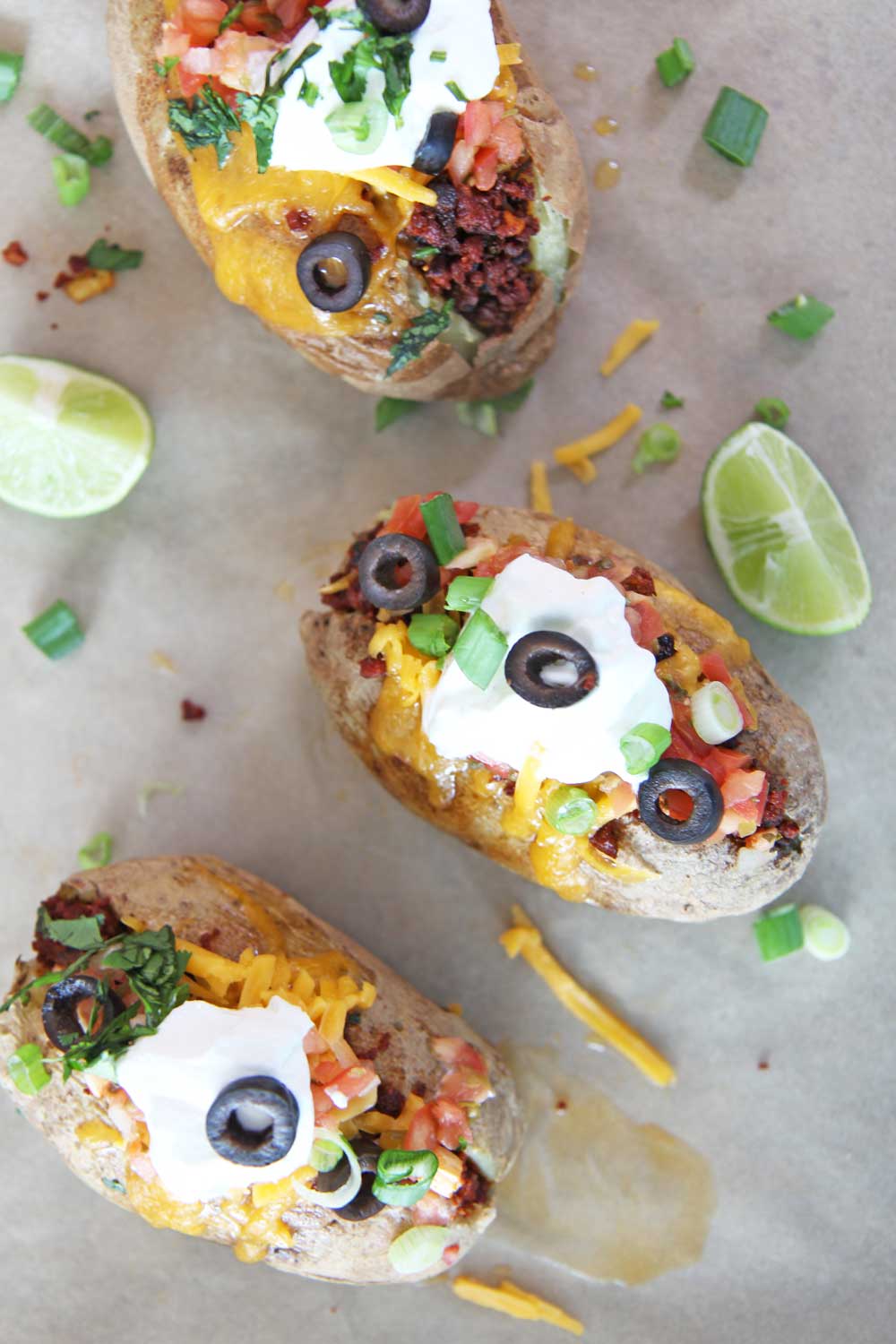 Watch How to Make Baked Potato Tacos (approx 1 minute video):
Easy Cheesy Baked Potato Tacos
Ingredients
4 russet potatoes
4 tablespoons butter
1 teaspoon salt / pepper
1 pound Mexican chorizo (uncooked chorizo)
4 scallions (chopped)
1 handful cilantro (choped)
2 cups cheddar (grated)
1/2 cup salsa
4 tablespoons sour cream
5 black oilves sliced
Instructions
First, poke holes all over potatoes with a fork (so the potato does not explode in microwave) and cook in microwave on potato setting.

Next, cook the chorizo in pan for 3 minutes. When cooked through add cilantro and scallions.

Now, take the hot potato and cut almost in half way through just leaving 1 inch uncut so potato stands up like taco shell. Sprinkle each potato with salt, pepper, and place butter in the potato.

Next, divide the chorizo mixture between all 4 potatoes.

Now, top with cheddar cheese, salsa, dollop of sour cream, olives, cilantro and scallions (feel free to use your favorite taco toppers).

Finally, cheers to easy recipes with a dash of gratitude.
Other Easy Recipes:
Any question comment below or email! I love helping change the recipe!
(Visited 270 times, 1 visits today)
Subscribe for tasty, free recipes!