Cheesy decadent lobster mac and cheese happiness!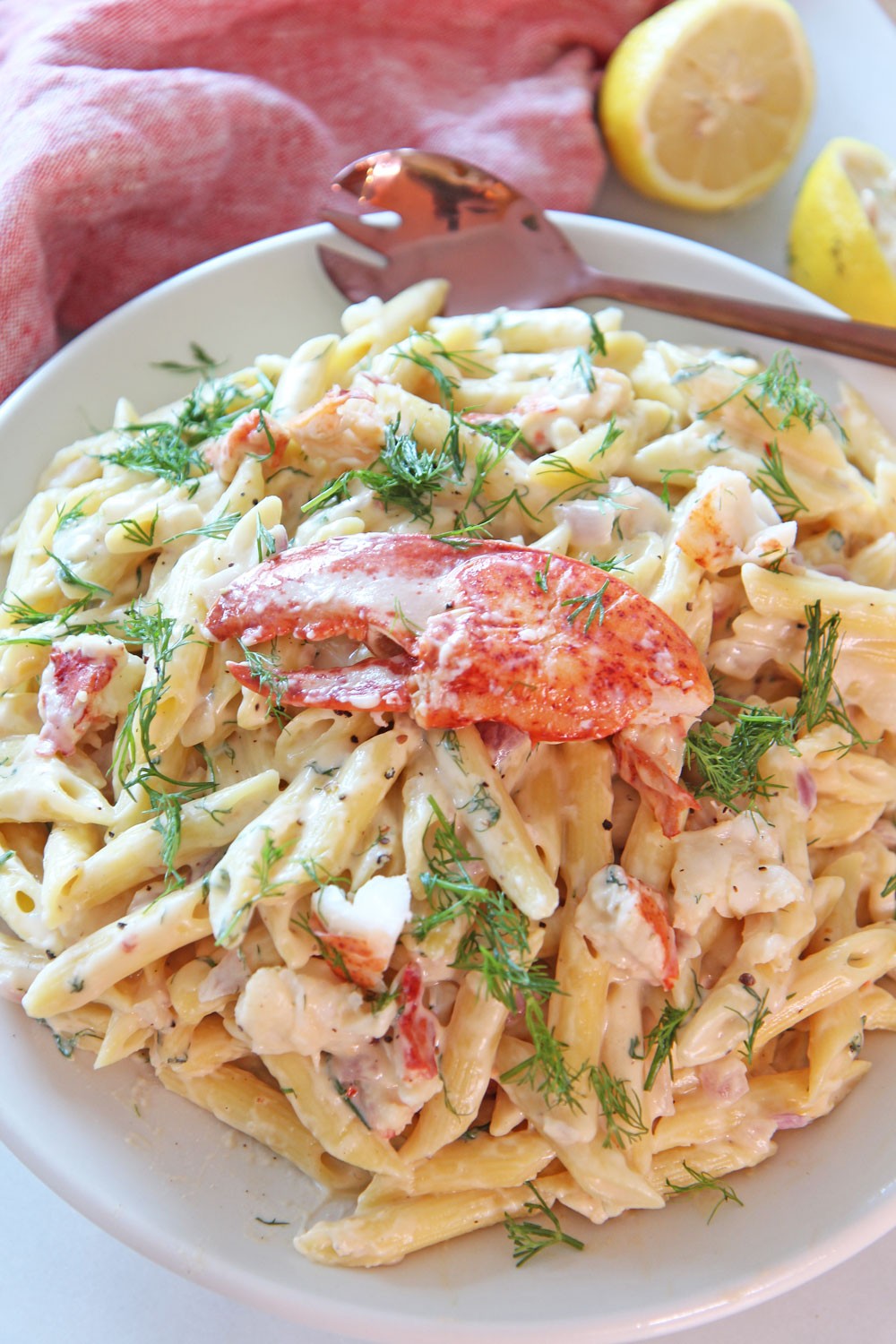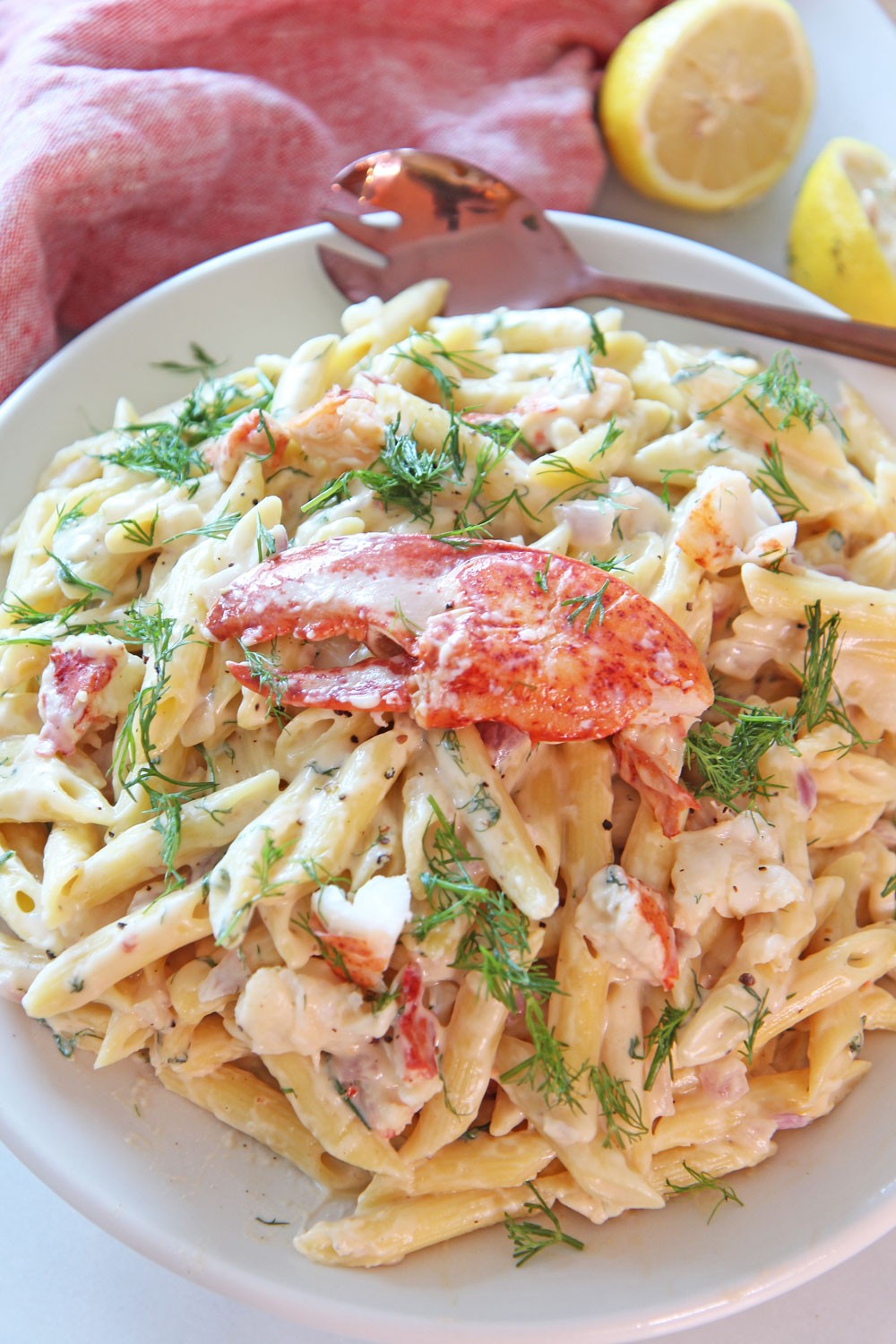 There is no better treat yourself moment then lobster mac and cheese. The big creamy pool of cheese sauce, pasta happiness, and sweet buttery lobster! Sometimes we wait for others to shower us with decadent things. Why wait? Shower yourself with decadent pasta love. You must celebrate yourself and give yourself gifts every once in awhile. For me and Tom that gift is always food. Cheers to you and be proud of how far you have come and celebrate you!
This Recipes Hack (make it faster):
Faster recipe because no roux needed to make this cheese sauce. You just need two cans of evaporated milk and 1 tablespoon of corn starch. Mix the corn starch in the cheese and then pour into lightly boiled condensed milk. Instant cheese sauce in one minute!
Watch how to make this awesome mac and cheese recipe: 
Easy Lobster Mac and Cheese
Ingredients
1 pound pasta (cooked)
1 red onion (chopped)
3 garlic cloves (chopped)
3 tablespoons butter
1 teaspoon salt and pepper
1 pound lobster cooked and chopped
Cheese Sauce Ingredients:
2 cans evaporated milk
2 cup shredded mild white cheddar
2 cups shredded Gruyere cheese
1 handful dill chopped
1 tablespoon corn starch
1/4 teaspoon nutmeg
1 teaspoon red pepper flakes
1 teaspoon salt and pepper
Instructions
First, on medium heat sauté onion, garlic, salt, pepper, and butter for one minute.

Next, add 2 cans of evaporated milk. Cook on low boil for 30 seconds.

Now, in separate bowl mix cheeses and corn starch.

Next, pour cheeses in the milk mixture stir and cook for 30 seconds.

Now, add salt/pepper, nutmeg, dill, lobster, red pepper flakes.

Finally, add pasta, stir for 1 minute and enjoy!
My Favorite Ways To Add More Gratitude In My Life: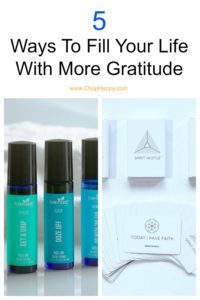 Totally Recommend This Food Processor:
Check Out This book! It changed my life and keeps me centered:
QUICK NO BAKE DESSERT  FOOD RECIPE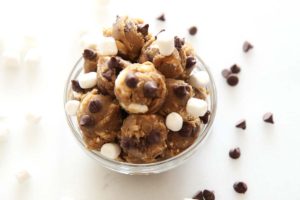 Your Dash Of Gratitude:
                                                                                                                                   
ANY QUESTIONS OR COMMENTS? COMMENT BELOW 🙂
With a grateful heart and an amazing tummy – Jay
(Visited 1,709 times, 1 visits today)
Subscribe for tasty, free recipes!