This easy NY Strip Steak with Prosecco Vinaigrette sounds fancy but its super simple to make on a date night or holiday dinner.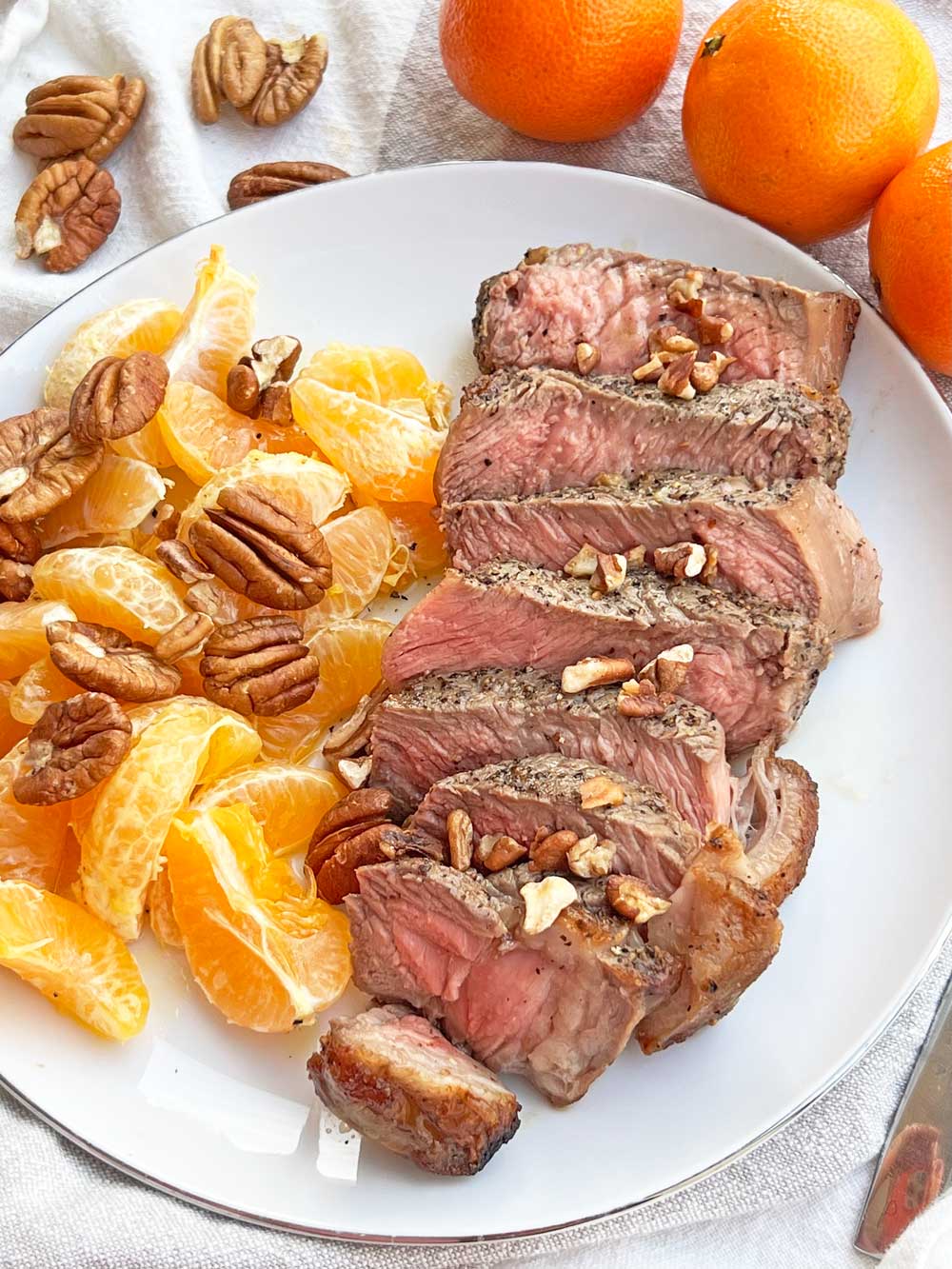 Fresh Direct challenged me with 5 Ingredients to make a recipe. They gave me steak, Prosecco, make syrup, clementines, and pecans. You were allowed to use salt, pepper, and oil. I was so excited to do this challenge and NY strip steak is one of my faves. I made my 8 minute steak and a dressing I pour all over the beefy juicy steak for extra flavor.
This is steak happiness on a plate with very little work. The steak takes 8 minutes to cook and the vinaigrette only 2 minutes. But it sounds fancy so no need to tell anyone how easy it is lol. Happy cooking and I hope this makes life easier for you in the kitchen. What do you make when you want a fancy dinner that is super easy to make? How do you cook your steak? I hope that you celebrate more moments. Even the small wins because you are a superstar.
Thank you Fresh Direct for the Groceries!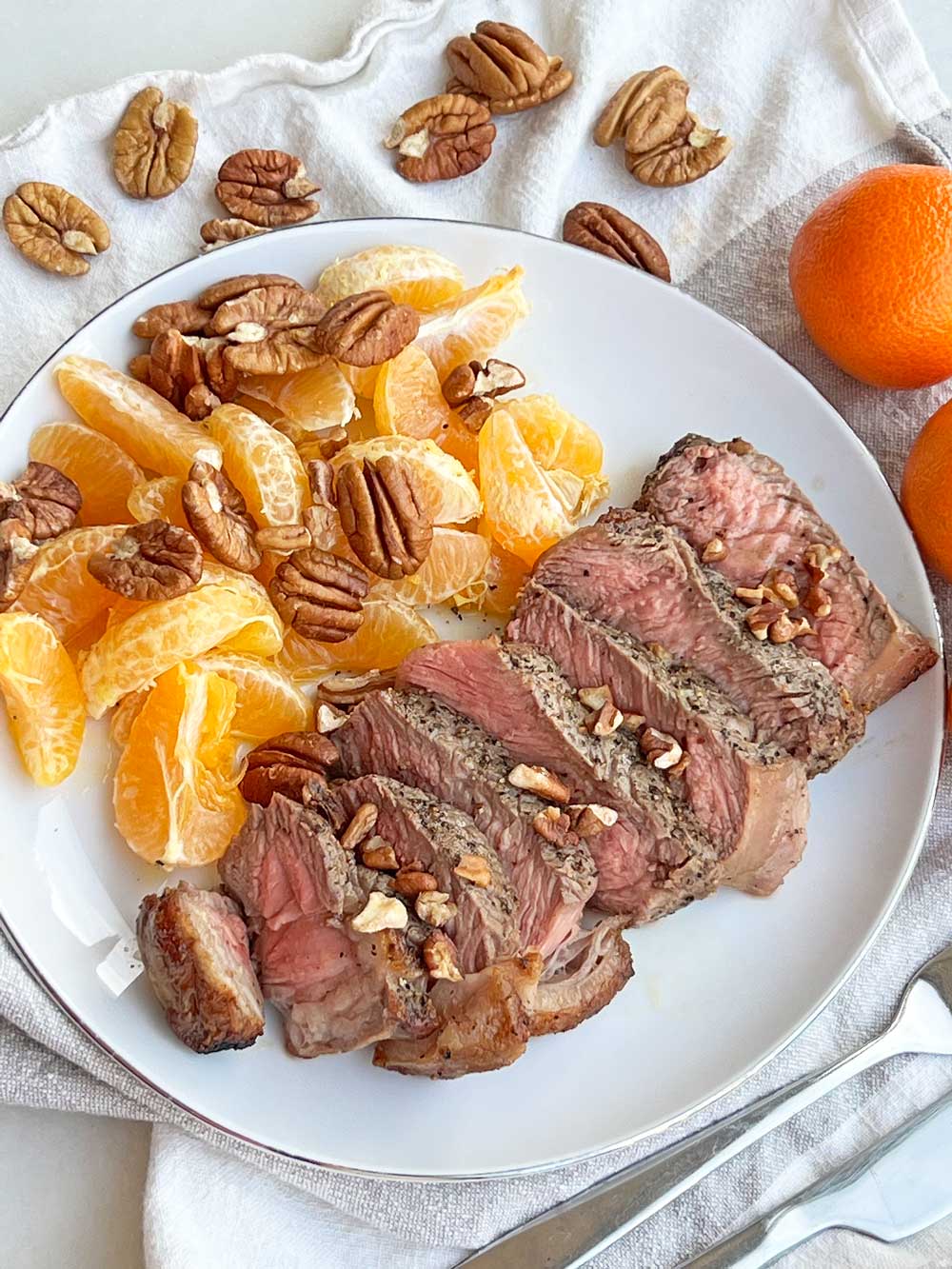 Easy NY Strip Steak with Prosecco Vinaigrette (5 Ingredient Recipe)
Ingredients
1 NY strip steak
1/4 cup Proscecco
6 clementines
1 handful pecans
1 tablespoon maple syrup
Pantry Seasonings
2 teaspoons salt
2 teaspoons pepper
1/2 cup olive oil
Instructions
First, place the prosecco, maple syrup, juice of 2 clementines, salt, pepper, and oil in a bowl and whisk to combine. Set aside to use later.

Next, salt and pepper the steak. Place the steak on the sheet pan and put on the top rack of a preheat oven at 500 degrees. Cook the steak for 4 minutes one side and then flip the steak for 4 minutes the other side. Let the steak rest for 10 minutes before you cut into slices.

Now, place the pecan in the oven wrapped in tin foil for 5 minutes to toast.

Next, peal and segment the rest of the clementines. Mix a couple tablespoons of the Prosecco dressing and place on a plate.

Finally, cut the steak in slices and pour a couple tablespoons of the Prosecco dressing on the steak. Enjoy!
There is nothing better then best desserts online delivered to your home. The below are made by a real NYC icon like Carnegie Deli (They actually offer Free shipping and 10% off with Code: Chop10).
The Best Desserts You Can Order Online (Free Shipping): Click Here
Easy Dinner Recipes For a Busy Day:
With a grateful heart and an amazing carbonara tummy – Jay
This book changed my life and it is how I elevated my home cooking:

Grateful if you check out ChopHappy on Instagram and Tiktok for fun video recipes!
(Visited 144 times, 1 visits today)
Subscribe for tasty, free recipes!