Making deep dish pizza at home is fun and super easy!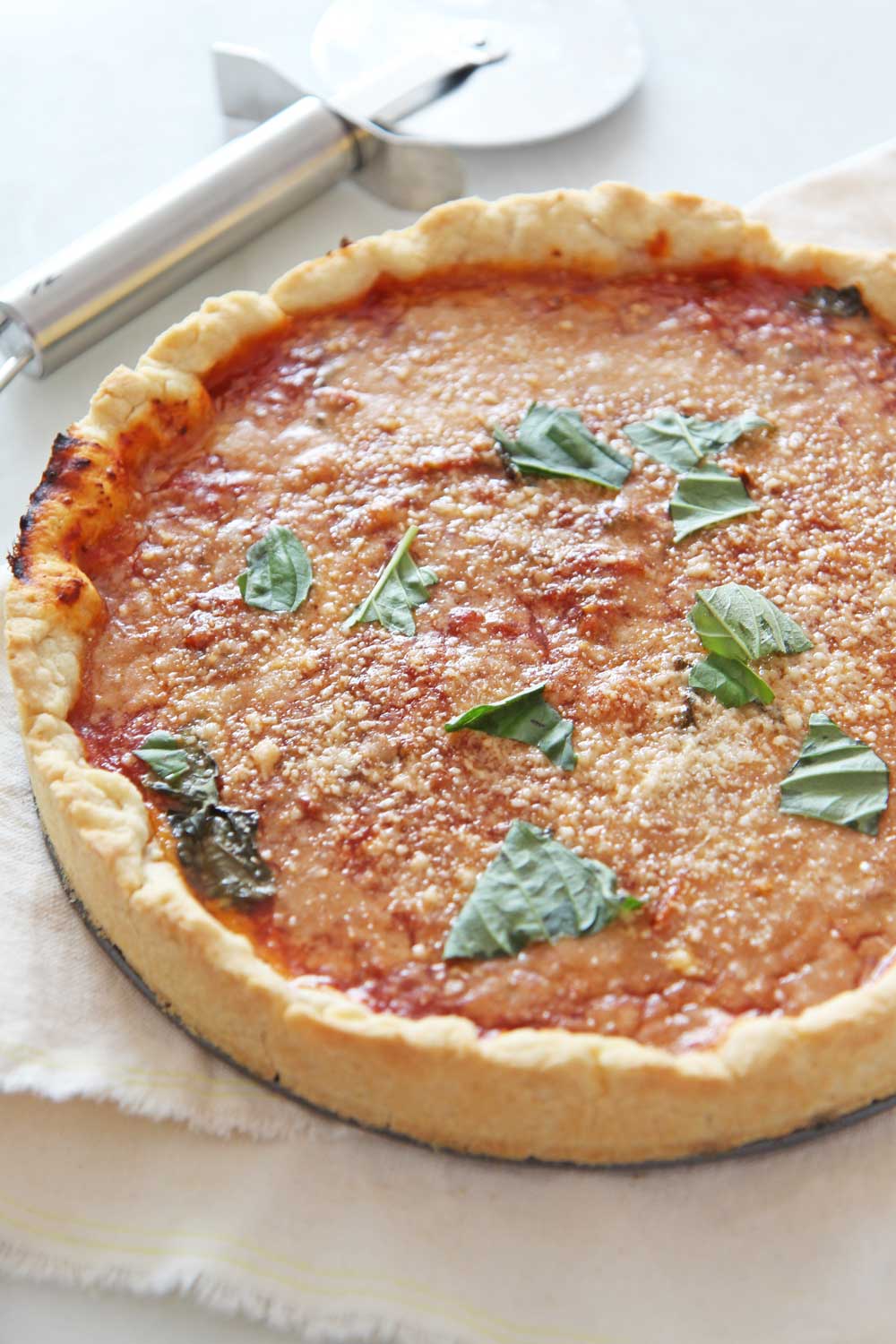 I am a New Yorker and I love deep dish pizza! I know that there is pizza contest between NY and Chicago on with pizza is the best but I am team both (but NY pizza is still my heart)! The first pizza I had in Chicago was on a trip for a convention. My whole life up into my 30's I never had deep dish pizza. I was so excited! It was the middle of winter and below below zero so I had it delivered to the hotel. It was life changing amazing. I could only eat a slice because it was so packed with food but OMG yum. I ordered from Giordano's deep dish pizza and ever since it has been my favorite. What was different was the buttery flaky crust. It almost tasted like pie dough. So I set on a mission to sort of recreate it. So the recipe below I use my
5 Minute Pie Dough Recipe
as the crust. Hope you love it too! The pizza lesson I learned is don't listen to the haters and make your own opinion on topics people are fighting about. You might be surprised and change your word to pizza happy! Happy Cooking and grateful for you!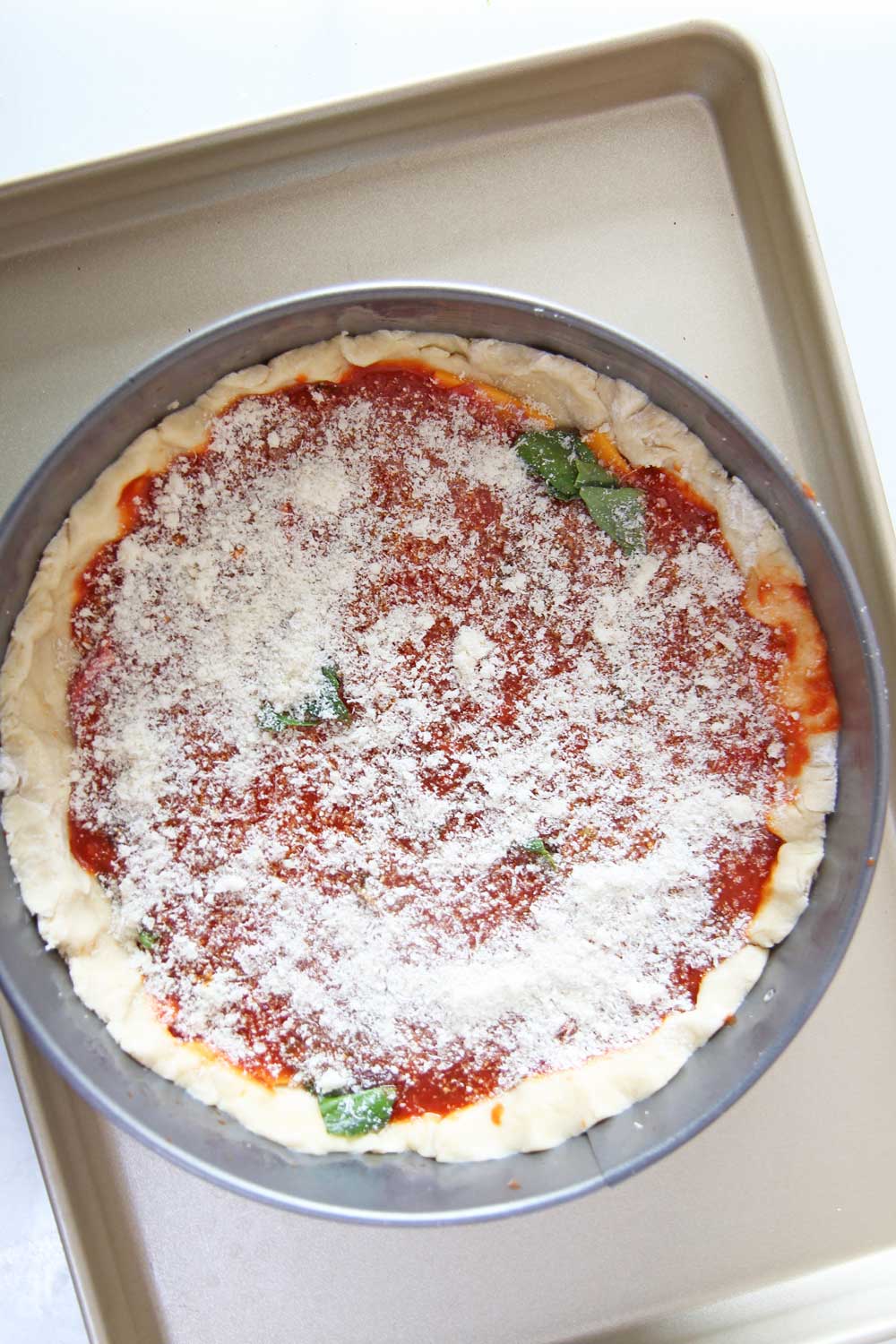 Support Local Business:
The sauce in this recipe came from the famous Carmines! Click HERE to order sauce and help out local eats! 
The pizza place that inspired this recipe is Giordano's Pizza and they Ship pizza nationwide: Click Here
Gratitude Tip While You Cook:
My mission with Chop Happy is to create easy recipe for busy people with a dash of gratitude! Since we all have to be in the kitchen at some point in our day lets use that time to zen out and gain more gratitude.
For the time the soup cooks visualize your dreams as if it is already here. Working on you does not have to be a long drawn out process. It can be as simple as a couple of pages of a motivational book. The perfect book to read to learn more about finding calmness, your dreams and making your wishes a reality is
The Secret!
Recipe Hack / Cooking Tips:
Easiest Pie Dough: Use a food processor. Less mess in your kitchen and just drop and mix. Also, Put the butter in the food processor and leave both in the fridge for 1 hour so that the butter stays cold. 
Gratitude While Stirring: Use the kitchen as a place for self care. As you stir or chop say what you are grateful for. I do this all the time so that cooking can be a time to recharge.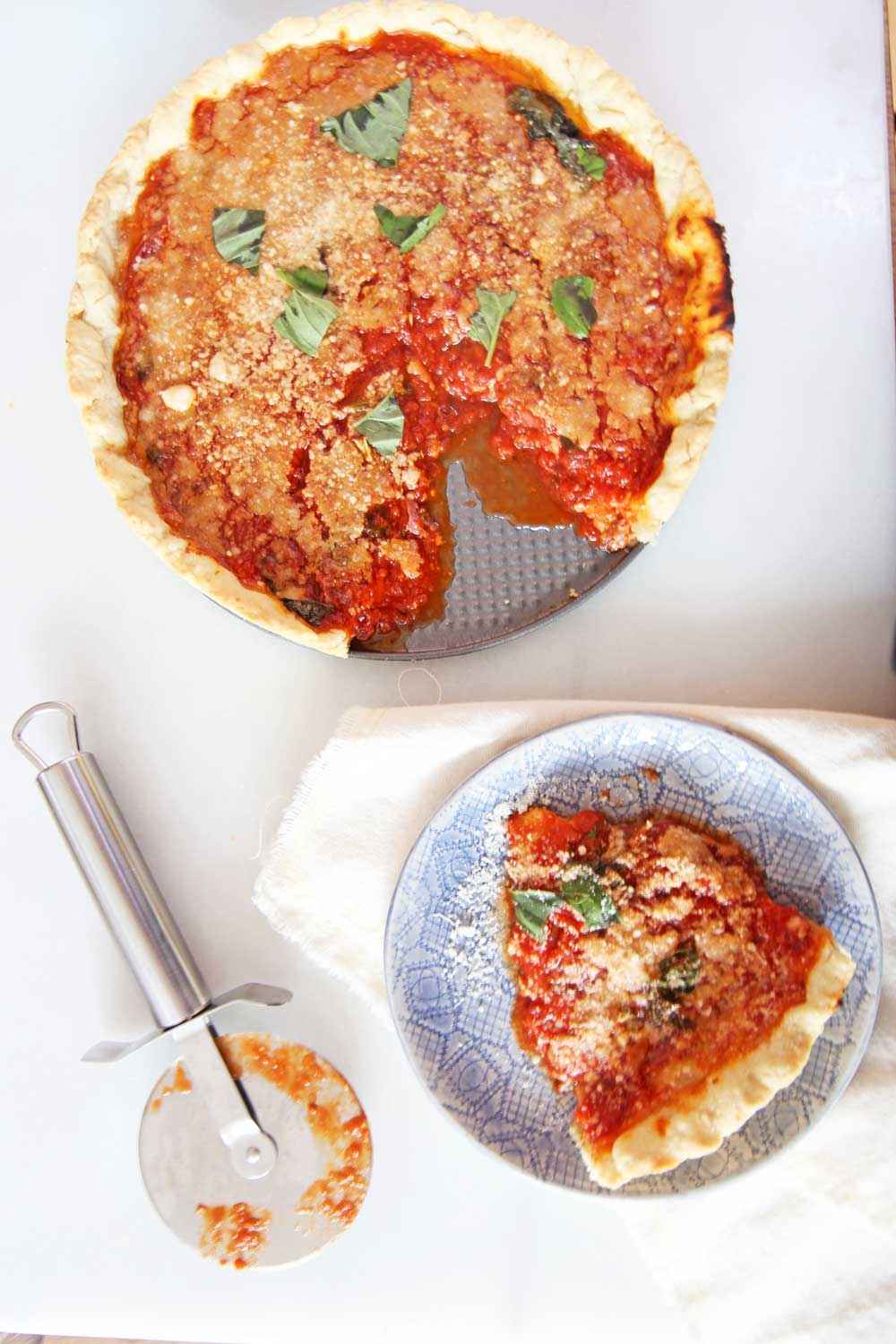 Watch How to Make Deep Dish Pizza (approx 1 minute video):
To Buy A Fun Spring Form Pan: Click Here
How To Make Deep Dish Pizza
Ingredients
Pie Dough Crust:
2 sticks cold butter (chopped)
2 1/2 cups flour
1 teaspoon salt
8 tablespoons cold water
1 tablespoon apple cider vinegar
Pizza Ingredients:
7 slices sharp cheddar cheese
5 slices salami (chopped)
1 jar favorite marinara (1 cup)
1/4 cup grated parm cheese
13 basil leaves (hand torn)
Instructions
Pie Dough Instructions:
First, place the food processor bowl and blade attached in the fridge with butter to get cold (approx 30 min).

Next, mix flour and salt together with butter in the food processor on pulse setting for 10 seconds.

Now, add the water and vinegar and pulse until the mixture looks like clumpy wet sand.

Next, take out the dough and form into a ball.

Finally, press the dough into a spring form pan making edges of the dough go up the sides about an inch (see video above). Place pan in fridge until ready to assemble so butter stays cold for flaker crust.
Pizza Ingredients:
Preheat oven to 375 degrees.

First, place cheddar cheese on dough covered spring form pan.

Next, sprinkle salami all over the cheese.

Now, add layer of basil and then pour tomato sauce all over the top.

Next, springle with parm and place in oven on middle rack for 25 minutes.

Finally, release spring form pan and happy pizza eating!
Other Easy Recipes:
Any question comment below or email! I love helping change the recipe!
(Visited 502 times, 1 visits today)
Subscribe for tasty, free recipes!