This is an easy eggplant meatloaf that is meatless fabulous for Meatless Monday!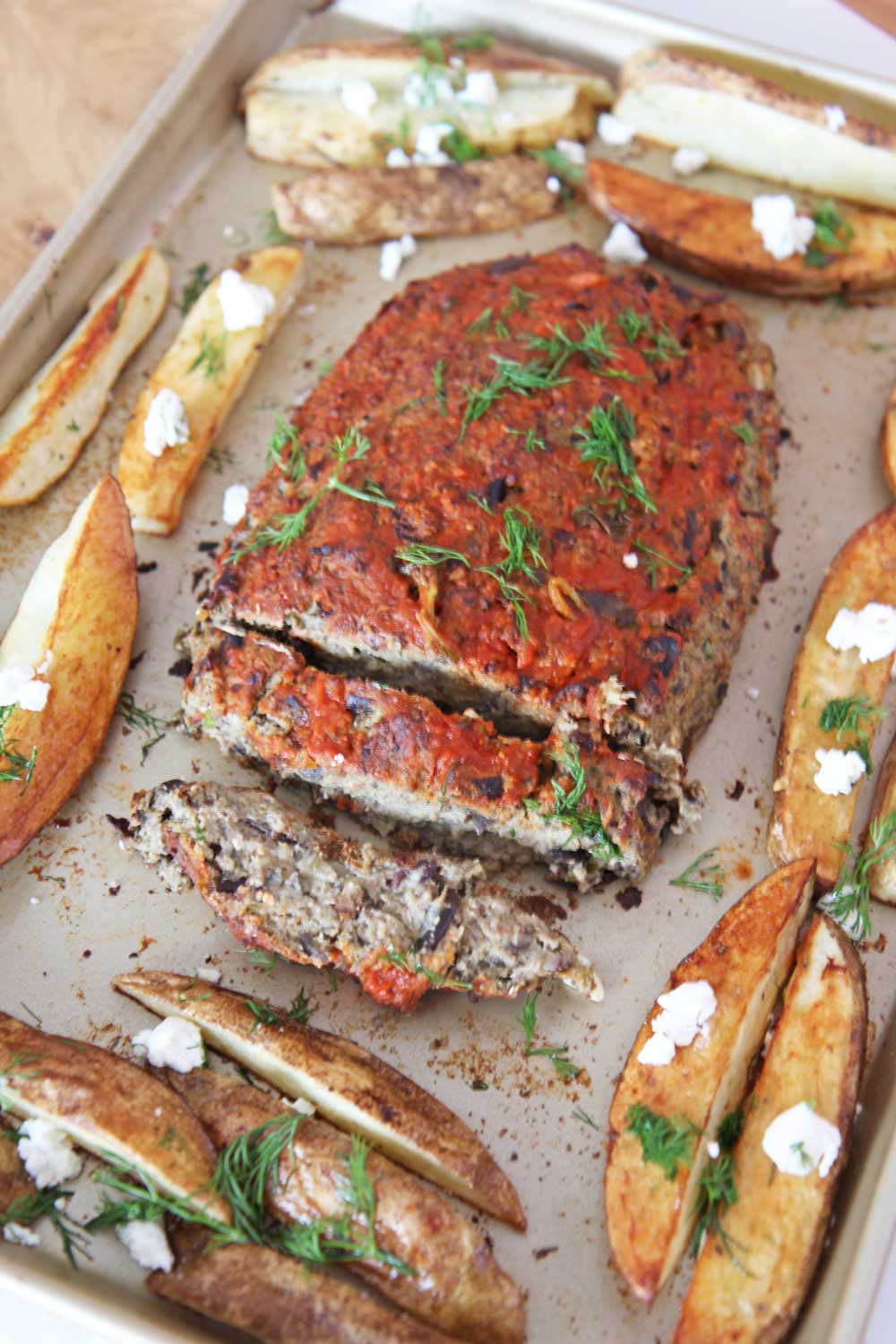 I love transforming my favorite comfort food into new dinners. I love meatloaf but sometimes you feel like a meatless option. Eggplant is my favorite vegetarian ingredient because it is hearty and soaks up whenever spices you have in your pantry. I made this Greek Style Eggplant Meatloaf in dedication of my Honeymoon in Santorini! It was the most beautiful place I have ever been and the food was amazing! If you want to change the flavors to Italian: substitute feta for ricotta, use green olives instead of Kalamata olives, and finally basil instead of dill. Hope this makes your Meatless Mondays Happy Cooking and grateful for you!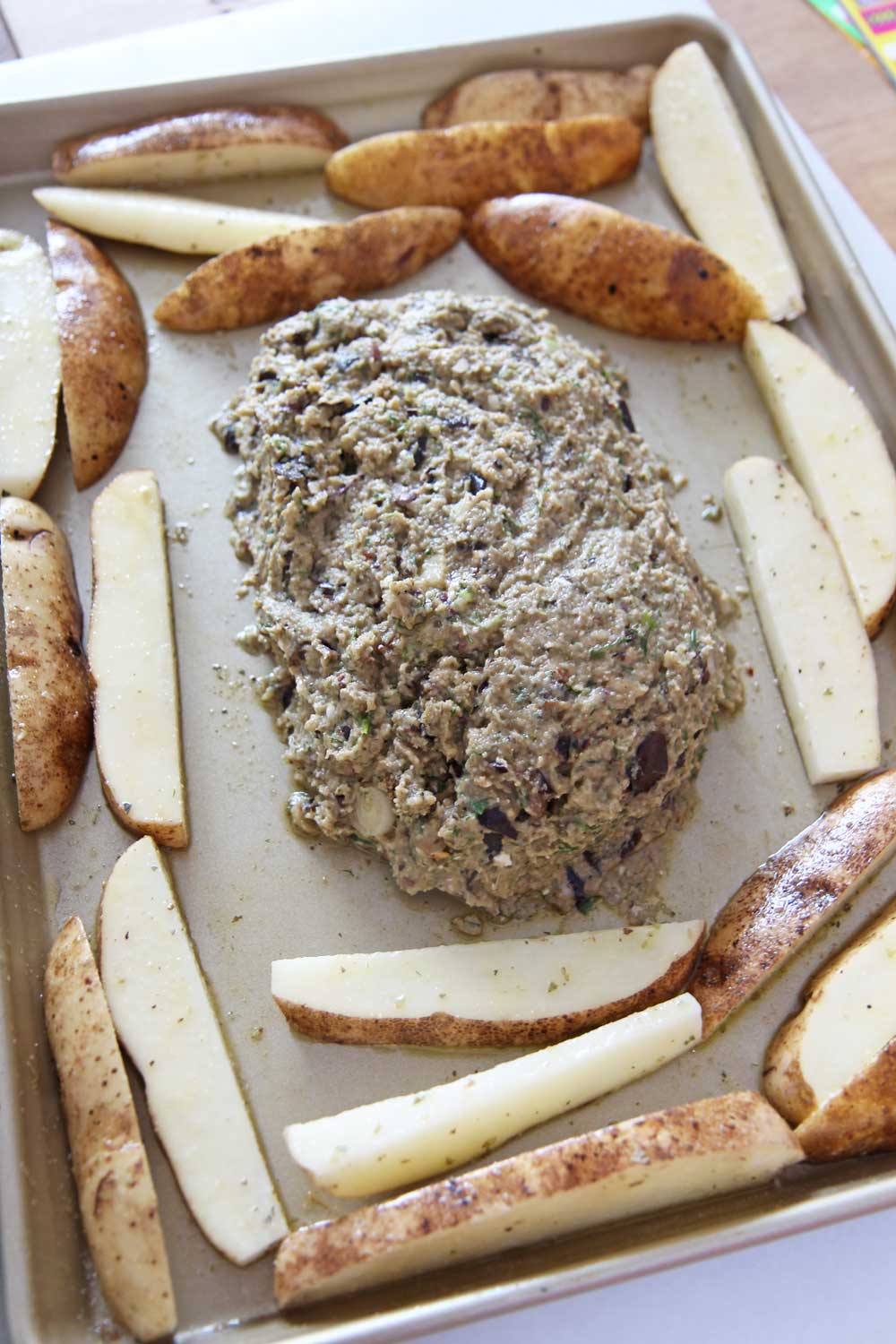 Gratitude Tip While You Cook:
My mission with Chop Happy is to create easy recipe for busy people with a dash of gratitude! Since we all have to be in the kitchen at some point in our day lets use that time to zen out and gain more gratitude.
For the time the soup cooks visualize your dreams as if it is already here. Working on you does not have to be a long drawn out process. It can be as simple as a couple of pages of a motivational book. The perfect book to read to learn more about finding calmness, your dreams and making your wishes a reality is
The Secret!
Recipe Hack / Cooking Tips:
How to Get Perfect Roasted Veggies: The most important rule is spread out the veggies and do not overcrowd the sheet pan. If you crowd the veggies they steam instead of roast. Just spreading the veggies out will be the difference to veggie fabulous.
Gratitude While Stirring: Use the kitchen as a place for self care. As you stir or chop say what you are grateful for. I do this all the time so that cooking can be a time to recharge.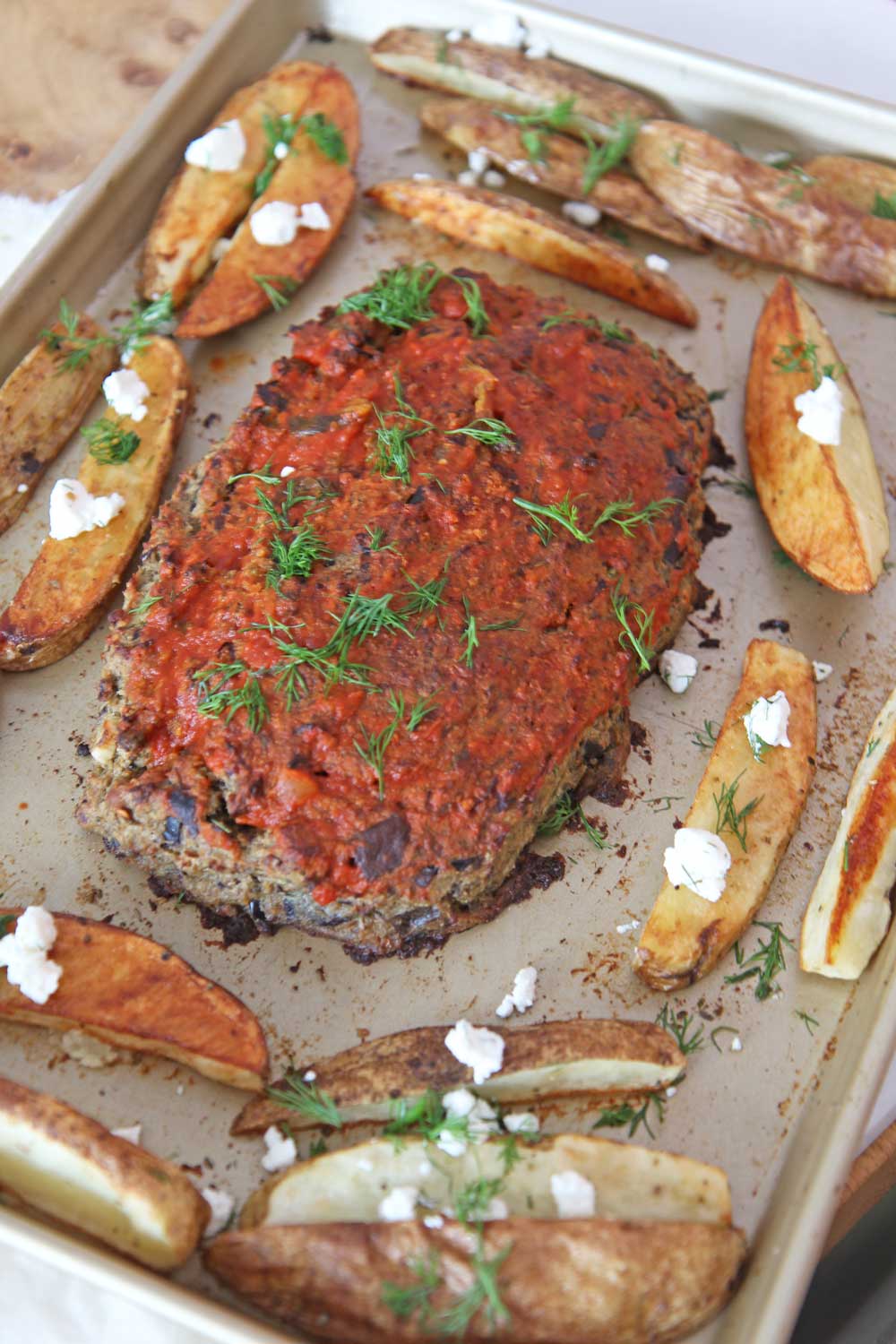 Watch How to Make Eggplant Meatloaf (approx 1 minute video):
How to Make Eggplant Meatloaf
Ingredients
2 small Italian Eggplants (or 1 big eggplant) (cut into 1 inch chunks)
1 teaspoon salt
1 teaspoon pepper
1 teaspoon garlic powder
1/2 teaspoon red pepper flakes
1 teaspoon oregano
1 tablespoon olive oil
1/4 cup feta (crumbled)
1/4 cup kalamata olives (chopped)
4 scallions (chopped)
1 handful dill (chopped)
1 tablespoon red wine vinegar
1 lemon (juice)
1 1/2 cups bread crumbs
2 eggs
Fries
2 russet potatoes (cut in wedges)
3 tablespoon olive oil
1 teaspoon salt/pepper
1 teaspoon garlic powder
1 teaspoon oregano
1 tablespoon ketchup or bbq sauce
Instructions
Preheat oven 400 degrees.

First, place eggplant, salt/pepper, garlic powder, oregano, and olive oil on sheet pan. Mix and spread apart so that the eggplant have room to roast and not stream.

Next, cook the eggplant on the medium rack for 20 minutes.

Now, take out and pour in the food processor with 1 tablespoon olive oil, red wine vinegar, feta, dill, olives, scallions and lemon. Pulse until becomes a fully blended.

Next, transfer to a bowl. Mix in eggs and breadcrumbs. The mixture will be wet but if turn spoon around and mixture sticks it will be good. If not add more bread crumbs.

Now, add potato wedges, olive oil, salt/pepper, oergeno, and garlic powder to sheet pan. Mix and push to edges.

Next, add the eggplant mixture and form a loaf.

Now, add to medium rack of oven 45 minutes. When done brush with ketchup or bbq sauce, srinkle with feta and dill and enjoy!
Other Easy Recipes:
Any question comment below or email! I love helping change the recipe!
(Visited 1,101 times, 1 visits today)
Subscribe for tasty, free recipes!