A big bowl of happy noodle soup comfort slurping up kimchi ramen!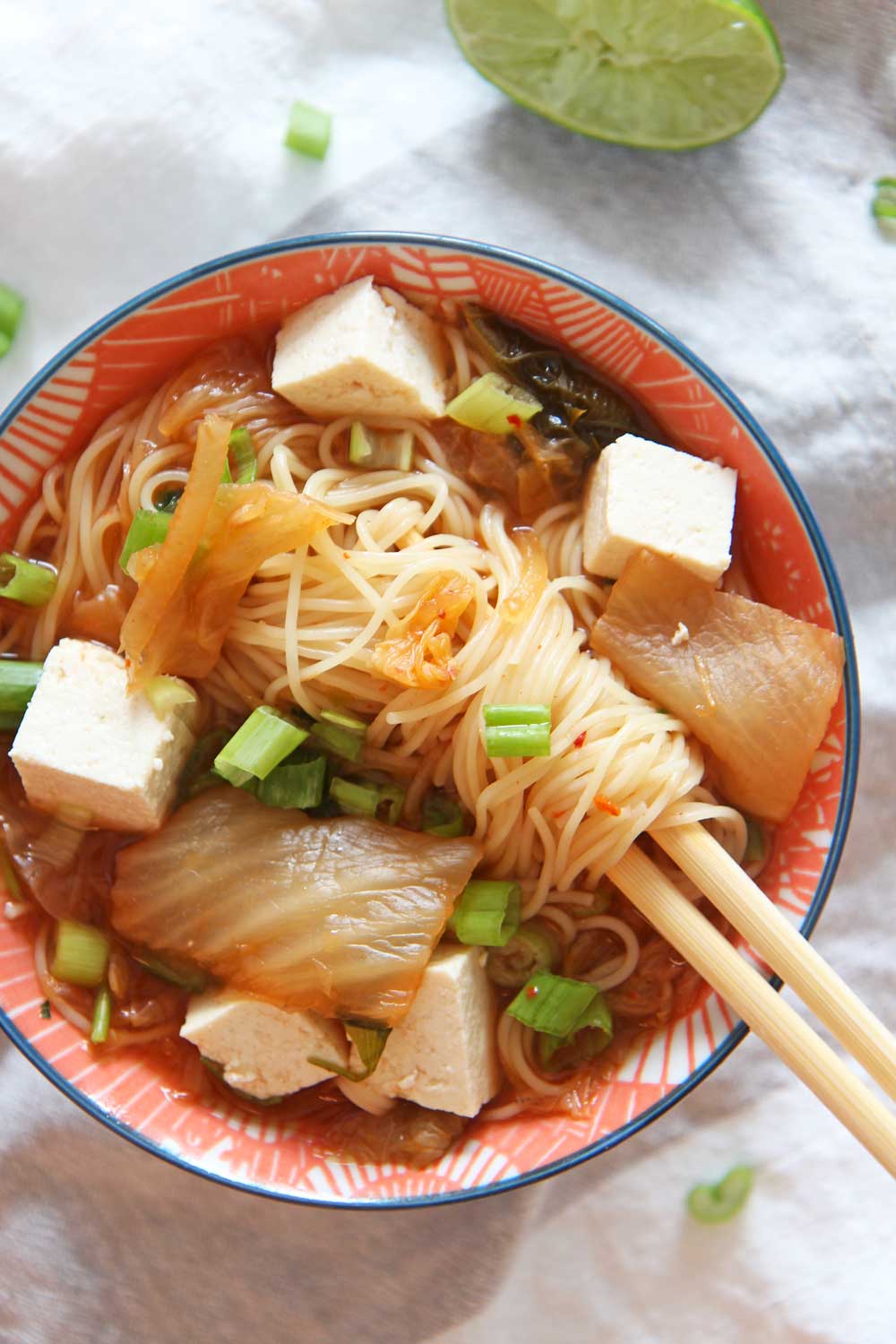 A bowl of soup is a big culinary hug of yum. This bowl of soup has special meaning to me because of the key ingredient
Kimchi
. On my first date with Tom (14 years ago) he too me to Korean barbecue in Korean Town in NYC. I had never had kimchi and it was love at first bite. Also, love at first date for me. Ever since that date when I eat the sweet, tangy, and spicy kimchi it reminds me of the best date of my life. I wanted to make an easy
kimchi
ramen soup (to celebrate Tom) that we could set and forget so made it in the
slow cooker
. It is so easy. Literally kimchi, broth, and soy sauce go into the crock pot and let cook all day for the soup to get all sweet spicy comfort yum! What is your first date food that makes you smile! Happy Cooking and grateful for you!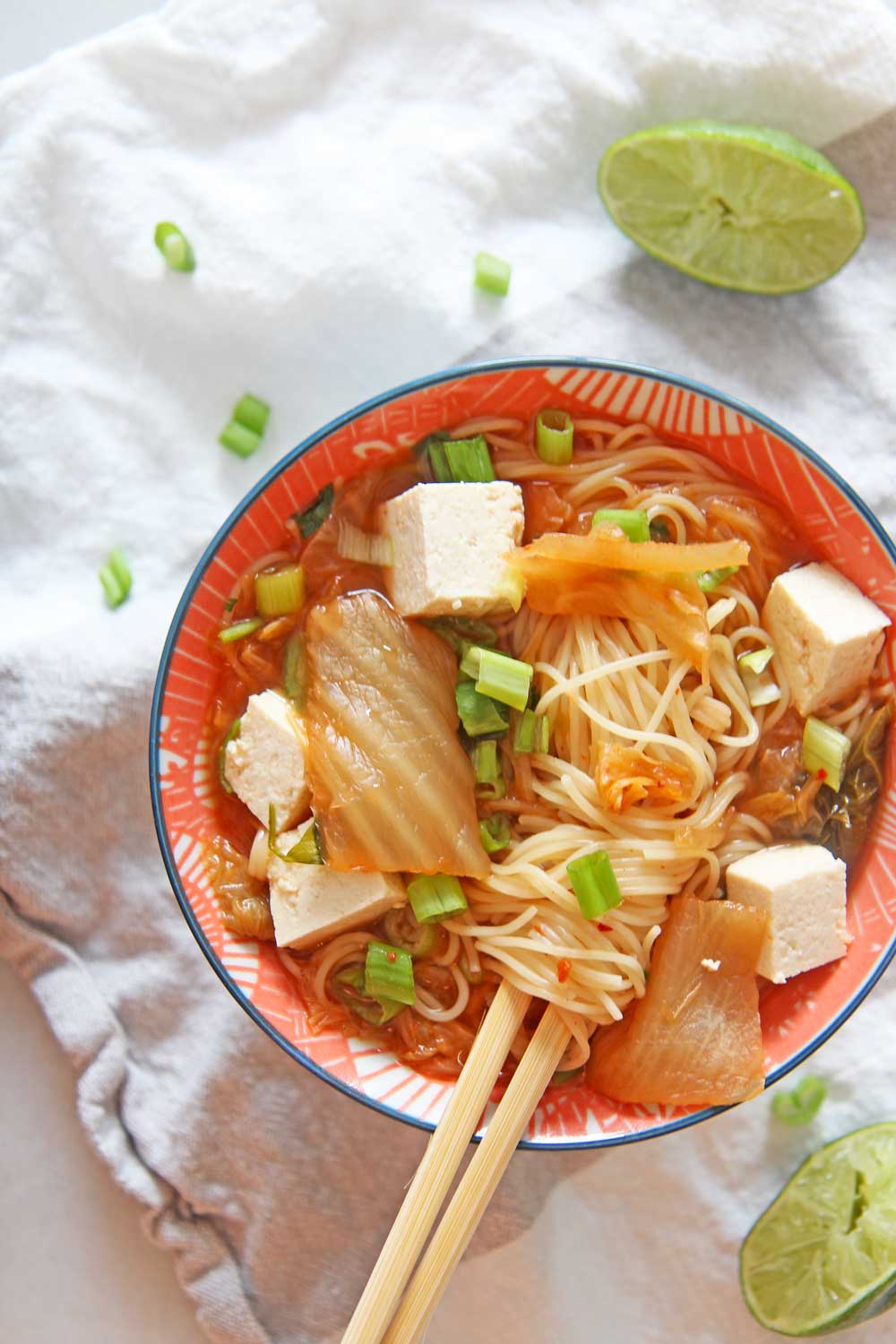 Gratitude Tip While You Cook:
My mission with Chop Happy is to create easy recipe for busy people with a dash of gratitude! Since we all have to be in the kitchen at some point in our day lets use that time to zen out and gain more gratitude.
For the time the soup cooks visualize your dreams as if it is already here. Working on you does not have to be a long drawn out process. It can be as simple as a couple of pages of a motivational book. The perfect book to read to learn more about finding calmness, your dreams and making your wishes a reality is
The Secret!
Recipe Hack / Cooking Tips:
Slow Cooker is Your Personal Chef: I love my slow cooker because you can set it with yummy ingredients and then come home to a hot meal. This is perfect for busy people who want a culinary reward to celebrate them with less cooking.
Gratitude While Stirring: Use the kitchen as a place for self care. As you stir or chop say what you are grateful for. I do this all the time so that cooking can be a time to recharge.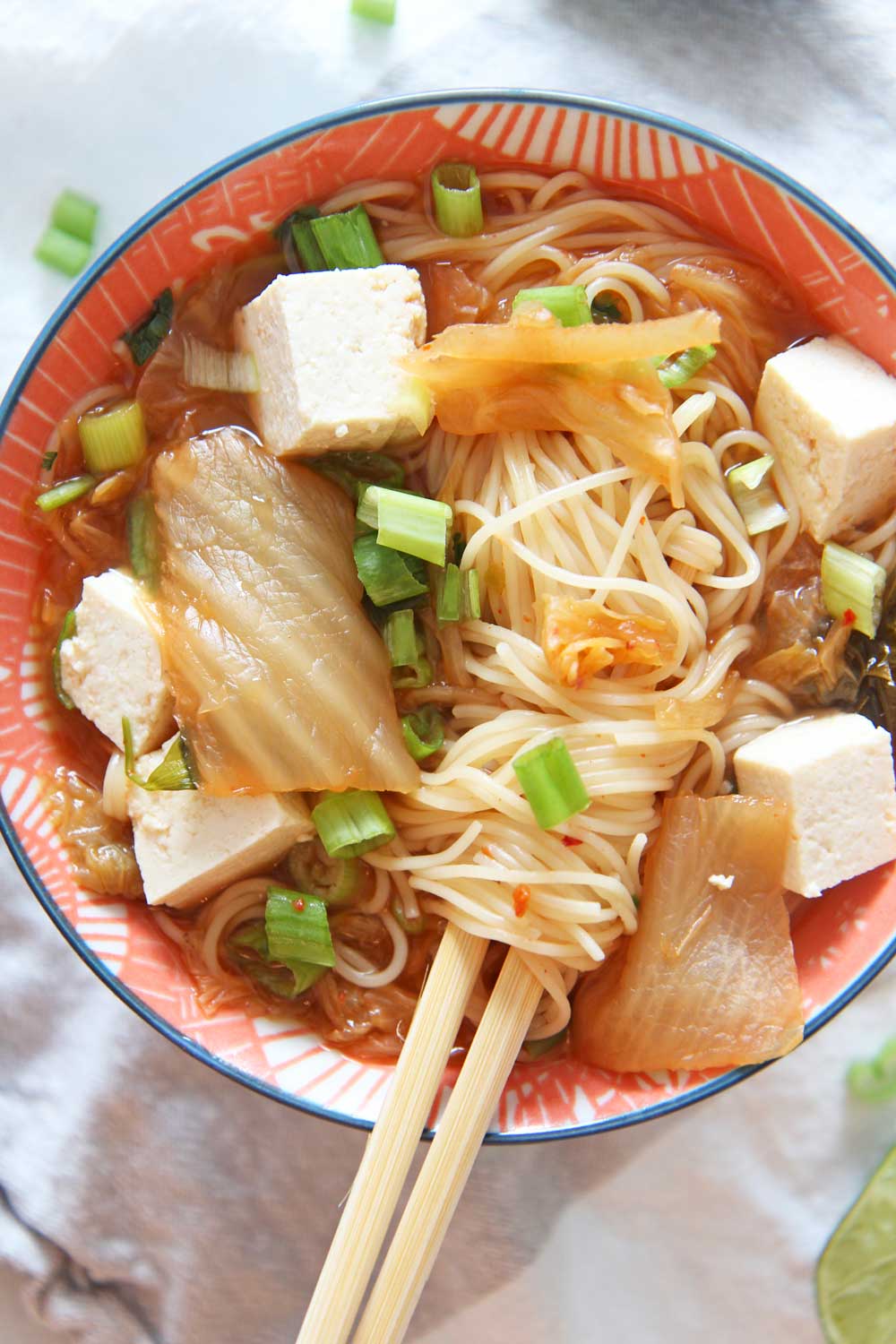 Watch How to Make Kimchi Ramen (approx 1 minute video):
Slow Cooker Kimchi Ramen
Ingredients
2 bottles kinchi (3 cups)
6 cups miso broth (or chicken broth)
2 teaspoon soy sauce
3 scallions (chopped)
1 block firm tofu (cut in chunks)
1 handful cilantro (chopped)
1 pound ramen noodles cooked (or spaghetti or angle hair pasta)
Instructions
First, add the broth, kimchi, and soy sauce in to the slow cooker.

Next, cover and cook for 6 hours on low.

Now, mix into the slow cooker scallions, tofu, and cilantro.

Finally, fill bowls with cooked ramen noodles (or other pasta I used angel hair pasta.
Other Easy Recipes:
Any question comment below or email! I love helping change the recipe!
(Visited 451 times, 1 visits today)
Subscribe for tasty, free recipes!