10 Minute creamy and decadent chickpea salad that is hearty and lasts longer then regular tuna in the fridge!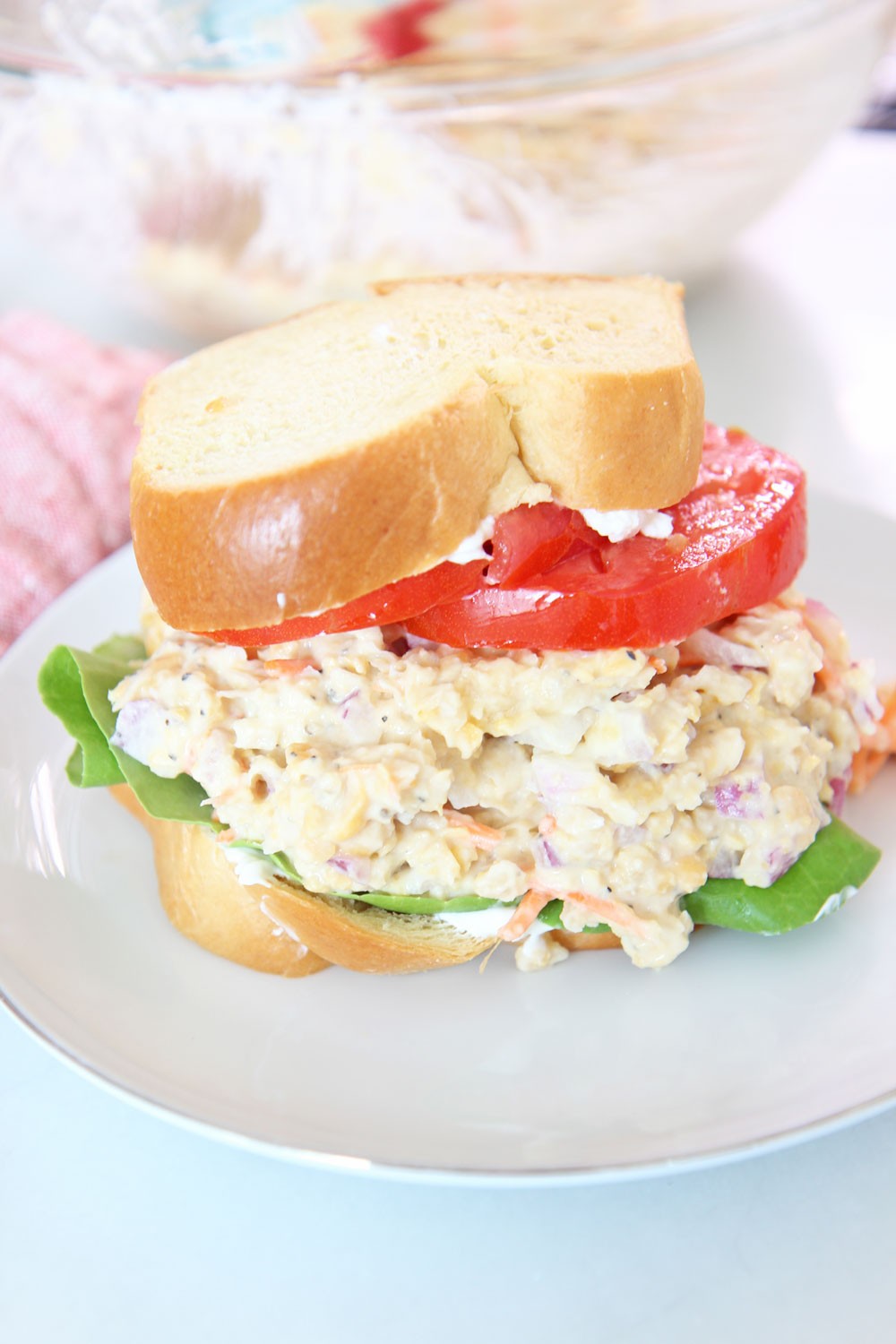 In life I have always been a problem solution type of person! This even goes for what to eat for lunch lol! I could eat tuna sandwiches for lunch everyday of my life! Growing up my Dad would make me the best
Tuna Salad
for lunch. I used to love those sandwiches. I crave tuna all the time but don't want to bring it to work because it smells the office of tuna. Also it only last a couple days in the fridge before becoming watery. Then I saw chickpea tuna and thought OMG how can I make this so I can have tuna for lunch all week. The original recipe was vegan but I add Geek yogurt for tang.  This is so amazing. It has the creamy comforting crunchy texture of tuna without the sharp fishy taste! Cheers to recipes that inspire and celebrate you!
This Recipes Hack (make it last longer):
When making the weeks lunches substituting chickpeas instead of tuna is an awesome time saver. Chickpeas last all week in the fridge so Sunday night you can make a big batch for the whole week.
Watch how to make this awesome chickpea recipe: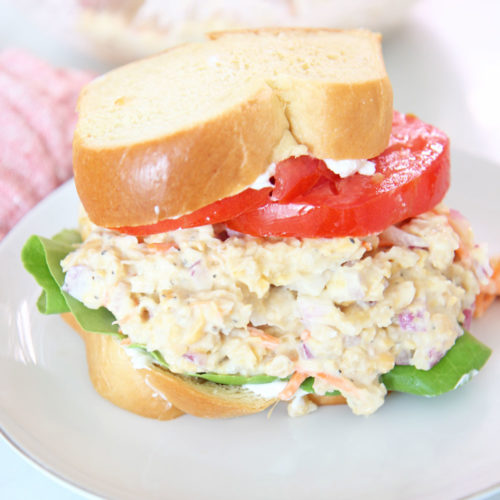 Chickpea Tuna Salad Recipe
Ingredients
2 cans chickpeas
1/2 cup Greek Yogurt (or vegan mayo)
2 teaspoon salt (1 for chick peas/1 for dressing)
2 teaspoon pepper (1 for chick peas/1 for dressing)
1 teaspoon garlic powder
1/4 teaspoon red pepper flakes
1 teaspoon apple cider vinegar
1/2 lemon (juice)
1/2 red onion (chopped)
1 carrot (grated or finely chopped)
1 small handful dill chopped (optional)
Instructions
First, smash chickpeas to chunky tuna consistency with 1 teaspoon salt and pepper.

Next, add Greek yogurt, 1 teaspoon salt, 1 teaspoon pepper, garlic powder, red pepper flakes, apple cider vinegar, lemon, red onions, and carrots to the bowl and mix with chickpeas.

Finally, enjoy as sandwich, on a salad, or right out of the bowl!
My Favorite Ways To Add More Gratitude In My Life: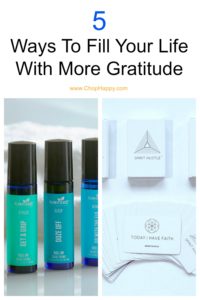 Totally Recommend This Food Processor:
Check Out This book! It changed my life and keeps me centered:
QUICK NO BAKE DESSERT  FOOD RECIPE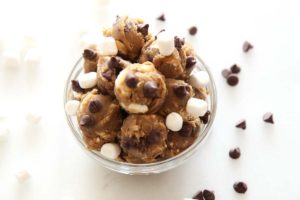 Your Dash Of Gratitude:
                                                                                                                                   
ANY QUESTIONS OR COMMENTS? COMMENT BELOW 🙂
With a grateful heart and an amazing tummy – Jay
(Visited 2,695 times, 1 visits today)
Subscribe for tasty, free recipes!