Fancy name (wellington) for an easy super cheesy stuffed mushroom wrapped in buttery puff pastry!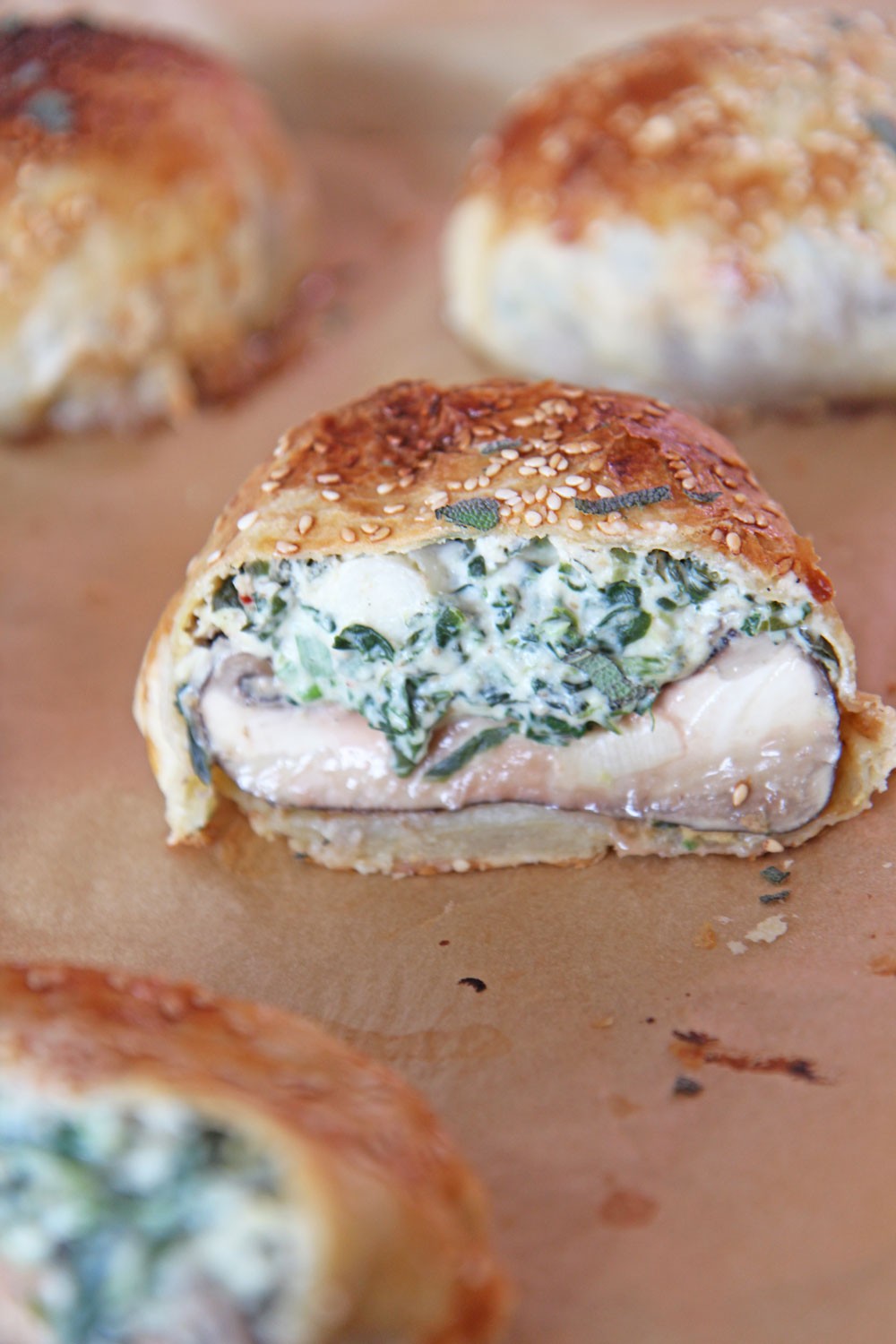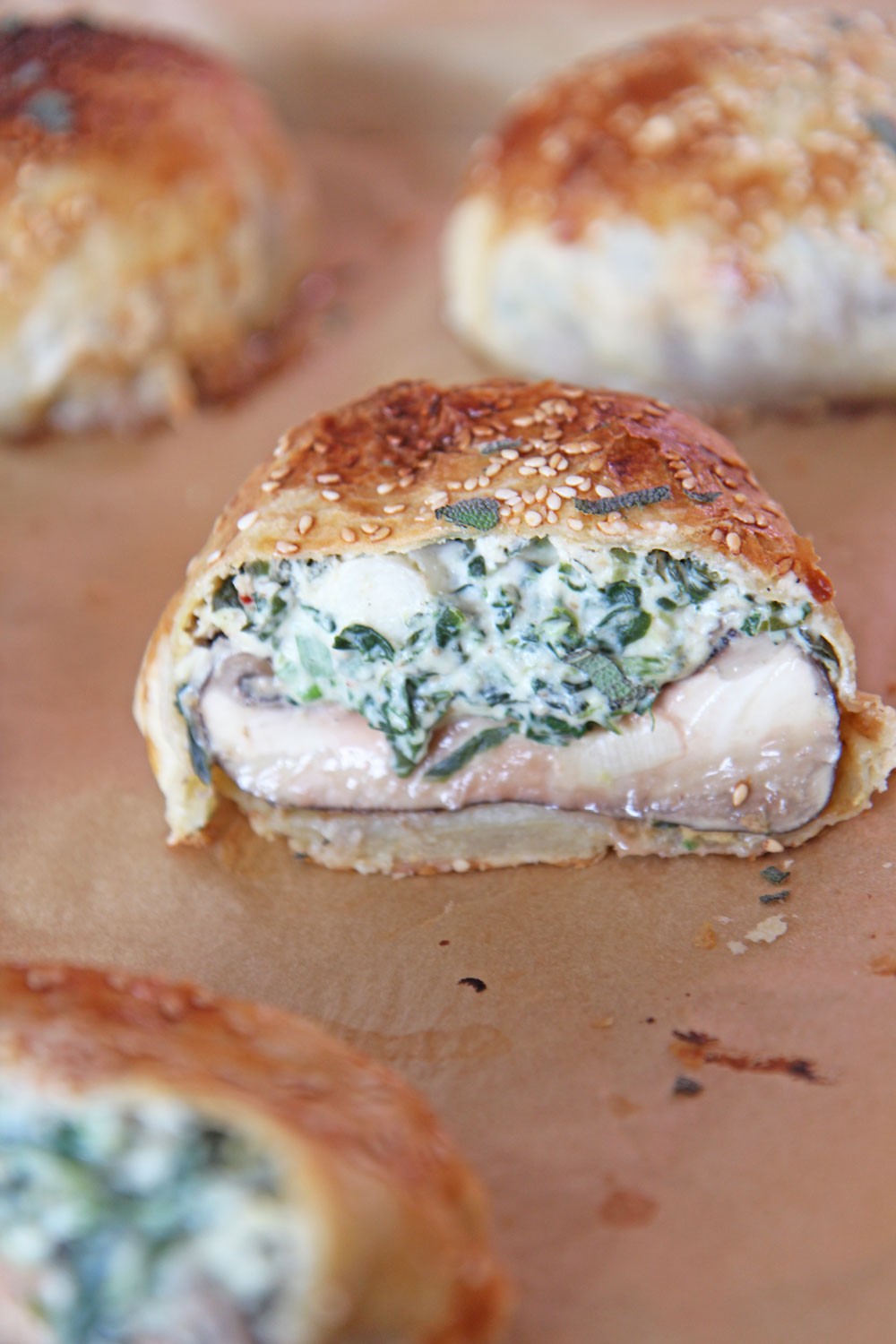 This wellington recipe is such a metaphor for life. Sometimes we preconceive or judge things based on false stories we tell ourselves out of fear! Most times (in my experience) it turns out to be bright sunshine happiness. A great example is when you want to start something new. I had all kinds of stories on why doing a food blog was not good. But I fought through them and it is the best thing I ever did. Wellington is a recipe people think is hard to make because it sounds fancy. In reality its one of the easiest comforting recipes I make at home. Its basically a sheet pan dinner that is wrapped in store bout pastry! So when starting something new, meeting new people, or starting a new adventure in life take a deep breath and know it is probably amazing. Most times in the end things always work out anyway! Cheers to happy new adventures.
I am actually making this for Friends Christmas/Hanukkah this year. Everyone brings their own family tradition recipes! I love this recipe because you can make in advance, Now everyone else can use the kitchen and I am done! I am sending you happy dinner vibes and please comment below when you make this! Cheers to Wellington recipes that celebrate you and make dinner possible no matter how busy you are!
Recipe Hack:
Perfect make ahead dinner party! Prepare the wellington 3 days in advance on a sheet tray in the fridge. Because puff pastry should be cold when cooked, take right from fridge to oven.
Use frozen spinach. If you use frozen spinach it is already cooked so skip a full step.
Secret tip for awesome mushroom texture. Start by seasoning the mushroom with lots of olive oil and seasoning. Leave on counter to marinade wile prepare rest of ingredients (can be done overnight in fridge too). The olive oil and salt soaks through and gives it restaurant quality beefy texture.
Tools You Need For This Recipe:
Why Puff Pastry Should be Cold When Cooked (plus fun tips):
Puff pastry is actually layers and layers of butter and pastry. Before cooking something involving puff pastry put in fridge for 20 minutes or overnight. When the cold butter hits the hot oven it steams and pushes the dough up forming the flaky airy pastry. 
There are between 500-700 layers of butter in puff pastry! Yay team butter!
Definitely buy at the store and defrost in fridge overnight or 20 minutes on the kitchen counter.
They actually have great vegan puff pastry
Watch how to make this easy recipe: 
Stuffed Mushroom Wellington
Ingredients
Mushroom Ingredients:
4 large portobello mushrooms (de-stemmed)
1/4 cup extra virgin olive oil
1 teaspoon salt
1 teaspoon pepper
Stuffing Ingredients:
10 ounces frozen spinach (defrosted)
1 tablespoon fresh sage (chopped)
1/2 cup bread crumbs
4 tablespoons parmesan cheese
4 scallions (chopped)
8 ounces cream cheese
1 tablespoon garlic powder
1/2 teaspoon red pepper flakes
1 teaspoon salt
1 teaspoon pepper
1 lemon (juice)
Other Ingredients:
4 teaspoons Dijon mustard
1 sheet puff pastry (divided in 4)
1 teaspoon sesame seeds
Instructions
First, preheat oven at 400 degrees.

Next, drizzle oil, salt and pepper all over the mushrooms (set aside to marinade).

Now, mix all the ingredients of the stuffing in a a bowl and set aside.

Next, roll out the puff pastry an inch more and divide in to 4 equal squares. Brush Dijon mustard on puff pastry.

Also, divide stuffing evenly on the portobello mushrooms.

Now, add a stuffed mushroom to center of each puff pastry. Place it stuffing side down (see video above).

Next, wrap all the sides of the puff pastry around the mushroom. Make sure to seal in edges buy pinching.

Now, place seam side down on parchment paper line sheet pan. Brush with egg and sprinkle with sesame seeds.

Next, place in fridge overnight or 20 minutes if making tonight (the cold butter steams and puffs the pastry). Then in the oven on middle rack for 20 minutes and enjoy.
Other Chop Happy Wellington Recipes:
If need any modifications to this recipe just comment below or email! I love helping change the recipe!
My Favorite Ways To Add More Gratitude In My Life: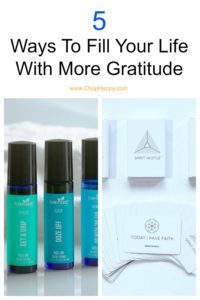 Totally Recommend This Food Processor:
Check Out This book! It changed my life and keeps me centered:
ANY QUESTIONS OR COMMENTS? COMMENT BELOW 🙂
With a grateful heart and an amazing tummy – Jay
(Visited 1,205 times, 1 visits today)
Subscribe for tasty, free recipes!