This is a full sheet pan dinner of bacon meatloaf and potatoes!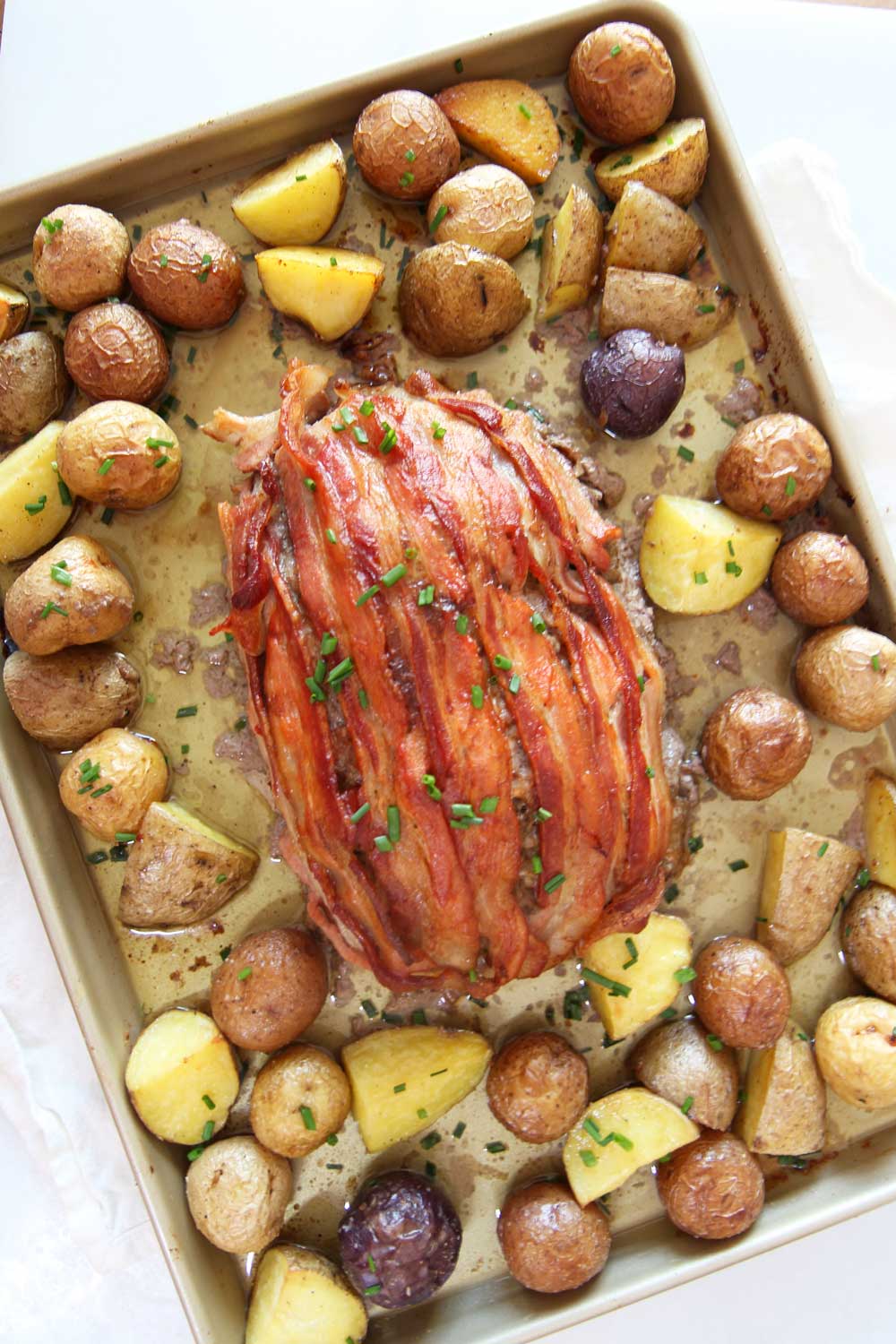 This recipe is dedicated and reminds me of one of my best friends growing up Lori! Anytime I was over her house her mom was always cooking up a beefy delight for dinner. The house always smelled sooooo good. Also, they had the best cookies during the holidays! This is bacon inside and outside. I blend up raw bacon and mix it into the meat for flavor and it keeps the beef juicy. Then wrap ribbons of bacon love all over the top to baste the meatloaf. Sometimes in life you need to be decadent for no reason other than you deserve it! This is an easy decadent dinner just for you!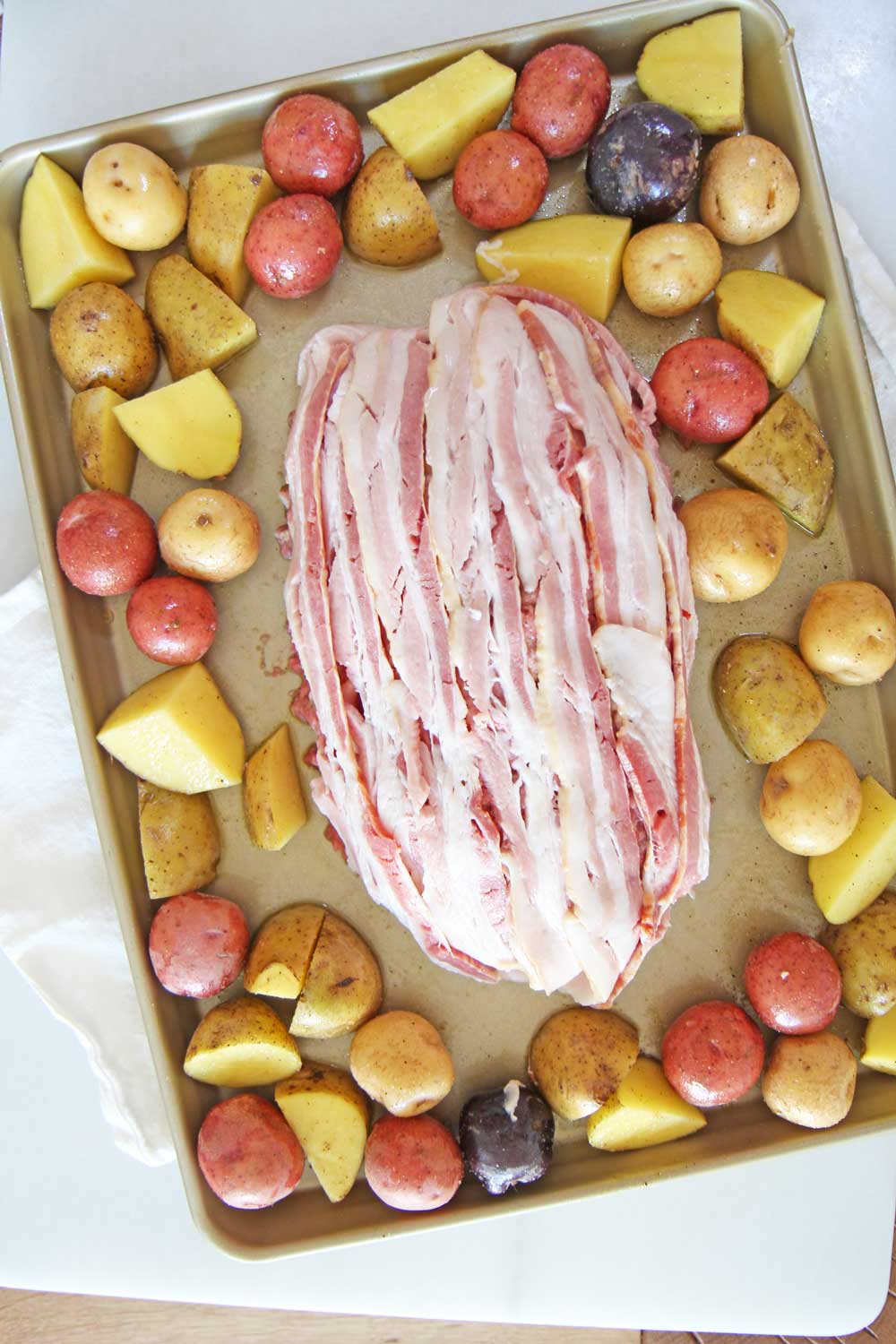 Gratitude Tip While You Cook:
My mission with Chop Happy is to create easy recipe for busy people with a dash of gratitude! Since we all have to be in the kitchen at some point in our day lets use that time to zen out and gain more gratitude.
For the time the meatloaf cooks visualize your dreams as if it is already here. Working on you does not have to be a long drawn out process. It can be as simple as a couple of pages of a motivational book. The perfect book to read to learn more about finding calmness, your dreams and making your wishes a reality is
The Secret!
Recipe Hack / Cooking Tips:
Make Ahead: I prepare everything and then put the sheet pan in the fridge overnight. The next day I leave out for hour so meat comes to room temp (so meatloaf cooks evenly) and the place in the oven! 
Gratitude While Stirring: Use the kitchen as a place for self care. As you stir or chop say what you are grateful for. I do this all the time so that cooking can be a time to recharge.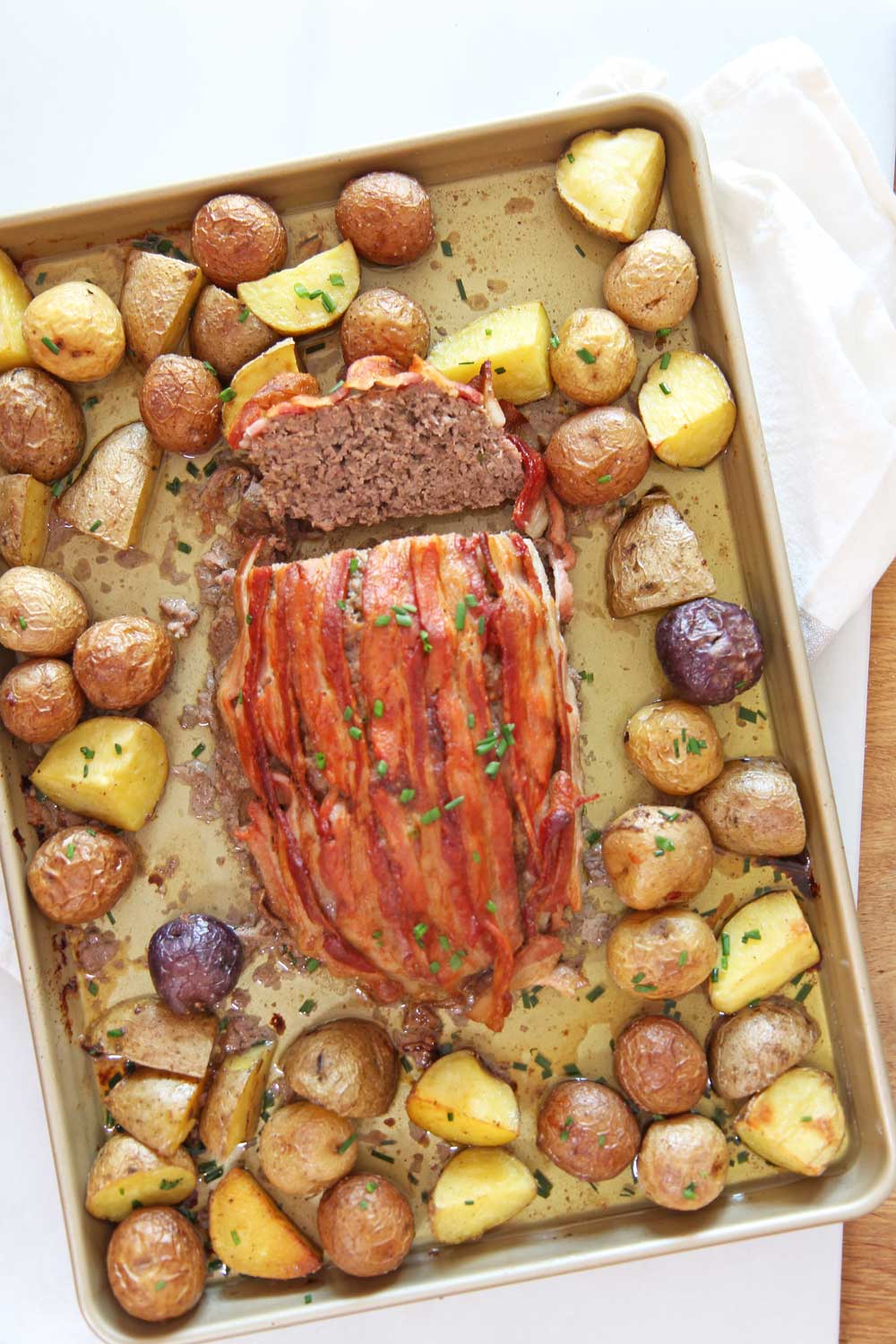 Here is How To Make Bacon Meatloaf:
Bacon Meatloaf and Potatoes (bacon inside and outside)
Ingredients
2 pounds ground beef (80/20)
4 strips bacon (for inside meatloaf)
6 strips bacon (to wrap the meatloaf)
3 tablespoons onion (grated)
1 teaspoon red pepper flakes
1 teaspoon garlic powder
1/2 cup bread crumbs
1 teaspoon salt/pepper
2 eggs
1 teaspoon oregano
Potato Ingredients:
3 pounds Yukon gold potatoes
2 tablespoon olive oil
1 teaspoon garlic powder
1 teaspoon salt/pepper
1 teaspoon oregano
Instructions
Preheat the oven at 375 degrees.

First, add 4 strips of bacon to a blender and pulse until it is a bacon paste.

Next, add beef, eggs, bread crumbs, grated onion, bacon paste, red pepper flakes, garlic powder, oregano, salt, and pepper to a bowl and mix.

Note: mix with less dominate hand so do not over mix the meat because it will make the meatloaf tough.

Now, mix the potatoes in the sheet pan with oil, garlic powder, salt, and pepper. Then move the potatoes to the sides of sheet pan so there is room for the meatloaf.

Next, place meat in center of the sheet pan and shape in meatloaf form.

Now, drape the extra bacon slices over the meatloaf.

Next, place in the oven on the middle rack for 1 hour.

Finally, brush some ketchup ontop of the bacon and enjoy!
Other Easy Recipes:
Any question comment below or email! I love helping change the recipe!
(Visited 926 times, 1 visits today)
Subscribe for tasty, free recipes!