Beef Bourguignon is just a fancy name for buttery beef stew soaked in sweet tangy wine. The original recipe takes more time then this New Yorker has. So I developed a slow cooker version that cooks while I am at work. Just because life is busy doesn't mean you cant have a fabulous dinner to celebrate you!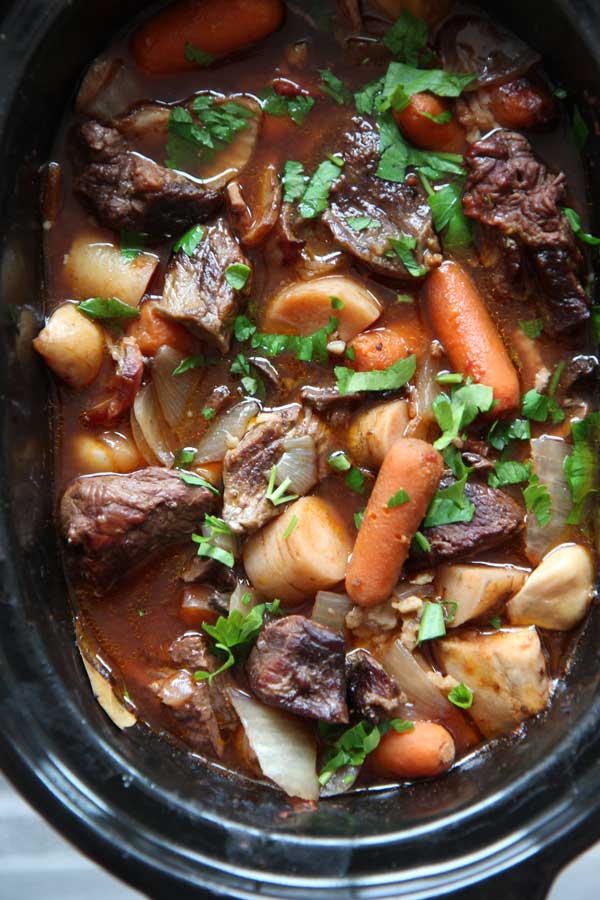 As a kid, I did not watch the typical TV shows. No cartoons for me. I watched Yen Can Cook, Ming Tsi, and Food Network. But my favorite show was Julia Childs shows. I thought she was the coolest and wanted to be just like her! Beef Bourguignon is her famous recipe so this is dedicated her. Her show was like a metaphor for life. Have fun, don't worry if you mess up, and eat lots of butter! I hope this recipe makes you celebrate the joys in your life and gives you a warm comforting dinner when you come home from a hard worked day!
Cooking Hack That Makes This Recipe Weeknight Worthy:
Sear the beef in the oven. Searing the beef first holds in the juicy flavor. But no need to make a big mess with oil splattering all over the kitchen. Lay the beef out on a sheet tray and place in at 400 degree oven for 10 minutes. This will give you the perfect sear with no mess and less time. Happy coking hack!
Put all the ingredients in the slow cooker the night before and place in the fridge overnight! This serves two fun purposes. First, when you wake up plug it in and go to work easy. Secondly, letting it sit overnight gives the beef time to marinade and the seasoning to go all the way through the beef. This will make it super tasty.
Watch how to make this Simple Dinner Recipe:
Slow Cooker Beef Bourguignon
Ingredients
3 pounds chuck (inch cubes)
4 strips bacon
1 tablespoon salt
1 tablespoon pepper
1 onion (chopped)
1 bag baby carrots
8 ounces button mushrooms (sliced)
3 parsnips (chopped in chunks)
3 cloves garlic
2 tablespoons tomato paste
1 bay leaf
1 bunch thyme
1 1/2 cup red wine
1 cup chicken stalk
2 tablespoon butter
1 handful parsley (chopped)
Instructions
Searing The Beef:
Preheat the oven to 400 degrees.

First, salt and pepper the beef generously. Then place on a sheet pan (spread the beef out so browns and not steams).

Now, add bacon to a separate sheet pan.

Next, place both (beef and bacon) in the oven for 15 minutes. When done set aside.
Recipe:
First, place onions, carrots, garlic, parsnips, mushrooms, tomato paste, beef, bacon, 1 teaspoon salt and 1 teaspoon pepper in the slow cooker. Stir to combine.

Next, add the bay leaf, red wine, chicken stalk, and the thyme (tie up or put on top so it is easily fished out.

Now, cover and cook on low for 8 hours.

Finally, add 2 tablespoon of butter, parsley and enjoy!
Here is the Slow Cooker I Love and Recommend:
Check Out This book! It changed my life and it is how I elevated my home cooking:


I can't wait for you to try this recipe!!! Cheers to easy comfort food.  Happy Cooking!
QUICK NO BAKE DESSERT  FOOD RECIPE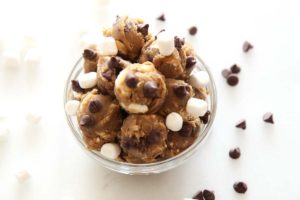 Your Dash Of Gratitude:
                                                                                                                                   
ANY QUESTIONS OR COMMENTS? COMMENT BELOW 🙂
With a grateful heart and an amazing tummy – Jay
(Visited 2,741 times, 1 visits today)
Subscribe for tasty, free recipes!