This is a easy slow cooker pork dinner recipe. Super easy and can be made into tacos, burrito bowls, or soup if you add broth!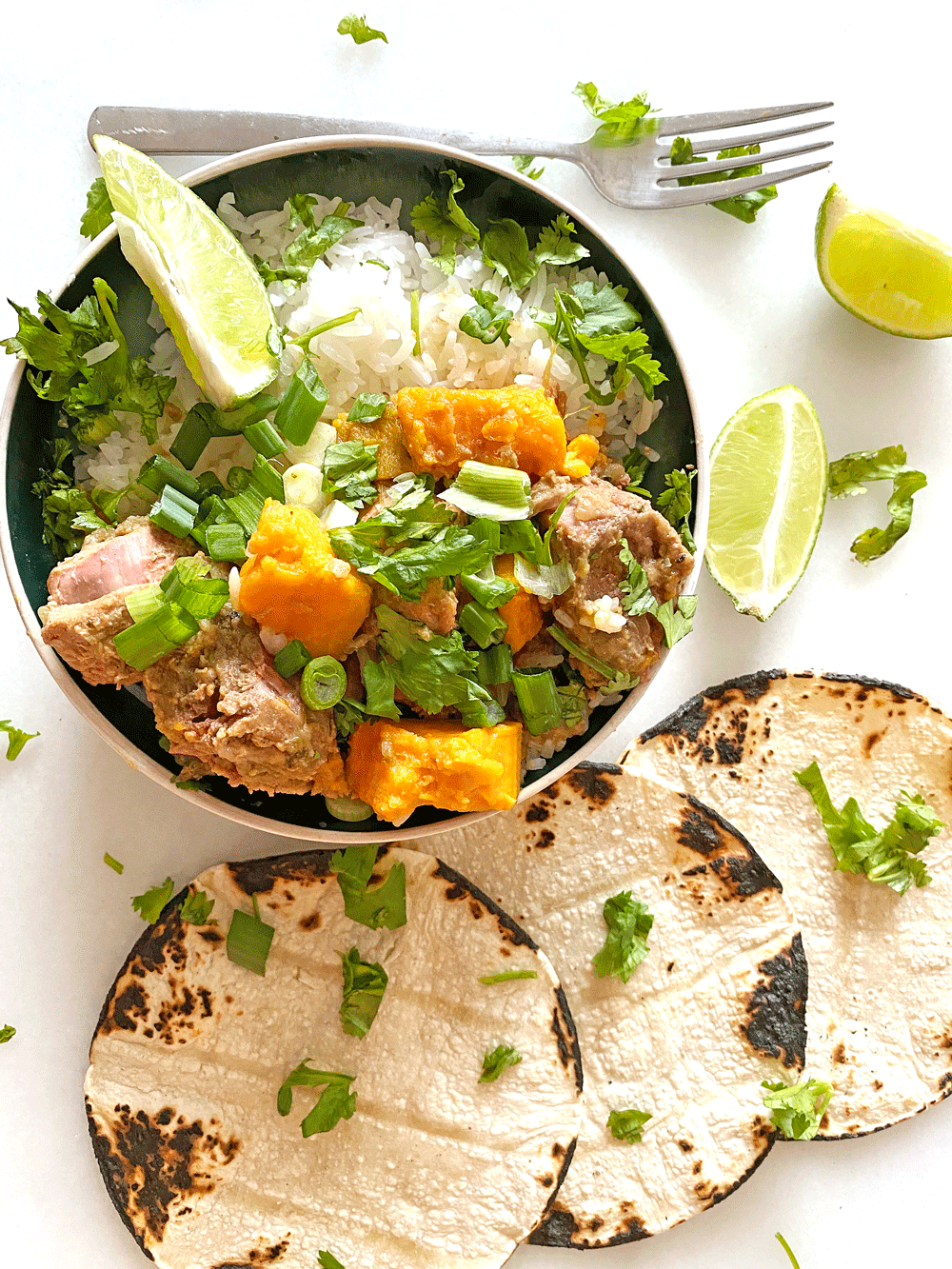 My favorite kitchen tool hands down is the slow cooker! It is a life saver for me and Toms busy lives. The night before I load up the slow cooker with ingredients. In the morning before work (6am for me and 8am for Tom) I take the slow cooker out of the fridge and turn it on low. As we are working all day the slow cooker/ crockpot is making us a warm hearty dinner. When I enter my Chelsea apartment after a long day the smell of sweet pork soaked in garlicky green sauce welcomes me home and gives you a culinary hug.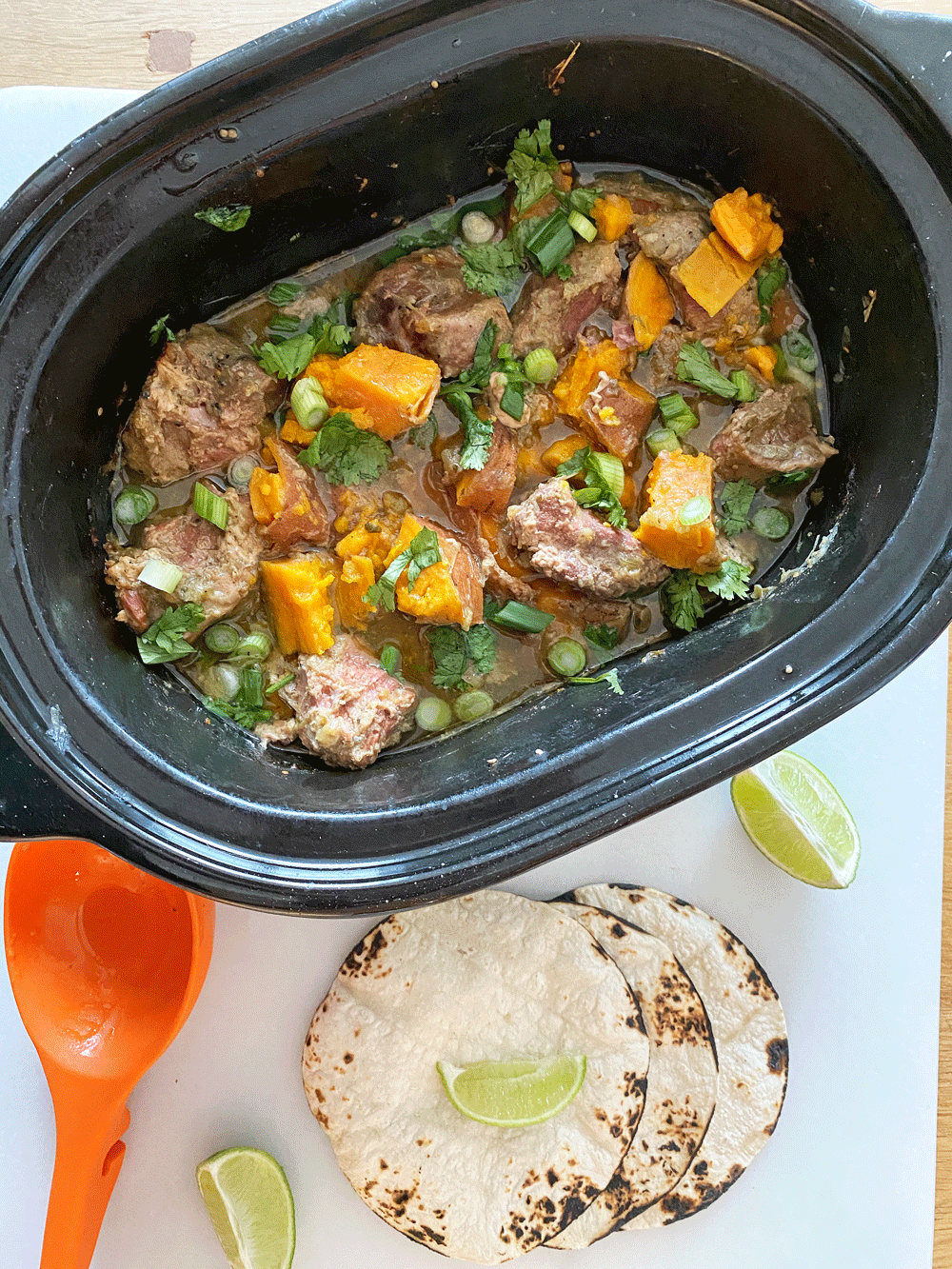 May your taco wishes come true and everyday be easy dinner fun! Check out the video for fun cooking tips and hacks. Cheers to recipes that celebrate you!
Hope you love this recipe as much as me and Tom do! Happy cooking!
Recipe Hack / Cooking Tips:
Load Slow Cooker The Night Before: This serves 2 amazing reasons. First of all, you just take it out of fridge and turn on before work so you have more "you time" in the morning. The less to do in the morning the less you need to rush. Secondly, All the flavors get to marinate overnight and you get a much yummier recipe. If you season right before you cook, only the outside will have flavor. But if you season overnight it will season all through the meat.
Purchase Pork Stew Meat: Pork stew meat is the same a big chunk of pork shoulder! The only difference is the butcher cut it up into chunks. The smaller the chunks of pork the more the seasoned they will be.


Things you will need:
Watch how to make this easy recipe: 
Slow Cooker Pork and Sweet Potato Salsa Verde
Ingredients
3 pounds pork stew meat (pork shoulder)
3 cups tomatillo sauce (or 2 store brand jars)
2 sweet potatoes (chopped in chuncks)
Toppings
3 scallions (chopped)
1 handful cilantro (chopped)
1 lime (the juice)
1 teaspoon salt and pepper
6 tortilas (optional)
Instructions
First, place sweet potato and pork in the slow cooker. Add salt and pepper and mix.

Next, add tomitillo sauce and mix.

Optional: If you have time add all ingredients in the night before and let marinate in the fridge.

Now, place lid on slow cooker and turn on low for 6 hours.

Finally, add scallions, cilantro, and lime juice. Makes awesome tacos, rice bowls, or burritos.
Other Slow Cooker Recipes:
Any question comment below or email! I love helping change the recipe!
My Favorite Ways To Save Money In The Kitchen: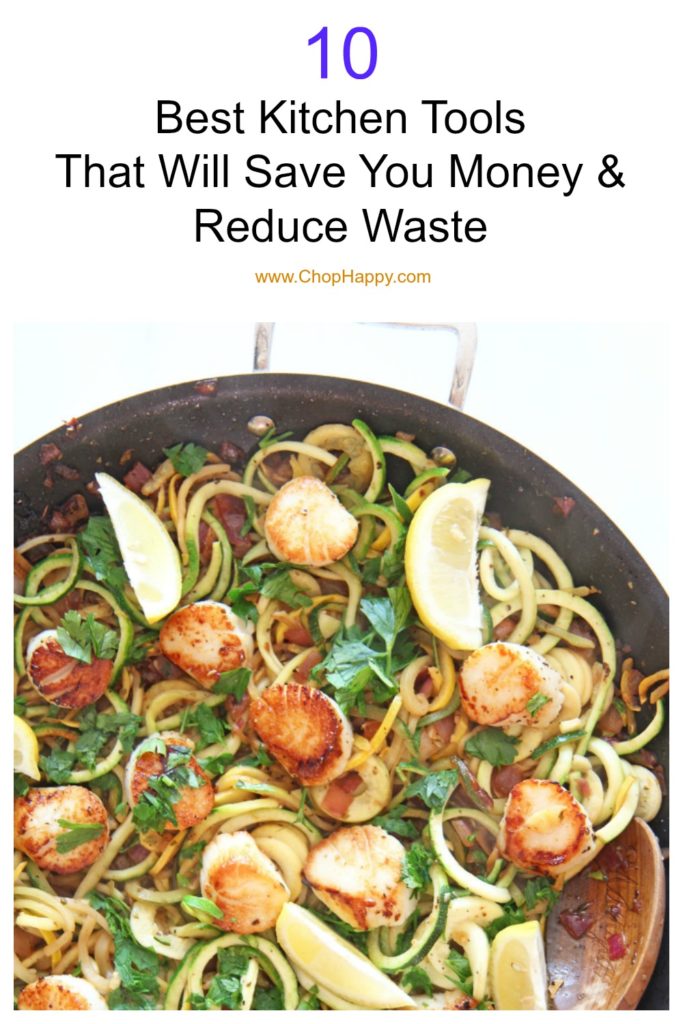 Totally Recommend This Food Processor:
Check Out This book! It changed my life and keeps me centered:
ANY QUESTIONS OR COMMENTS? COMMENT BELOW 🙂
With a grateful heart and an amazing tummy – Jay
(Visited 538 times, 1 visits today)
Subscribe for tasty, free recipes!