Perfect comfort food dinner that is also easy meal prep of sausage and mashed potato Wellington.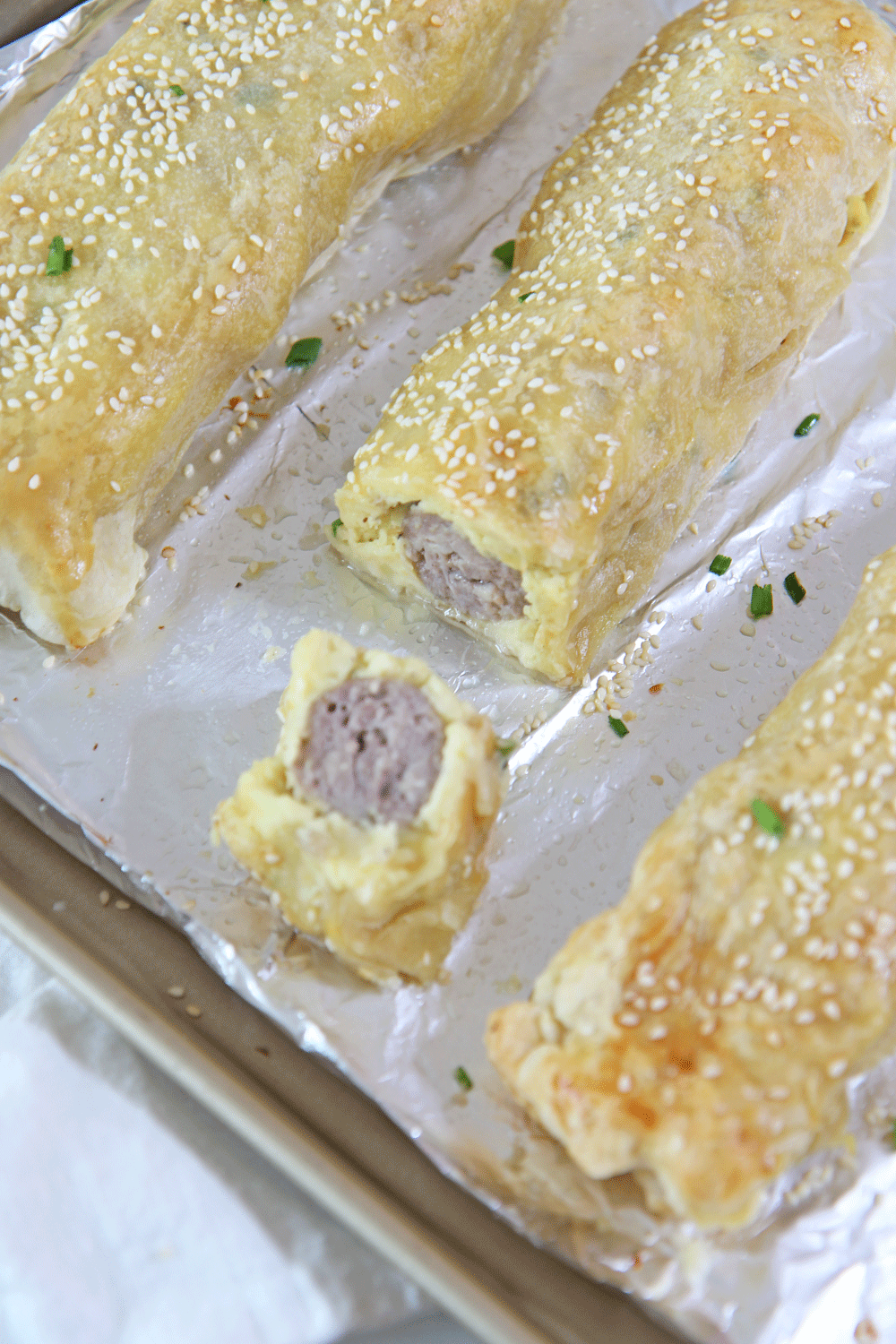 Growing up in NJ there was a Jewish deli in town that had an amazing dinner called hush puppy. It as not like the tradition version, this was a hot dog surrounded by mashed potato and wrapped in puff pastry. OMG it was a hand held hot dog and potatoes happiness. I loved this starchy mashed potato treat so much! This recipe is my version of that will a fun twist. I use Italian sausage and make my easy Yukon gold mashed potatoes. Sometimes two simple foods combined together make the most amazing comfort food treats! I usually make double. Cook one portion and freeze the other portion for a quick dinner on a busy week. Also, you can use any kind of sausage your want. Happy Cooking and I would be so grateful if you subscribe for more fun recipes!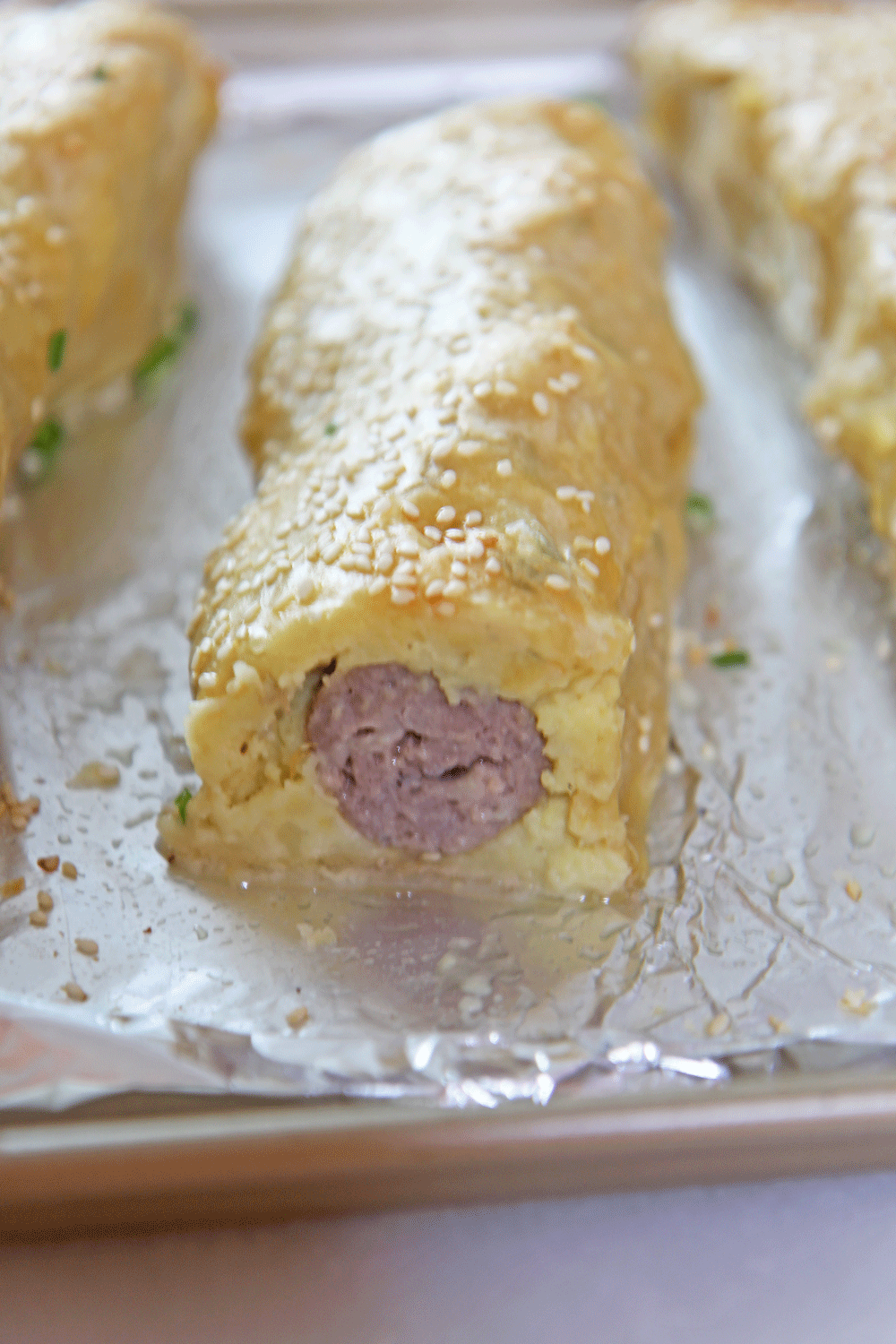 Gratitude Tip While You Cook:
My mission with Chop Happy is to create easy recipe for busy people with a dash of gratitude! Since we all have to be in the kitchen at some point in our day lets use that time to zen out and gain more gratitude.
For the time the soup cooks visualize your dreams as if it is already here. Working on you does not have to be a long drawn out process. It can be as simple as a couple of pages of a motivational book. The perfect book to read to learn more about finding calmness, your dreams and making your wishes a reality is
The Secret!
Time Saving Dinner Hacks / Cooking Tips:
Pantry Hack For Flavorful Potatoes: Use chicken broth, veggie broth, or mushroom broth to boil potatoes or rice. Replace the water with flavorful broth and you will infuse amazing flavor just by boiling.
Gratitude While Stirring: Use the kitchen as a place for self care. As you stir or chop say what you are grateful for. I do this all the time so that cooking can be a time to recharge.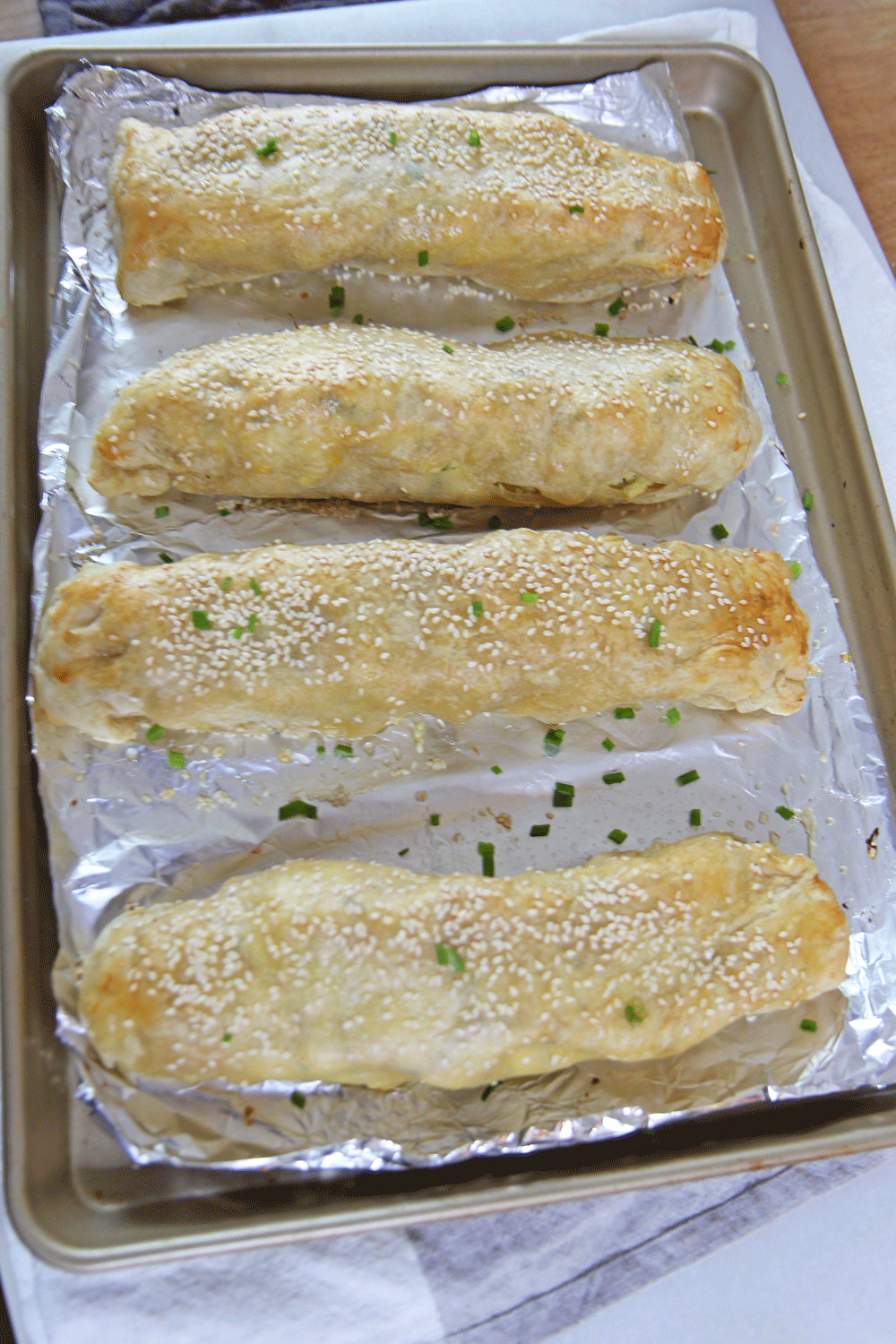 Watch How To Make Sausage Wellington (approx 2 minute video):
Sausage and Mashed Potato Wellington
Ingredients
Mashed Potato Ingredients:
3 pounds Yukon gold potatoes
1 teaspoon salt/pepper
4 tablespoons sour cream
1 stick butter
8 cups chicken broth
2 tablespoons chives (chopped)
Other Ingredients:
4 sweet Italian sausage links
2 teaspoons Dijon mustard
2 sheets puff pastry
1 egg
1 teaspoons sesame seeds
Instructions
Preheat oven to 450 degrees.

First, make the mashed potatoes. Add potatoes, broth, and a teaspoon of salt in a pot. Turn heat to high and as soon as the broth starts to boil time 10 minutes and then drain and put potatoes back in the pot.

Next, add butter and a 1 teaspoon salt/pepper to the potatoes and mash. When mashed add sour cream and chives and mix. Set aside to let potatoes cool.

Now, place sausage on a sheet tray and drizzle with oilve oil so the sausge crisp up in the oven. Place in the oven for 20 minutes. Then set aside to cool.

Next, roll out both sheets puff pastry 1 inch more then it is and divide each sheet of puff pastry into 4 strips (8 strips of puff pastry). Brush mustard on one side.

Next, add mashed potato to four strip of puff pastry, then add a sausage link on top of the mashed potato, and then add mashed potato around the top of the sausage. Now, place another strip of puff pastry (Dijon side down) ontop and seal all the edges.

Repeat this to make 4 Wellingtons (you can make double and freeze half at this point for a future dinner by doubling the recipe).

Now, add all the Wellingtons to a sheet pan and brush with egg and sprinkle sesame seeds ontop.

Finally, place on middle rack for 20 minutes and enjoy!
Other Easy Recipes:
Any question comment below or email! I love helping change the recipe!
(Visited 355 times, 1 visits today)
Subscribe for tasty, free recipes!