This is a cod dinner on a sheet pan so you cook everything at once and less clean up!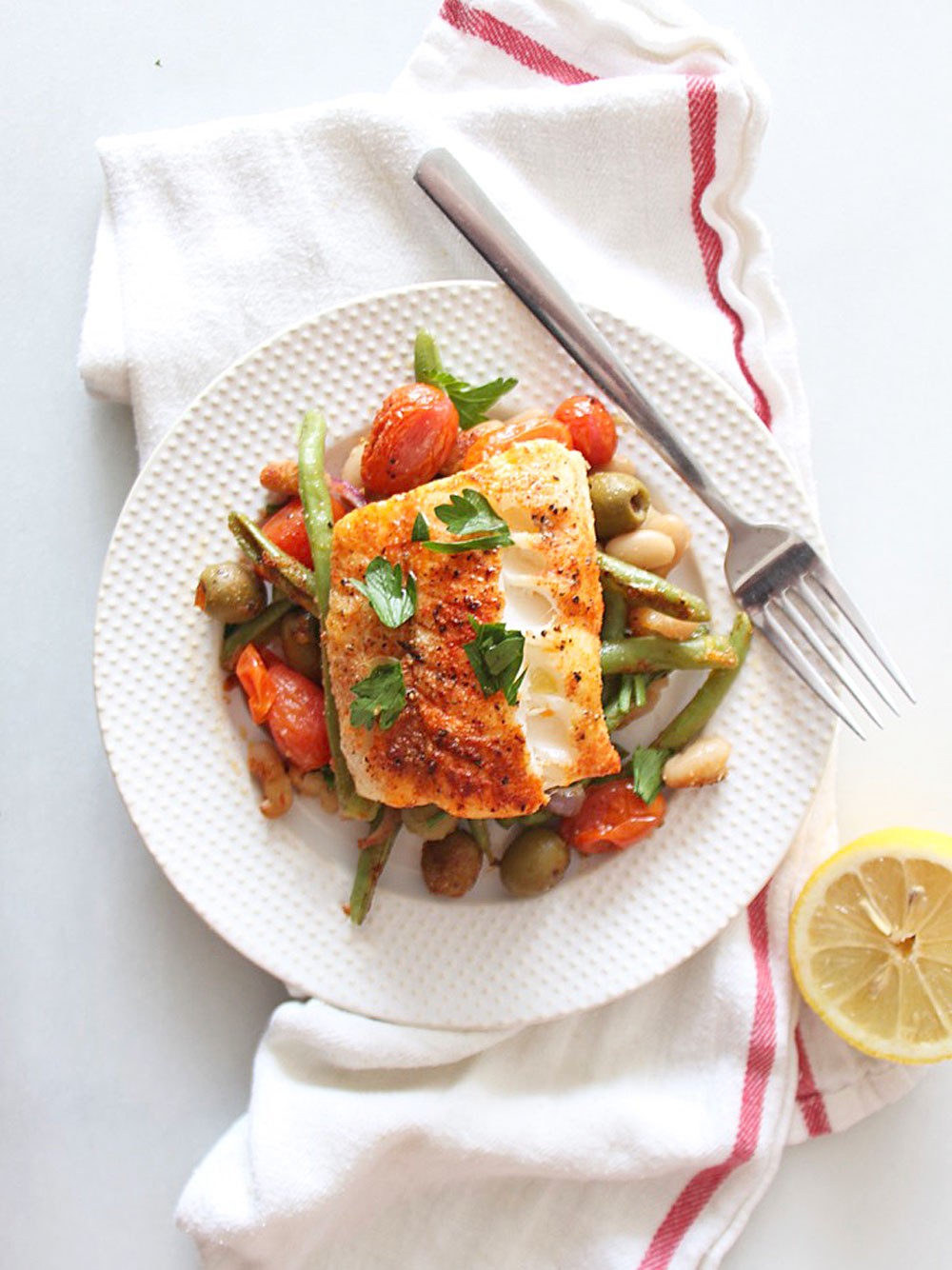 Cod is Toms favorite fish to order while we are out for dinner! If there is cod on the menu fried, broiled, or poached he will order it for sure! He pretends to look at the menu but I know that fish is his dinner lol! I love cooking with cod because it is a heartier milder flavor. This leads cod to take on lots of different flavors. My favorite is to prepare it with simple seasonings from the pantry and roast it in the oven. Making this recipe makes Tom smile and I hope it makes you and your family smile too.
Steps to The Perfect Seasoned Fish!
1. Acid: If using a marinade with acid do not leave more than 20 minutes to marinate. Acid cooks the fish and when you cook it will have a gummy texture. Also, after fish cooks add a squeeze of lemon or lime.
2. Season with salt and pepper and let sit for 15 minutes so the seasoning can get all the way through the fish.
3. If you want to marinate overnight fish leave out the lemon or lime and put in before cooking! 
4. If you want to create your own recipe, just season with your favorite seasonings you use all the time:
Italian Cod: 1 teaspoon of: garlic powder, oregano, onion powder, and 1/4 teaspoon red pepper flakes.
Southern Style: Sprinkle with 2 teaspoons Old Bay seasoning, and teaspoon salt/pepper.
Moroccan Style: Season with teaspoon salt/pepper and smear with harissa paste.
Either way make it the way your family likes it and use the below recipe to follow heating instructions! 
Happy Cooking and hope this makes your dinner easier!
Hope you love this recipe and I am always grateful for you! Happy Cooking!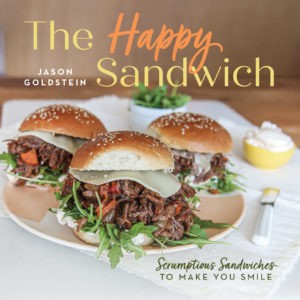 Gratitude Tip While You Cook:
My mission with Chop Happy is to create easy recipe for busy people with a dash of
gratitude
! Since we all have to be in the kitchen at some point in our day lets use that time to zen out and gain more gratitude.
For the time the you save visualize your dreams as if it is already here. Working on you does not have to be a long drawn out process. It can be as simple as a couple of pages of a motivational book. The perfect book to read to learn more about finding calmness, your dreams and making your wishes a reality is
The Secret!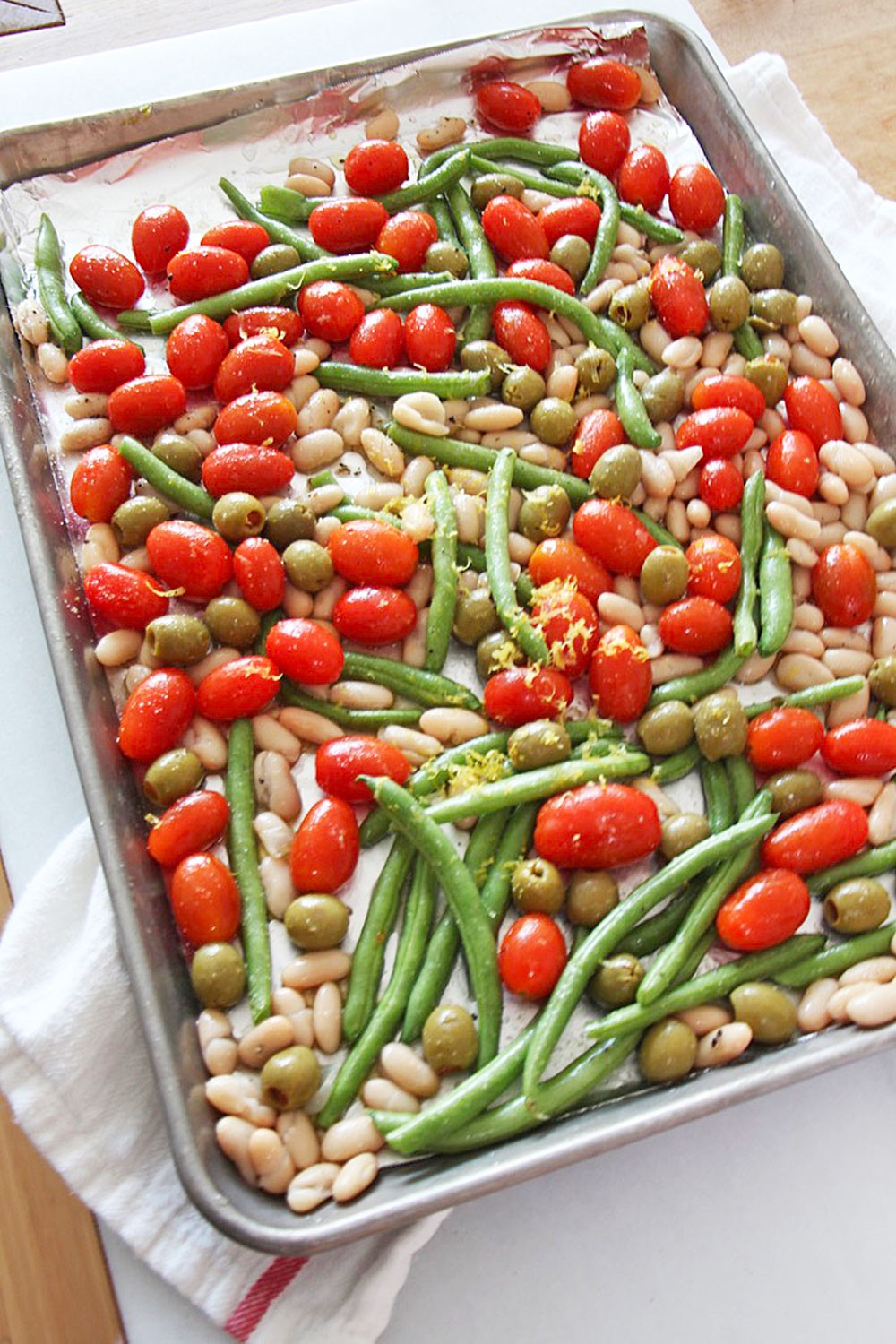 Time Saving Dinner Hacks / Cooking Tips:
Freeze Your Leftovers For An Easy Dinner On A Busy Day: Cod can be frozen for 6 months Just wrap in saran wrap and then into tinfoil. I love pulling out dinner months later when don't have time to cook.
Gratitude While Stirring: Use the kitchen as a place for self care. As you stir or chop say what you are grateful for. I do this all the time so that cooking can be a time to recharge.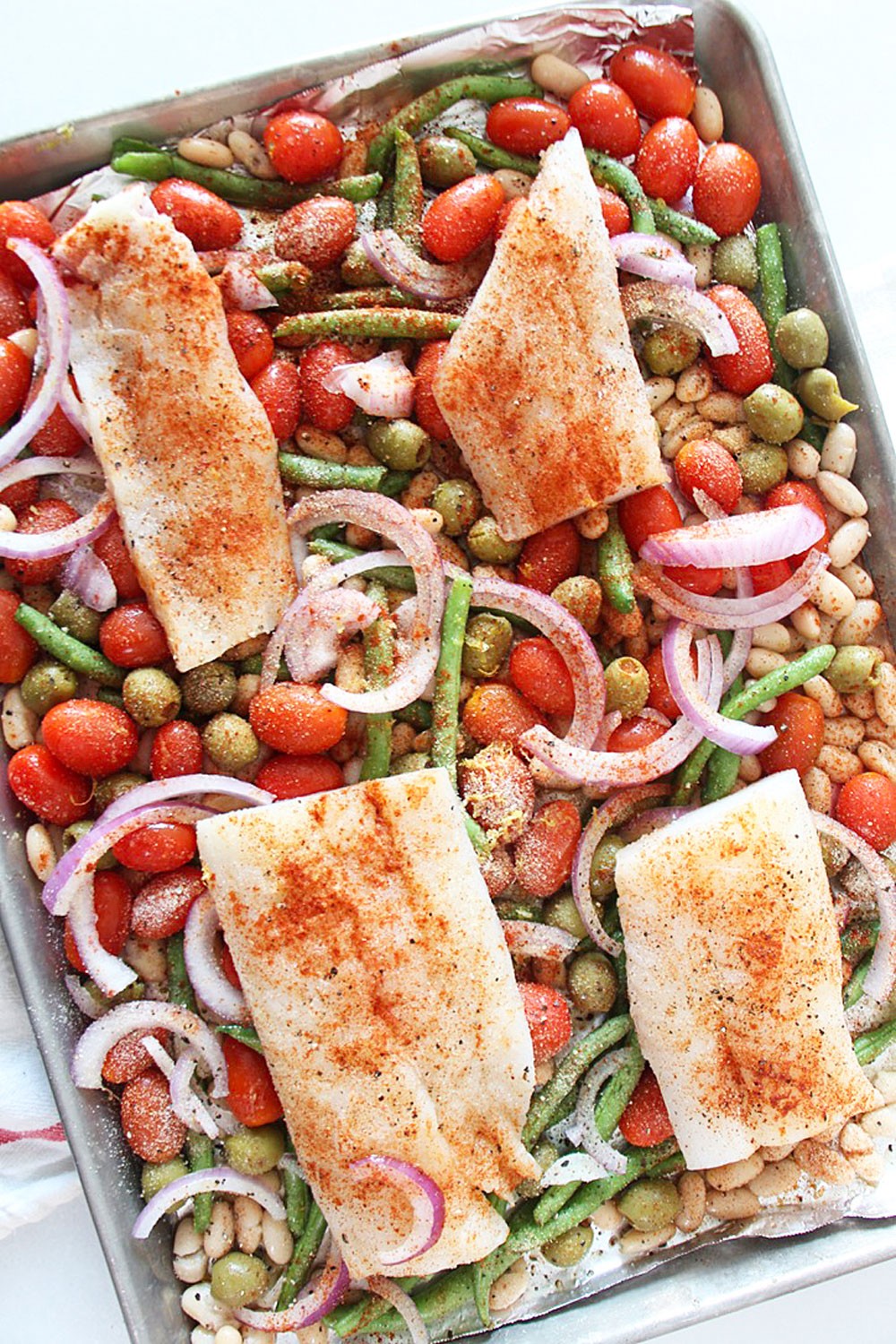 Watch How To Make Sheet Pan Cod:
Sheet Pan Cod and Vegetable Recipe
Ingredients
4 cod fillets
8 ounces green beans (chopped in half)
1 red onion (chopped)
1 handful green olives
1 pint cherry tomatoes
1 can cannelloni beans (drained)
3 tablespoons extra virgin olive oil
2 teaspoon salt (divided)
2 teaspoon pepper (divided)
2 teaspoon garlic powder (divided)
2 teaspoon smoked paprika (divided)
1 lemon
Instructions
Preheat the oven at 400 degrees.

First, season the cod with salt, pepper, garlic powder, smoked and paprika. Let the fish sit for 15 minutes to let the seasoning penatrate the fish.

Next, add the green beans, cannelloni beans, onions, olives, and tomatoes to the sheet pan.

Now, add olive oil, salt, pepper, garlic powder, and smoked paprika to the veggies and mix to combine and spread out as much as possibe so the veggies roast instead of steam.

Next, place fish ontop of the veggies and place the sheet pan on the middle rack of the oven for 20 minutes.

Finally, squeeze with lemon and enjoy!
Great Healthy Articles:
(Visited 598 times, 1 visits today)
Subscribe for tasty, free recipes!