Panzanella is defined (to me) as an awesome crunchy salad with sunshine sauce!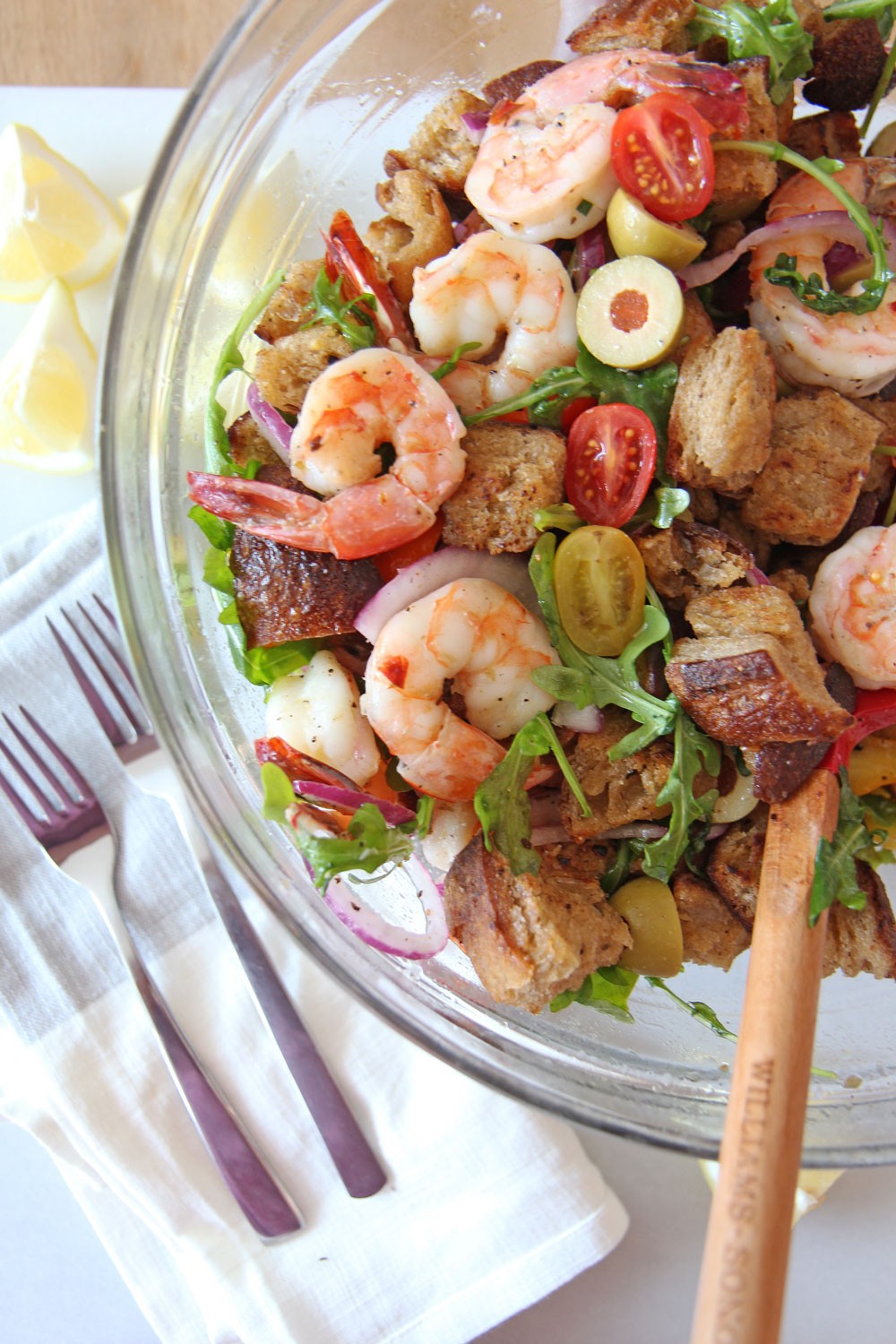 Its all about your perspective on things. You can see life as boring and bland or as fabulous, crunchy, juicy, and yummy. Life is funny that way. When we see the good in things we add more sunshine in our life. When you hear yourself complain or be less excited about something say 3 things you love about it! Start making your world brighter with a
happier perspective
. Also this salad is so fabulously tasty it will make any salad hater love this salad! I hope this recipe brings you joy and helps to celebrate you!
Watch how to make this awesome salad: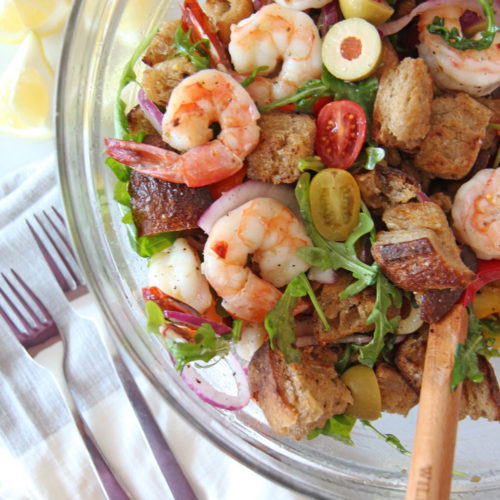 Shrimp and Garlic Bread Panzanella Salad
Hope this recipe cerebrates you!
Ingredients
Garlic Bread Crouton Ingredients:
1 day old sourdough (cut in cubes)
3 tablespoons extra virgin olive oil
1 tablespoons butter
2 cloves garlic (crushed)
1 teaspoon oregano
1/2 teaspoon red pepper flakes
1/2 teaspoon pepper
1 teaspoon salt
Sheet Pan Shrimp Ingredients:
1 pound shrimp (peeled and deveined)
3 tablespoons extra virgin olive oil
1 teaspoon salt
1 teaspoon pepper
1 teaspoon garlic powder
Salad Ingredients:
2 cups arugula
1 cup cherry tomatoes (sliced in half)
1 handful green olives (sliced)
1/4 red onion (sliced)
1 teaspoon apple cider vinegar
3 tablespoons extra virgin olive oil
1 lemon (the juice)
Instructions
Garlic Bread Crouton Recipe
First, (on medium low) add butter, extra virgin olive oil, oregano, garlic, red pepper flakes, and pepper to a big pot.

Next, stir for 2 minutes to infuse flavors and then take garlic cloves out.

Now, turn heat to high and add the bread cubes.

Next, stir for 2-3 minutes until bread crisps up.

Finally, add 1 teaspoon salt, stir, and set aside.
Sheet Pan Shrimp Recipe:
First, add all ingredients to a sheet pan, mix and spread out (this helps roast and not steam).

Next, in a preheated oven, cook for 8 minutes.

Finally, set aside.
Salad Recipe:
First, add onions to bowl and mix with apple cider vinegar.

Next, add on top of onions arugula, olives, and tomatoes. Add salt and pepper to the veggies.

Next, add the shrimp, croutons, lemon juice, olive oil, and mix.

Finally, cheers to salad dinner fun!
My Fave Pot To Cook With:
Check Out This book! It changed my life and keeps me centered:
QUICK NO BAKE DESSERT  FOOD RECIPE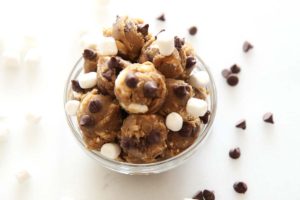 Your Dash Of Gratitude:
                                                                                                                                   
ANY QUESTIONS OR COMMENTS? COMMENT BELOW 🙂
With a grateful heart and an amazing tummy – Jay
(Visited 1,356 times, 1 visits today)
Subscribe for tasty, free recipes!