This Jewish holiday make the easiest gefilte fish recipe with salmon!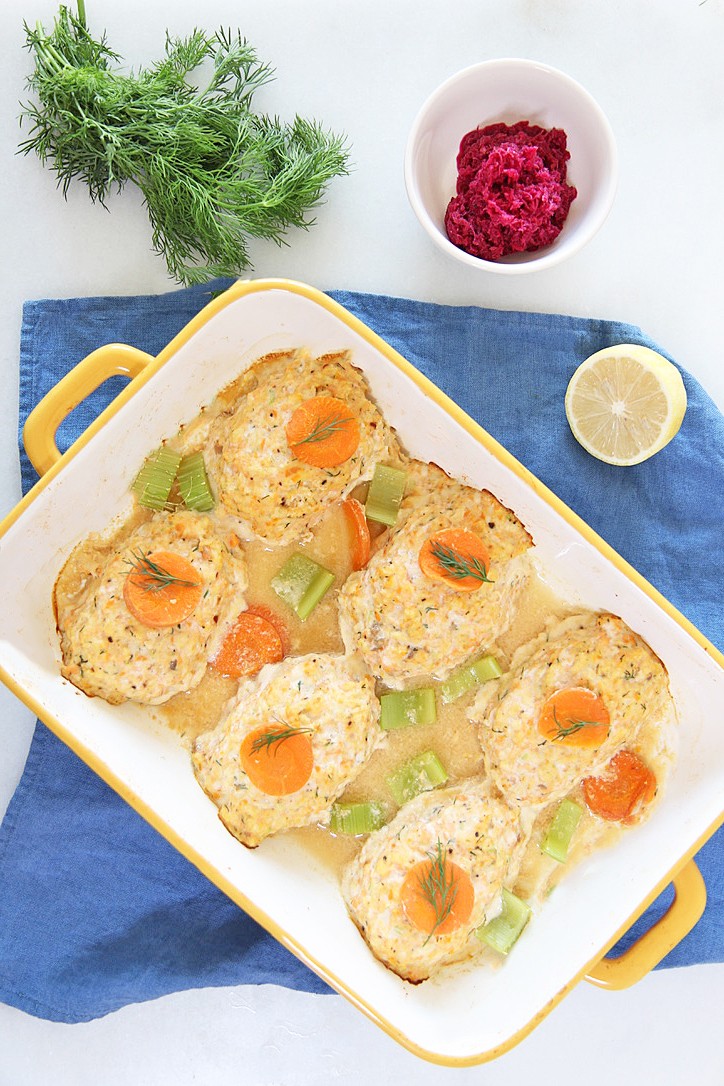 The holidays were allways so much fun growing up! Mama Goldstein made the best
Jewish comfort food
. We would wake up to the smell and sizzle applause of the
potato lake
s frying. The
brisket
would be tucked into a warm blanket of veggies in the oven,
applesauce
ready to meet it BFF latkes, and pigs in a blanket would be lined up in rows on sheet pans. Every time I cook for the holidays now I try to bring the flavors of my childhood home in NJ to my apartment in NYC!
This is my version of gefilte fish with a twist using salmon. Also, everything gets blended up in a food processor and then baked for less clean up.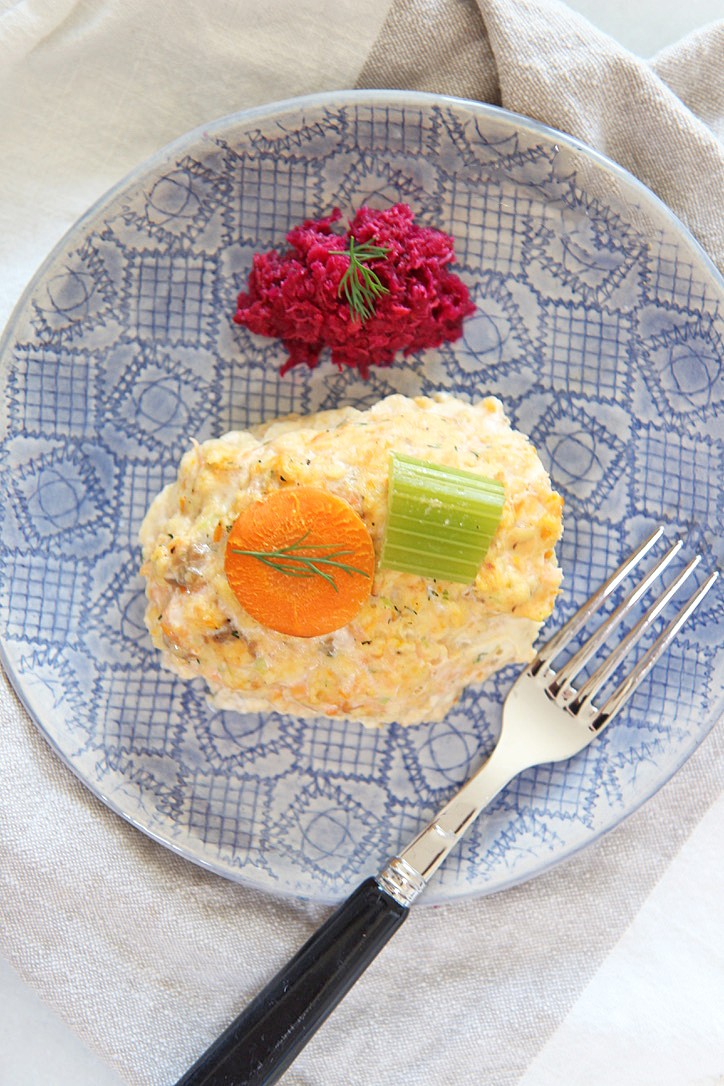 Happy Cooking and hope this makes your dinner easier!
Hope you love this recipe and I am always grateful for you! Happy Cooking!
Hacks for Easy Gefilte Fish:
Bake the fish instead of boiling: I actually bake the gefilte fish in a casserole dish with broth at the bottom. This way everything holds together well and you get a roasted and steamed texture.
Use salmon instead of cod: I like the sweet salmon flavor this recipe adds plus it has the perfect texture for making the shape of gefilte fish.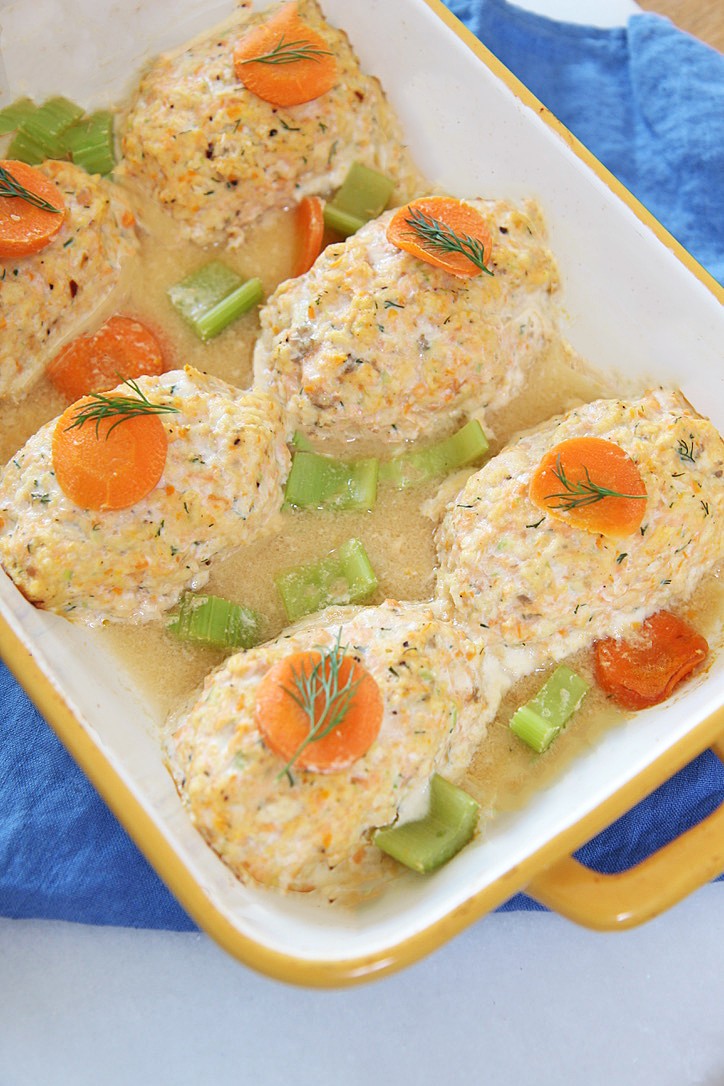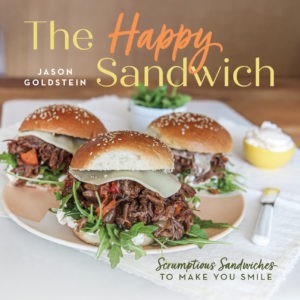 Easy Salmon Gefilte Fish Recipe
Ingredients
2 pounds salmon (cut in chunks)
1/4 onion (cut in chunks)
1/2 carrot (cut in chunks)
1 celery (cut in chunks)
2 teaspoons salt
2 teaspoon pepper
2 teaspoon garlic powder
1/8 red pepper
4 tablespoons dill (choped)
2 eggs
1/2 panko bread crumbs (or matzo meal)
1/2 cup vegtable broth
Instructions
Preheat the oven at 400 degrees.

First, place the onion, celery, and carrots in the food processor. Blend until finely chopped.

Next, add the salmon, salt, pepper, garlic powder, and dill into the food processor and pulse until salmon paste.

Now, place the salmon mixture in a bowl and mix in eggs and panko. Form an oval meatball shape and place in a casserole dish (continue to make 6 gefilte fishes). 

Next, pour in the vegetable broth and add chunks of carrots and celery.

Finaly, cover with tinfoil and place in the oven for 25 minutes. Then cook uncovered for 5 minutes.Then cool in the fridge for 1 hour or overnight and enjoy!
Great Healthy Articles:
Any question comment below or email! I love helping change the recipe!
(Visited 177 times, 1 visits today)
Subscribe for tasty, free recipes!