This is an easy recipe for homemade matzah that is so much better than store bought.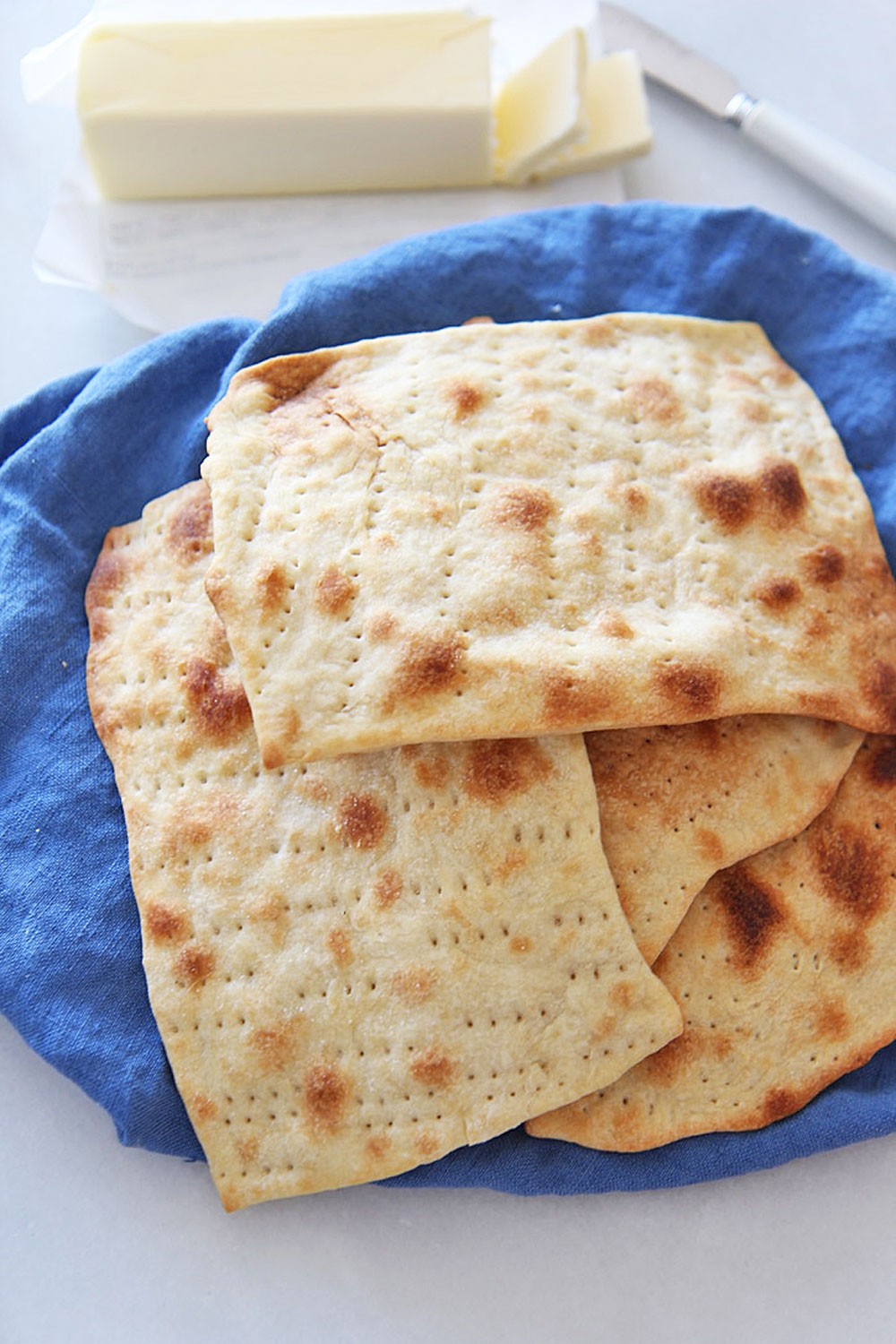 Everything bagel seasoning Matzo that is chophappy.com easy using pantry ingredients, tastes bakery fresh, and is in honor of Mama Goldstein's Passovers growing up! All you need is flour, olive oil, salt, and water for the matzo dough. You place the flour and water/oil in a bowl so that it does not make a mess in the kitchen. Also the dough is super soft so its crazy easy to roll. I actually use a glass instead of a rolling pin to save space in my small NYC apartment. It only takes 4 minutes per side in the oven and that is it!
Growing up Mama Goldstein would always host Passover! We would gather around this long table with the matzah in the center! I love this holiday because of the traditions and food. To me its fun to see what you can create with matzo for recipes. In the past I have made
Triple Chocolate Matzo Bread Pudding
,
Matzo Pie Crust
, and
Lox Quiche with Matzo Pie Crust
! This is a new level by making the matzo from scratch! It is soooo easy and I am excited for you to try it! Happy Cooking!
Gratitude Tip While You Cook:
My mission with Chop Happy is to create easy recipe for busy people with a dash of
gratitude
! Since we all have to be in the kitchen at some point in our day lets use that time to zen out and gain more gratitude.
For the time the matzo cooks visualize your dreams as if it is already here. Working on you does not have to be a long drawn out process. It can be as simple as a couple of pages of a motivational book. The perfect book to read to learn more about finding calmness, your dreams and making your wishes a reality is
The Secret!
 Cooking Tips:
Use Olive Oil Instead of Flour to Prevent Dough From Sticking: When rolling out dough don't use flour as that makes the dough more tough. I use olive oil instead so the constancy of the dough stays good. Plus less mess to clean up flour all over the kitchen.
Gratitude While Stirring: Use the kitchen as a place for self care. As you stir or chop say what you are grateful for. I do this all the time so that cooking can be a time to recharge.
Watch How To Make Matzah (approx 1 minute video):
How to Make Matzah
Ingredients
1 1/2 cups flour
1 teaspoon salt
4 tablespoons extra virgin olive oil
1/2 cup water
Instructions
Preheat the oven to 450.

First, in a bowl add flour and salt. Mix to combine.

Next, make a well in the middle of the flour and pour the oil and water. Slowly mix incorporating the oil/water into the flour until forms a loose ball.

Next, add a teaspoon of oil to the counter (so the dough does not stick) and kneed the dough with your hand 3-4 times to make ball smooth.

Now, smash the dough flat with your hand and roll out the dough as thin as you can. Then using pizza cutter or knife create a large square. Now, cut the big square into 4 squares.

Now, place each square on a sheet pan lined with parchment. Poke lots of wholes in the dough with a fork for the signature matzo look but also helps it from rising.

Finally, place on the top rack of the oven 4 minutes per side and enjoy! 
Other Easy Recipes:
(Visited 1,378 times, 1 visits today)
Subscribe for tasty, free recipes!