With 3 ingredients you can learn how to make crazy easy matzo pie dough!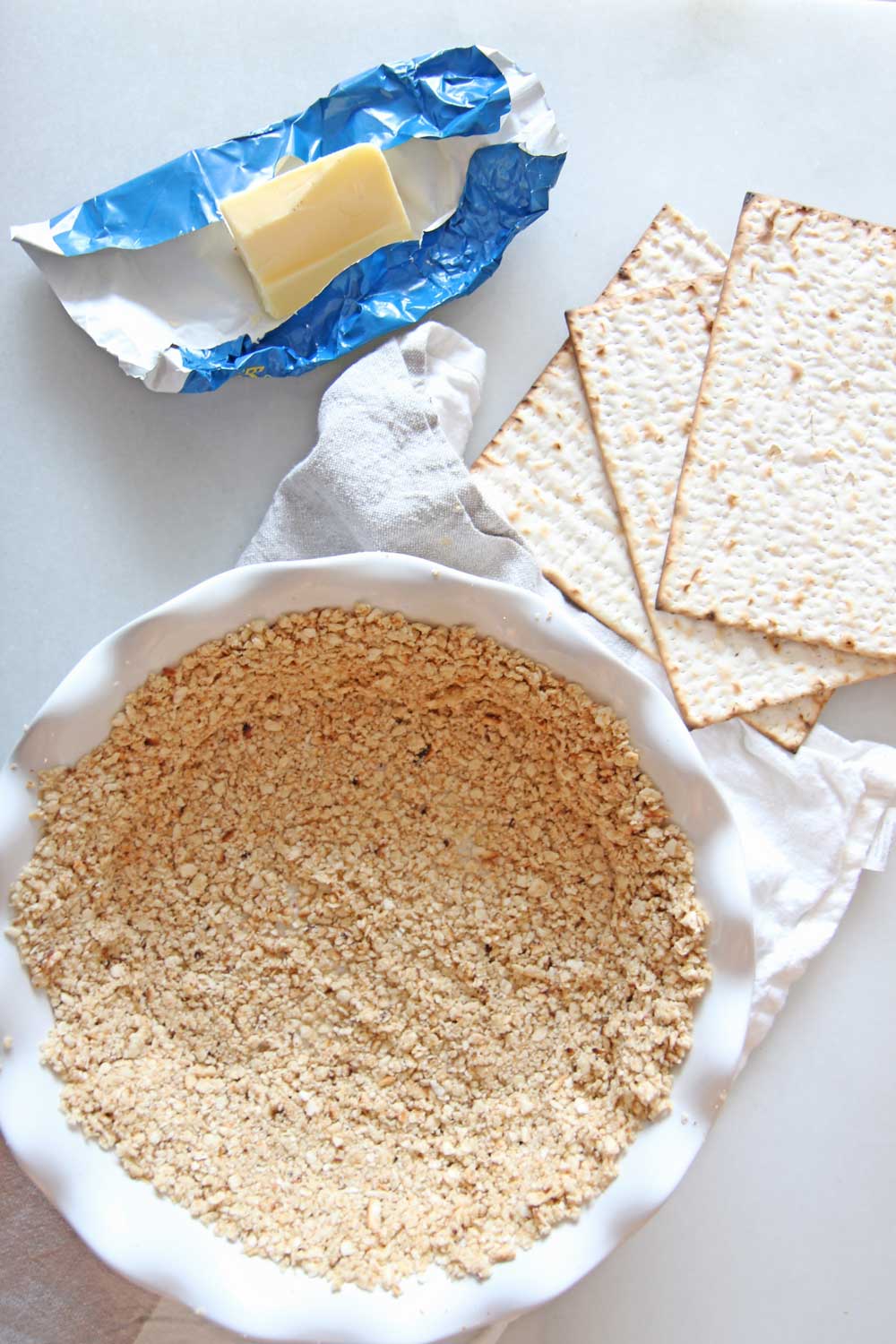 Get ready for an amazing matzo pie dough that is kosher for Passover but can be made all year long! There are 3 ingredients to this simple pie dough. Matzo, salt, and melted butter. The only tool you need is a blender or food processor. The pie dough tastes crunchy, salty and so buttery good. It is a perfect salty compliment to
sweet fillings
. Also, makes amazing quiche. I love this recipe because it reminds me of when I was young and my family would find fun ways to make matzo into something special. We ate allot of matzo pizza lol. Also, there are not allot of options for Passover desserts that are not flourless chocolate cake. This gives you an awesome homemade pie to bing for the holidays.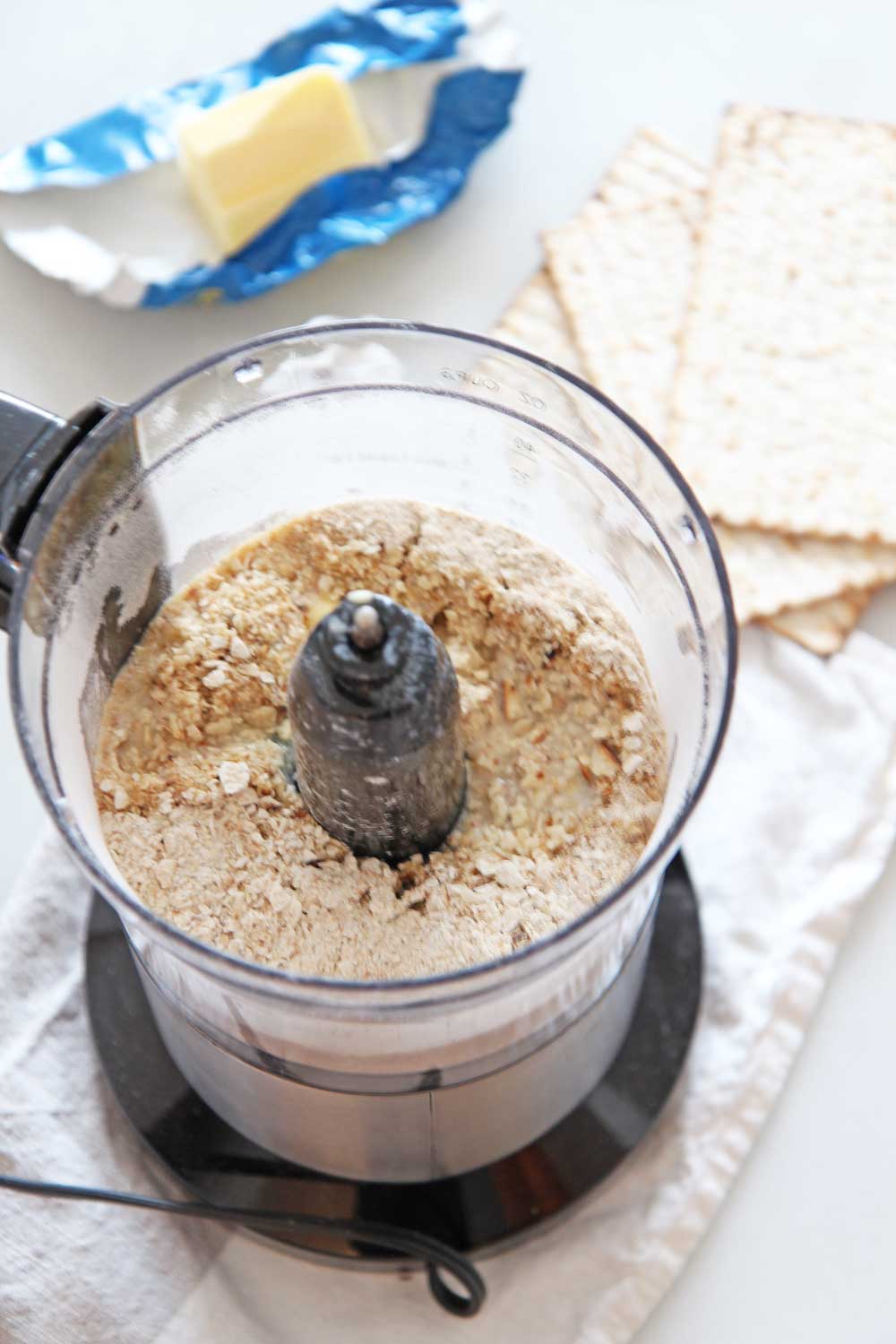 I have to admit I am not a baker so this is super simplistic. You put it all in a blender and bake. Then choose fave pie recipe and pour that filling in. I love Passover because when we were kids it was always at our house. My Mom would set up a long table in the dining room (we only eat there for holidays) and invite our whole family. Uncle Al who was soooo funny and Aunt Judy who was friends with why mom since nursery school would also come so it was extra awesome. My family would all gather around and we would eat all Mama Goldsteins
best holiday recipes
. Then after stuffing ourselves we would wait an hour and the table would have tons of desserts. It was an eating feast and fun with the whole family. Those memories live with me and make me smile every time I make this dish. What was your favorite Passover memory or tradition? What would you fill in this pie dough. Happy Holidays and may you have a happy and health Passover!
You can use saltines if don't have matzo! 
How To Make Matzo Pie Crust Recipe (3 Ingredients)
Ingredients
4 sheets Matzo (egg or regular)
1 stick butter (melted)
1 teaspoon salt
Instructions
Preheat oven at 350.

First, place the matzo in the blender and blend to a sand like texture.

Next, add the rest of the ingredients and blend to form the dough.

Now, press and form on a pie dish.

Next, bake on the middle rack for 15 minutes. Watch to make sure it does not burn. If it starts to brown too much cover with foil.

Finally, take out and fill with quiche filling, pie filling, or whatever recipe you want for Passover!
Pie Recipes To Use This Crust:
Other Passover Recipes:
Any question comment below or email! I love helping change the recipe!
My Favorite Ways To Save Money In The Kitchen: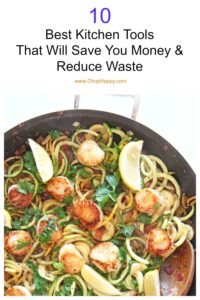 Totally Recommend This Food Processor:
Check Out This book! It changed my life and keeps me centered:
ANY QUESTIONS OR COMMENTS? COMMENT BELOW 🙂
With a grateful heart and an amazing tummy – Jay
(Visited 2,058 times, 1 visits today)
Subscribe for tasty, free recipes!