This is stuffing is as easy as sliced bread and frozen veggies!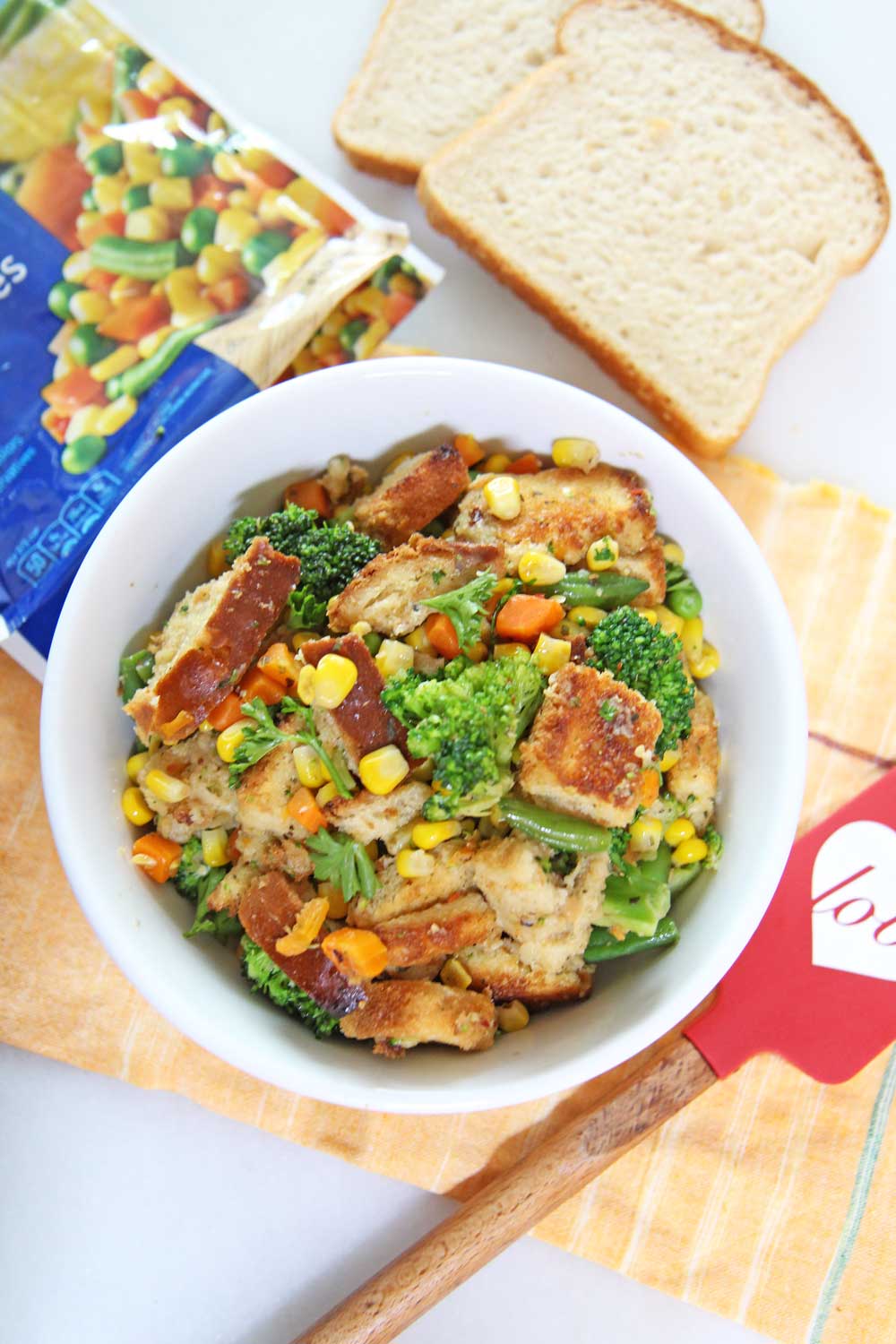 Growing up stuffing was always my favorite. Mama Goldstein made 2 different kinds. The stuffing cooked in the turkey or out in a casserole dish. I always loved the stuffing in the turkey because it is so juicy and buttery. The stuffing cooked in the oven dries out easy. So now because I make stuffing (not just on Thanksgiving) for me and Tom with meatloaf, salmon, and turkey. I make it stove top and add lots of chicken broth to keep it buttery and moist. This is a true Chop Happy recipe because it uses up all the things in my fridge and freezer. The ingredients include sliced bread frozen veggies, and seasonings in your pantry. So easy and soooo good. What stuffing do you prefer on the holidays, In the turkey or in the baking dish? Vote in comment section!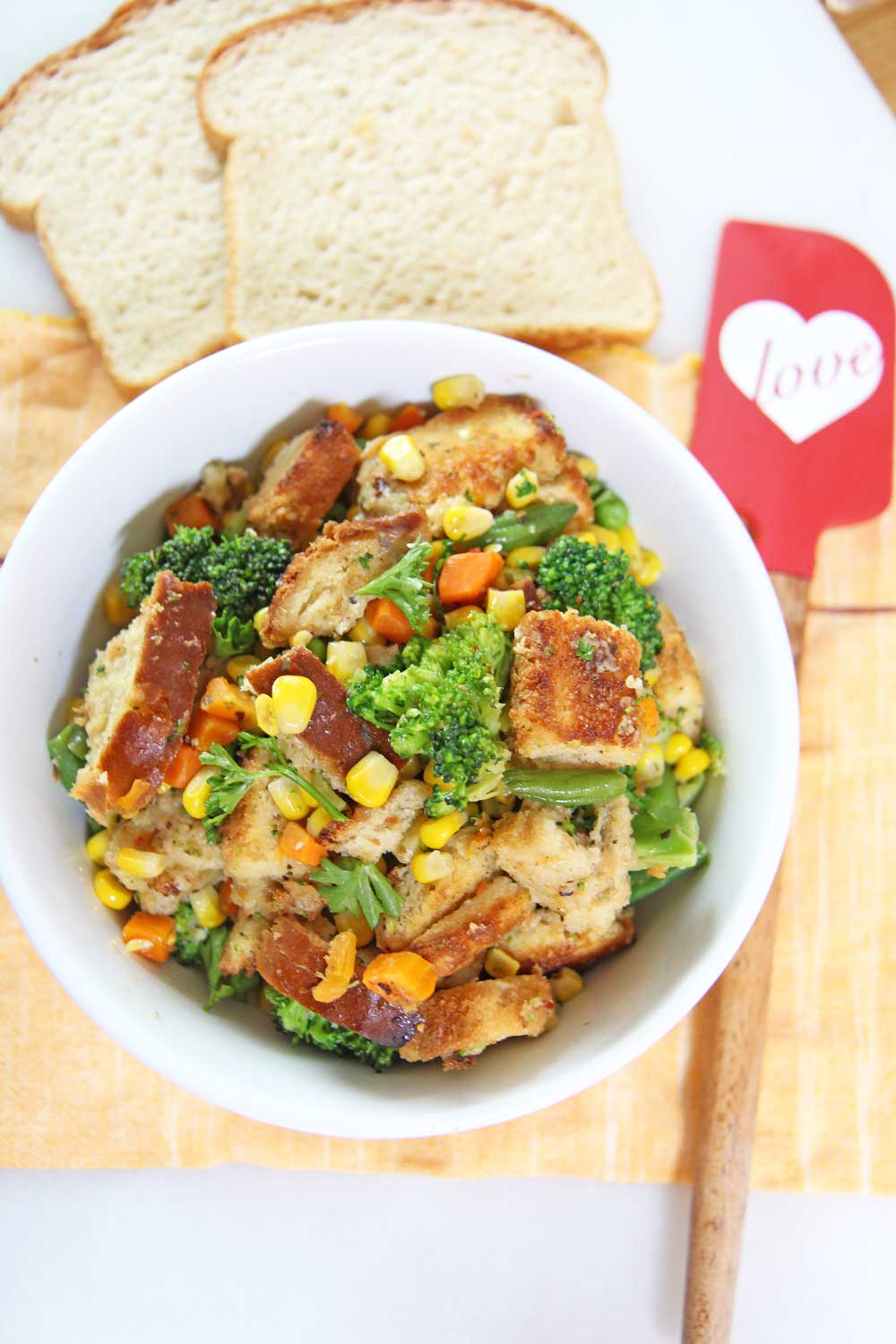 Gratitude Tip While You Cook:
My mission with Chop Happy is to create easy recipe for busy people with a dash of gratitude! Since we all have to be in the kitchen at some point in our day lets use that time to zen out and gain more gratitude.
For the time the turkey cooks visualize your dreams as if it is already here. Working on you does not have to be a long drawn out process. It can be as simple as a couple of pages of a motivational book. The perfect book to read to learn more about finding calmness, your dreams and making your wishes a reality is
The Secret!
Recipe Hack / Cooking Tips:
Used Bread in Your Fridge: Toasting up sliced bread with oil and pantry seasonings is just as good as the ones you buy in the stores. Any type of bread works. 
Freeze Leftover Bread: Anytime you have the ends of bread or leftover bread place in a freezer bag and save for stuffing. The mixture of different types of bread makes it taste amazing! 
Gratitude While Stirring: Use the kitchen as a place for self care. As you stir or chop say what you are grateful for. I do this all the time so that cooking can be a time to recharge.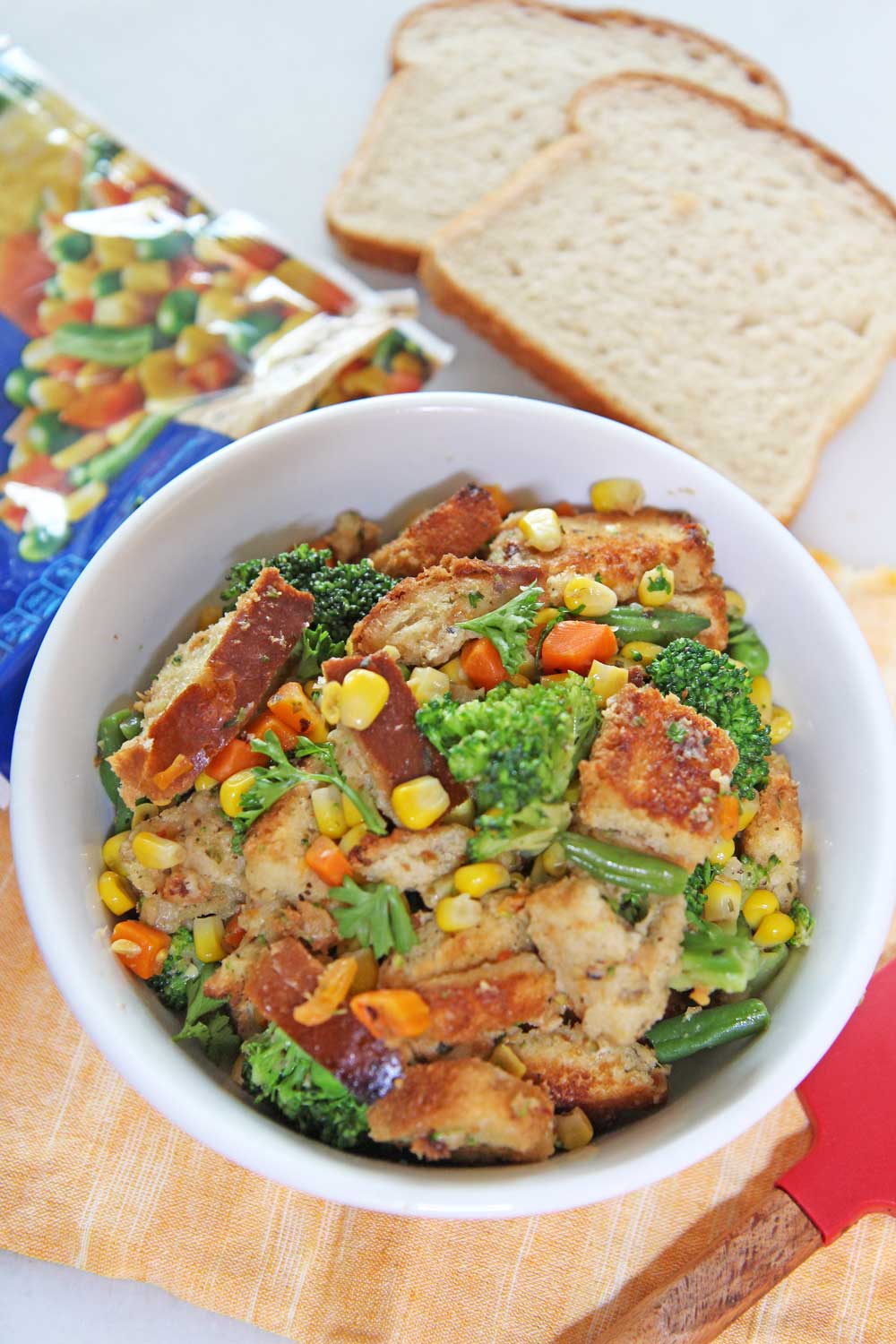 Stove Top Pantry Stuffing
Ingredients
1 loaf sliced bread
1/2 stick butter (unsalted)
3 bags frozen veggies (in this video uses: broccoli, mixed veggies, corn)
2 teaspoons garlic powder
2 teaspoons dried oregano
2 teaspoons salt/pepper
1 teaspoon red pepper flakes
3 tablespoons olive oil
3 cups chicken broth
2 tablespoons apple cider vinegar (or any vinegar or a lemon)
Instructions
First, cut sliced bread in small chunks and mix with 1 teaspoon garlic powder, 1 teaspoon oregano, 1 teaspoon salt/pepper, and 3 tablspoons olive oil.

Next, place bread on a sheet pan (spread out to evenly toast) and cook in the oven for 10-15 minutes on 450 degrees. Cook until the bread is toasted.

Now, in a pot add the frozen veggies and butter. Season with 1 teaspoon salt/pepper, 1 teaspoon garlic powder, 1 teaspoon oregano, and 1/2 teaspoon red pepper flakes. Cook in a pot for 3 minutes on medium high.

Next, add the toasted bread, apple cider vinegar, and broth.

Finally, enjoy your carb feast!
Other Easy Recipes:
Any question comment below or email! I love helping change the recipe!
(Visited 312 times, 1 visits today)
Subscribe for tasty, free recipes!