The types of pies my family makes are spaghetti pies! I am using FrescoBene pre-made sauce because it makes dinner super easy even on the busiest day!!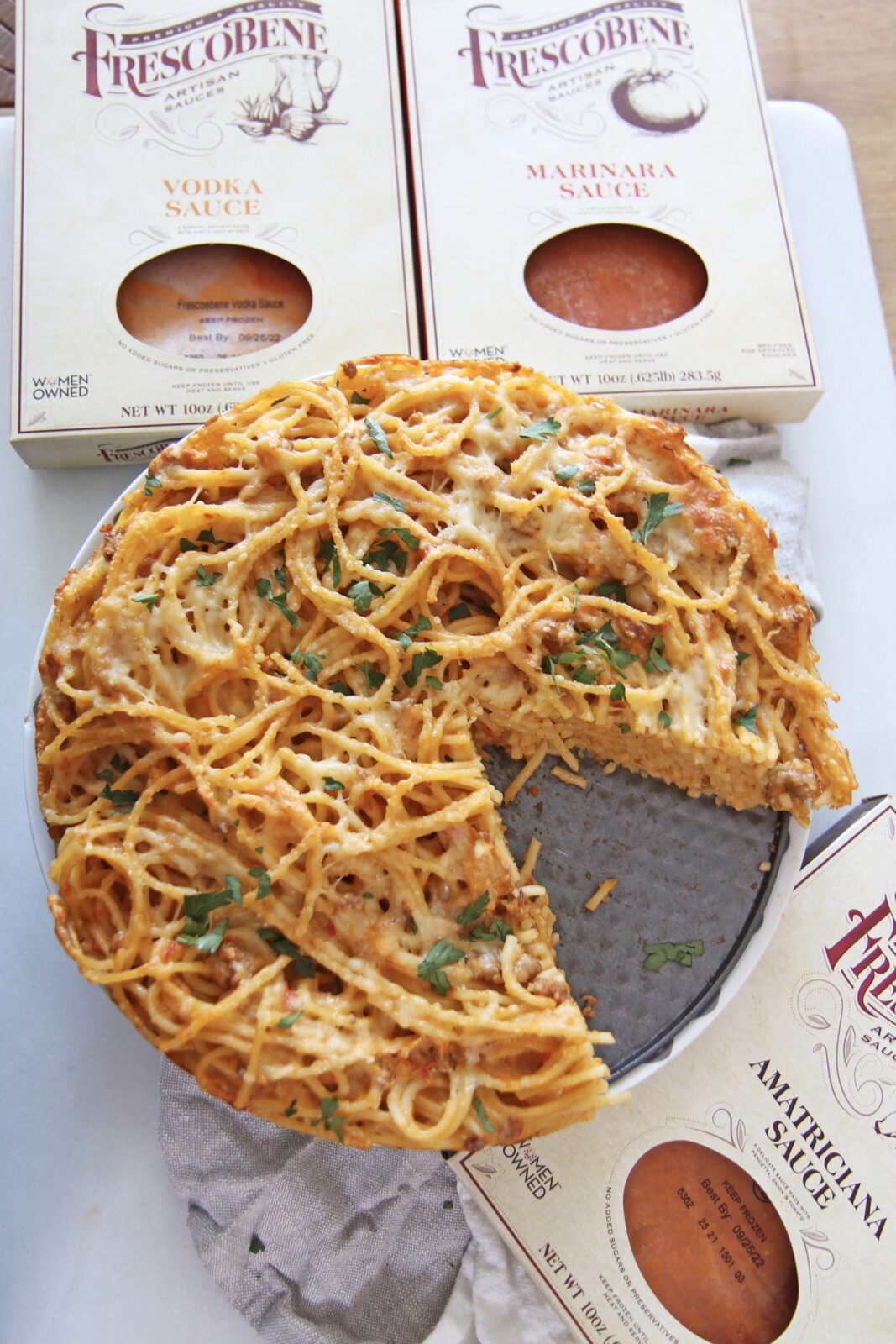 Pasta, eggs, parm,
sauce
, and cheese is all you need to turn Wednesday night dinner into saucy spaghetti pie smiles. I am so grateful to
FrescoBene
for giving me there amazing sauces. I love them because its like having an Italian grandmother cooking sauce for you and then freezing it so you have a homemade meal! All you have to do is taketh sauce from the freezer to the microwave dinner is ready. This is so Chop Happy because its fresh homemade sauce even on a busy day! Also, I love that they use San Marzano tomatoes, imported Parm, and there are no preservatives. 
Growing up we had Italian night once a week. My mom would take us to get the cheesiest carb happy dinner covered in sauce. To me that became a lesson to celebrate life midweek and not wait till the weekend. Using store bought short cuts makes this possible even now when I am at my busiest. I love this Spaghetti Pie because everything goes in a bowl, mix it up, and then bake it in a
springform pan
and you have dinner for a bunch of days. Cook once eat twice is always my motto!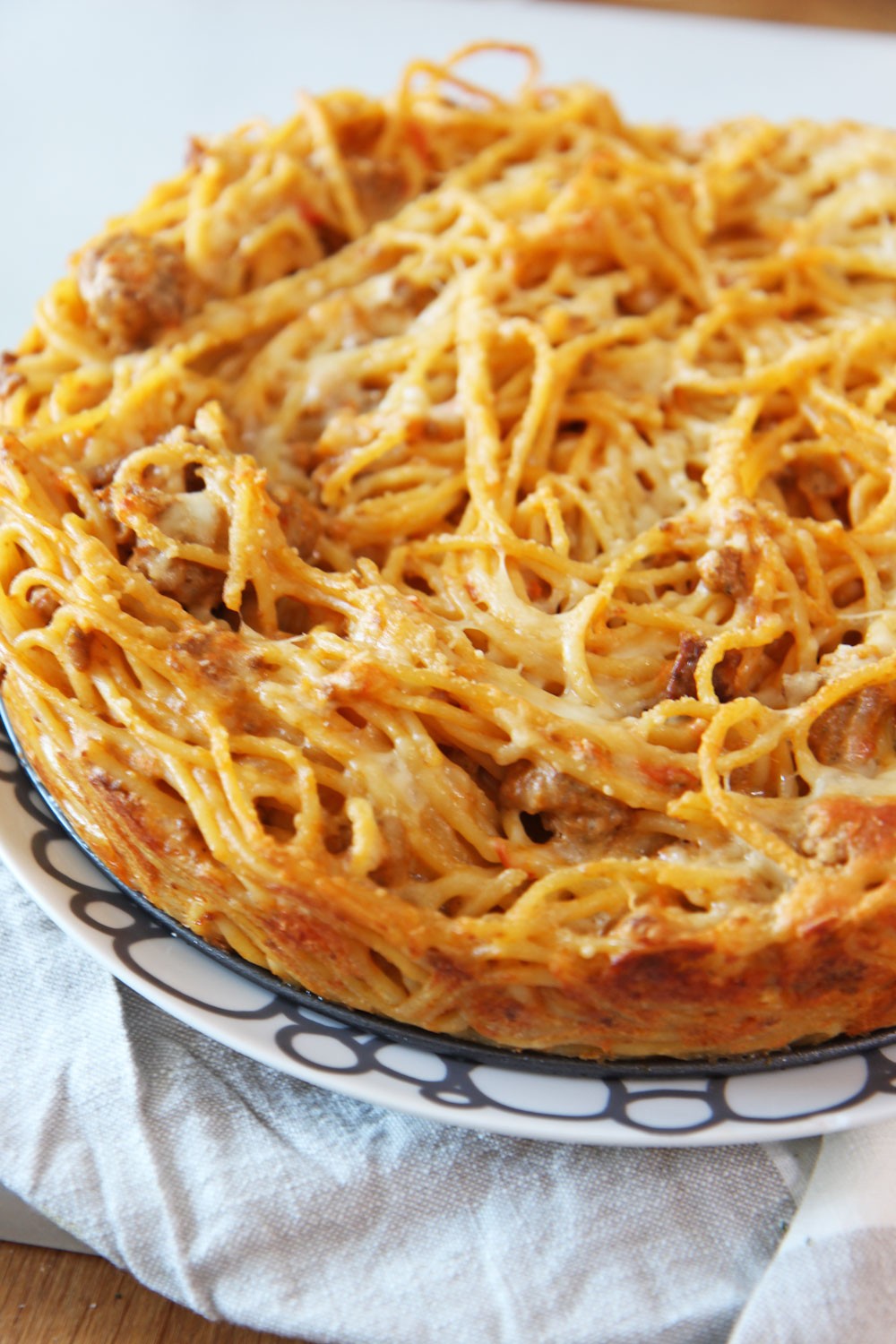 Gratitude Tip While You Cook:
My mission with Chop Happy is to create easy recipe for busy people with a dash of
gratitude
! Since we all have to be in the kitchen at some point in our day lets use that time to zen out and gain more gratitude.
For the time the pasta  cooks visualize your dreams as if it is already here. Working on you does not have to be a long drawn out process. It can be as simple as a couple of pages of a motivational book. The perfect book to read to learn more about finding calmness, your dreams and making your wishes a reality is
The Secret!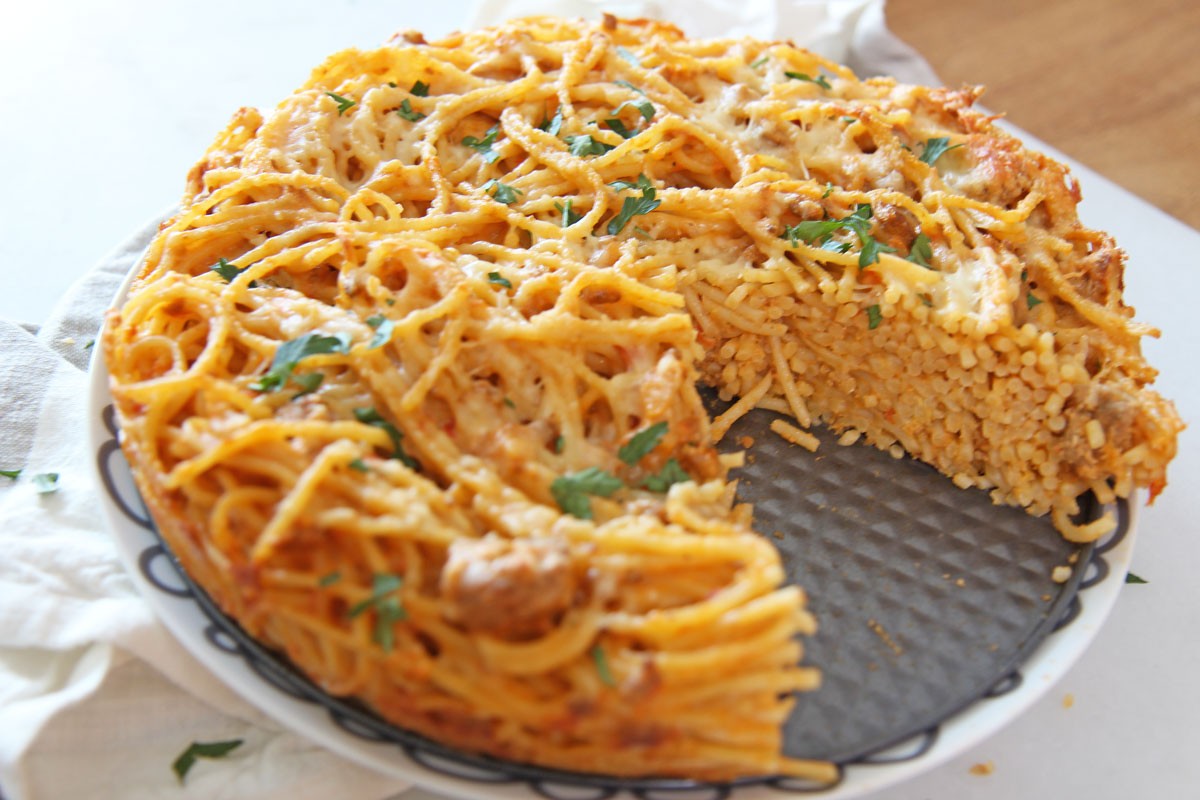 Time Saving Dinner Hacks / Cooking Tips:
Nothing Wrong With Store Bought: When I am in a rush and it is a super busy week I buy store bought dressing for sure. Pick one you like and put it in the fridge! FrescoBene makes it even easier and you just microwave or boil the pouch!
Gratitude While Stirring: Use the kitchen as a place for self care. As you stir or chop say what you are grateful for. I do this all the time so that cooking can be a time to recharge.

Buy FrescoBene Sauce: Click Here
Watch How To Make Pasta Pie (approx 1 minute video):
How To Make Spaghetti Pie
Ingredients
2 boxes FrescoBene Sausage Ragu (2 1/2 cups)
1 pound Spaghetti (cooked)
3 eggs
1/2 cup mozzarella
1/2 cup Parmesan cheese
Instructions
Preheat oven to 350 degrees.

First, mix all the ingredients ihn bowl until combined.

Next, place the pasta mixture in a springform pan you have sprayed with cooking spray. Top the pan

Now, add to middle rack of oven and cook 25 minutes.

Finally, top with more sauce and enjoy!
Buy FrescoBene Sauce: Click Here
Other Easy Recipes:
(Visited 492 times, 1 visits today)
Subscribe for tasty, free recipes!