The feta challenge on TikTok made me inspired to try it but changed it to a baked ricotta pasta.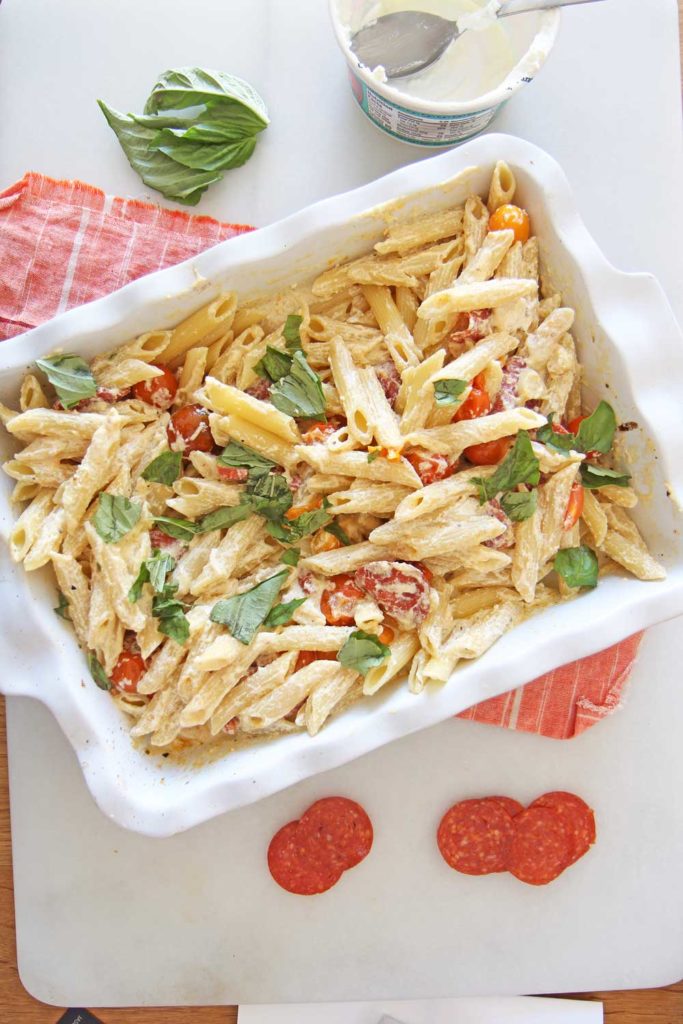 I love social media! I am on Instagram or TikTok while eating, watching TV, and maybe sleeping lol! I have never tried a TikTok challange but I could not resist the feta pasta challenge. The only problem is I got back from the store and forgot the feta. So I used the ricotta and the leftover pepperoni instead. The most important taste test was if Tom liked it! He loved it! I loved it too! It is sweet burst from the tomato, salty creamy yum from the ricotta, and crispy pepperoni love! Sometimes its fun to experiment in the kitchen with hacks that make your life easy and this one was awesome! 
Use the kitchen as a place of gratitude! As you assemble the burgers just take deep breaths and clear your mind. You can even just keep repeating "I am making dinner" over and over to get into a state of
mindfulness
. We all end up in the kitchen at some point so use it as a place to chill out from the day! Happy Cooking!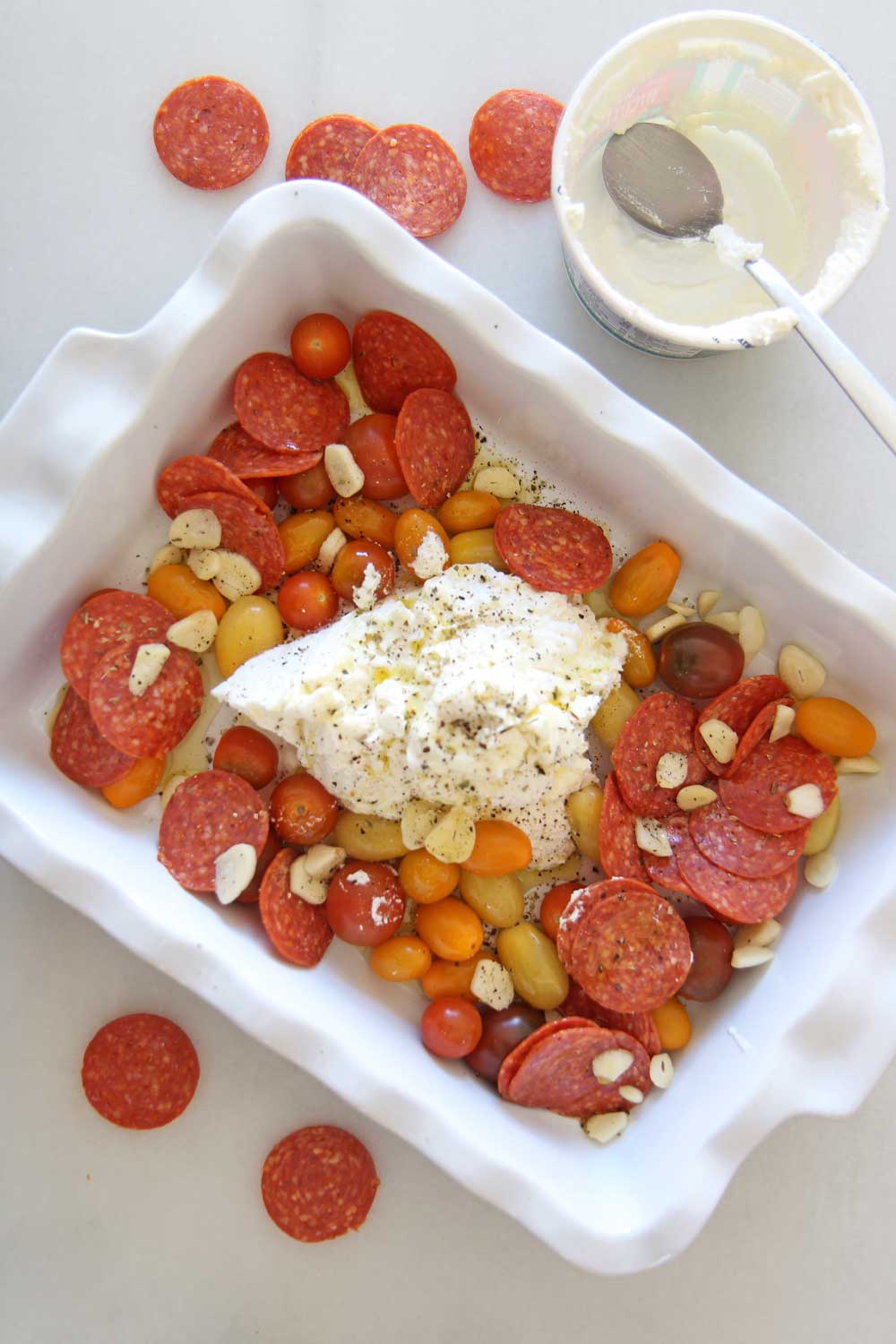 Gratitude Tip While You Cook:
My mission with Chop Happy is to create easy recipe for busy people with a dash of
gratitude
! Since we all have to be in the kitchen at some point in our day lets use that time to zen out and gain more gratitude.
For the time the pasta cooks visualize your dreams as if it is already here. Working on you does not have to be a long drawn out process. It can be as simple as a couple of pages of a motivational book. The perfect book to read to learn more about finding calmness, your dreams and making your wishes a reality is
The Secret!
Time Saving Dinner Hacks / Cooking Tips:
How Not To Burn Garlic: Slice your garlic instead of chop. This will keep the garlic bigger and will let it cook longer in the oven or pan without getting the burnt bitter taste.
Gratitude While Stirring: Use the kitchen as a place for self care. As you stir or chop say what you are grateful for. I do this all the time so that cooking can be a time to recharge.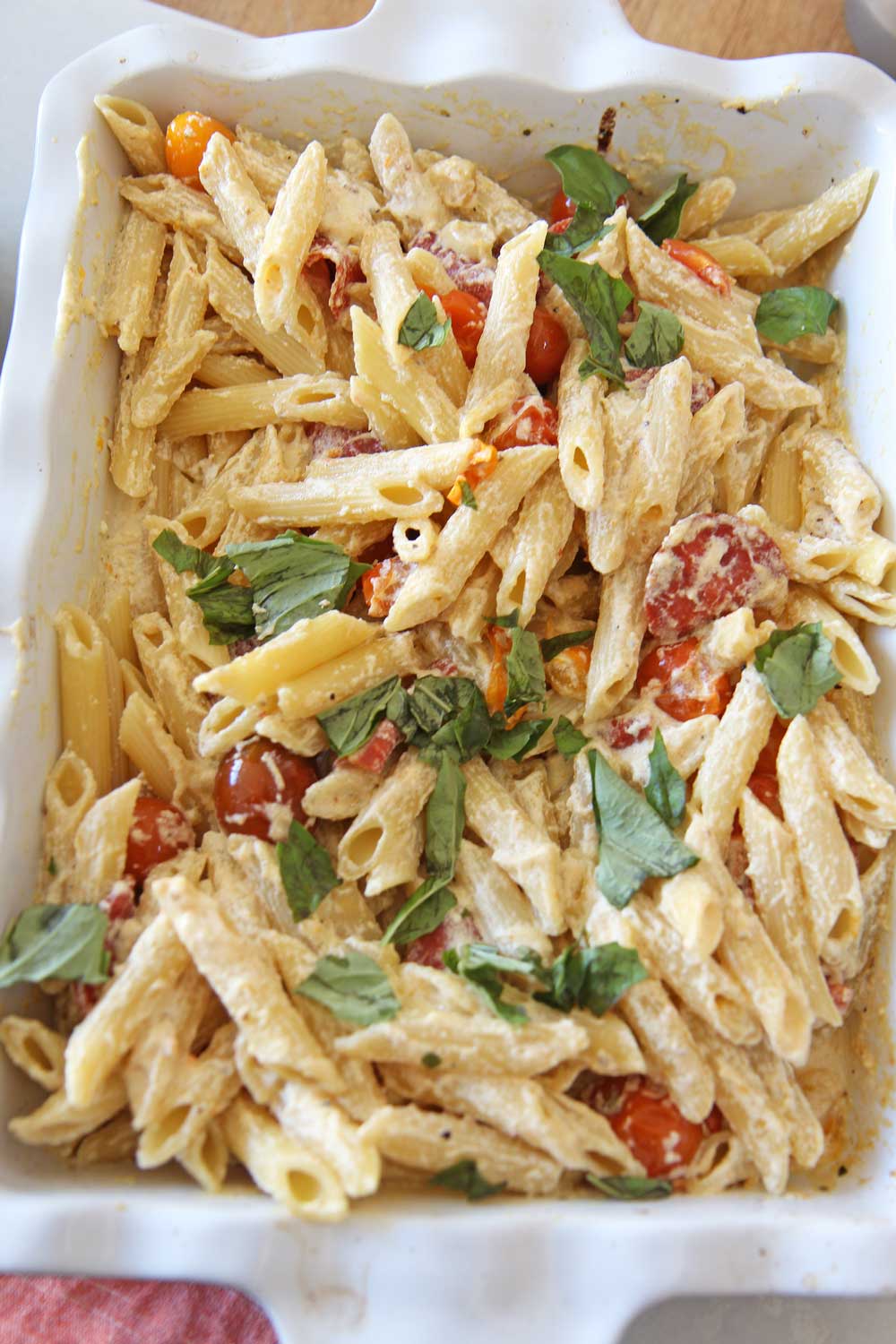 Watch How To Make Ricotta Pasta Bake (approx 1 minute video):
Baked Ricotta Pasta (feta TikTok challenge)
Ingredients
10 ounce ricotta
1 package grape tomatoes
4 garlic cloves sliced
20 pepperoni slices
1 teaspoon salt
1 teaspoon pepper
1 teaspoon oregano
3 tablespoons olive oil
1 pound pasta (cooked)
5 leaves basil (ripped by hand)
Instructions
Preheat oven at 400 degrees.

First, place ricotta in middle of baking dish.

Next, add tomatoes, pepperoni, and garlic around the ricotta.

Now, sprinkle salt, pepper, oregano, and oil all over ricotta and tomatoes.

Next, place in oven for 20 minutes.

Finally, mix the cheese tomato mixture together and then add pasta and mix again. Top with basil and enjoy!
Other Easy Recipes:
(Visited 5,027 times, 1 visits today)
Subscribe for tasty, free recipes!