This carrot salad sandwich is a perfect weekday lunch or vegetarian dinner.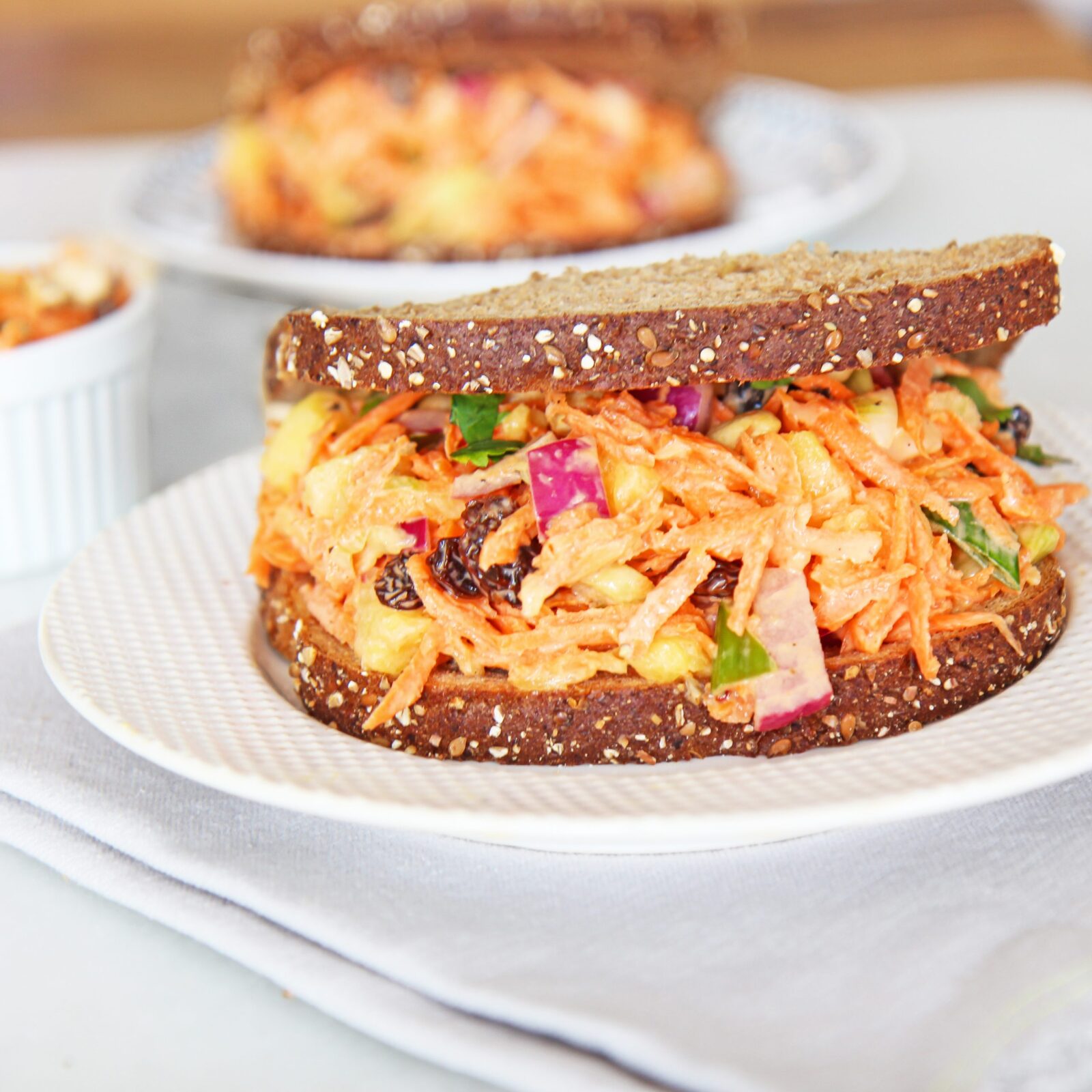 This recipe is so special to me. This is from my cookbook
"The Happy Sandwich!"
This is my first
cookbook
and there are 50 sandwich recipes for busy people with dashes of gratitude to make you smile. The cookbook was a dream come true because all my life I wanted to teach people how to cook fun recipes. As a kid I would rush home from school t0 watch the Food Network instead of cartoons. You can say chefs were my superhero's growing up! 
This recipe is also special because growing up in NJ we would eat at the Jewish delis in town. They always had carrot salad. I am not a big veggie person but the sweet carrots, creamy dressing, and crunchy nuts makes this a veggie paradise. I though it was the perfect sandwich to include in my book because its no cook, you can make it on Sunday and eat it all week, and its accidentally good for you! Hope you love this recipe and check out my
cookbook
! 
Steps to The Perfect Sandwich!
1. Bread to filling ratio! You do not want too much bread. There should be at least 50/50 ratio. This way one does not drown out the flavor of the other. The exception is subs were the crispy crust Italian bread is soaked in vinaigrette. 
2. Season your tomatoes, lettuce and onion with salt and pepper! You want to make sure all layers taste good. If your filling is amazing but your lettuce is bland it will make the sandwich not as fabulous as it could be.
3. Smear the mayo or spread all over the crust. Do not miss an area bc you want every bite to be special. 
4. Make double and freeze half for a quick dinner on a busy weeknight!
Happy Cooking and hope this makes your dinner easier!
Hope you love this recipe and I am always grateful for you! Happy Cooking!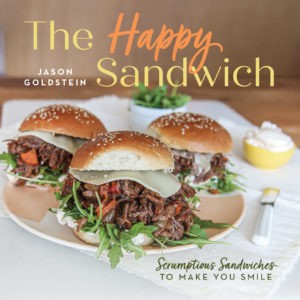 Gratitude Tip While You Cook:
My mission with Chop Happy is to create easy recipe for busy people with a dash of
gratitude
! Since we all have to be in the kitchen at some point in our day lets use that time to zen out and gain more gratitude.
For the time the you save not cooking visualize your dreams as if it is already here. Working on you does not have to be a long drawn out process. It can be as simple as a couple of pages of a motivational book. The perfect book to read to learn more about finding calmness, your dreams and making your wishes a reality is
The Secret!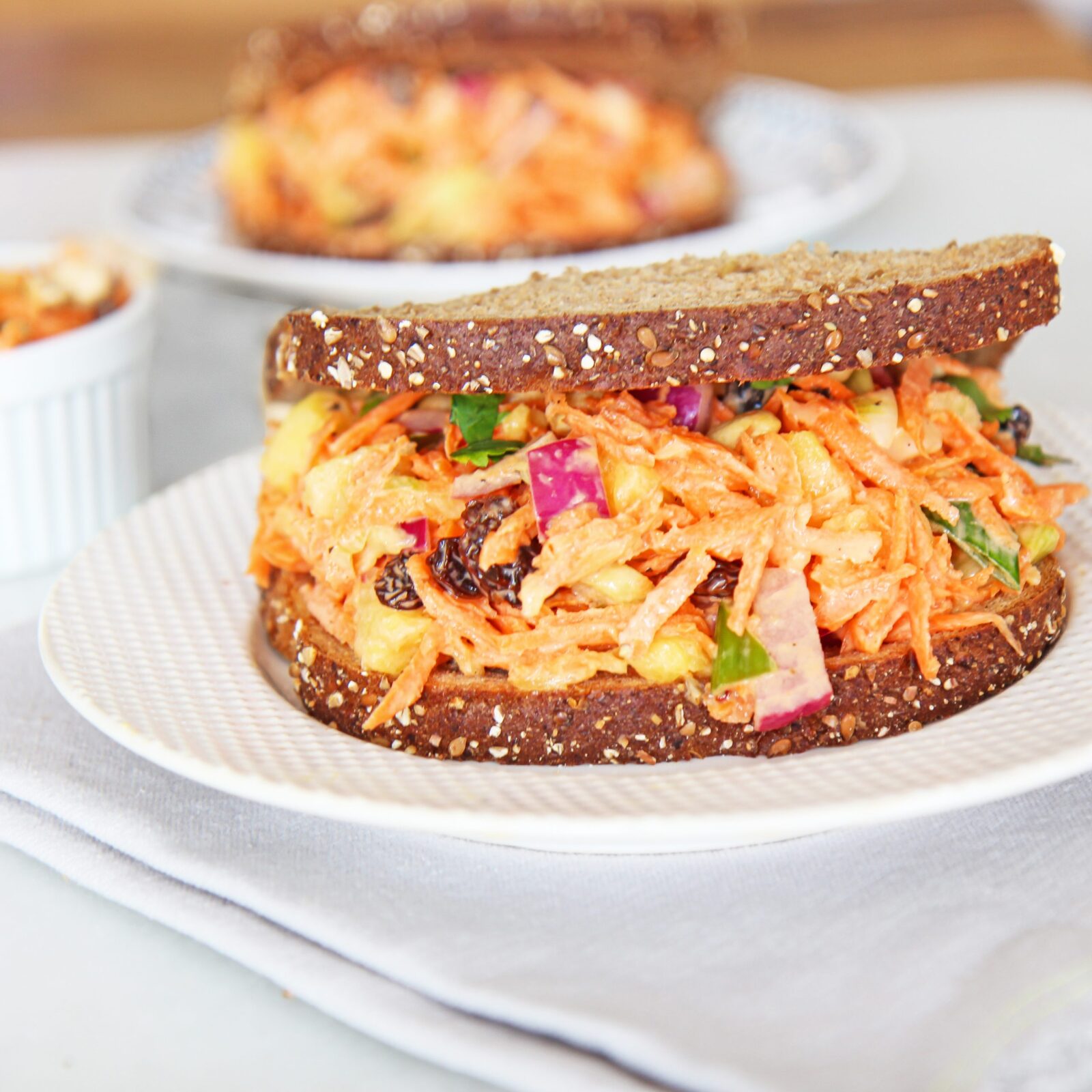 Time Saving Dinner Hacks / Cooking Tips:
Freeze Your Leftovers For An Easy Dinner On A Busy Day: Carrot salad can be frozen for 6 months Just wrap in saran wrap and then into tinfoil. I love pulling out dinner months later when don't have time to cook.
Gratitude While Stirring: Use the kitchen as a place for self care. As you stir or chop say what you are grateful for. I do this all the time so that cooking can be a time to recharge.
Carrot Salad Sandwich Recipe
Ingredients
1/2 cup pineapple (chopped and divded)
1/2 cup Greek yogurt
1 tablespoon apple cider vinegar
1 teaspoon salt
1 teaspoon pepper
1/2 teaspoon red pepper flakes
1 teaspoon garlic powder
1/2 cup raisins
4 cups carrots (grated)
1 large onion (chopped)
1 handful mint (chopped)
1/2 cup roasted peanuts
8 slices multigrain bread
Instructions
First, smash 1/4 cup pineapple with fork or potato masher in a bowl.

Next, in the bowl combine the smashed pineapple with Greek yogurt, apple cider vinegar, salt, pepper, red pepper flakes. garlic powder, and rasins.

Now, mix in carrots, chunks of pineapple, onion, mint, rasins, and peanuts in the bowl.

Finally, slather on Greek yogurt on one side of each slice of bread. Pile on carrot salad, and top with other slice of bread.

Enjoy and please check out "The Happy Sandwich Cookbook" for more recipes!
Great Healthy Articles:
(Visited 363 times, 1 visits today)
Subscribe for tasty, free recipes!