This is your new cheesy comfort food California kale cheesy calzone perfect dinner recipe for a family or party.
This is the perfect game day recipe. It is cheesy, carb happy, and super easy to make. You can make this way in advance (meal prep happy) so dinner time is easy!  This was originally for the Super Bowl with the Los Angles Rams playing! It's a cheesy calzone with kale, jalapeño, corn, and Monetary jack cheese. You will love this because you can make double the filling and freeze half for up to 6 months so you have an easy dinner on a busy day! Hope this calzone makes life easier for you. As you chop listen to the chopping sound, as you stir say what you are grateful for, and as you let the food cook read a gratitude book for self care.
Cooking Hacks:
Grate the lemon zest when using lemon in a recipe. There is tons of bright flavor in the peel. Just make sure you only get the yellow part not the white part because its bitter. I call this my free ingredient.
Leave pizza dough out on the counter for an hour and it will be super easy to work with and won't bounce back.
Dinosaur kale is a bushy cooks happiness. This type of kale you can eat the steam so you can skip the step of de-steaming it like regular kale.
Make double and freeze for a busy week. You can either make double of the cheesy kale mixture and freeze in ziplock or cook extra calzones and freeze the whole meal. You can freeze for 6 months and frost in fridge overnight. If you are defrosting a cooked calzone. After defrosted place in oven a 350 for 15 minutes to reheat.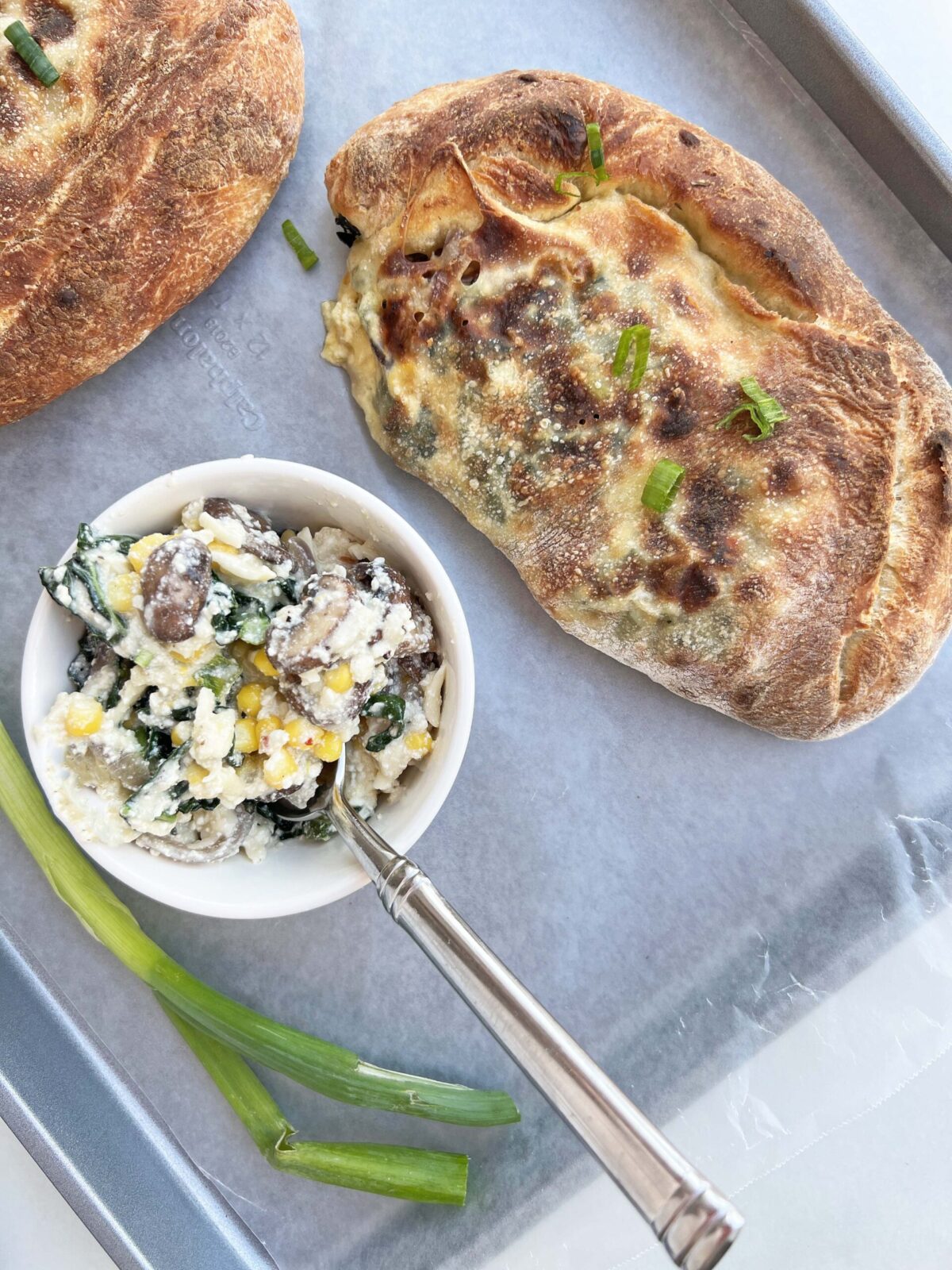 3 Tips For the Pizza Dough:
Buy your dough from your favorite pizzeria to support local business and make life easier on you.
Let the dough sit out for at least an hour so when you work with it the dough will shape the way you want it.
One pizza dough makes 4 calzones. so you have enough for the family!
Cheesy California Kale Jalapeno Calzone
Ingredients
1 bunch dinosaur kale (chopped) or any kale you like
1/2 red onion (sliced)
1 jalapeno (deseeded and chopped)
1 package sliced mushrooms (cremini)
3 scallions (chopped)
1 cup corn
2 cups Monterey Jack cheese (grated)
2 cups ricotta
1 egg
2 tsp salt
2 tsp pepper
1 tsp garlic powder
1 tsp dried thyme
1/2 tsp red pepper flakes
1 lemon (the zest)
1/2 pizza dough (divided in 2)
Instructions
First, place olive oil, onions, jalapeño, mushrooms, salt and pepper in a medium heat pan and cook for 1 minutes.

Next, add the kale, scallions, garlic powder, thyme and red pepper flakes. Cook for 30 seconds (let the kale only be partially cook so you get a nice texture in the calzone).

Now, in a bowl combine the cooled kale mixture, corn, ricotta, egg, Monterey Jack cheese, 1 tsp pepper, and lemon zest.

Next, roll out the doughs. Add the mixture to one side of the dough and then fold over and seal.

Finally, brush the tops of calzones with oil and bake on middle rack for 15 minutes at 400 degrees. Enjoy!
Happy calzone cooking and I am always grateful to cook with you! If you have any recipes you would love to see on Chop Happy please comment below and I will try to make it just for you! Also I do private Zoom Cooking Classes! Just email me at [email protected] to set up a class.
Any questions feel free to comment or check me out on Instagram and Tiktok: @chophappy!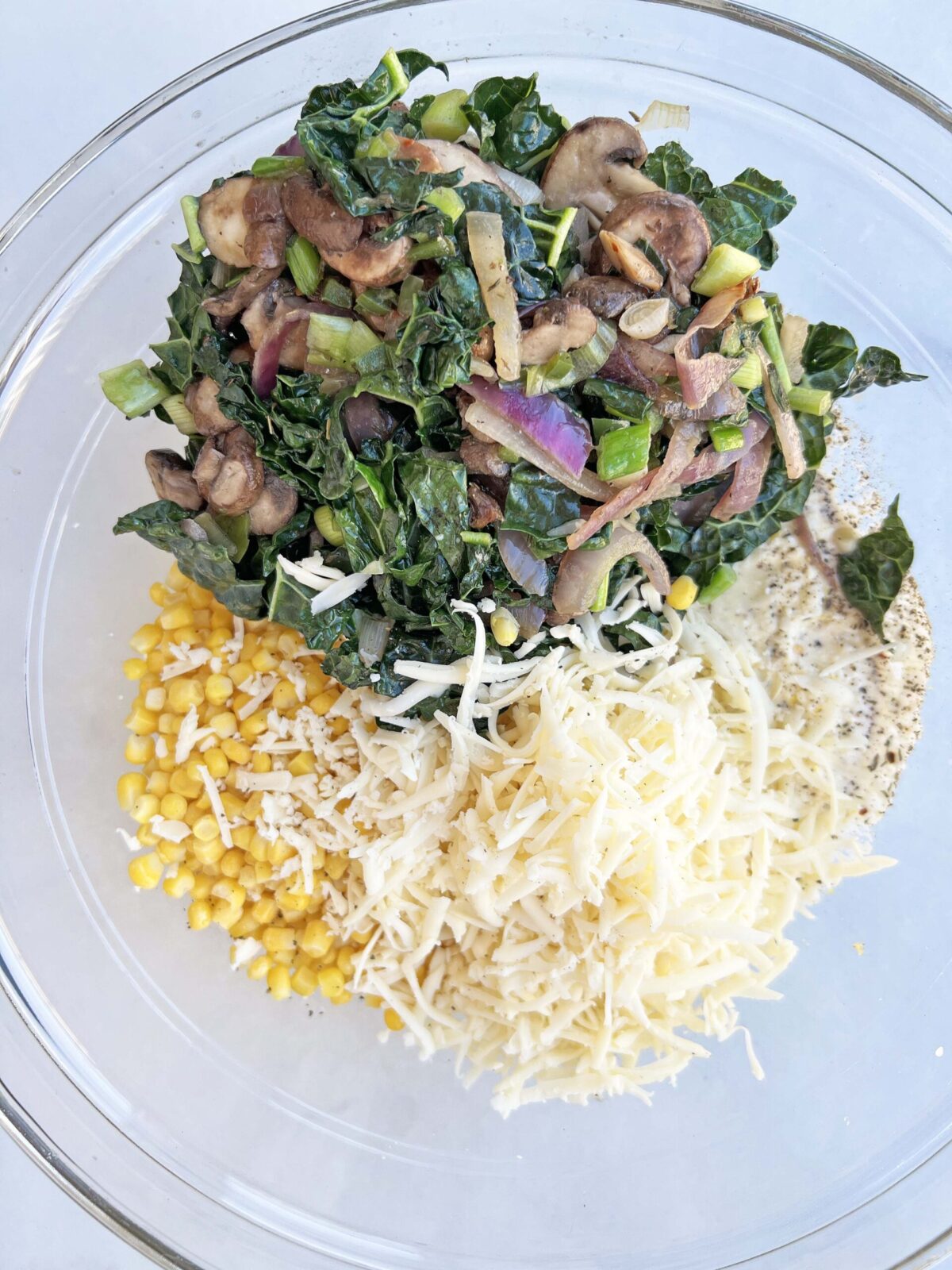 Easy Dinner Recipes For a Busy Day:
With a grateful heart and an amazing carbonara tummy – Jay
This book changed my life and it is how I elevated my home cooking:

(Visited 292 times, 1 visits today)
Subscribe for tasty, free recipes!