This is your new cheesy comfort food Cincinnati cheesy chili calzone perfect dinner recipe for a family or party.
This is the perfect game day recipe. In honor of the Cincinnati Bengals Super bowl 2022! It is cheesy, carb happy, and super easy to make. You can make this way in advance (meal prep happy) so dinner time is easy!  It's a cheesy calzone with ground beef, cinnamon , cocoa powder, and lots of cheddar cheese. Cincinnati chili has three distinct ingredients: 1) cinnamon 2) chocolate 3)allspice to make it authentic. You will love this because you can make double the filling and freeze half for up to 6 months so you have an easy dinner on a busy day! Hope this calzone makes life easier for you. As you chop listen to the chopping sound, as you stir say what you are grateful for, and as you let the food cook read a gratitude book for self care.
Cooking Hacks:
Cook the dried herbs in oil so it blooms and brings out more of its flavors.
Leave pizza dough out on the counter for an hour and it will be super easy to work with and won't bounce back.
Make double and freeze for a busy week. You can either make double of the cheesy kale mixture and freeze in ziplock or cook extra calzones and freeze the whole meal. You can freeze for 6 months and frost in fridge overnight. If you are defrosting a cooked calzone. After defrosted place in oven a 350 for 15 minutes to reheat.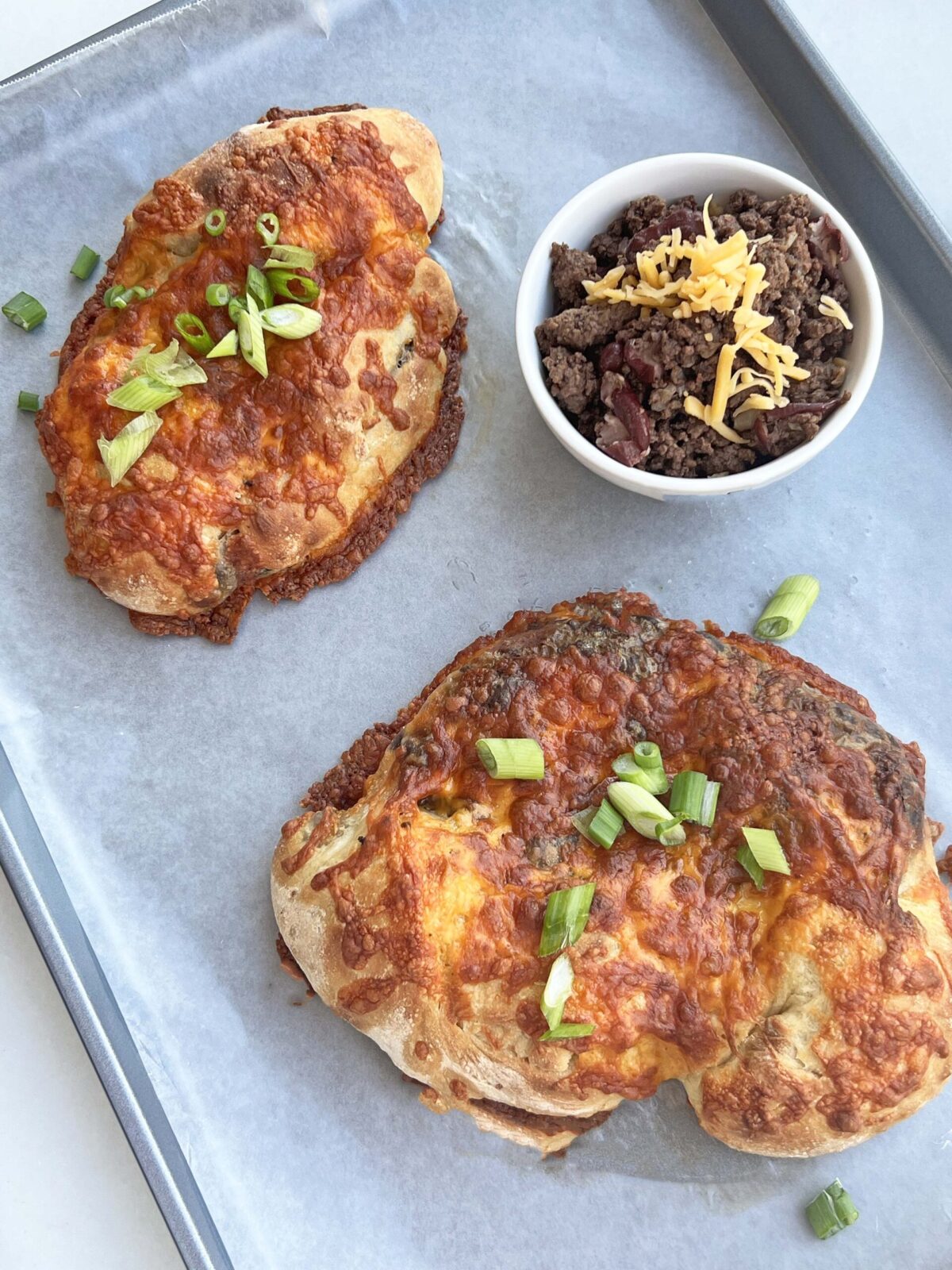 3 Tips For the Pizza Dough:
Buy your dough from your favorite pizzeria to support local business and make life easier on you.
Let the dough sit out for at least an hour so when you work with it the dough will shape the way you want it.
One pizza dough makes 4 calzones. so you have enough for the family!
Cincinnati Chili Calzone
Ingredients
2 pounds ground beef
1 onion (chopped)
1 tsp cinnamon
1/2 tsp allspice
1/4 tsp ground cloves
1/2 tsp red pepper flakes (or cayenne)
2 tsp salt
2 tsp pepper
1 tablespoon soy sauce
1 tablespoon chili seasoning (or taco seasoning)
1 tablespoon unsweetened cocoa powder
2 tablespoons olive oil
1 can kidney beans
3 cups cheddar (grated)
1/2 pizza dough (divided in 2)
Instructions
First, place beef, onion, oil, salt, and pepper in medium high heat pan. Use a potato masher to break up the meat and then let cook for 2 minutes without stirring to get a goos sear on the beef.

Next, mix and cook the beef for one more minute. Drain the excess liquid.

Now, push the meat to the side of pan and add oil, chili seasoning, allspice, clove, cinnamon, red pepper flakes, and cocoa powder. Stir to heat up and enhance the flavor of the dried herbs.

Next, add the beans and mix all together. Set aside to cool.

Now, roll out your dough and add big handful cheese to one side of the dough. This acts as a blanket to protect the dough from getting soggy. Now add beef mixture onto the cheese. Fold over the dough to seal. Top with cheddar cheese.

Finally, add the the middle rack of an oven on 400 degrees for 15 minutes. Enjoy!
Happy calzone cooking and I am always grateful to cook with you! If you have any recipes you would love to see on Chop Happy please comment below and I will try to make it just for you! Also I do private Zoom Cooking Classes! Just email me at [email protected] to set up a class.
Any questions feel free to comment or check me out on Instagram and Tiktok: @chophappy!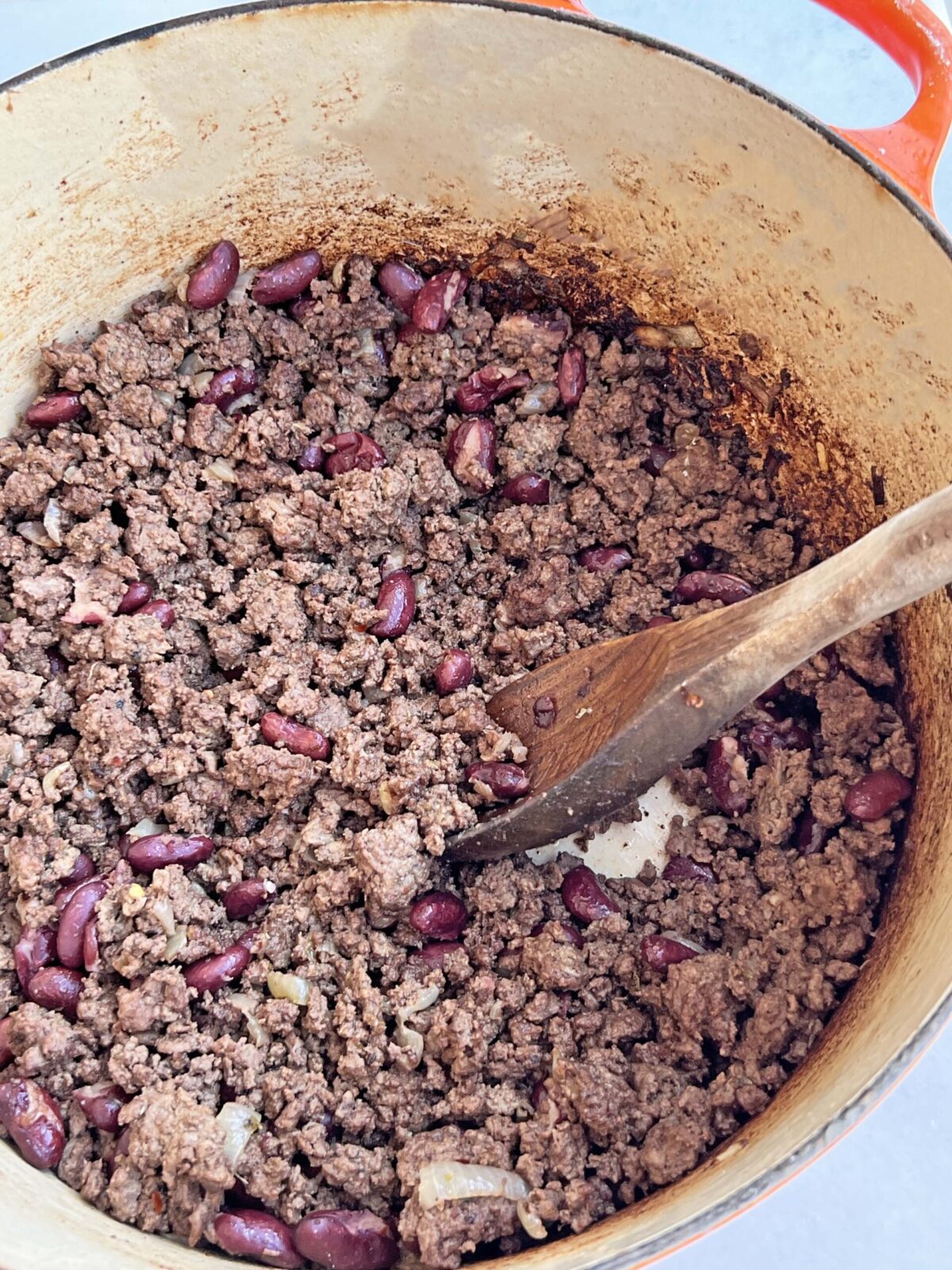 Easy Dinner Recipes For a Busy Day:
With a grateful heart and an amazing carbonara tummy – Jay
This book changed my life and it is how I elevated my home cooking:

(Visited 857 times, 1 visits today)
Subscribe for tasty, free recipes!