Just the name "bacon guacamole enchilada," makes my comfort food heart melt. First of all it has my favorite veggie, bacon in the recipe. The salty sweet pork makes my whole day smile like a beautiful sunrise on the beach. A creamy citrus avocado center wrapped in a warm blanket of cheesy tortilla. OMG dinner dreams come true.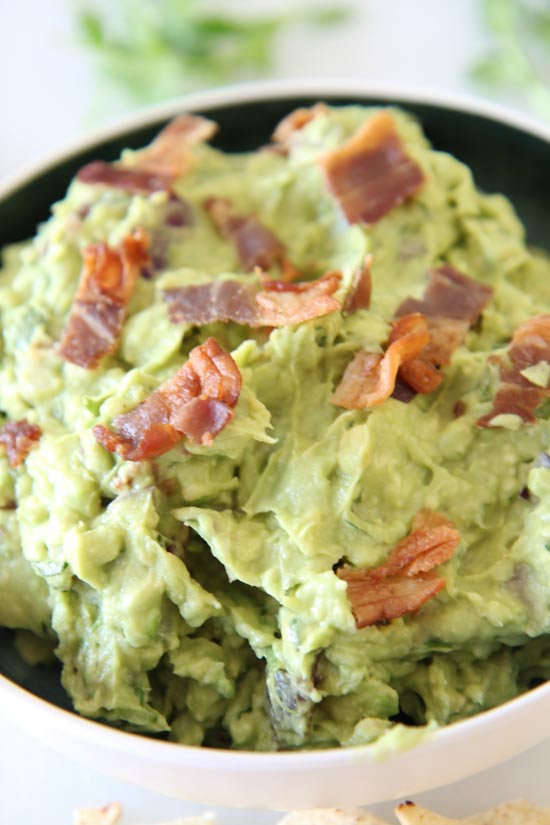 Living in NYC we have very few really good Mexican restaurants (If you visit NYC, Dos Toros is my favorite, get the Carne Asada quesadillas). So I make allot of Mexican food in my apartment. When Tom comes home from work he smiles when he sees this on the table. So now I have to share this with you because you will love it too!
Happy Guacamole Tips:
Try this life changing way to cut an avocado! The seed just falls out! (click here to see how!)
Use vinegar instead of limes. See recipe below! Vinegar brightens and brings out the natural creamy citrus flavor in a super wow way. Also, keeps the guacamole green.
Add chipotle, old bay, taco seasoning or any of your fave spices. Just a teaspoon at a time and taste. You want to make sure you still taste the avocado.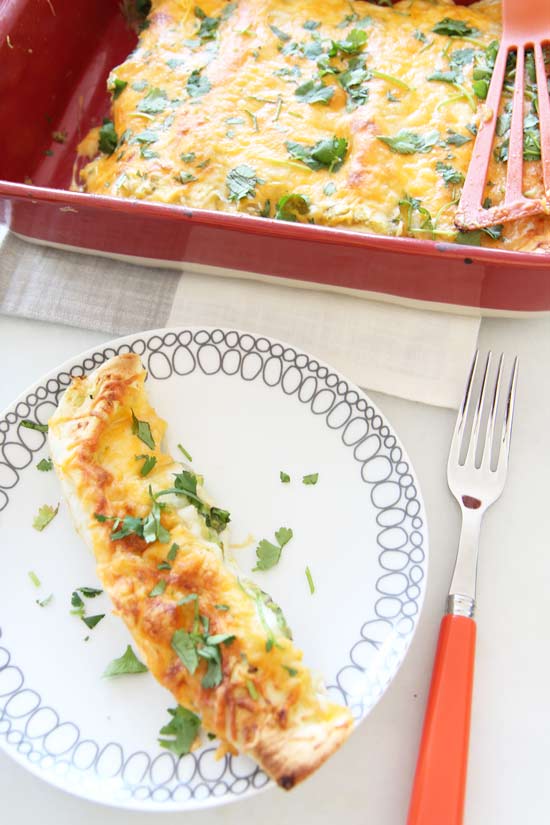 For more easy, happy comfort food recipes, check out our Pinterest Page
Other Awesome Avocado Recipes:
I cant wait for you to try this recipe!!! Cheers to comfort food love on a plate. Happy Cooking!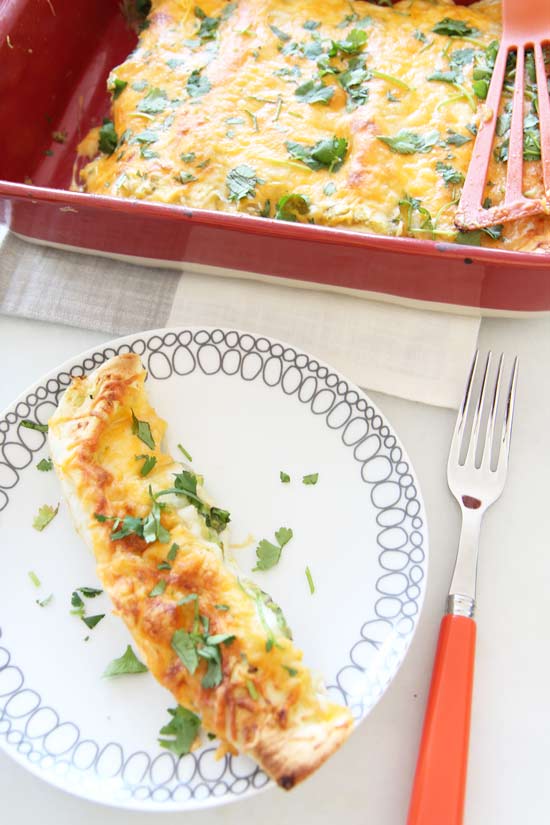 Bacon Avocado Enchilada Recipe
Ingredients
4 avocados
1 clove garlic (grated)
1 tsp apple cider vinegar
1/4 red onion (chopped)
4 slices bacon (cooked)
1 handful cilantro (chopped)
12 oz (jar) salsa verde
2 cups Mexican blend cheese (or cheddar)
3-4 sprays cooking spray
Instructions
Preheat the oven at 350 degrees.

First make the guacamole by combining and smashing avocado, garlic, and apple cider vinegar in a bowl.

Next mix in onion, cilantro, and bacon. Set the guacamole aside.

Now spray a casserole dish with cooking spray to prevent sticking.

Pour half the sales verde in the dish.

Now dip both sides of a tortilla in the salsa verde.

Next, spread out 2 tablespoons of guacamole in the center, from edge to edge.

Roll up the tortilla like a cigar and place to side of the casserole dish. Repeat above process till you can't fit anymore enchiladas in the dish (make approximately 6 enchiladas).

Next, pour the rest of the sales verde on top and sprinkle cheese all over tortillas.

Bake for 15 minutes until the cheese melts.

Finally, sprinkle extra cilantro on top and enjoy!
CHECK OUT THIS NO BAKE S'MORES COOKIE DOUGH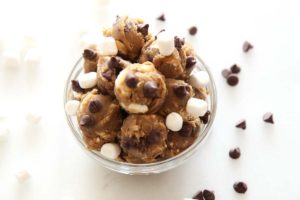 Your Dash Of Gratitude:

ANY QUESTIONS OR COMMENTS? COMMENT BELOW 🙂
With a grateful heart and an amazing tummy – Jay
(Visited 1,518 times, 1 visits today)
Subscribe for tasty, free recipes!