This Bagel Burrito (breakfast burrito) its the perfect breakfast sandwich and meal-prep for a busy week.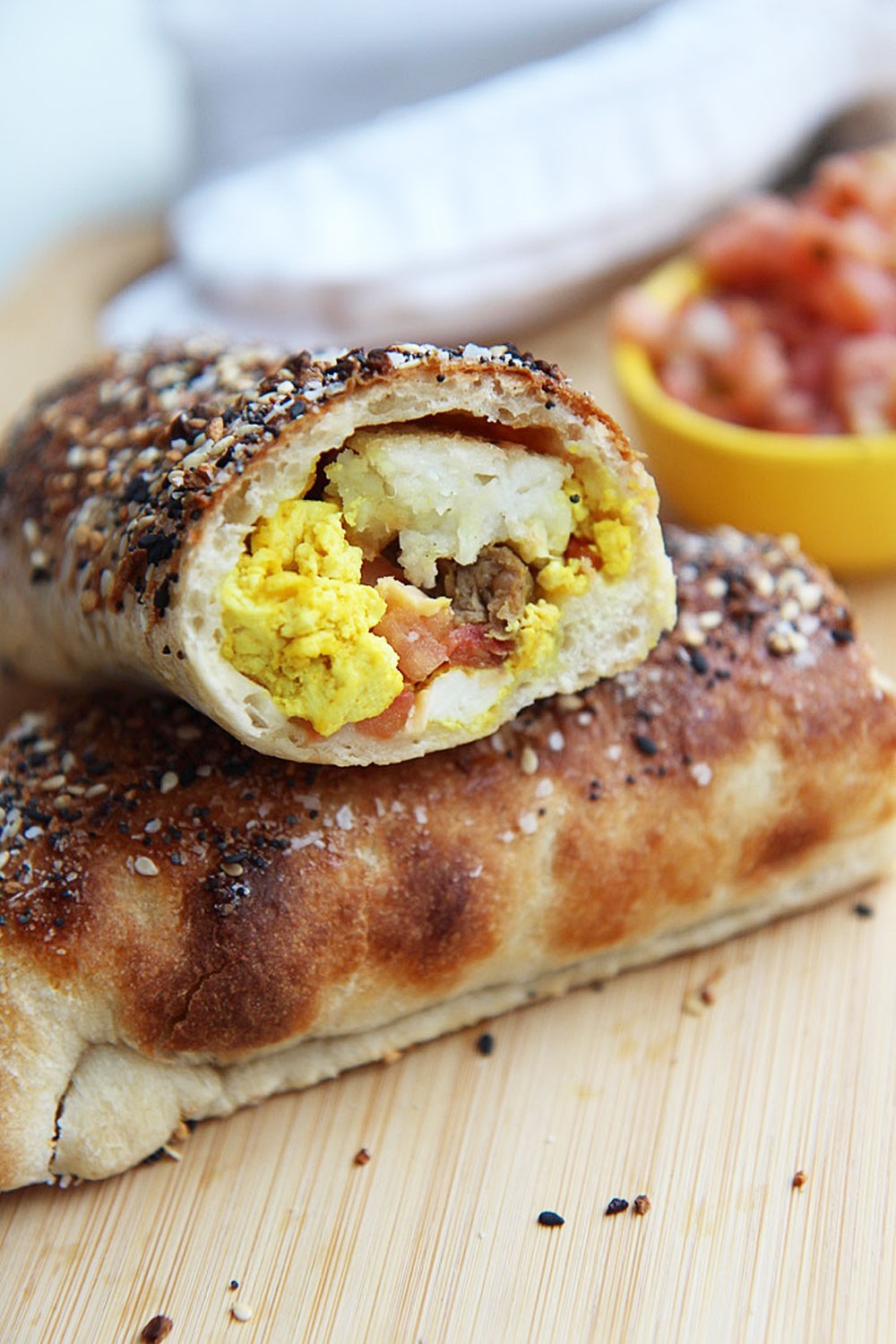 Everyone loves a egg and cheese on a bagel. During college I would get one from D&D (Dunkin Doughnuts) all the time. This is an everything bagel outside and egg, sausage, and cheese inside. If you are craving a breakfast burrito this is for you. I love to make double the recipe so that I can freeze some for a busy week. If you do not have all the ingredients but have others I your fridge this is a great leftover meal too! As you chop listen to the chopping sound, as you stir say what you are grateful for, and as you let the food cook read a gratitude book for self care.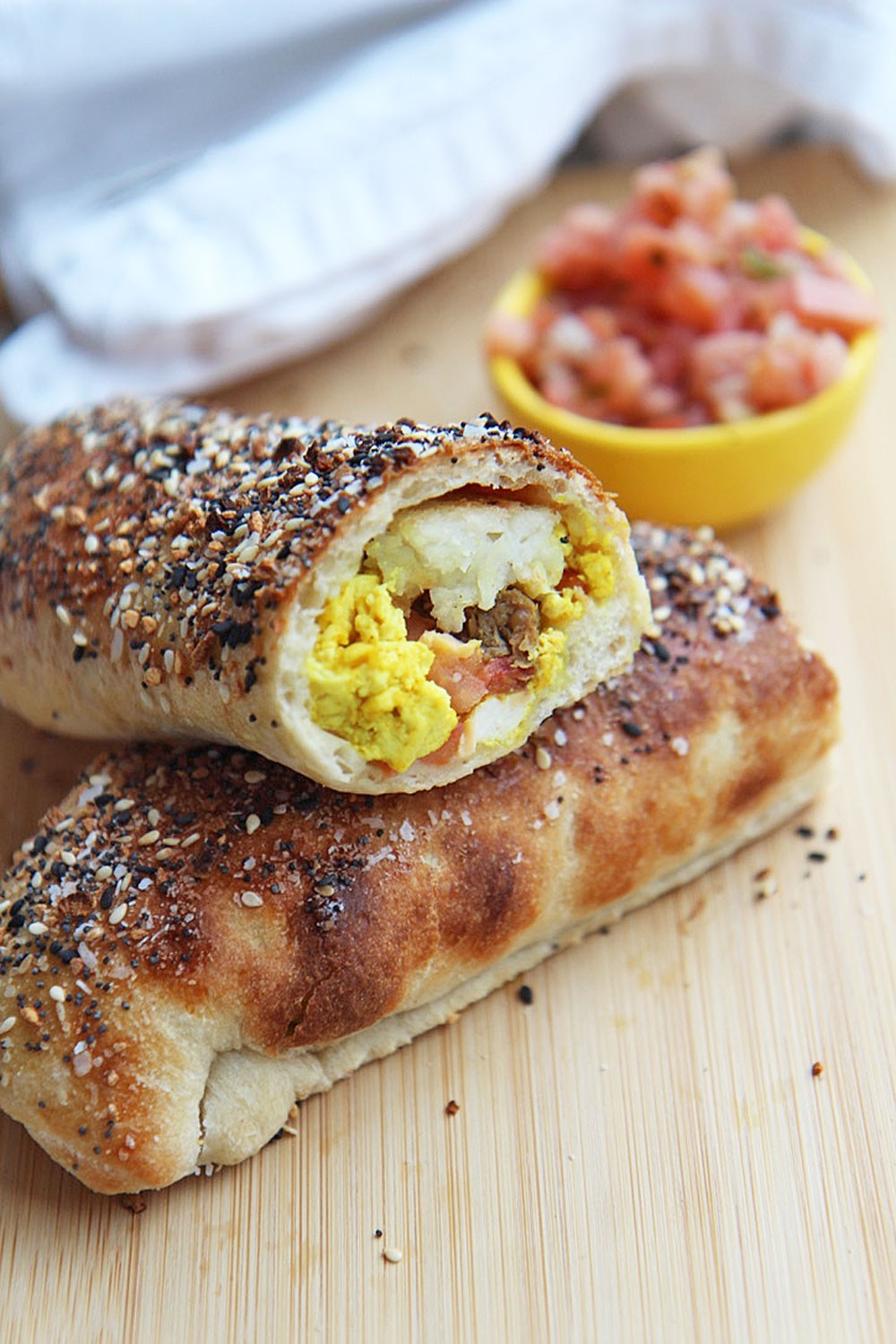 Budget Saving Cooking Tips For This Recipe:
If you do not have salsa or cheddar substitute for what you have in the fridge to save money on dinner. I have used leftover chicken, tofu eggs when ran out eggs, or any leftovers.
Buy frozen pizza dough it is usually cheaper and you can divide it in 2 for double the recipe.
Mix in sriracha to add bold flavor instead 0f buying jalapeños!
Bagel Burrito Breakfast Sandwich
Ingredients
1/2 pizza dough
5 eggs (scrambled)
5 links or patties breakfast sausage
5 hashbrowns
1 cup cheddar cheese
1/2 cup salsa
4 tablespoons evrything seasoning
1 egg (for egg wash)
Instructions
First, roll out the pizza dough into a long rectangel. The longer it is rolled out the more burritos.

Next, starting from one end layer 1/4th the sausage, egg, hasbrowns, salsa, and cheese. Roll until the 2 ends touch, cut to seperate, pinch to seal. Now using the new end of pizza dough continue the above process to make 4 burittos.

Now, put the burritos seam side down on a sheet pan and smear and egg wash (if you do not have an egg wash water or milk will do). Sprinkle lots of everything sesaoning on the burittos.

Finally, bake at 400 degrees for 20 minutes on the middle rack and enjoy!
Click Here to Check Out My Sandwich Cookbook for Busy People!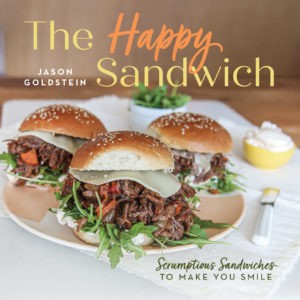 Easy Dinner Recipes For a Busy Day:
With a grateful heart and an amazing carbonara tummy – Jay
This book changed my life and it is how I elevated my home cooking:

Happy carrot soup cooking and I am always grateful to cook with you! If you have any recipes you would love to see on Chop Happy please comment below and I will try to make it just for you! Also I do private Zoom Cooking Classes! Just email me at [email protected] to set up a class.
Any questions feel free to comment or check me out on Instagram and Tiktok: @chophappy!
(Visited 387 times, 1 visits today)
Subscribe for tasty, free recipes!