I spend hours on TikTok and was inspired to make this Crispy Potatoes Hack. You do not need a fryer or air fryer to get crispy potatoes just your oven and a sheet pan.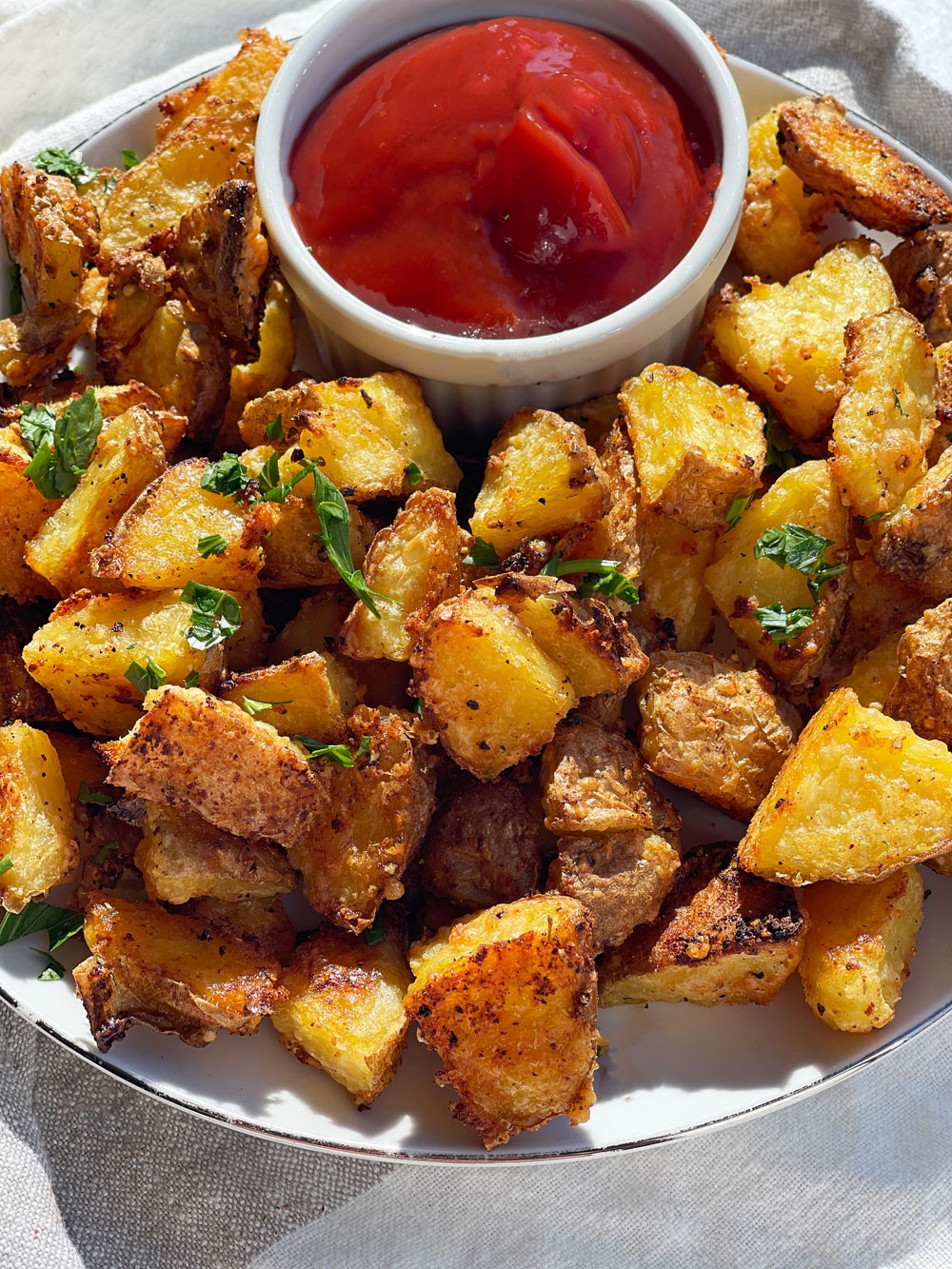 Tips to Crispy Potatoes In The Oven:
1. After boiling the potatoes let them sit in the hot pot for a couple minutes so you get as much water off the potatoes.
2. Shake and slightly rough up the potatoes! The bits and dents in the potato create surface for crispy magic.
3. After mix with oil and seasoning spread out the potatoes so it roasts instead of steams!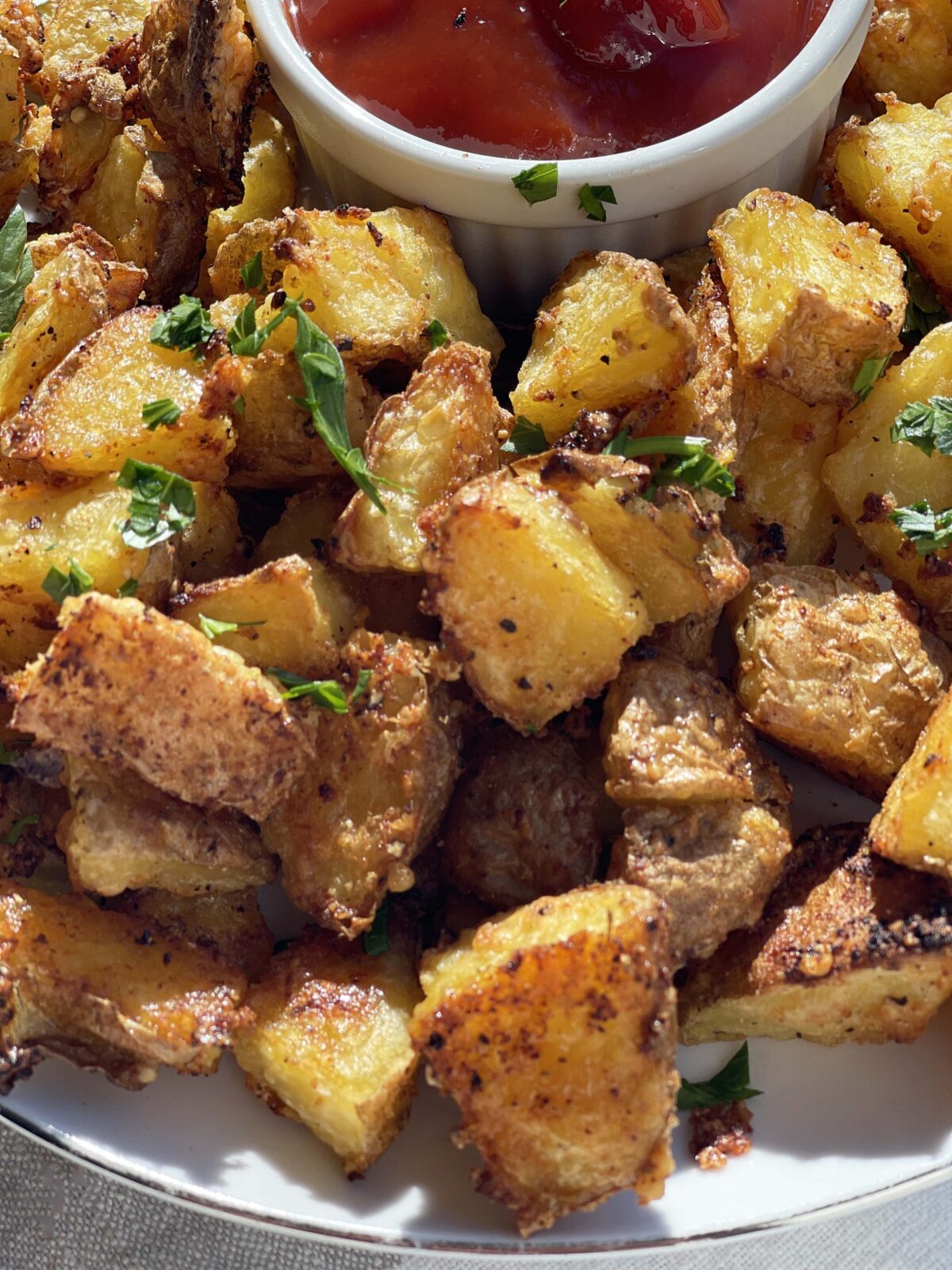 I have 2 favorite vegetables: bacon and potatoes! And if fried potatoes is on the menu that is my dinner for sure. This recipe is a culinary magic trick because you can get crispy potatoes in the oven everytime time. I hope this recipe makes life super easy for you. While the potatoes crisp in the oven do something for you! Read a book, watch TV, or just stare at the ceiling. Even if its just a minute that is still time you devote to you! Happy Cooking!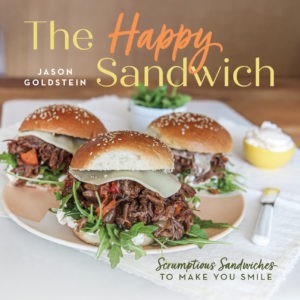 How To Make Crispy Potatoes In The Oven (TikTok Hack)
Ingredients
2 pounds Yukon gold potatoes (chop into chunks)
1 teaspoon apple cider vinegar
1 tablespoon salt (plus 1 teaspoon for seasoning)
1 teaspoon pepper
1 teaspoon garlic powder
1 tablespoon parmesan cheese
3 tablespoons extra virgin olive oil
Instructions
First, add potatoes to a pot and add water to reach the top of the potatoes. Add the salt and vinegar to the pot. When the water boils start timing for 12 minutes.

Next, drain the water and put potatoes back in the hot pot to steam out as much water as you can (approximately 2 minutes).

Now, shake the pot with the potatoes to rough them up and create dents in the potatoes for crispy pockets when cooked.

Next, place the potatoes on a sheet pan and mix with oil, salt, pepper, and parmesan cheese. Mix and then spread out the potatoes so they roast and not steam.

Now, place in the oven (middle rack) at 425 for 20 minutes. Take out mix and place back in the oven 20 minutes more.

Finally, sprinkle the cripsy potatoes with salt and enjoy!
Easy Recipes With Very Little Clean Up:
Any question comment below or email! I love helping change the recipe!
(Visited 569 times, 1 visits today)
Subscribe for tasty, free recipes!