This is the easiest Christmas, Hanukkah, or Holiday dinner on a sheet pan in just 1 hours of cooking!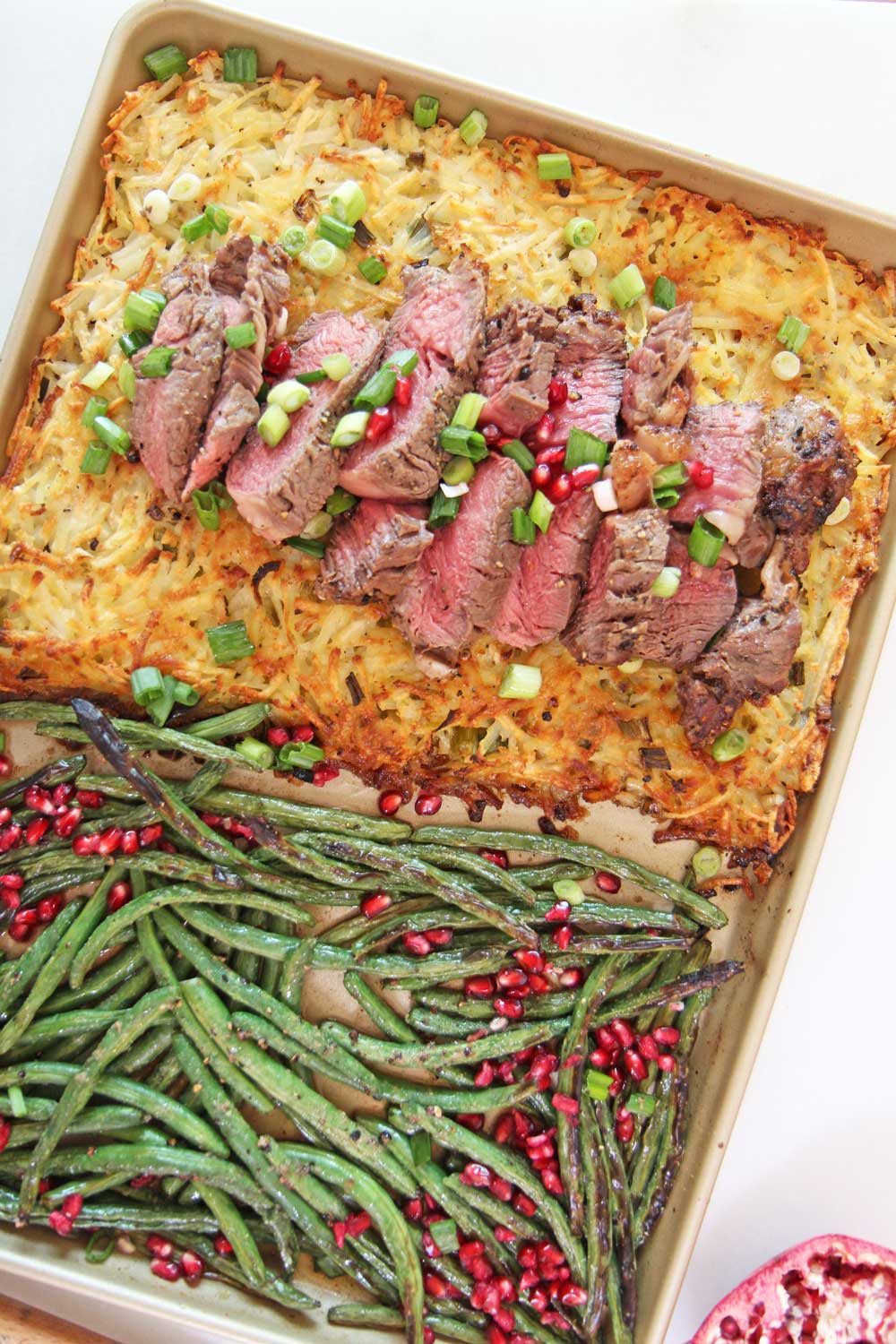 Growing up during the holidays in the Goldstein house always included steak and potatoes! One of mama Goldstein's famous side dishes on the Hannukah was always latkes (potato pancakes). We would wake up in our NJ home to my mom frying potato pancakes for hours for the holiday dinner. They are the best pancakes but involve so much work. So I made asheet pan version so the holidays could be easier. No frying or cooking for hours. Just pour on the sheet pan and cook. Also, my husband Tom loves ribeye steak so I replaced the brisket with this steak to make dinner faster and to see him smile. Regardless of what holiday you celebrate I hope this one sheet pan dinner makes the holidays happy and grateful!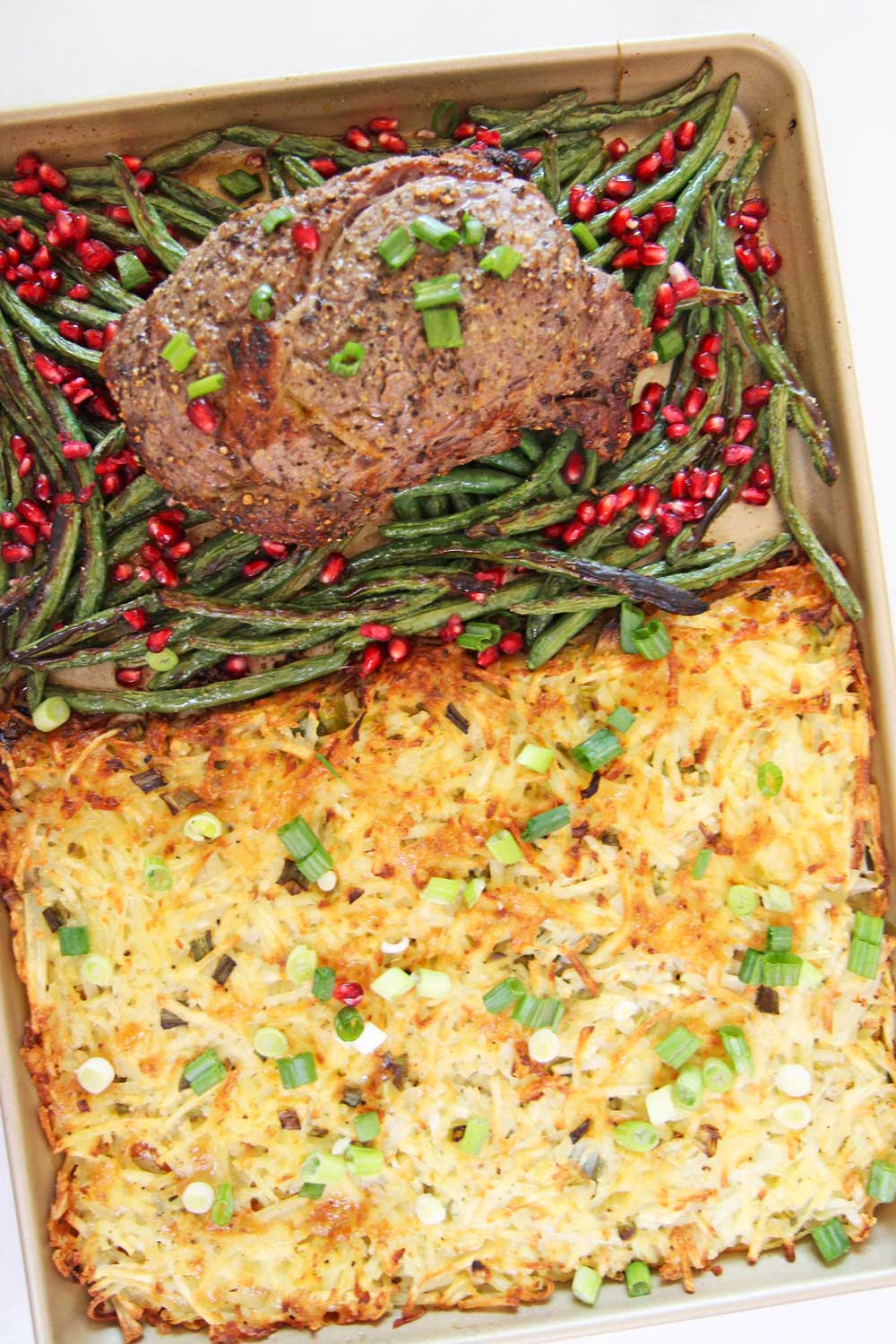 The Steps To A Holiday Dinner On A Sheet Pan
1: Place potato mixture on a sheet pan.
 
 2: Add green beans to the sheet pan and season.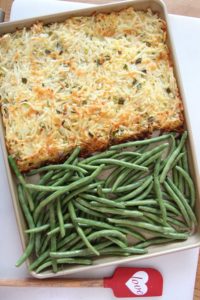 3: Add beef, season, and cook 5 minutes per side.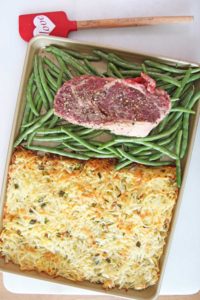 4: Add pomegranates to green beans!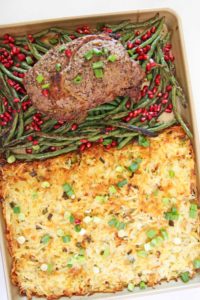 Final Step Eats!!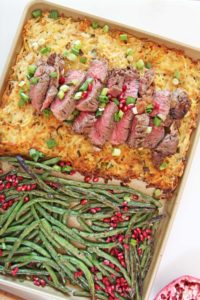 Gratitude Tip While You Cook:
My mission with Chop Happy is to create easy recipe for busy people with a dash of gratitude! Since we all have to be in the kitchen at some point in our day lets use that time to zen out and gain more gratitude.
For the time the turkey cooks visualize your dreams as if it is already here. Working on you does not have to be a long drawn out process. It can be as simple as a couple of pages of a motivational book. The perfect book to read to learn more about finding calmness, your dreams and making your wishes a reality is
The Secret!
Recipe Hack / Cooking Tips:
Salt Beef Overnight: Salt your steak heavily and place in fridge overnight uncovered. This will allow the salt time to season all the way through the beef. This will create an amazing beefy flavored steak!
Cheese Instead of Flour: When making potato latkes cheese binds the potatoes so you can leave the flour out. This adds a cheesy tang and gluten free.
Gratitude While Stirring: Use the kitchen as a place for self care. As you stir or chop say what you are grateful for. I do this all the time so that cooking can be a time to recharge.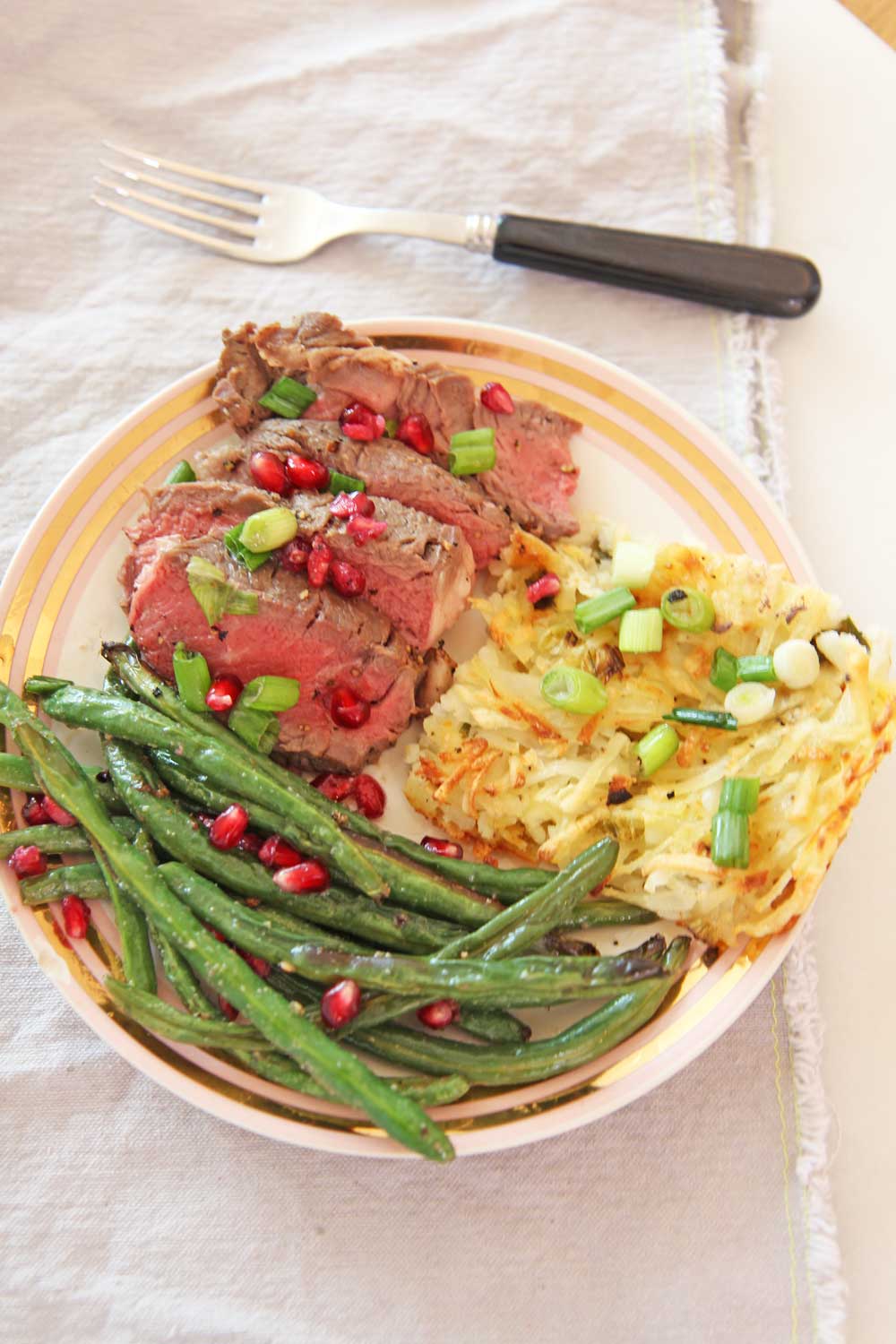 Watch How To Make a Sheet Pan Holiday Dinner:
Holiday Dinner on a Sheet Pan
Ingredients
Steak Ingredients:
1 ribeye steak (1 1/2 inch)
1 teaspoon salt
2 teaspoon pepper
1 teaspoon garlic
Potato Pancake Ingredients:
2 pounds russet potatoes (grated) or frozen hash browns
1 cup cheddar cheese (grated)
4 tablespoons onion (grated)
1 teaspoon salt
1 teaspoon pepper
1 teaspoon garlic powder
3 scallions (chopped)
1 egg
Red Wine Vinegar Green Beans
green beans
3 tablespoons extra virgin olive oil
1 teaspoon salt
1 teaspoon pepper
1 teaspoon garlic powder
2 teaspoon red wine vinegar
1/4 cup pomegrantes
Instructions
Preheat the oven at 450 degrees and spray the sheet pan with non stick spray.

First, mix all the potato pancake ingredients and place on half the sheet pan. Also, spray non stick spray on the potatoes.

Next, place the sheet pan in the oven on middle rack for 45 minutes.

Now, add all the green bean ingredient (except the pomegrante) on the empty part of the sheet pan and mix.

Next, season the steak on both sides with salt/pepper and garlic powder. Then place the steak on the green beans.

Now, turn the oven to 500 degrees, cover the potatoes with tin foil, and place on the top rack 5 minutes and then flip the steak and 5 minutes on the other side.

Finally, add pomegrantes to the green beans and enjoy!
Other Easy Recipes:
Any question comment below or email! I love helping change the recipe!
(Visited 1,272 times, 1 visits today)
Subscribe for tasty, free recipes!