Sweet salty and buttery homemade lox is sooo easy to make. There is no cooking and is a NYC classic in your home!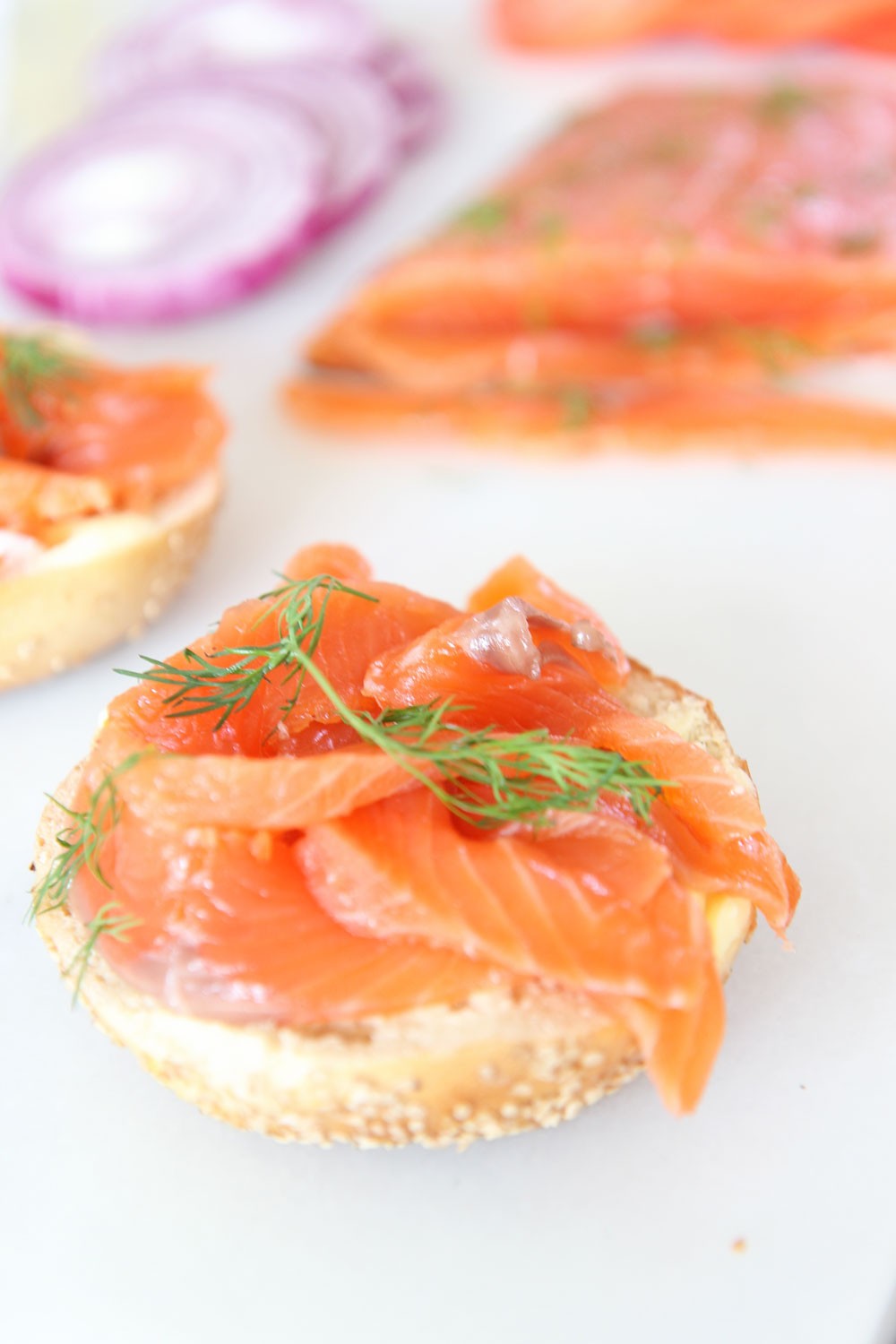 Some foods invoke pure joy and happiness. Just the thought of one bite brings back so many memories and makes everything ok. When my day goes off course and I need a boost of gratitude, my go to eats is bagel and lox. I am a big believer that when you start to feel the day not going well that is the sign. You should stop and do something simple to help reverse that and quickly recharge! Tom goes the gym to work off stress and eats Pho. I stop and take 3 deep breaths and say thank you 3 times. Then I order a bagel pilled with lox  and butter lol! When I was a kid my dad would take me on Saturdays to get bagels. If it was a special occasion we would also pick up lox. Those memories were so fun that I instantly feel happy when think about it! What is your meal that makes you happy instantly? Comment below sooo excited to hear what makes you smile!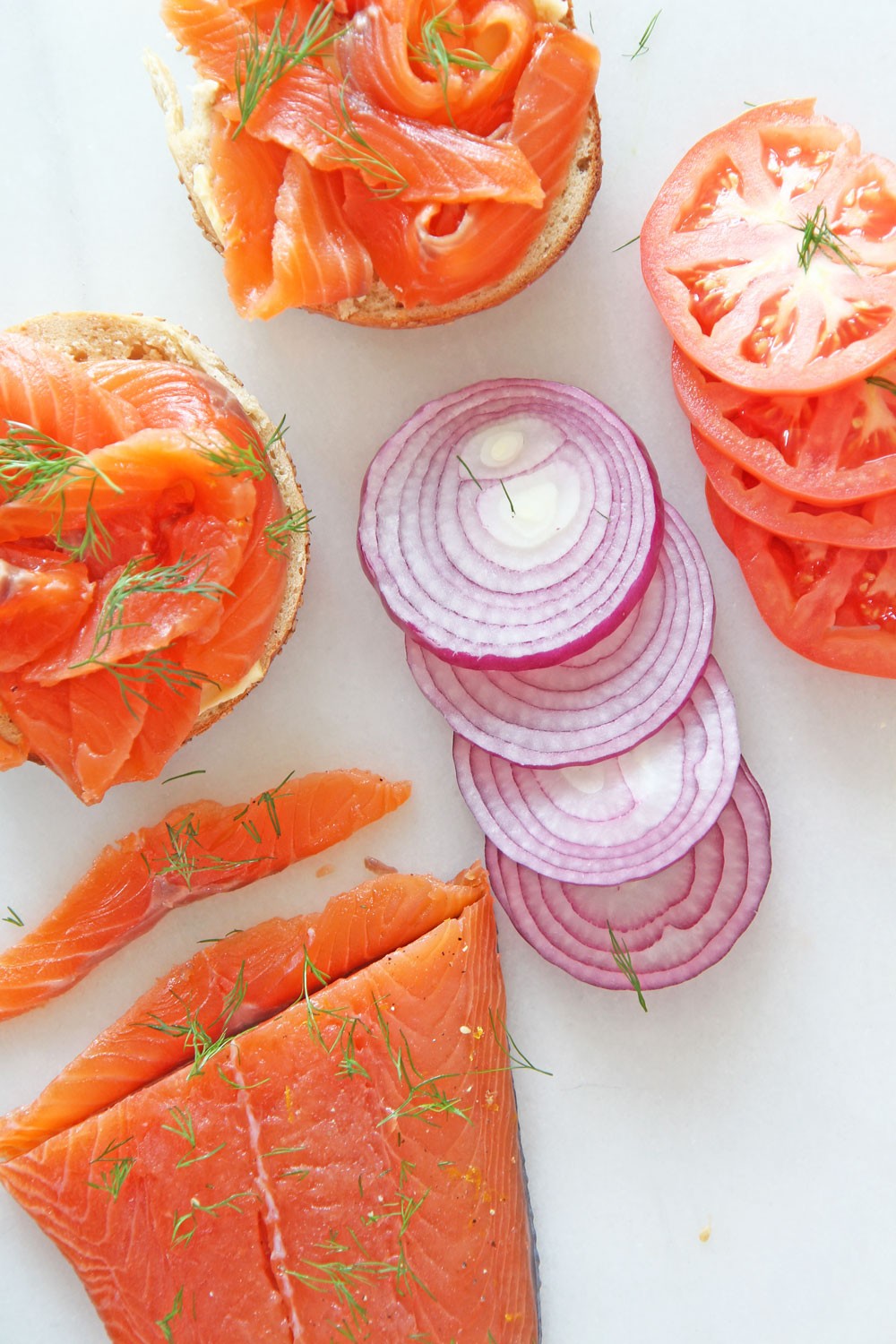 All my life I though making homemade lox was hard. Turns out it is super easy! In fact all you need is your fridge and time. You literally rub the salmon with salt sugar mixture and let it sit in the fridge and 3 days later you are having a bagel party. So the most important thing to know lox is salty and nova is more sweet. So if you want this less salty change ratio to 1/2 cup sugar and 1/4 cup salt! Happy cooking!
Recipe Hack / Cooking Tips:
Buy wild salmon. The fresher the salmon and the more organic it is the better this recipe will taste.
Have the fish monger remove the bones! Salmon has little pin bones. Its easy to do but suer time consuming. The people at the fish counter can do this fast so you have more time to chill.


Things you will need:
Watch how to make this easy recipe: 
How To Make Homemade Lox (Gravlax)
Ingredients
1 1/2 pound salmon (wild caught)
1/4 cup salt
1/4 cup sugar
1 orange (just the zest)
1 lemon (just the zest)
1 handful fresh dill (divided in half)
1/2 teaspoon black pepper
Instructions
First, mix salt, pepper, sugar, orange zest, and lemon zest together.

Now, rub the salt/sugar mixture on both sides of the salmon.

Next, lay half the dill on the bottom of the dish. Then place salmon on the dill.

Now, cover top of salmon with other half the dill.

Next, wrap the dish with saran wrap and leave in refridge for 3 days.

Finally, take the salmon out of the fridge. Rinse the salmon throughly with water, pat dry, and slice thin. Happy Bagel and lox eating!
Other Easy Brunch Recipes:
If need any modifications to this recipe just comment below or email! I love helping change the recipe!
My Favorite Ways To Add More Gratitude In My Life: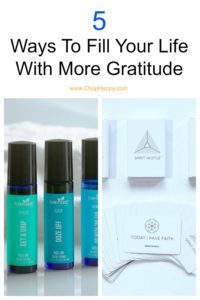 Totally Recommend This Food Processor:
Check Out This book! It changed my life and keeps me centered:
ANY QUESTIONS OR COMMENTS? COMMENT BELOW 🙂
With a grateful heart and an amazing tummy – Jay
(Visited 1,305 times, 1 visits today)
Subscribe for tasty, free recipes!