Simple weeknight stromboli recipe that will make life so much happier and easier. Each bite is creamy, cheesy, and crave worthy. If you close your eyes while eating this, you will be transformed to a NYC bagel shop. Being a proud New Yorker I am so excited to share this recipe with you.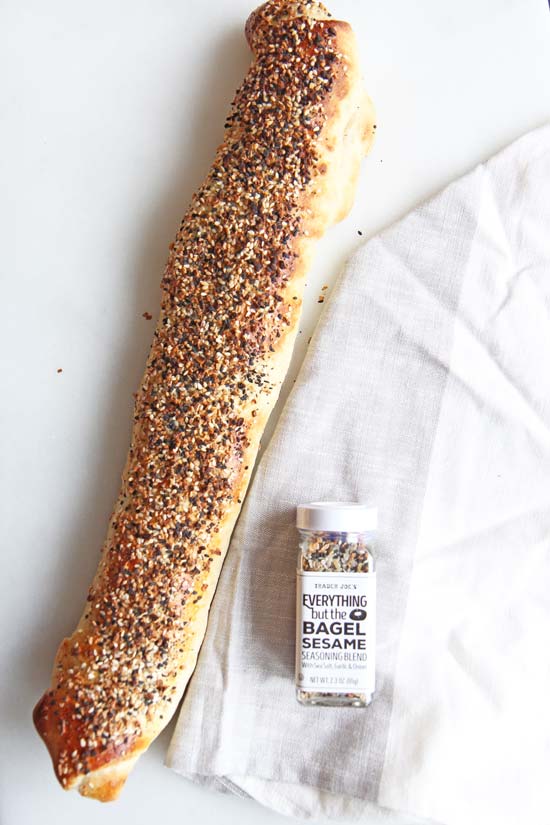 Buy Trader Joes Everything Bagel Seasoning Online: Click Here
Since I was a kid every weekend my Dad would wake up and go grab hot fluffy bagels for us to eat. To this day that is my tradition even as an adult. If it was my birthday or special occasion he would also bring home lox too. This recipe means so much to me because it brings back all those amazing memories from my childhood. Since you are all special to me, I added lox to this recipe too. If you do not like salmon leave it out or add turkey.
The NYC bagel is iconic and they say the secret is the NYC water. Since I cannot ship you water and I cant bake we will make this recipe easy and use store bought pizza dough. These short cuts help me navigate the fun fast paced world of New York. I hope it makes life easier and tastier in the kitchen for you too.
How To Make Everything Bagel Seasoning:
Combine a tablespoon of sesame seeds, poppy seeds, garlic powder, dried onion flakes, and salt in a bowl.
You can save the seasoning in a air tight container for 3 months
I also love Trader Joe's brand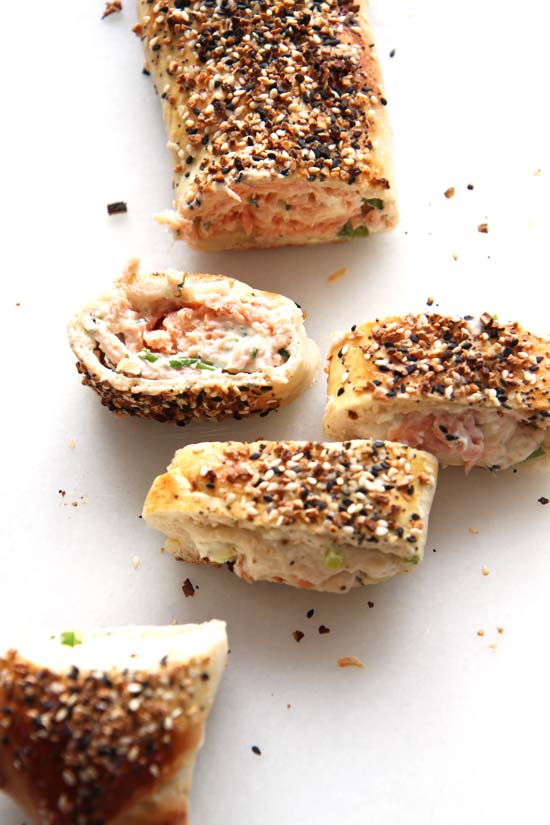 I hope this is your new go to stromboli recipe and it makes cooking fun for you.
For more easy, happy comfort food recipes, check out our Pinterest Page
More NYC Inspired Comfort Food Recipes:
I cant wait for you to try this recipe!!! Cheers to comfort food love on a plate. Happy Cooking!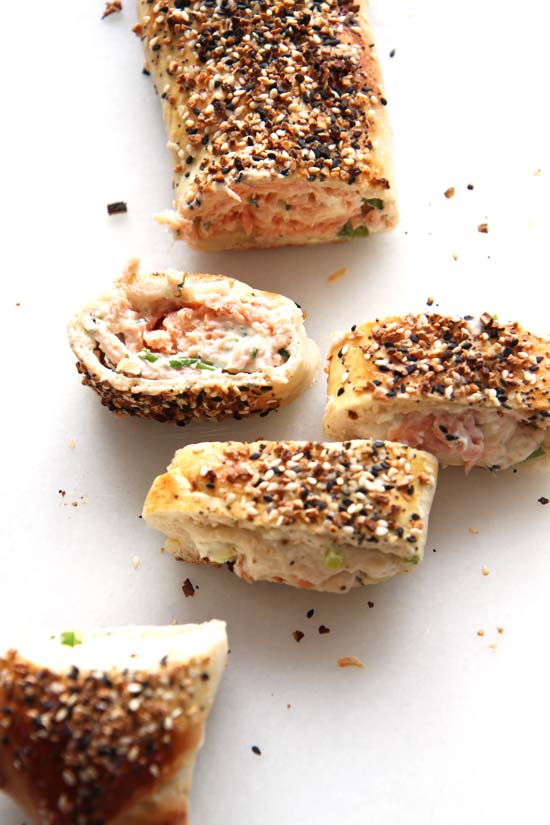 NYC Everything Bagel Stromboli
Ingredients
Everything Bagel Seasoning Ingredients:
1 tbsp sesame seeds
1 tbsp poppy seeds
1 tbsp garlic powder
1 tbsp dried onion seasoning
1 tbsp salt
NYC Everything Bagel Stromboli Ingredients:
1 pizza dough (I buy in can version)
1 8 oz cream cheese
5 scallions (chopped)
1 tsp chives (chopped)
1/4 tsp red pepper flakes
1 tsp salt
1 tsp pepper
1 tsp garlic powder
1 lemon (the zest and 1/2 of lemon juice)
8 oz smoked salmon
1 egg
Instructions
Preheat the oven at 400 degrees.

First, mix everything bagel seasoning ingredients together and set aside.

Next, mix cream cheese, chives, scallions, red pepper flakes, salt/pepper, garlic powder, and lemon in a bowl.

Now roll out pizza dough 1 inch more then package size on all sides.

Spread the cream cheese mixture evenly all over the pizza dough.

Next, top the cream cheese with a layer of smoked salmon. Make sure to cover the whole width of pizza dough.

Now, roll the dough like you would for a cinnamon roll and seal the edges.

Place on baking sheet with parchment paper or tinfoil.

Next, brush the top with egg wash and sprinkle on lots of everything bagel seasoning.

Finally bake 20 min and enjoy!
 NO BAKE DESSERT PARTY FOOD RECIPE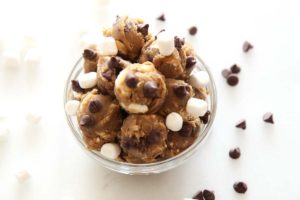 I can not talk comfort food food without recommending great places to eat in NYC when you visit here!
Were to Eat The BEST Bagels In NYC:
(All of these are me and Toms Favorites)
Zucker Bagels are so crispy and crunchy on the out side and sweet and fluffy hot center. I love these bagels sooo much!
Brooklyn Bagels are as big as my head. They are probably the biggest bagels in NYC. You do not have to go to Brooklyn to get them. They are located in Chelsea too.
Murray's Bagel was my first bagel love! They have crispy outside and more fluffy center then most bagels.
Your Dash Of Gratitude:

ANY QUESTIONS OR COMMENTS? COMMENT BELOW 🙂
With a grateful heart and an amazing tummy – Jay
(Visited 2,461 times, 1 visits today)
Subscribe for tasty, free recipes!