Sweet creamy roasted tomato soup for dinner is always a good idea.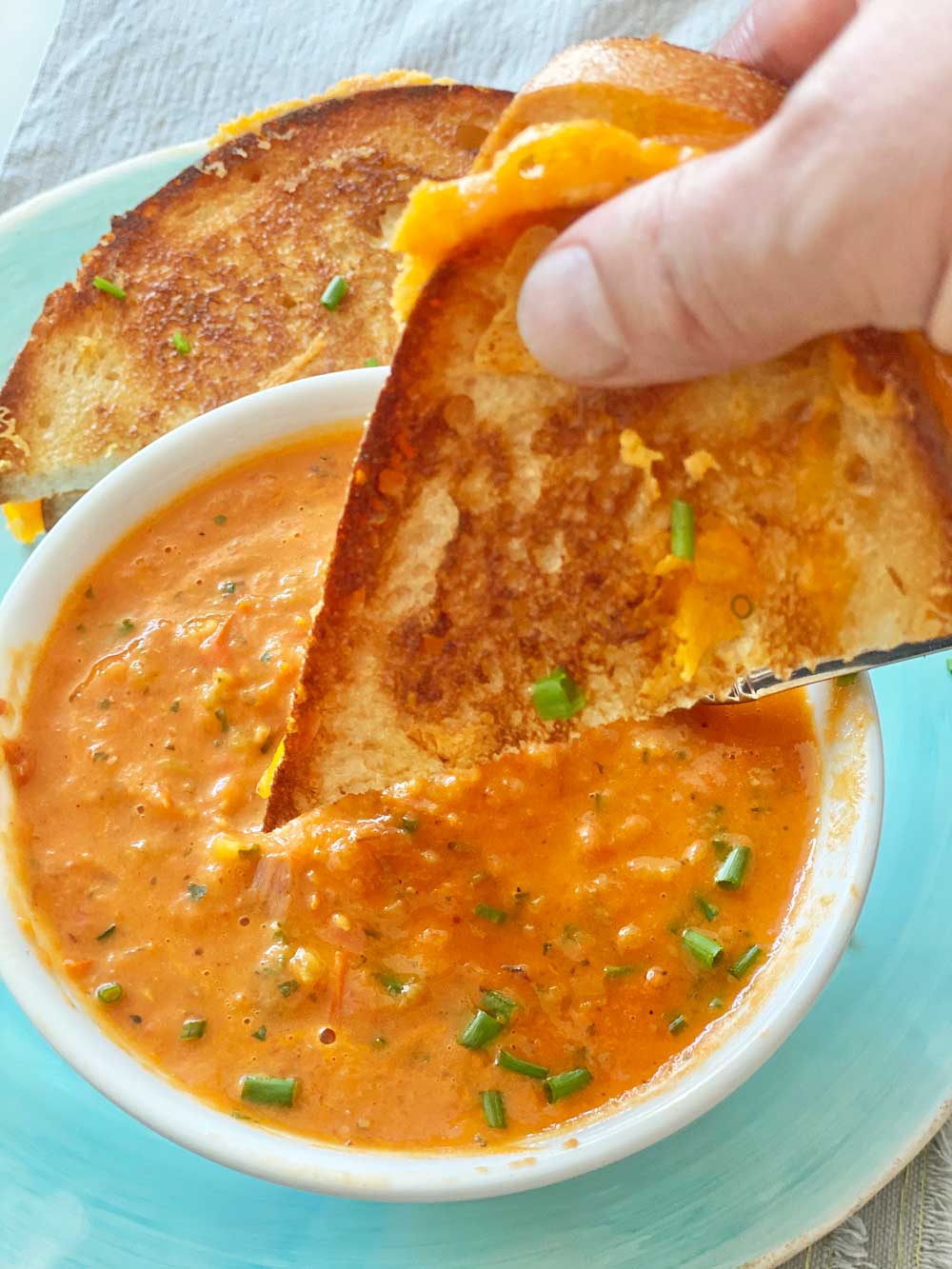 Growing up in NJ, tomatoes were famous. A big juicy jersey tomato was always celebrated in my house. Mama Goldstein even grew them in our backyard. I actually think we had tomatoes in some form almost every night at dinner at the Goldstein house. One of my favorites was chunks of juicy tomatoes, onions, and Russian dressing. So when Fresh Direct offered me tomatoes from Lancaster Farms Fresh Cooperative I had sweet memories of dinners growing up!  I decided with my busy life in NYC to make an easy roasted tomato soup. I choose to use the sheet pan as my cooking tool because I wanted to have a recipe with very little work. Also, had leftover garlic cloves so roasted them along with the tomatoes for an extra deep rich caramel flavor. Soo excited for you to make this fast dinner on a busy day to make you smile!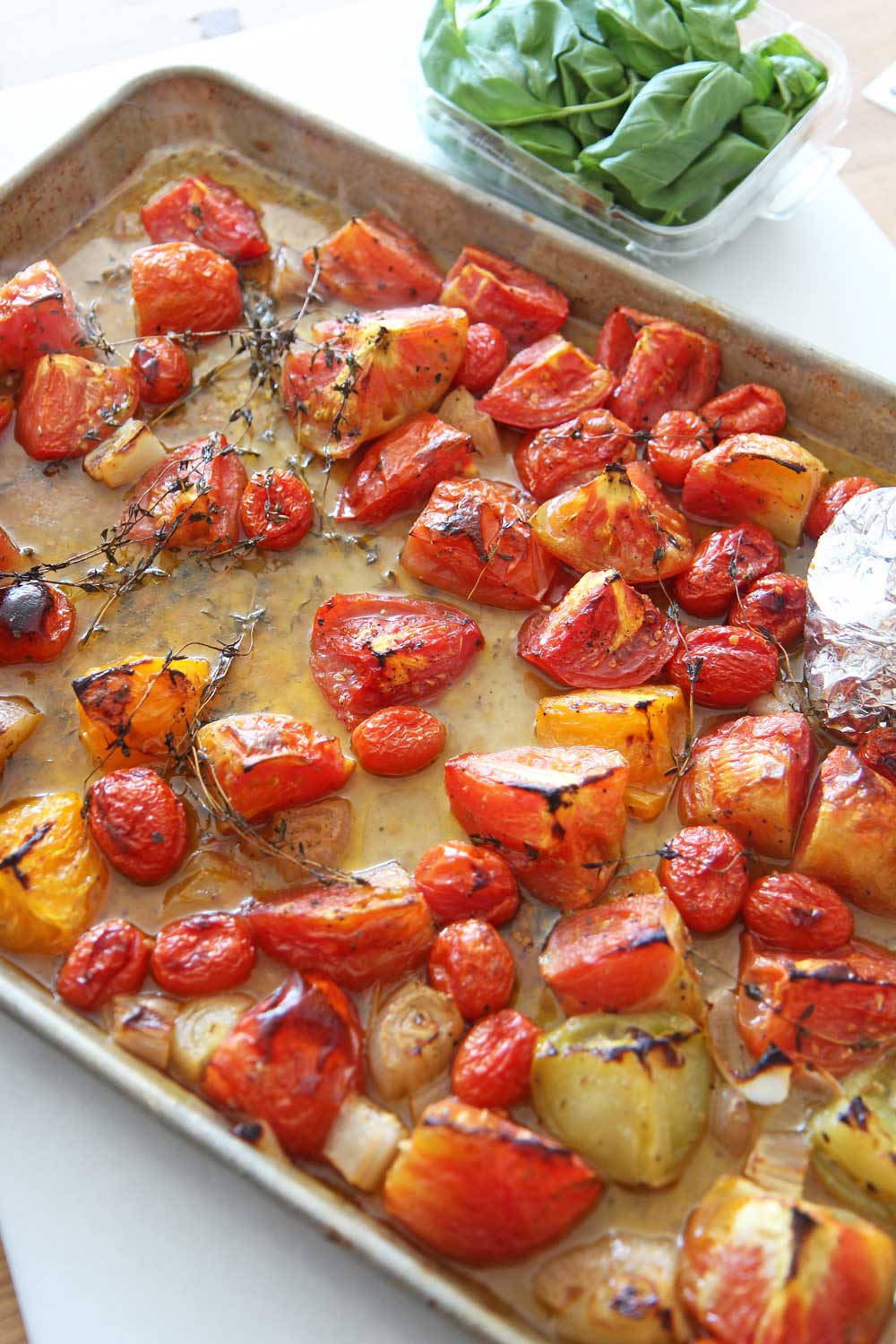 Dash Of Gratitude Tip While You Cook:
My mission with Chop Happy is to create easy recipe for busy people with a dash of gratitude! Since we all have to be in the kitchen at some point in our day lets use that time to zen out and gain more gratitude.
For the 10 minutes while the tostada is cooking visualize your dreams as if it is already here. Working on you does not have to be a long drawn out process. It can be as simple as making agreements with yourself. The perfect book to read to learn more about finding calmness and purpose is
The Four Agreements
Read some pages while the house fills with cheesy joy. Hope this helps you find joy in a crazy day and I am so grateful for you!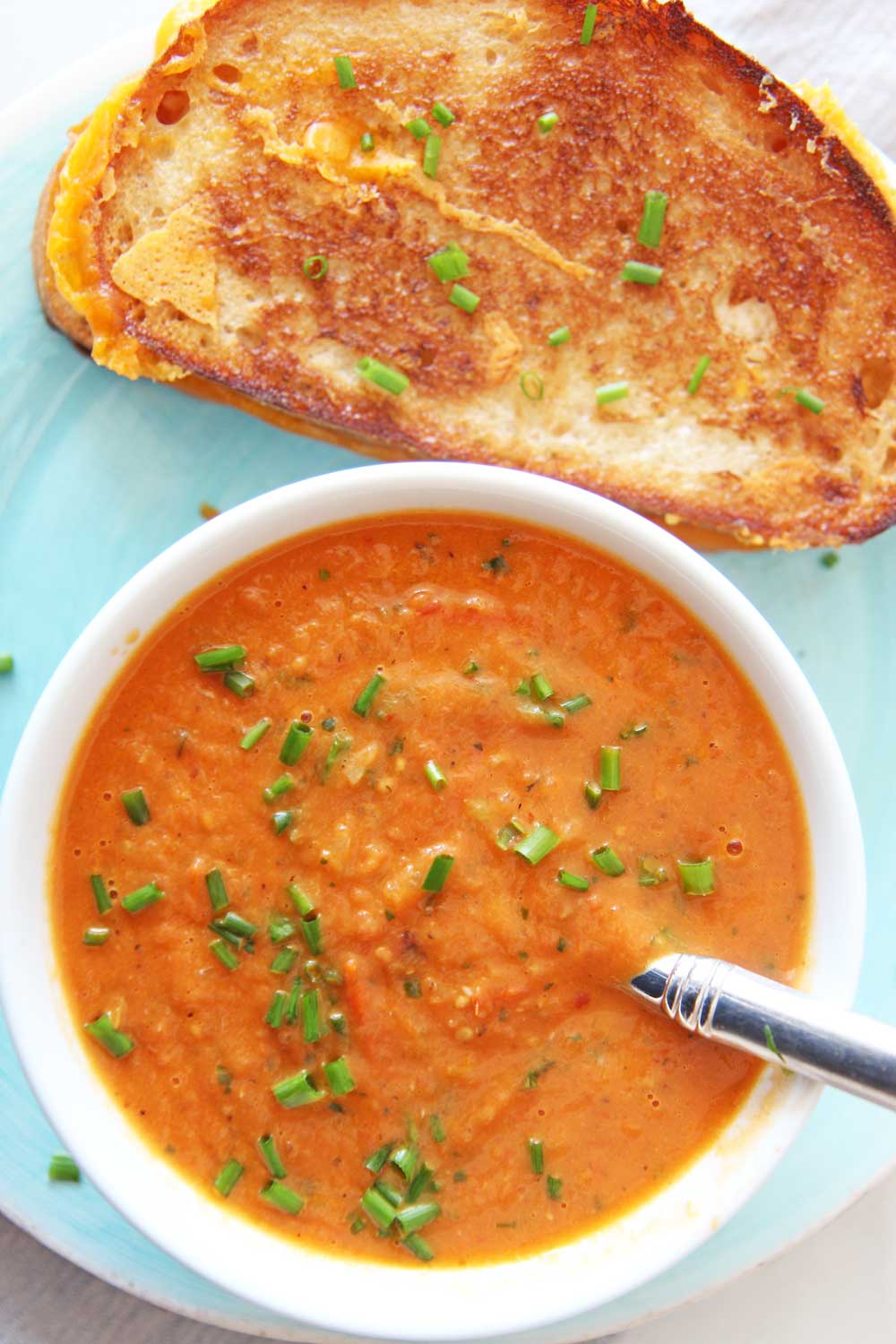 Recipe Hack / Cooking Tips:
Buy Farm Fresh Tomatoes: It may be slightly more money but since there are very little ingredients it makes a big difference. Fresher the tomato, the more juicy sweet they are.
No Cream Needed: The liquid left in the sheet pan is full of flavor! Pour this into the blender to make it creamy soup.
Gratitude While Stirring: Use the kitchen as a place for self care. As you stir or chop say what you are grateful for. I do this all the time so that cooking can be a time to recharge.
How To Make Roasted Tomato Soup:
How To Make The Best Tomato Soup
Ingredients
4 pounds tomatoes (chopped in chunks)
3 tablespoons extra virgin olive oil
1 teaspoon salt
1 teaspoon pepper
1 teaspoon oregano
4 cloves garlic
1 shallot (chopped)
1 small bundle fresh thyme
1/2 teaspoon red pepper flakes
10 basil leaves
Instructions
Preheat the oven to 400 degrees.

First, add tomatoes, shallots, salt, pepper, oregano, thyme, and olive oil on a sheet pan and mix.

Next, place garlic cloves, 1 tablespoon olive oil, and 1/2 teaspoon salt/pepper in tinfoil and close tightly. Place on sheet pan with tomatoes.

Now, spread tomatoes out as much as possible so the tomatoes roast instead of steam.

Next, cook for 40 minutes in the oven.

Now, remove the thyme stems and discard. Then add the stuff on the sheet pan, garlic cloves taken out of the tinfoil, and liquid from sheet pan into the blender.

Next, add the basil and red pepper flakes and blend until smooth with very little chuncks.

Finally, pour in a bowl and dip your favorite grilled cheese in the soup!
Other Easy Recipes:
Any question comment below or email! I love helping change the recipe!
My Favorite Ways To Save Money In The Kitchen: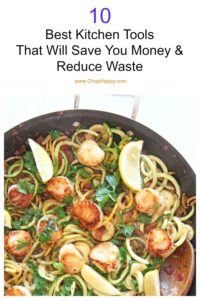 Check Out This book! It changed my life and keeps me centered:
ANY QUESTIONS OR COMMENTS? COMMENT BELOW 🙂
With a grateful heart and an amazing tummy – Jay
(Visited 1,329 times, 1 visits today)
Subscribe for tasty, free recipes!