I am going to show you how to reverse sear a steak. This is the most juiciest steak ever.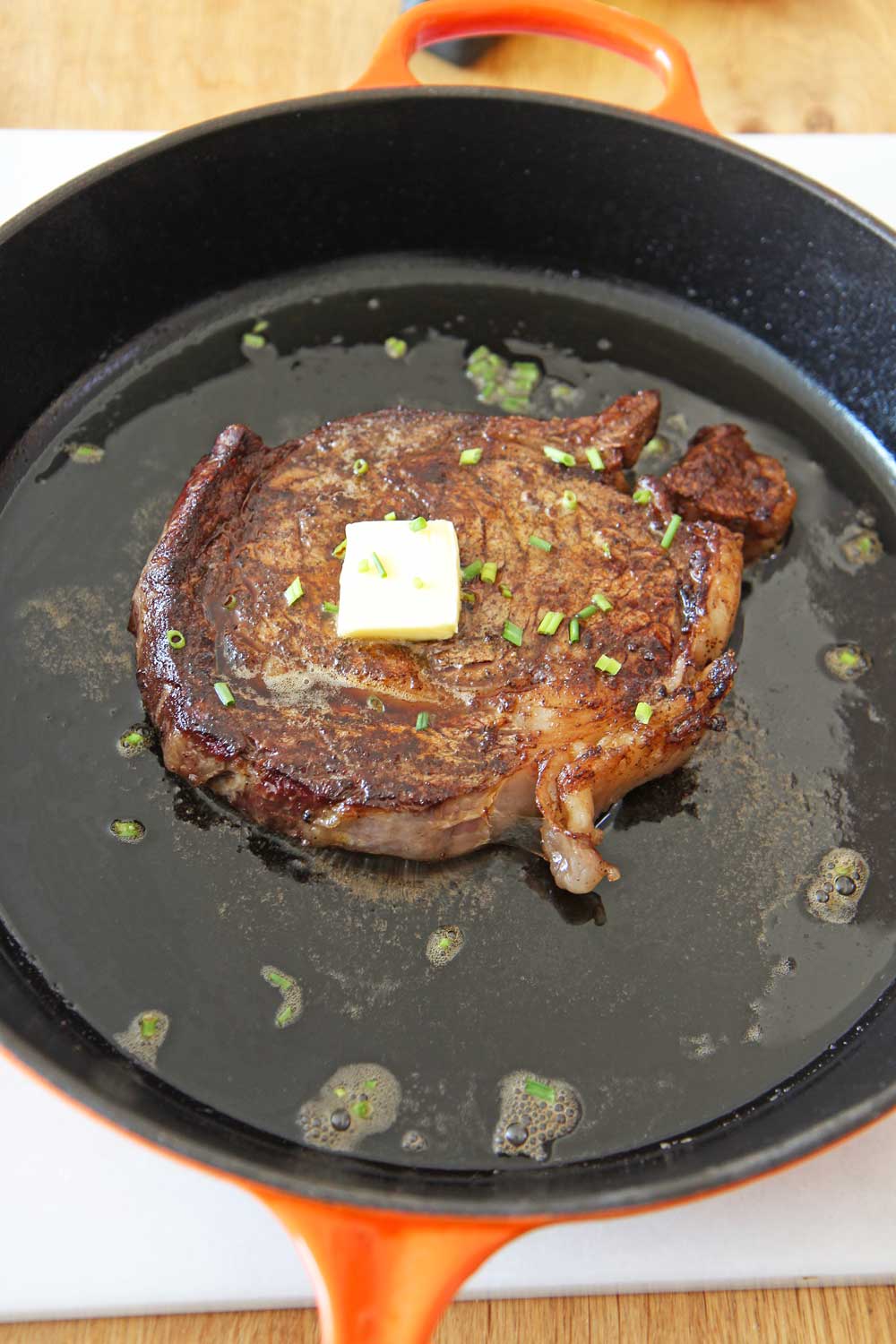 I love to surprise Tom with a steak and potatoes dinner during the week randomly! First of all steak makes him smile because its one of his favorite foods. Secondly its fun to be fancy in our pj's, eating a steak dinner mid week on the couch. Its my version of culinary self care! The only thing is we have to keep it a secret how easy this recipe is from Tom lol! He does not cook at all and thinks this takes a while to make. It actually is one of my easiest recipe! Boil potatoes for 11 minutes, smash, and cook on sheet tray 4 minutes per side.
We all sometimes wait for the big stuff to celebrate and forget to live in the now! Do not forget to find moments to reconnect with the now and celebrate the moment. This steak dinner is a way for me and Tom to randomly just have fun. We always try to find things to do that make us forget all the stuff going on and just enjoy! On a warm Sunday we will walk to Highline, date night Fridays at Cookshop, and random weekday eating dinner in front of the TV watching Bravo.
Reasons Reverse Searing Makes Perfect Juicy Steak:
1. By slowly cooking the steak in a low temp oven you give the steak a chance to cook evenly. When you sear first you cannot control the temperature and can get under or over cooked steak.
2. Next, searing the steak at the end gives you a great crust. The rest of the steak cooked in the oven so a hot pan for 2 minutes is all you need to get that caramelized crust. 
3. Finally, this is perfect for stress free dinner parties. You can put in the oven 2 hours before eat dinner and then just have to sear when time for dinner. This way less work while guests are here.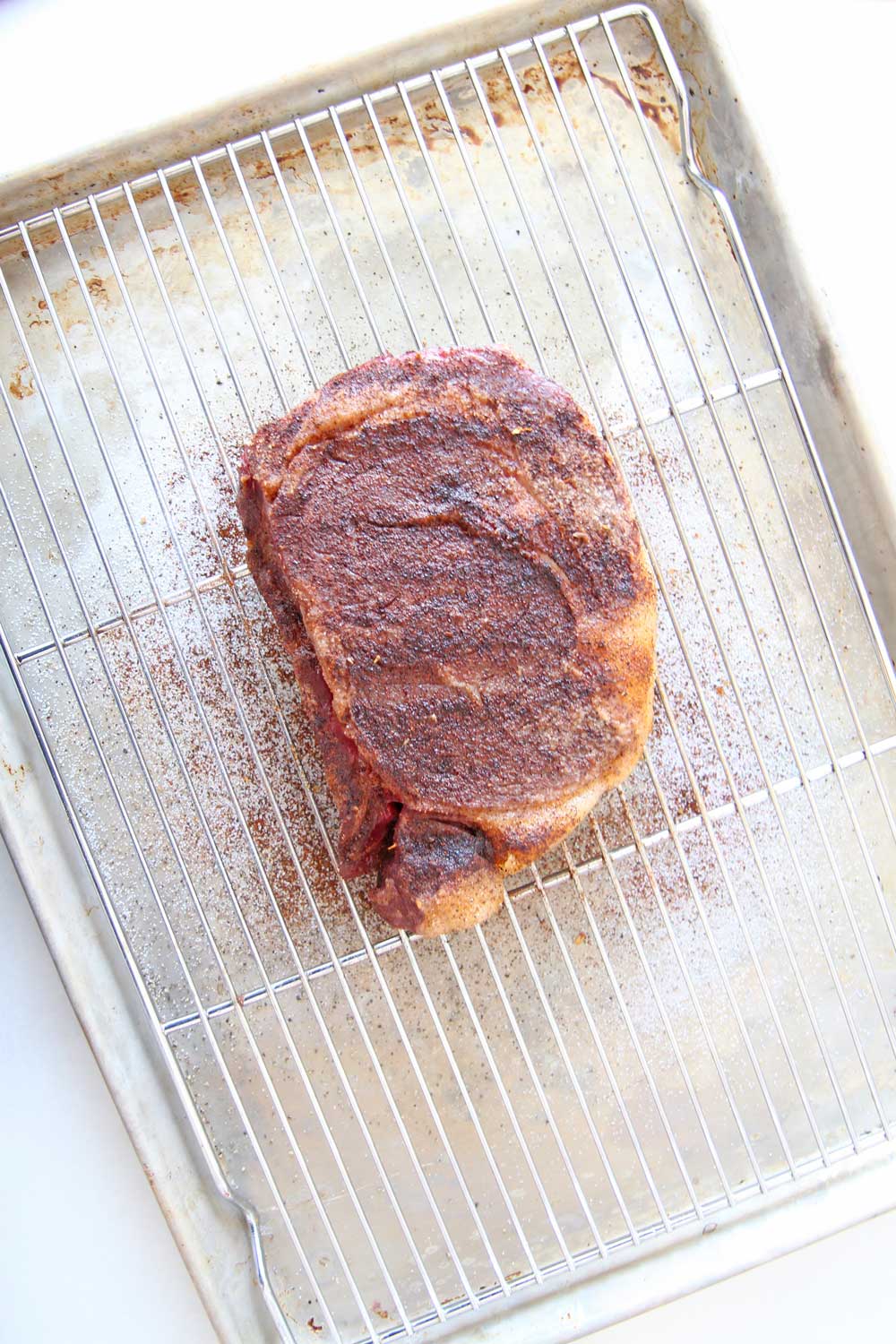 Dash Of Gratitude Tip While You Cook:
My mission with Chop Happy is to create easy recipe for busy people with a dash of gratitude! Since we all have to be in the kitchen at some point in our day lets use that time to zen out and gain more gratitude.
For the 4 minutes while the pizza is cooking visualize your dreams as if it is already here. "I am grateful for and thankful that I am (fill in the blank). I love doing this especially on days that were tough. The perfect book to read to learn more about manifesting your dreams is
The Secret
!
Read some pages while the house fills with butter beefy joy. Hope this helps you find joy in a crazy day and I am so grateful for you!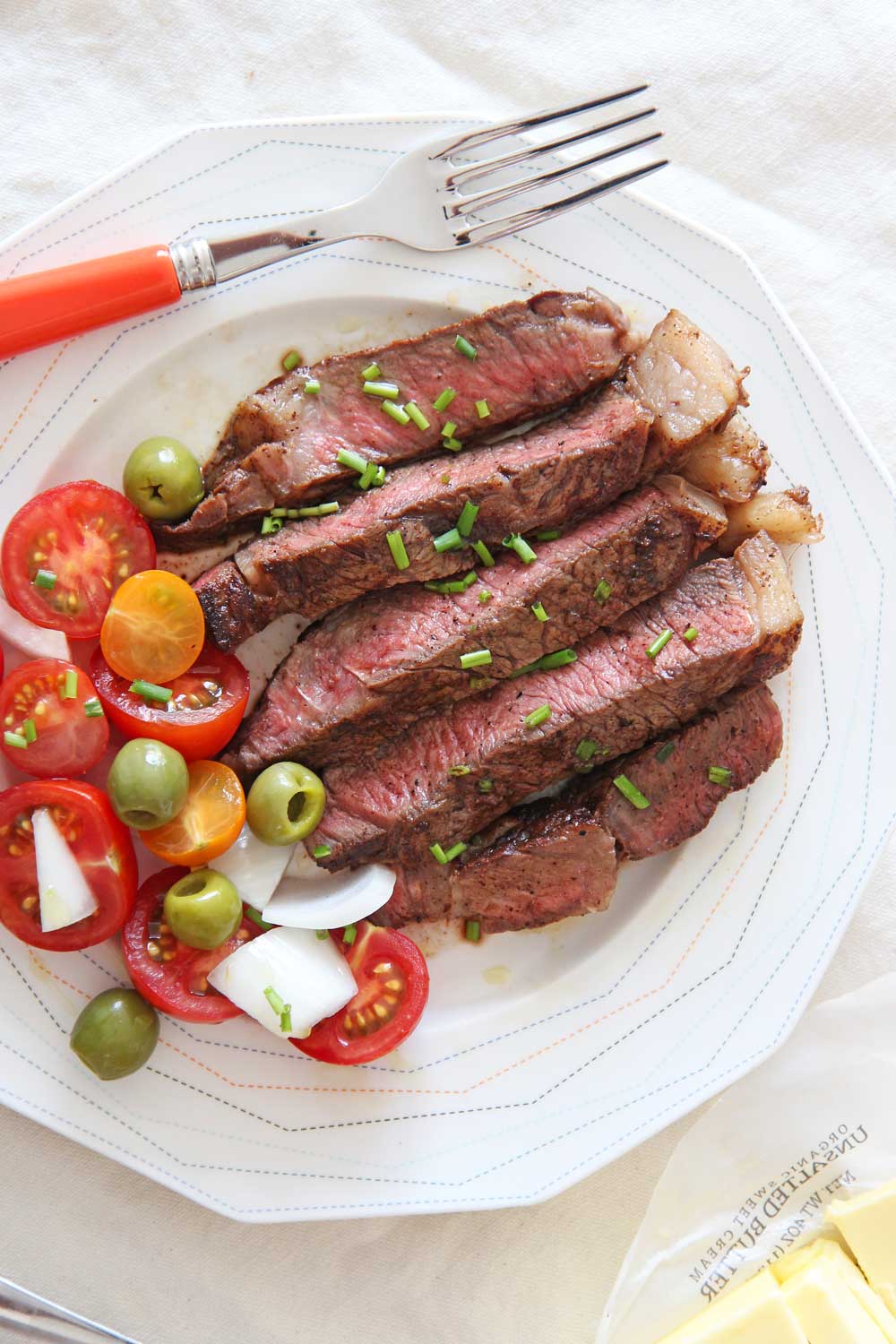 Recipe Hack / Cooking Tips:
Salt The Night Beforehand: Salt the meat as soon as you get home. Salt both sides heavily and put in the refrigerator uncovered for a day in advance if you can. This will get the seasoning all through the steak. Dont worry if you buy the steak the same day. Just salt heavily for as long as you have.
After Cook Let the Steak Rest: After cooking, let the steak rest for at least 10 min covered with tinfoil. This will allow the juices to redistribute and make sure the steak is juicy. This is the one thing my Mom never did when we were kids – but now does!
Gratitude While Stirring: Use the kitchen as a place for self care. As you stir or chop say what you are grateful for. I do this all the time so that cooking can be a time to recharge.
Watch How To Reverse Sear A Steak:
How to Reverse Sear a Steak
Ingredients
1 1/2 inch ribeye steak
1 tablespoon salt
1 tablespoon pepper
2 teaspoons chili seasoning or steak seasoning
3 tablespoons oil
3 tablespoons butter
Instructions
Preheat the oven to 200 degrees.

First, salt the steak on both sides and put the steak in the fridge uncovered overnight. This step is optional but seasons the entire steak not just the outside. This makes a world of difference in flavor.

Second, put the steak on a sheet pan with a wire rack and season both sides of the steak with a teaspoon of salt, pepper, and chili seasoning.

Now, put the steak in the oven for 2 hours on the middle rack.

Next, heat the cast iron pan on a medium high heat with oil and butter. When the cast iron pan is super hot add the steak. Cook 2 minutes per side to sear the outside.

Finally, let the steak rest 10 minutes and then enjoy!
Other Easy Recipes:
Any question comment below or email! I love helping change the recipe!
My Favorite Ways To Save Money In The Kitchen: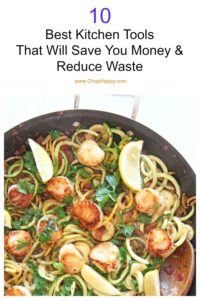 Check Out This book! It changed my life and keeps me centered:
ANY QUESTIONS OR COMMENTS? COMMENT BELOW 🙂
With a grateful heart and an amazing tummy – Jay
(Visited 700 times, 1 visits today)
Subscribe for tasty, free recipes!