This is the easiest no-bake Chocolate Pie I ever had. This gluten free recipe is from the best cook book ever: Skinny Southern Baking!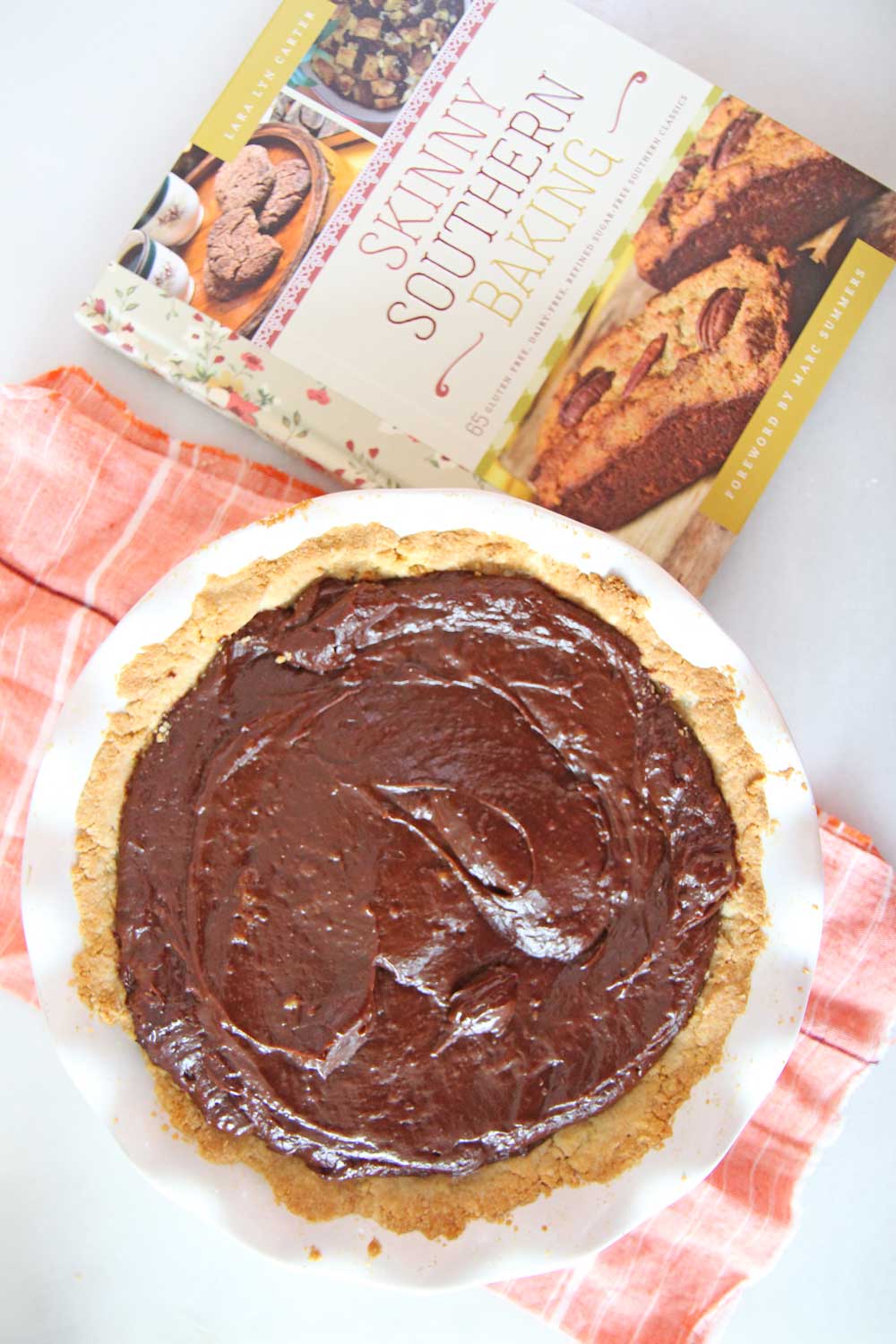 This is actually the first time I put a recipe that I did not create on my blog. I wanted to honor Lara Lyn and her second cook book! This amazing friendship with Lara Lyn (the author of this recipe) started on Instagram! We both started following each other and she has fun recipes that I would love. Her recipes are easy and are gluten free so I can serve for my gluten free friends at parties. One day a couple of years ago she said she was going to NYC for a meeting and asked if wanted to meet for a drink at Chelsea Market. It is literally the first time I met someone from online in my life. Tom and I met her (and her awesome husband) and they were so fun. We have kept in touch and have seen her when she comes to NYC. She is such a kind, fun, caring friend and we are so grateful to know her. Also, ads you know baking is not my thing but her recipes are sooo easy to make. Hope you love this pie and buy her book! 
My mission with Chop Happy is to create easy recipe for busy people with a dash of gratitude! Since we all have to be in the kitchen at some point in our day lets use that time to zen out and gain more gratitude.
This is the book from the video above. It is filled with amazing quotes and sayings to add sunshine to your life!  The perfect book to read to learn more about finding calmness, your dreams and making your wishes a reality is
Allways Be Yourself Unless You Can Be A Unicorn!
Read some pages while the house fills with pie joy. Hope this helps you find joy in a crazy day and I am so grateful for you!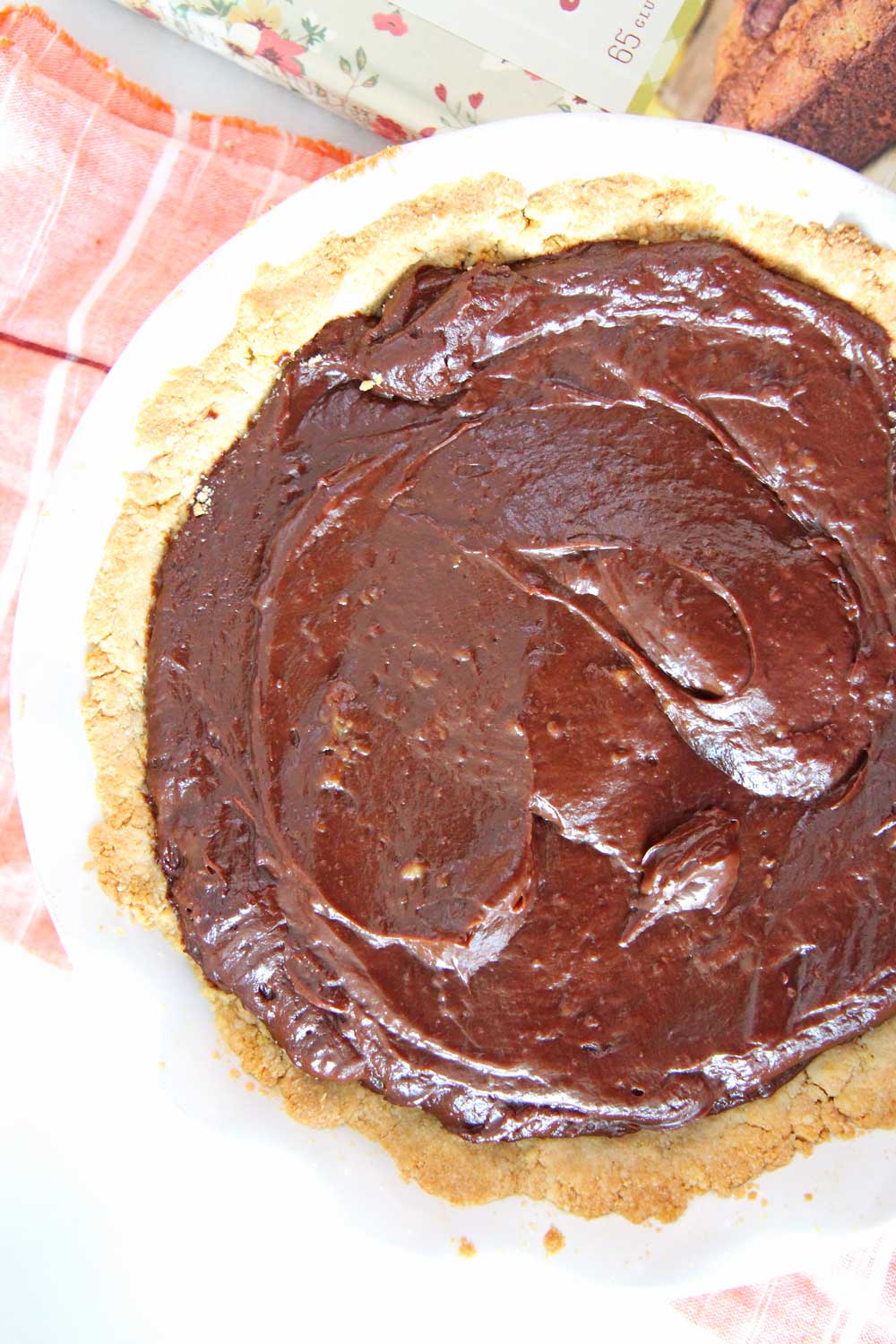 Recipe Hack / Cooking Tips:
Make 2 Pies: Make 2 pies and freeze one! You already have the ingredients out and this way you do not have to do more work later to satisfy your sweet tooth.
Gratitude While Stirring: Use the kitchen as a place for self care. As you stir or chop say what you are grateful for. I do this all the time so that cooking can be a time to recharge.
Watch How To Make This Chocolate Pie:
To Buy Lara Lyn's Cook Book: Click Here
Death By Chocolate Pie (By Lara Lyn's Cook Book)
Ingredients
Gluten Free Pie Crust
1/4 cup coconut oil
1/4 cup plant based butter (melted)
1 cup almond flour
1 cup coconut flour
1/2 teaspoon fine sea salt
1 egg room temperature
Death By Chocloate Pie Ingredients:
4 egg yolks
3 cups vanilla almond milk (unsweetned)
2/3 cup coconut sugar
1/3 cup cornstarch
1 teaspoon vanilla extract
1/2 teaspoon fine sea salt
2 cups dark chocolate chips
2 tablespoons plant based butter
Instructions
Gluten Free Pie Dough
Preheat the oven to 375 degreees and spray 9 inch pie plate with no stick cooking oil.

Next, mix all pie dough ingredients together.

Now, press the mixture into the pie plate and bake for 12-15 minutes.

Finally, cool completely and fill with pie filling below.
Death by Chocolate Pie Filling:
First, in a small bowl, combine the egg yolks and almond milk.

Next, in a sauce pan, stir together the cornstarch and the coconut sugar. Pour in the egg and milk mixture. Blend together over medium heat (stir constantly) until the mixture thickens. Then remove from the heat.

Next, stir in the the chocolate, vanilla, salt, and butter until melted and incorporated well.

Finally, pour the chcolate mixture into the pie shell and refidge for a couple of hours before eating.
Other Easy Recipes:
Any question comment below or email! I love helping change the recipe!
(Visited 389 times, 1 visits today)
Subscribe for tasty, free recipes!