Imagine coming home from work and all you have to do is tear open a bag of gnocchi and veggies to make a carb happy dinner quickly! This is my kind of busy day satisfaction without doing lots of dishes. I crack during the day (Chiropractor) and chop at night! So I make sure to test all my recipes after so they are easy for all my fellow home cooks. This recipe is my weeknight go to!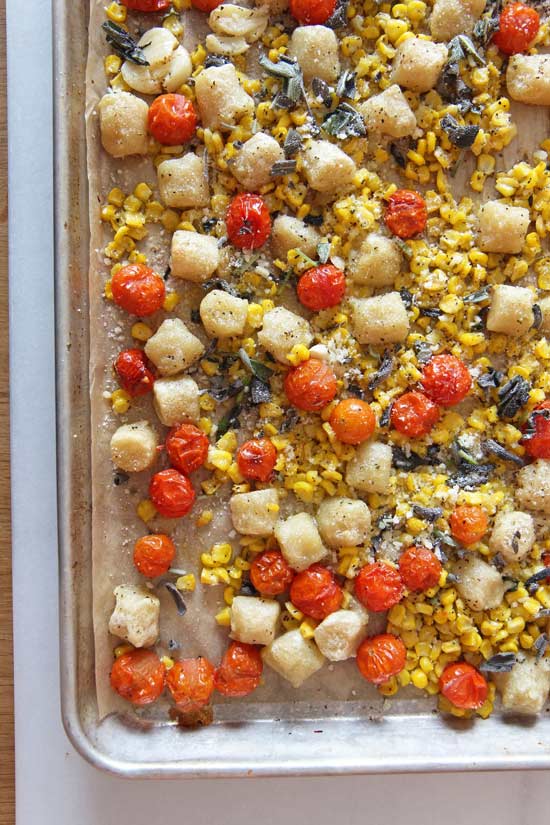 All day at work I dream of dinner. Also, all day at night I dream of breakfast too lol! When I get home I want carbs carbs carbs and my frenchie Charlie (see a picture of him below). But sometimes I do not want to boil pasta, saute in the pan and clean up. So this recipe is for those weekdays I only have energy for 1 step cooking. Usually this falls on days
Bravo has a Real Housewives show
on lol! You can mix up whatever veggies you have in your fridge. Just make sure veggies are same size as gnocchi so cooks fast.
3 Tips to perfect dinner on busy nights:
1. When you walk in the door from work or errands turn on the oven. Pre-heating gives you that crispy perfectly cooked inside and outside dinner. When I am busy I always forget. So now I get home from working and first thing is preheat that oven!
2. When roasting make sure you spread the veggies and gnocchi out. If they are too close they will steam instead of crisp. It is cool to use two sheet trays. Just rotate one to the top and one to the bottom of the oven half way through cooking. This helps with lovely browning of veggies!
3. A touch of lemon and tiny pinch salt or cheese after roasting veggies/gnocchi adds great brightness to the dinner. This is a restaurant trick to that zing and yum you do not always get at home!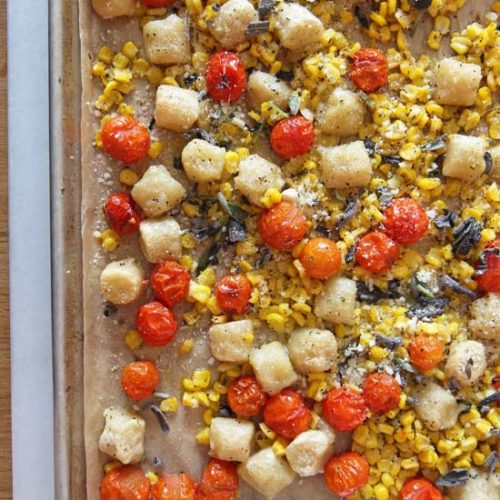 20 Minutes Sheet Pan Gnocchi
Ingredients
1 bag frozen gnocchi
1 pint cherry tomatoes
1 bag defrosted corn (pat dry)
6 cloves garlic (smashed with hand or knife)
1 teaspoon dried oregano
1 teaspoon pepper
1 teaspoon salt
3 tablespoons extra virgin olive oil
1 handful fresh sage (chopped)
2 tablespoons butter
1/4 cup Parmesan cheese (grated)
1/2 lemon (the juice)
Instructions
Preheat oven to 425.

First, add gnocchi, corn, tomatoes, garlic, oregano, salt, pepper, and olive oil to a parchment paper lined sheet tray.

Next, mix well and spread out the gnocchi and veggies throughout the sheet tray.

Now, add to the oven for 20 minutes.

Next, add lemon juice, butter, Parmesan and sage. Stir with hot gnocchi and veggies.

Finally eat and enjoy!
Watch how to make this simple dinner idea:
This is my favorite gnocchi I get on Amazon:
Two of my other favorite sheet tray dinners:
Here is my frenchie, Charlie while I cooked this recipe (he is sooo cute):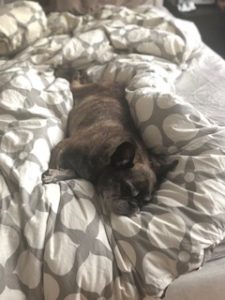 This book changed my life and it is how I elevated my home cooking:


I can't wait for you to try this recipe!!! Cheers to easy comfort food.  Happy Cooking!
QUICK NO BAKE DESSERT  FOOD RECIPE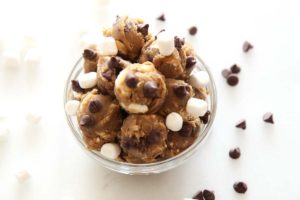 Your Dash Of Gratitude:
                                                                                                                                   
ANY QUESTIONS OR COMMENTS? COMMENT BELOW 🙂
With a grateful heart and an amazing tummy – Jay

(Visited 2,243 times, 1 visits today)
Subscribe for tasty, free recipes!