Mid week stuffed crust pizza party that is fast and fun to make!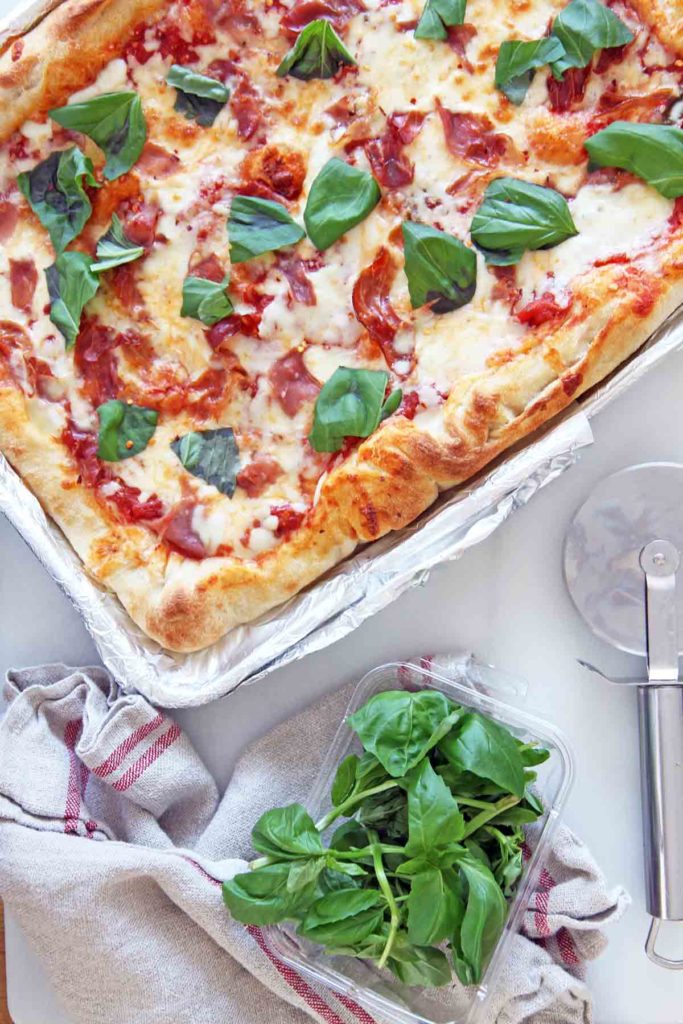 Pizza is more then just a fabulous cheesy dinner too me. It has such happy memories of my childhood in NJ! Every once in a while to celebrate life, my Mom and Dad would get large pizza with everything on it. As a kid seeing juicy meatballs, spicy pepperoni, sweet basil, and veggies covered in garlic was as close as it gets to winning the lottery. Every bite of pizza reminds of those awesome dinner table cheers.
Now I live in NYC!! NYC in my opinion is the king of pizza and I still continue the pizza tradition with my husband. The funny part is Tom is just like my Mom in every way including how he likes his pizza. So for him there always needs to be lots of cheese and lots of crust!
Even in  New York I like to make my own pizza. The smell of cheese and garlic permeate the apartment and makes Tom smile the minute he comes home from his day as a Fashion Planner. I hope this makes you happy and makes your busy life just a little more peaceful! Cheers to stuffed crust pizza night!
Finally, remember to grab the pizza by the handful and live life to the fullest!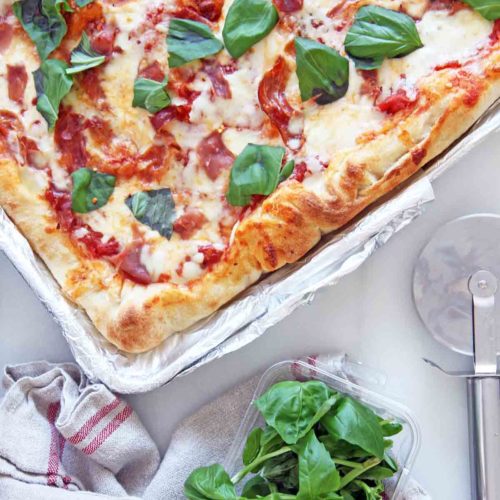 NYC Stuffed Crust Sheet Pan Stuffed Crust Pizza
Ingredients
NYC Cold Pizza Sauce Ingredients:
1 28 ounce can whole tomatoes
1 teaspoon garlic powder
1 teaspoon dried oregano
1/2 teaspoon red pepper flakes
1 teaspoon honey
1 teaspoon salt and pepper
Pizza Ingredients:
2 cups shredded mozzarella
1 pizza dough ( or 2 canned dough's)
10 basil leaves chopped
15 mozzarella string cheese sticks
4 slices prosciutto rough chop
Instructions
Preheat oven at 400 degrees.
NYC Cold Pizza Sauce Instructions:
First, place all the pizza sauce ingredients in a large bowl.

Next using a potato masher or hands break up the tomatoes and mix.

Now set aside to use later.
Pizza Insturcutions
First, roll out pizza to 1 inch larger then the size of the sheet pan.

Next place mozzarella string cheese all along the border of the sheet tray.

Now fold the excess dough over the cheese and pinch down (see video above).

Pour 1 cup of pizza sauce on dough and spread all over.

Now top with cheese and prosciutto. Then place in the oven for 15 minutes or until crust is browned.

Finally top with fresh basil and enjoy!
For more easy, happy comfort food recipes, check out our Pinterest Page
More Easy Recipes:
I can't wait for you to try this recipe!!! Cheers to easy comfort food.  Happy Cooking!
QUICK NO BAKE DESSERT  FOOD RECIPE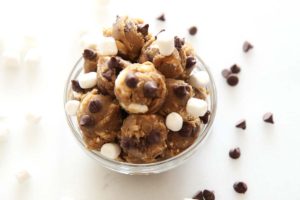 Your Dash Of Gratitude:
                                                                                                                                   
ANY QUESTIONS OR COMMENTS? COMMENT BELOW 🙂
With a grateful heart and an amazing tummy – Jay
(Visited 1,512 times, 1 visits today)
Subscribe for tasty, free recipes!