Sweet morsels of corn and perfect pasta dancing with a creamy smokey herbaceous sauce makes smiles an immediate pasta salad possibility.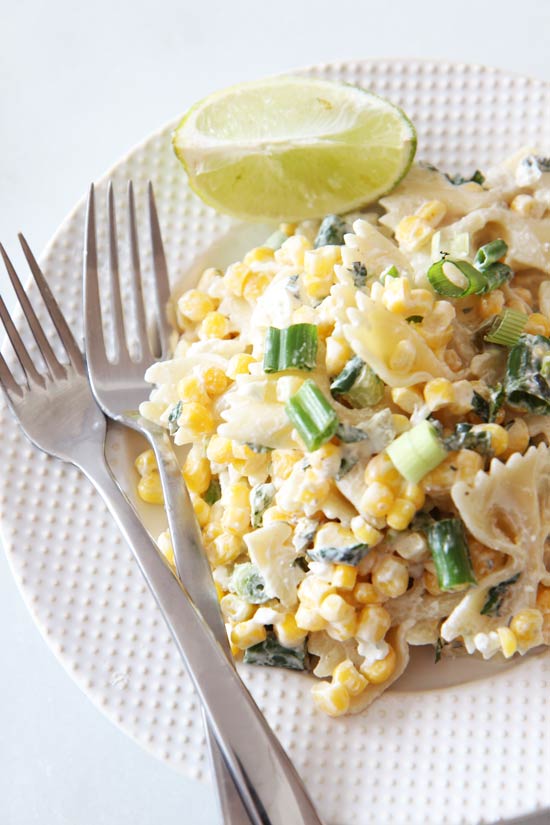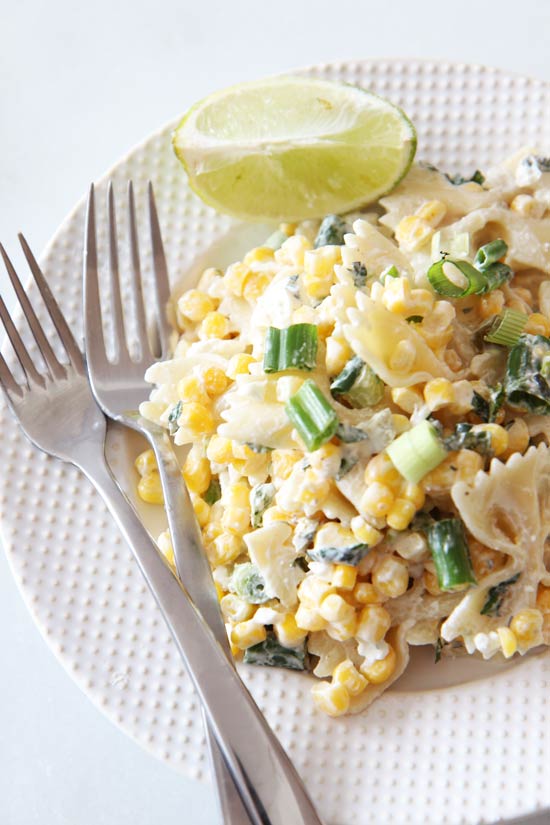 We all work so hard and get wrapped up in life. So sometimes its nice to sit on the couch or lay out by the pool with a big creamy bowl of pasta to soothe the soul. This is a easy recipe that makes your comfort food smiles come out at first bite.
When me and Tom go to the Hampton's and escape the crazy fun of NYC all we want to do is drink a cocktail and eat comfort food by the pool. There is this small fabulous gourmet farm stand (Round Swamp Farms) by our house that inspired this dish.  So to be more lazy and relax more I created my own version lol! To make this pasta salad extra easy, cooking the pasta is the only time you need to heat anything up!!! Also the smokey creamy sauce soaks into the pasta and get better each day it sits in the fridge. This is a fabulous advantage because its make ahead awesome and fabulous as leftovers. So get ready for awesome beach eats and I hope this fills you with happiness and love.
Easy Mexican Street Corn Pasta Salad
Ingredients
1 pound bow ties pasta (cooked)
1/2 cup mayonaise
2 tablespoons sour cream
2 teaspoon salt
2 teaspoons pepper
1 teaspoon cumin
1 lime (juice and zest)
2 cloves garlic (grated or chopped finely)
3 scallions (chopped)
1 handful mint (chopped)
5 pickled jalapeno slices (chopped)
1 10 oz sweet corn
1/2 cup feta (crumbled)
Instructions
First make the dressing by mixing mayo, sour cream, cumin, lime/lime zest, garlic, salt and pepper together.

Next add scallions mint, pasta, pickled jalapeño's, sweet corn, and feta to the dressing and mix.

Enjoy or leave in fridge for make ahead fun!
For more easy, happy comfort food recipes, check out our Pinterest Page
More Quick Pasta Recipes:
I can't wait for you to try this recipe!!! Cheers to easy comfort food desserts.  Happy Cooking!
QUICK NO BAKE DESSERT  FOOD RECIPE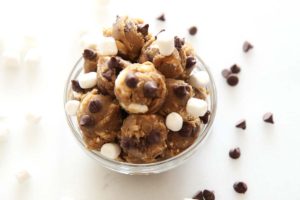 Your Dash Of Gratitude:
                                                                                                                                   
ANY QUESTIONS OR COMMENTS? COMMENT BELOW 🙂
With a grateful heart and an amazing tummy – Jay
(Visited 3,592 times, 1 visits today)
Subscribe for tasty, free recipes!