Juicy shrimp dance in garlicky herbaceous pesto potato salad! One bite and you know this easy dish is heart warming comfort food love.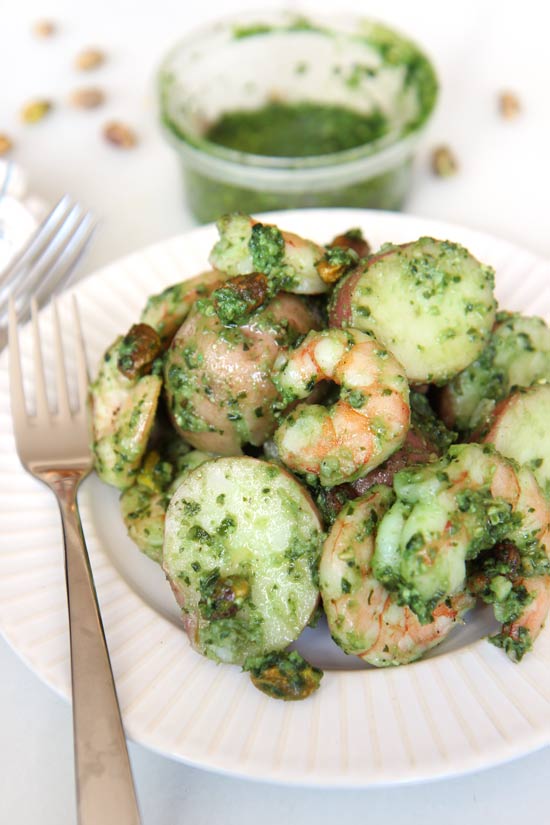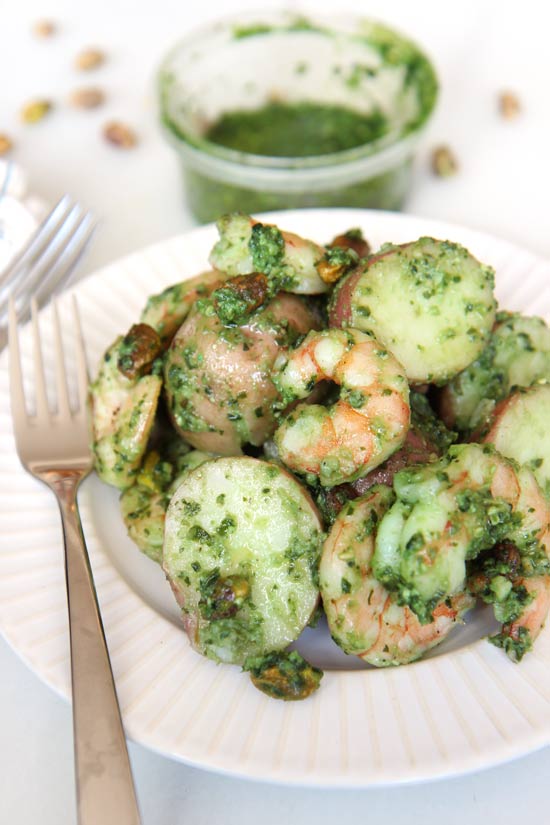 I wanted to combine the summer staple of potato salad and shrimp salad together. My master plan is to make the ultimate comfort food side dish, that could double as a main. Any excuse to eat more potatoes lol! This would the perfect Wednesday night you rock dinner.You work hard you deserve a carb loaded shrimp loving meal to celebrate you. Then on Thursday the leftovers can celebrate you dreams coming true.
I have 2 awesome tips for you when making potato salad. First, boil the potatoes in chicken stock (instead of water) so that you get even more flavor. Second, make the potatoes the night so they get cold and harden up. This way the potatoes wont break apart as you mix it in the pesto. A bonus tip is to sing and dance as you make this recipe lol! The singing and dancing is the secret ingredient. Happy cooking and any question comment below. I am soooo grateful to cook with you and remember that you rock!!!
Smiling Shrimp Pesto Potato Salad
Ingredients
1 cup pesto (store bought)
2 pounds small red potatoes (cut in half)
4 cups chicken stock
1 tablespoon salt (for boiling potatoes)
1 pound shrimp
3 tablespoons olive oil
1 teaspoon salt (for shrimp)
1 teaspoon pepper (for shrimp)
1 handful roasted pistachios
Instructions
Preheat the oven at 400 degrees.

First, place potatoes in a pot and fill with chicken stock and 1 tablespoon salt. Bring to a boil. When you see a boil, start the timer and cook potatoes for 15 minutes.

Drain the potatoes place in mixing bowl, and set in fridge to cool down potato.

Next, on a sheet tray combine shrimp, oil, salt, and pepper. Mix and spread shrimp out.

Now, cook shrimp for 10 minutes and then set aside.

Next, add shrimp, potatoes, pesto, and pistachio nuts in a bowl.

Finally, mix gently all the ingredients to combine.

Happy Eating!
For more easy, happy comfort food recipes, check out our Pinterest Page
More Quick Seafood Recipes:
I can't wait for you to try this recipe!!! Cheers to easy comfort food desserts.  Happy Cooking!
QUICK NO BAKE DESSERT  FOOD RECIPE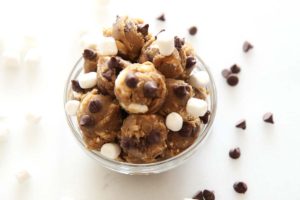 Your Dash Of Gratitude:
                                                                                                                                   
ANY QUESTIONS OR COMMENTS? COMMENT BELOW 🙂
With a grateful heart and an amazing tummy – Jay
(Visited 1,461 times, 1 visits today)
Subscribe for tasty, free recipes!