This everything bagel potato salad is starchy, creamy, cheesy. No need to travel to NYC to get a bagel. All the gloriously crunchy authentic flavors are in this potato salad.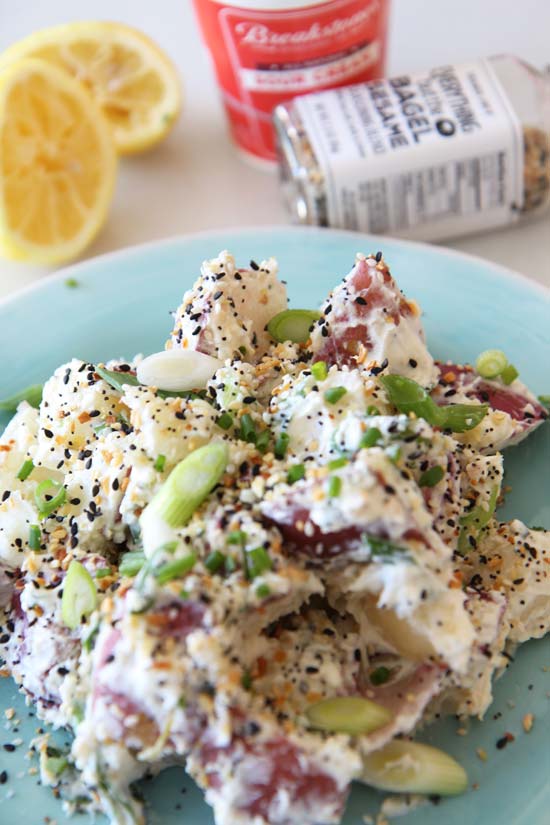 Buy Trader Joes Everything Bagel Seasoning Online: Click Here
First of all, I have to admit I am obsessed with Trade Joe's everything bagel seasoning. I have already created a bunch of recipes using this crunchy bagel flavored seasoning:
Being a New Yorker I need more bagel flavor in my life. Bagel's have so much amazing meaning for me. It was a tradition every weekend for me and my Dad to go get a dozen bagels and cream cheese. We would eat the hot fluffy bagels as a celebration of the weekend. So anytime I make a bagel recipe it warms my heart with memories of my Dad.
The dilemma I had making this recipe was how to incorporate the cream cheese texture but not clumpy. The solution was sooo easy! I added extra virgin olive oil to help get a cream cheese texture with a creamy consistency. This literally tastes like a bagel with cream cheese. You friends will think you are sooo NYC trendy. Finally, in Chop Happy style, this is so easy to make!
NYC Everything Bagel Potato Salad
Ingredients
2 pounds small red potatoes (cut in half)
4 cups chicken stock
8 oz cream cheese
2 tablespoons sour cream
1 lemon (juice and zest)
1 teaspoon white wine vinegar
1/2 cup extra virgin olive oil
3 scallions (chopped)
2 tablespoons chives
2 tablespoons everything bagel seasoning (1 tbsp mix in and 1 on top to serve)
1 teaspoon salt
1 teaspoon pepper
Instructions
First, place the potatoes in a pot and cover with chicken stock. Turn the stove on high and when you see a boil, time 15 minutes. Drain and set aside for later.

Next, add in a big bowl, cream cheese, pepper, sour cream, lemon, vinegar, olive oil, and a pinch of salt. Mix to combine well.

Next pour in to cream cheese mixture the potatoes, scallions, chives, and lemon zest. Mix well to combine. Mix with a scooping motion slowly so you do not break the potatoes.

Now mix in 1 tablespoon of everything bagel seasoning.

Finally top with 1 more tablespoon of everything bagel seasoning and enjoy!
For more easy, happy comfort food recipes, check out our Pinterest Page
More Quick  Recipes:
I can't wait for you to try this recipe!!! Cheers to easy comfort food.  Happy Cooking!
QUICK NO BAKE DESSERT  FOOD RECIPE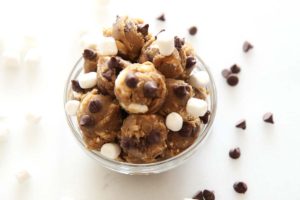 Your Dash Of Gratitude:
                                                                                                                                   
ANY QUESTIONS OR COMMENTS? COMMENT BELOW 🙂
With a grateful heart and an amazing tummy – Jay
(Visited 1,711 times, 1 visits today)
Subscribe for tasty, free recipes!