This is the easiest Thanksgiving dinner for two on a sheet pan in just 2 hours of cooking!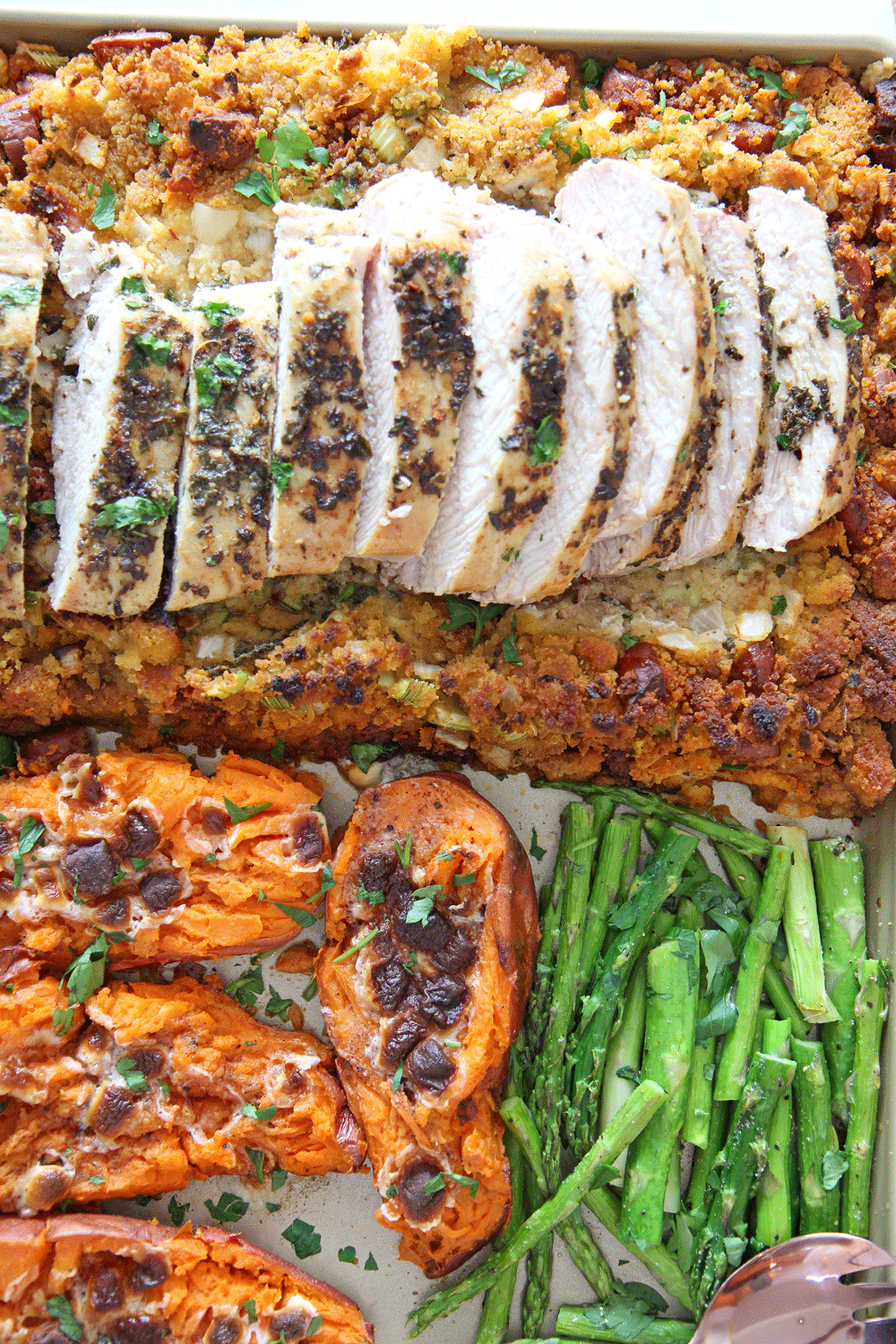 Thanksgiving is the culinary super bowl of holidays in the Goldstein house! This is the one holiday everyone gets together at either Mama Goldstein house in NJ or my sisters in Maryland. We stuff our bellies with food from morning to night. Then the next day we shop all over the city for deals. I love love love Thanksgiving. This year with the pandemic, I wanted to make a turkey dinner for just me and Tom and not have to make tons of recipes and mess up our small NYC apartment. We will still see my mom to shop on Friday but will being doing a zoom Thanksgiving! The best part about this recipe is you can make this all year long and have the leftovers for lunch! Happy Thanksgiving and I am soooo thankful for you following me and cooking with me!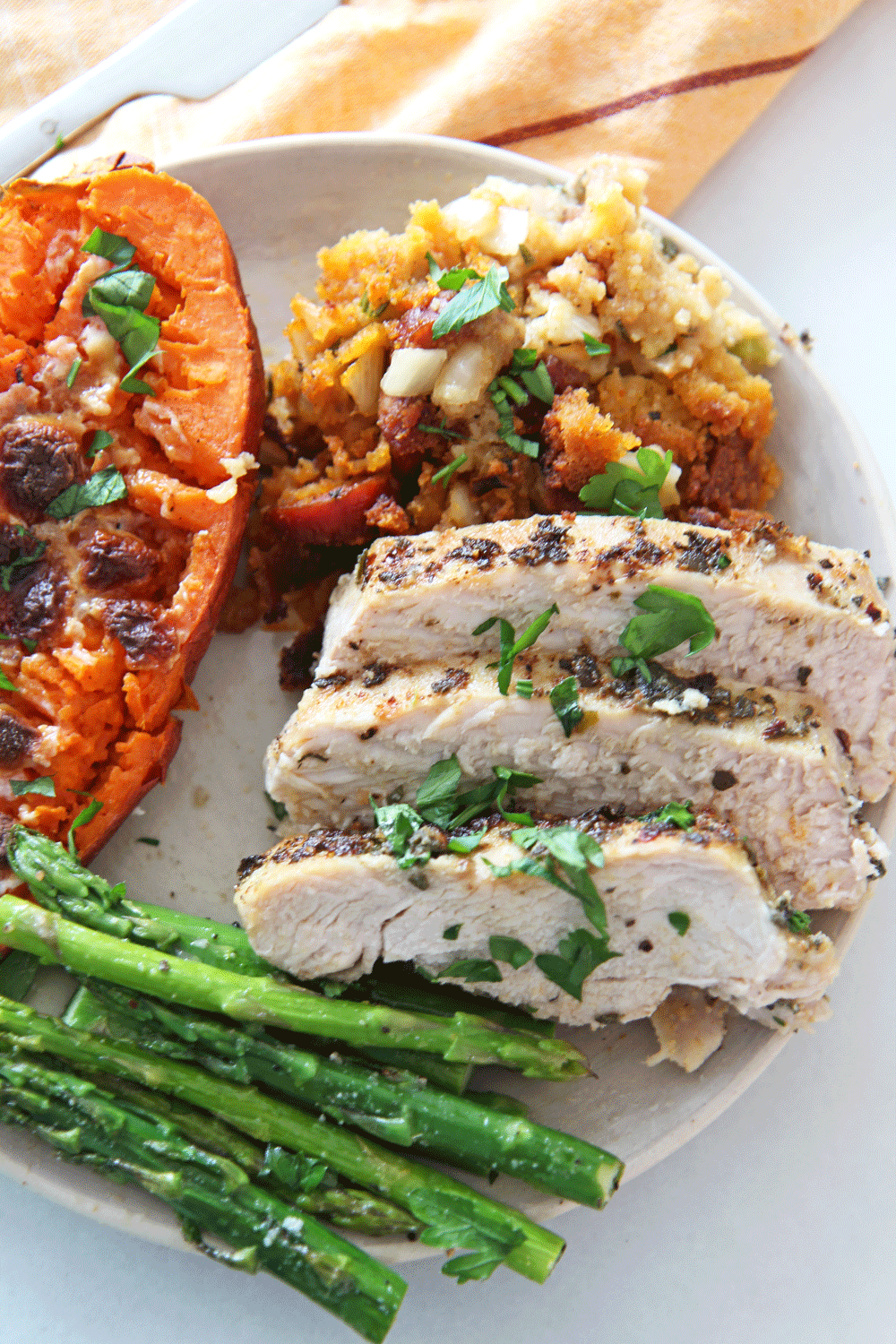 The Steps To Turkey Dinner On Sheet Pan
1: Mix the stuffing and place on 1/2 the sheet pan.
 
 2: Poke holes in the sweet potatoes, mix with oil, and place on sheet pan.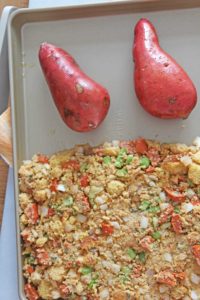 3: Add turkey smeared with herb butter onto the stuffing and cook for 1 hour 30 mins.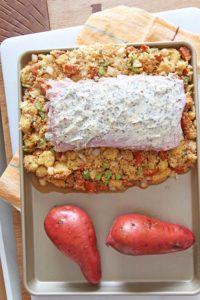 4: Add asparagus, and sweet potatoes mixed with cinnamon butter and topped with marshmallows. Cook 30 minutes longer!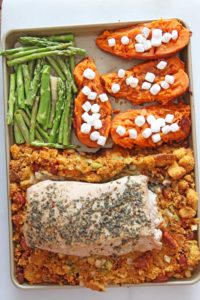 Final Step Eats!!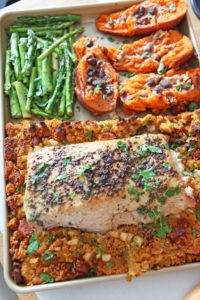 Gratitude Tip While You Cook:
My mission with Chop Happy is to create easy recipe for busy people with a dash of gratitude! Since we all have to be in the kitchen at some point in our day lets use that time to zen out and gain more gratitude.
For the time the turkey cooks visualize your dreams as if it is already here. Working on you does not have to be a long drawn out process. It can be as simple as a couple of pages of a motivational book. The perfect book to read to learn more about finding calmness, your dreams and making your wishes a reality is
The Secret!
Recipe Hack / Cooking Tips:
Juiciest Turkey: Brine the turkey in buttermilk, salt, and garlic powder overnight! The city from the buttermilk will breakdown the proteins and tenderize the turkey and make its so juicy.
Herb Butter Your Turkey: Mix butter, oregano, garlic powder, salt, pepper, and red pepper flakes (full recipe below) and smear all over the turkey so it bastes in butter magic.
Gratitude While Stirring: Use the kitchen as a place for self care. As you stir or chop say what you are grateful for. I do this all the time so that cooking can be a time to recharge.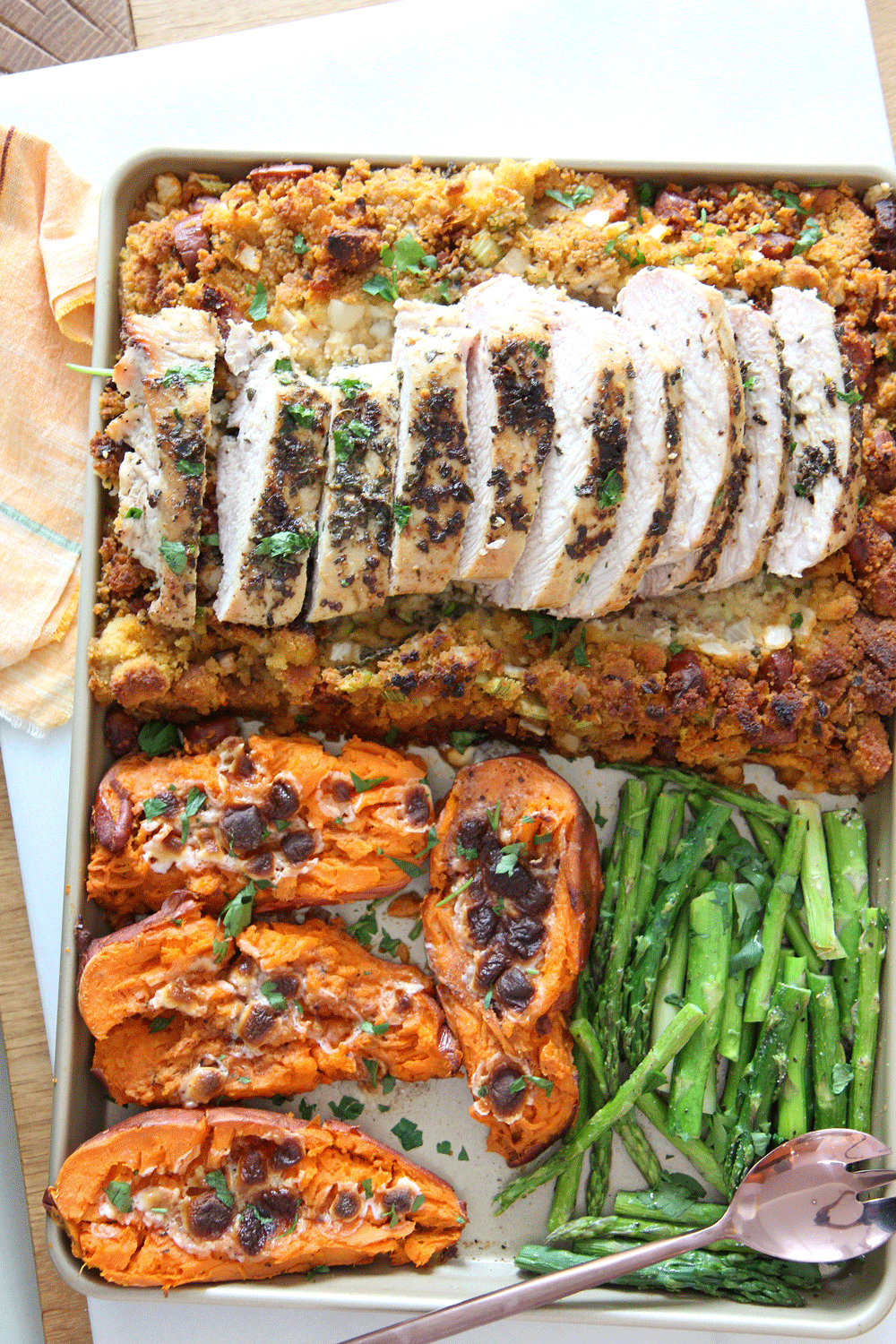 Watch How To Make a Sheet Pan Thanksgiving:
Thanksgiving Dinner on a Sheet Pan (Thanksgiving for 2)
Ingredients
Turkey Ingredients
1 2-3 pound boneless turkey breast
3 cups buttermilk
1 teaspoon salt
1 teaspoon garlic powder
Turkey Butter Ingredients
1 stick butter (unsalted and softened)
1 teaspoon oregano
1/2 teaspoon red pepper flakes
6 sage leaves (chopped)
1 teaspoon salt / pepper
1 teaspoon garlic powder
Stuffing Ingredients:
1 loaf cornbread
3 Spanish chorizo links
5 sage leaves (chopped)
1 Spanish onion (chopped)
2 celery (chopped)
1 teaspoon chili seasoning brand (taco seasoning)
1 teaspoon salt/pepper
3 cups chicken broth
Sweet Potato Ingredients:
2 sweet potatoes
2 tablespoons extra virgin olive oil
1 teaspoon salt/pepper
1/2 butter
1 tablespoon maple syrup
1 teaspoon cinnamon
1/2 cup marshmallows
Red Wine Roasted Asparagaus:
1 bunch asparagus
3 tablespoons exta virgin olive oil
1 teaspoon garlic powder
1 teaspoon salt/pepper
1 tablespoon red wine vinegar
Instructions
First, place the turkey in a ziplock bag with buttermilk, 2 teaspoons of salt and garlic powder. Place in a bowl (to prevent spillage) overnight. The buttremilk tenderizes the turkey overnight so it is the juiciest turkey ever.

Next, take out the turkey from the ziplock bag and pat the turkey dry with an kitchen towel. Let the turkey sit out at room temp while you prepare the other ingredients.

Now, make the stuffing by combining all the stuffing ingredients and mixing. Spread stuffing out on half the sheet pan.

Next, poke holes in the sweet potatoes with a fork so it does not explode in the oven. Place the sweet potatoes on the empty part of sheet pan and drizzle with olive oil.

Now, add generous amounts of salt, pepper, and garlic powder to the turkey. Mix all the turkey butter ingredients together and smear all over the turkey. Then place turkey on top of the stuffing.

Next, place in preheated 350 degree oven on the middle rack for 1 hour and 30 minutes.

Now, take out sheet pan out and cut the sweet potatoes in half and scoop out their insides (keep skins intact to re-stuff).

Next, in a bowl, mix the sweet potatoes with butter, cinnamon, maple syrup, salt, and pepper and then restuff the 4 potato skins. Now top each with marshmallows. Place on the empty part of sheet pan leaving room for asaparagus.

Now, add asaparagus to empty space in the sheet pan (see picture steps above) and mix with oil, salt/pepper, and garlic powder.

Finally, place sheet pan in the oven and cook 30 more minutes. When finished cooking mix red wine vinegar with the asparagaus and enjoy a full Thanksgiving dinner on a sheet pan!
Other Easy Recipes:
Any question comment below or email! I love helping change the recipe!
(Visited 1,408 times, 1 visits today)
Subscribe for tasty, free recipes!